Radian-C Vitamin Spot Ampoule
Spot correcting ampoule, empowered by Radian-C 3x blend™ with powerful antioxidant effect, helps eliminate dark spots and gives a more radiant complexion
Product features
Recommended for

If you want to reduce dark spots
If you want a brighter skin tone
If you want antioxidant skincare with low irritation
The antioxidant effect of the high-content vitamin C ampoule is delivered completely
so that your skin tone is noticeably brighter as if you were wearing bright clothes
THE PROOF
Achieve a 3X* brighter skin tone with Radian-C Vitamin Ampoule, which contains 17.6% pure vitamin C
17.6% Pure Vitamin C +
Vitamin C Derivative +
Niacinamide(Vitamin B3)

SECRET 1. Radian-C 3x Blend™

All-in-one care for clear and bright skin :
Blemishes, skin texture and skin clarity level

SECRET 2.

Triple Blemish Care

Radian-C Ampoule and Radian-C Cream provides 5 skin improvement benefits:
Antioxidant effect-reduced pigmentation-improved skin texture-reduced redness**-improved moisture level
*Based on anti-oxidation test results(DPPH assay, in vitro test)
**Relief of temporary redness caused by external factors

SECRET 3.

400% greater anti-oxidation effects*

#Vitamin ampoule #Lightamin ampoule #Light tone
Laneige Radian-C Vitamin Spot Ampoule
1

3-type multivitamin ampoule delivers
3X* more powerful tone-up effects

*Based on skin tone improvement after 10 days of use compared to another Laneige brightening ampoule

Radian-C Vitamin Spot Ampoule created by Laneige's blending technology
featuring an ideal mixture of 3 types of vitamin ingredients.
Discover a skin that is 3 times brighter in just 10 days.

PURE
VITAMIN C
VITAMIN C
DERIVATIVE
NIACINAMIDE
(VITAMIN B3)

Radian-C 3x Blend™

Change in Skin Tone

117.538

117.095

118.691

117.948

121.965

x3.5

118.901

Before
After 3 days
After 10 days

Radian-C vitamin spot ampoule

Comparison product

2

Triple blemish care


for a bright, radiant skin

Clear and bright skin cannot be achieved with blemish control alone.
Achieve a truly radiant skin with the all-in-one care for
blemishes, skin texture and skin clarity level

Visible
dark spots

Rough
skin texture

Dull skin
with low clarity

Melanin/skin texture/skin clarity level (Clinical tests completed)

3

Immediately strengthens
the skin barrier*

Are you worried that pure Vitamins C might be irritating?
Use Radian-C Ampoule for immediate skin barrier strengthening effects!

Change in skin barrier strength

After TS
Immediately after use

Radian-C vitamin spot ampoule

Not used
That is not all
Reasons why it is even better to use it
with Radian C-Cream
Vitamin-C Power Duo
Radian-C Ampoule meets Cream for

400% greater
anti-oxidation effects
PURE VITAMIN C 17.6%

VITAMIN C DERIVATIVE 8.5%
*Anti-oxidant test results(DPPH assay, in vitro test)
Radian-C Ampoule meets Cream
For 5 types of
skin improvement effects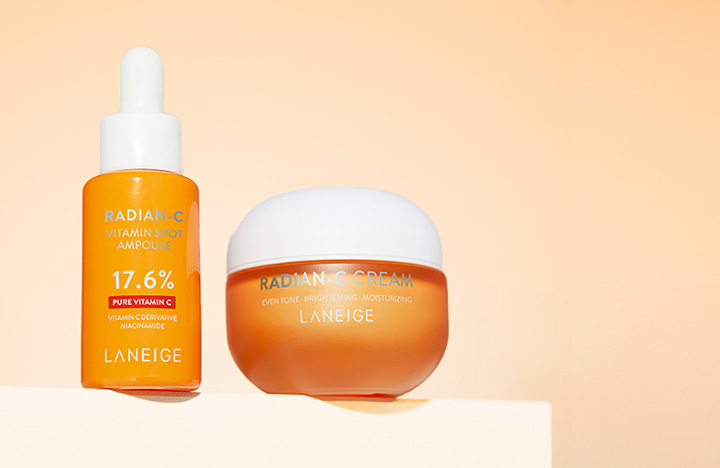 Antioxidant effects

Reduces pigmentation

Improves skin texture

Reduces redness*

Improves moisture level
*Relief of temporary redness caused by external factors

Wait!
Isn't high-content
vitamin C ampoule irritating?
Even if you have sensitive skin
or trouble skin,
you can use this ampoule
without worries
DERMATOLOGICALLY
TESTED

NON-COMEDOGENIC
TESTED

HYPOALLERGENIC
TESTED
#Light Tone
#Vitamin Ampoule
#Lightamin Ampoule
#Pure Vitamin C
Clinical Data
It is much better to use
Radian-C Ampoule and Cream together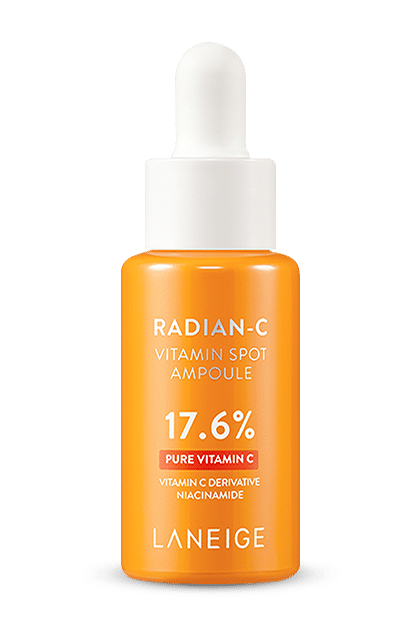 When using them together,
I felt anti-oxidant synergy
100%
When using them together,
I felt that my skin tone
became brighter and more even
96.7%
When using them together,
I felt stronger effects
of Vitamin C
100%
When using them together,
I felt that my dark spots were
more powerfully reduced
90.3%
I have intention
to buy both products
96.7%
TEXTURE
A light, and refreshing watery type ampoule
Radian-C ampoule contains a watery formula that is less sticky and has a higher absorptivity
Enjoy the light and refreshing texture!
HOW TO
USE IT WITH RADIAN-C CREAM
If you want fast results

Layer on the cream after using the ampoule to feel Vitamin C effects deep inside your skin

If you want to hydrate your skin

Mix ampoule and cream together to moisturize your skin

BEST STEP
LANEIGE's moisturizing and brightening skincare routine recommendation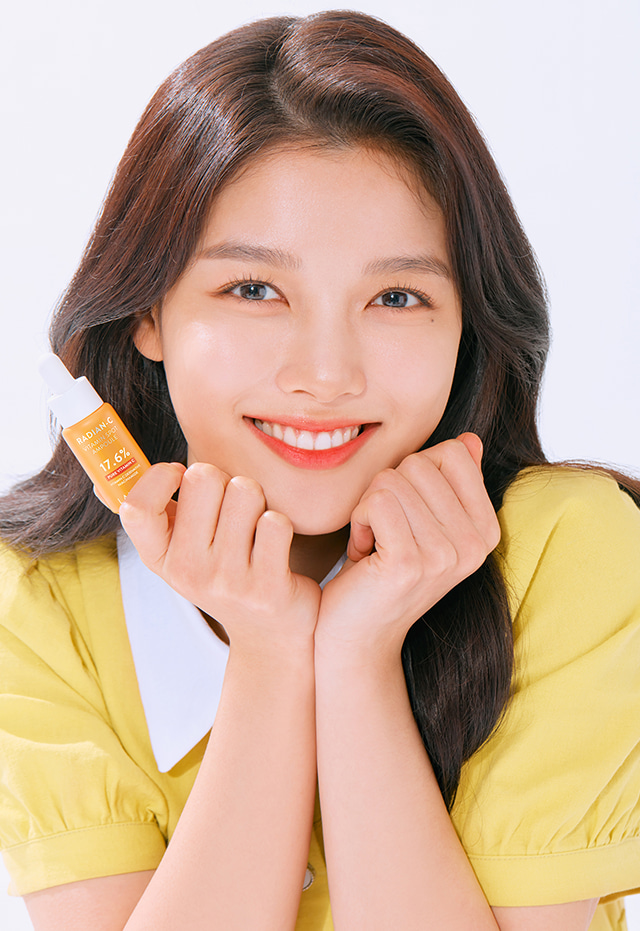 Use immediately after purchase

After placing the dropper, shake lightly before use

Advised to use within 1 month of opening

Advised to refrigerate before/after usage
*THERE IS AN EMPTY SPACE INSIDE
THE CONTAINER SO THAT YOU CAN MIX THE TWO-LAYERED FORMULATION BEFORE USE.
Ingredients
precaution
CAUTION FOR EXTERNAL USE ONLY.

AVOID DIRECT CONTACT WITH EYES.

IF CONTACT OCCURS RINSE THOROUGHLY WITH WATER.

DISCONTINUE USE AND CONSULT A DOCTOR IF IRRITATION OCCURS. KEEP OUT OF REACH OF CHILDREN.
ingredient
WATER / AQUA / EAU, ASCORBIC ACID, PROPANEDIOL, DIMETHICONE, DIPROPYLENE GLYCOL, TROMETHAMINE, 3-O-ETHYL ASCORBIC ACID, SQUALANE, PANTHENOL, SODIUM CHLORIDE, ACETYL GLUCOSAMINE, LIMONENE, CAFFEINE, SODIUM HYALURONATE, SODIUM SULFITE, DISODIUM EDTA, GLUTATHIONE, FRAGRANCE / PARFUM, GARDENIA FLORIDA FRUIT EXTRACT, LINALOOL, DEXTRIN, CITRAL, BUTYLENE GLYCOL, ARGININE, XANTHAN GUM, NIACINAMIDE, PENTYLENE GLYCOL, TRANEXAMIC ACID, GLYCYRRHIZA GLABRA (LICORICE) ROOT EXTRACT, TOCOPHEROL, METHYL TRIMETHICONE, CARTHAMUS TINCTORIUS (SAFFLOWER) SEED OIL, 1,2-HEXANEDIOL, ETHYLHEXYLGLYCERIN, CENTELLA ASIATICA FLOWER/LEAF/STEM EXTRACT