Radian-C Advanced Effector
Brightening boosting essence with '3X VITAMIN MIX' and superberry complex
Product features
Q

Have you ever been surprised
to find your skin looking
dark and dull in the mirror
at the end of a long day?
YOUR SKIN IS GETTING IRRITATED
THROUGHOUT THE DAY
MECHANISM OF SKIN IRRITATION
Exposure to harmful outside conditions

Stimulated melanin activities

DARK AND DULL SKIN TONE
SKIN IRRITATION CHECKLIST
If two or more of these apply to you,
Replenish your skin
with Radian-C Effector now
Enjoying
outdoor sports
every weekend

sun

notebook

Looking at
a laptop all day
at school
at work

Using
smartphone until
right before sleep

phone
KEY
BENEFITS
#Brightening
#Super Strong Antioxidant Power
#Exfoliating Effect
01
SUPER STRONG
ANTIOXIDANT POWER
BY SUPER BERRY COMPLEX+VITAMINS
BENEFITS OF SUPER BERRY
Super Berry Complex provides
4 times the antioxidant power than that of Vitamin C
A BOTTLE OF RADIAN-C EFFECTOR
CONTAINS 94%
SUPER BERRY COMPLEX AND VITAMINS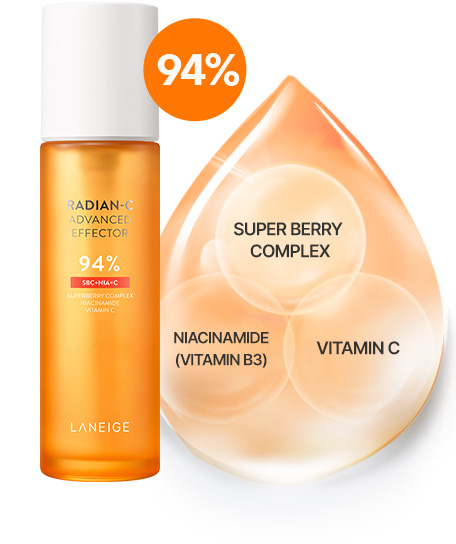 Treat 7 skin problems
with Radian-C Effector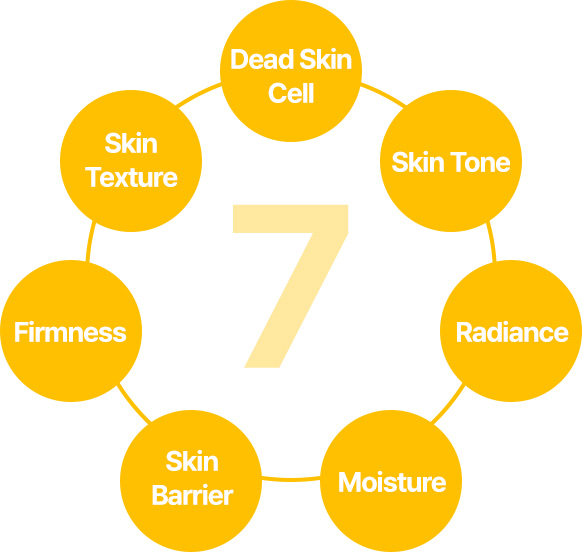 02
BRIGHT AND RADIANT SKIN
THROUGH EXFOLIATING
AND BOOSTING GLOW
'Taurine' balances
the skin environment by
providing turnover care
DEAD SKIN CELLS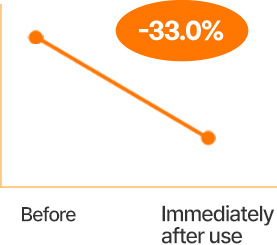 SKIN TEXTURE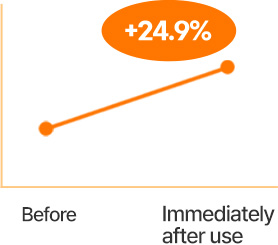 SKIN BARRIER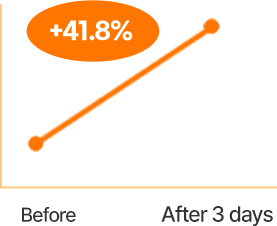 MOISTURE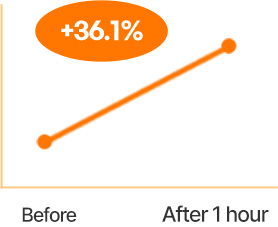 Agency : Global Medical Research Center / Period : 2021.11.15~2021.12.15
Subjects : 20~40 years old female (n=31)
03
ENHANCED EFFECTS
BY USING WITH RADIAN-C CREAM
BY USING IT WITH RADIAN-C CREAM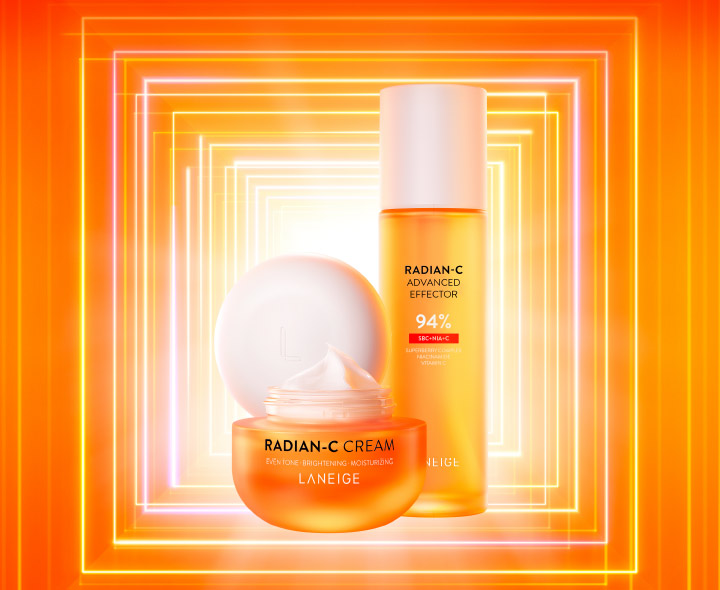 If use Effector and Cream together
FIRMNESS
X1.5
HYDRATION
X1.2
RADIANCE
X2.3
Agency : Global Medical Research Center / Period : 2021.12.08~2021.12.10
Subjects : 20~40 years old female (n=31)
TEXTURE
Fast absorbing & lightweight texture
Radian-c advanced effector texture video
HOW TO
Try Radian-C
with special cotton pad
TEXTURE CARE

Use the stripe-patterned side of the cotton
and swipe it gently over your face
starting from the center and working outwards
TAPPING CARE

Soak the cotton pad and gently pat it on the skin
with minimal pressure
Ideal pair
Use Radian-C
together
ESSENTIAL BRIGHTENING SOLUTION
for your busy mornings
1. After cleansing and while the skin is still wet, soak a cotton pad
with Radian-C Effector and lightly wipe the skin from the center outwards
2. Apply an adequate amount of cream on the cheeks, forehead, nose,
mouth area and neck, then gently press the skin with your palm
to help it absorb the product
3. Apply sun cream thoroughly on the entire face, neck and behind the ears
INTENSIVE BRIGHTENING SOLUTION
that is both delicate and focused
1. After cleansing, soak cotton pads with Radian-C Effector
then lightly pat the entire face. Leave the cotton pads on dry areas,
such as the forehead or beneath the eyes, for 1-2 minutes
2. Release the drops of ampoule on both cheeks
then massage from the inner side outwards
3. Once the skin has fully absorbed the ampoule, apply a rich amount of cream
on the entire face and wait until the skin takes its time to absorb it naturally
Sustainable Principles of

Radian-C Effector
7-FREE formula
Animal-originated ingredients,
Mineral oil, Parabens, Polyacrylamides,
Synthetic colorants, Imidazolidinyl urea, Triethanolamine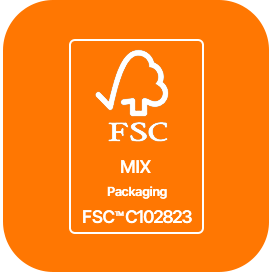 FSC paper used for all products.
LANEIGE uses FSC-certified paper for its
packages for a sustainable forestry.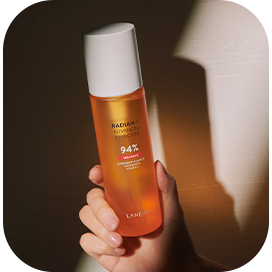 Biodegradability of 92.5%
This cream increased the content of
biodegradable ingredients to reduce the
product's impact on aquatic
environments and to focus on benefiting the skin.
Ingredients
precaution
[CAUTION]

FOR EXTERNAL USE ONLY.
AVOID DIRECT CONTACT WITH EYES. IF CONTACT OCCURS RINSE THOROUGHLY WITH WATER.
DISCONTINUE USE AND CONSULT A DOCTOR IF IRRITATION OCCURS. KEEP OUT OF REACH OF CHILDREN.
ingredient
WATER / AQUA / EAU, MALPIGHIA EMARGINATA (ACEROLA) FRUIT EXTRACT, PROPANEDIOL, ALCOHOL DENAT., EUTERPE OLERACEA FRUIT EXTRACT, NIACINAMIDE, BUTYLENE GLYCOL, 1,2-HEXANEDIOL, PEG-60 HYDROGENATED CASTOR OIL, BIS-PEG-18 METHYL ETHER DIMETHYL SILANE, ETHYLHEXYLGLYCERIN, ADENOSINE, DISODIUM EDTA, SODIUM MAGNESIUM SILICATE, FRAGRANCE / PARFUM, TAURINE, LIMONENE, GLUTATHIONE, ASCORBIC ACID, 3-O-ETHYL ASCORBIC ACID, TOCOPHEROL