[Miniature] Mini Pore Waterclay Mask
Quick-drying clay gel mask made of mineral mud from the Yellow Sea; absorbs excess sebum and cleans the pores
Product features
Recommended for

Concerned about sebum and pores
Skin requiring both sebum and pore care
It is a pore mask that removes sebum with moist waterclay gel.
THE PROOF
The secret of Laneige's original pore solution
The gel-type clay is easy to apply, drying more quickly where there is the most sebum

SECRET 1.

See the condition of your monster pores

Natural mineral mud collected from the Yellow Sea effectively removes sebum and impurities lodged in the pores.

SECRET 2.

Removal of sebum + removal of old skin cells + prevention of breakouts

Pine extract controls excessive sebum and prevents expansion of the pores

SECRET 3.

Refines the pores with Pine extract
Best Step
LANEIGE's Moisturizing Skincare
Routine Recommendation
How to
How to Use Mini Pore Waterclay Mask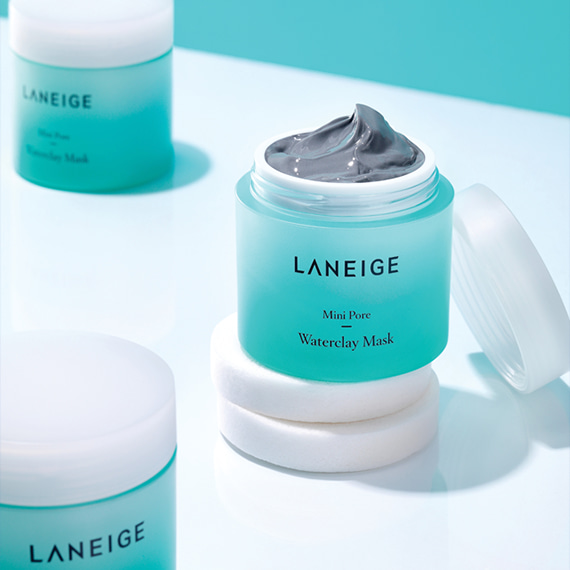 Recommended use (once to twice a week)
1) Refine skin with toner after cleansing the face. Apply a layer over the face except the sensitive skin around the eyes and mouth.
2) Allow the formula to dry completely. When the pores become apparent on the dry surface (about eight minutes later),
3) rinse off thoroughly with lukewarm water. Use the enclosed sponge to remove the residue.
※ The product can be used on small affected areas.
※ Comes with a sea sponge for rinsing!
Customer Reviews
[Miniature] Mini Pore Waterclay Mask
I cool down my skin with this clay facial masks in the summer. Works well

It smells fresh and it calms sensitive troubles when I apply it on the troubled skin

For the people whose pores are big. Especially who wants to remove blackhead
'THIS REVIEWS WERE SUBMITTED BY KOREAN CUSTOMERS'
Ingredients
precaution
Stop using the product immediately and consult a dermatologist when redness, swelling, or other skin irritations occur.

Avoid applying the product on open wounds or skin inflammation.

Keep away from direct sunlight and out of reach of infants and children.



1. If the following symptoms occur after product use, stop using the product immediately and consult a dermatologist (continuous use can exacerbate the symptoms):

a) Red spots, swelling, itchiness, and other skin irritation

b) If the symptoms above occur after the application area is exposed to direct sunlight



2. Do not use on open wounds, eczema, and other skin irritations.



3. Storing and handling

a) Close the lid after every use.

b) Keep out of reach of infants and children.

c) Do not store at extreme temperatures or in an area exposed to direct sunlight.
ingredient
Water, Sea Silt, Kaolin, Glycerin, Bentonite, Alcohol, Microcrystalline Cellulose, Mentha Piperita (Peppermint) Extract, Pinus Sylvestris Bud Extract, Phytosphingosine, Glyceryl Caprylate, Lecithin, Ceteareth-20, Cetyl Alcohol, Cellulose Gum, Stearyl Alcohol, Ethylhexylglycerin, Xanthan Gum, Titanium Dioxide, Pentylene Glycol, Hydrogenated Polydecene, Disodium EDTA, Phenoxyethanol, CI 77499