Skin Veil Cover Foundation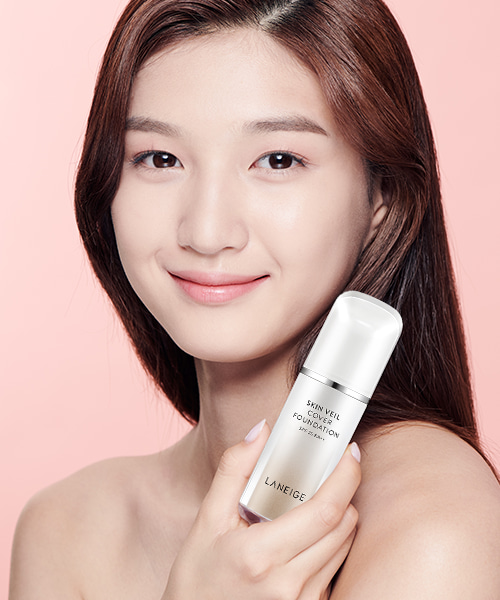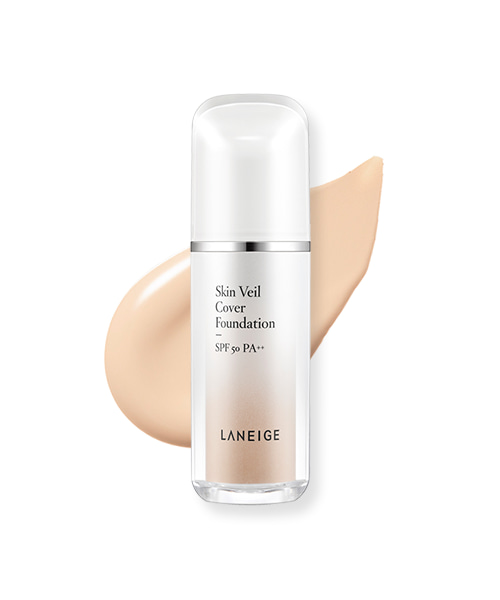 High-adhrence & high-coverage long-lasting foundation for a perfect flawless skin
Product features
Recommended for

For a high-coverage makeup look
For a matte finish look
For a high-adherence foundation
It adheres well with the skin and lasts for long time offering high coverage with a flawless finish like it's covering the skin with a veil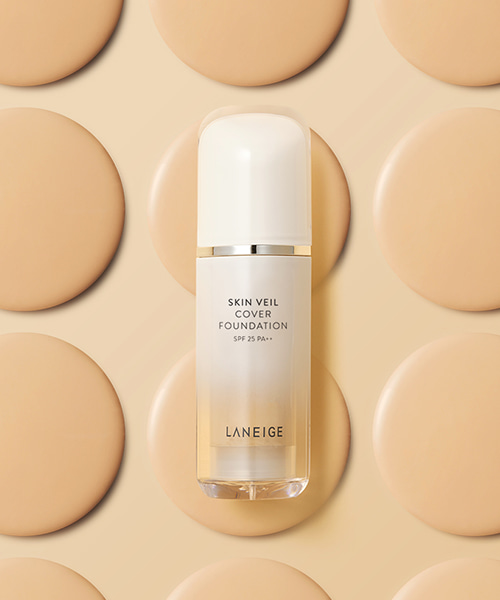 ALL SHADES
Foundation suggestion for your skin tone!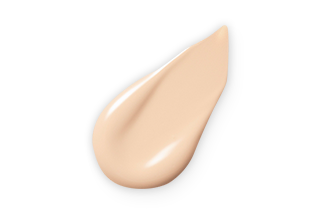 No.11 Porcelain
No.13 Ivory
No.21 Beige
No.23 Sand
No.31 Cinnamon
No.33 Coffee
HOW TO
How to Use Skin Veil Cover Foundation
Tip!

A shaking type is launched to provide thinner, closely adhering feel. Shake the container before use.

STEP 1.

Use after using UV protectant or makeup base.

STEP 2.

After applying gently on the face starting from the center and working outward, tap the face with the fingers to improve setting on skin. Tap the face with a sponge or an air puff as a finishing touch to express thinner, adhering makeup film on skin.
THE PROOF
What's special about Skin Veil Cover Foundation?
It offers a single thin yet dense cover

SECRET 1.

Thin layer of full extreme coverage

It sets onto the skin immediately after it's applied to complete a high-coverage makeup look

SECRET 2.

Quick-adhering makeup

The milky texture provides a matte, soft cover over skin

SECRET 3.

Milky texture with a matte finish
Customer Reviews
Skin Veil Cover Foundation
It brightens my skin complexion and good at covering blemishes

Enables natural skin expression and brightens skin tone. I totally want to buy this again

It covers troubles really well but not caky, either. Good item for summer season
'THIS REVIEWS WERE SUBMITTED BY KOREAN CUSTOMERS'
Ingredients
precaution
1) If skin develops abnormal symptoms and side effects such as red spots, swelling, and itching while using the product, or if the application area develops the symptoms above after exposure to direct sunlight, consult your dermatologist.



2) Do not apply on open wounds.



3) Storage & Handling

(1) Keep out of reach of children.

(2) Keep away from direct sunlight.
ingredient
WATER / AQUA / EAU, TITANIUM DIOXIDE (CI 77891), METHYL TRIMETHICONE, ALCOHOL, CYCLOPENTASILOXANE, ETHYLHEXYL METHOXYCINNAMATE, PHENYL TRIMETHICONE, BUTYLENE GLYCOL, POLYMETHYL METHACRYLATE, PEG-10 DIMETHICONE, CYCLOHEXASILOXANE, SORBITAN ISOSTEARATE, MICA, DIMETHICONE, PEG/PPG-19/19 DIMETHICONE, IRON OXIDES (CI 77492), DISTEARDIMONIUM HECTORITE, SODIUM CHLORIDE, TRIMETHYLSILOXYSILICATE, VINYL DIMETHICONE/METHICONE SILSESQUIOXANE CROSSPOLYMER, FRAGRANCE / PARFUM, ALUMINUM HYDROXIDE, NYLON-12, TRIETHOXYCAPRYLYLSILANE, DIMETHICONE/POLYGLYCERIN-3 CROSSPOLYMER, DIMETHICONE/PEG-10/15 CROSSPOLYMER, CAPRYLYL GLYCOL, IRON OXIDES (CI 77491), GLYCERYL CAPRYLATE, IRON OXIDES (CI 77499), LAUROYL LYSINE, DISODIUM EDTA, METHYL METHACRYLATE CROSSPOLYMER, DIPROPYLENE GLYCOL, ISODODECANE, ACRYLATES/POLYTRIMETHYLSILOXYMETHACRYLATE COPOLYMER, SODIUM CITRATE, TOCOPHEROL, PROPANEDIOL, 1,2-HEXANEDIOL, SODIUM MAGNESIUM SILICATE, ETHYLHEXYLGLYCERIN, GLUTATHIONE, MALPIGHIA EMARGINATA (ACEROLA) FRUIT EXTRACT, EUTERPE OLERACEA FRUIT EXTRACT
WATER / AQUA / EAU, TITANIUM DIOXIDE (CI 77891), METHYL TRIMETHICONE, ALCOHOL, CYCLOPENTASILOXANE, ETHYLHEXYL METHOXYCINNAMATE, PHENYL TRIMETHICONE, BUTYLENE GLYCOL, POLYMETHYL METHACRYLATE, PEG-10 DIMETHICONE, CYCLOHEXASILOXANE, SORBITAN ISOSTEARATE, MICA, IRON OXIDES (CI 77492), DIMETHICONE, PEG/PPG-19/19 DIMETHICONE, DISTEARDIMONIUM HECTORITE, SODIUM CHLORIDE, TRIMETHYLSILOXYSILICATE, VINYL DIMETHICONE/METHICONE SILSESQUIOXANE CROSSPOLYMER, FRAGRANCE / PARFUM, ALUMINUM HYDROXIDE, NYLON-12, TRIETHOXYCAPRYLYLSILANE, IRON OXIDES (CI 77491), DIMETHICONE/POLYGLYCERIN-3 CROSSPOLYMER, DIMETHICONE/PEG-10/15 CROSSPOLYMER, CAPRYLYL GLYCOL, IRON OXIDES (CI 77499), GLYCERYL CAPRYLATE, LAUROYL LYSINE, DISODIUM EDTA, METHYL METHACRYLATE CROSSPOLYMER, DIPROPYLENE GLYCOL, ISODODECANE, ACRYLATES/POLYTRIMETHYLSILOXYMETHACRYLATE COPOLYMER, SODIUM CITRATE, TOCOPHEROL, PROPANEDIOL, 1,2-HEXANEDIOL, SODIUM MAGNESIUM SILICATE, ETHYLHEXYLGLYCERIN, GLUTATHIONE, MALPIGHIA EMARGINATA (ACEROLA) FRUIT EXTRACT, EUTERPE OLERACEA FRUIT EXTRACT
WATER / AQUA / EAU, TITANIUM DIOXIDE (CI 77891), METHYL TRIMETHICONE, ALCOHOL, CYCLOPENTASILOXANE, ETHYLHEXYL METHOXYCINNAMATE, PHENYL TRIMETHICONE, BUTYLENE GLYCOL, PEG-10 DIMETHICONE, POLYMETHYL METHACRYLATE, CYCLOHEXASILOXANE, SORBITAN ISOSTEARATE, MICA, IRON OXIDES (CI 77492), DIMETHICONE, PEG/PPG-19/19 DIMETHICONE, DISTEARDIMONIUM HECTORITE, SODIUM CHLORIDE, TRIMETHYLSILOXYSILICATE, VINYL DIMETHICONE/METHICONE SILSESQUIOXANE CROSSPOLYMER, FRAGRANCE / PARFUM, ALUMINUM HYDROXIDE, IRON OXIDES (CI 77491), TRIETHOXYCAPRYLYLSILANE, NYLON-12, DIMETHICONE/POLYGLYCERIN-3 CROSSPOLYMER, DIMETHICONE/PEG-10/15 CROSSPOLYMER, CAPRYLYL GLYCOL, IRON OXIDES (CI 77499), GLYCERYL CAPRYLATE, LAUROYL LYSINE, DISODIUM EDTA, METHYL METHACRYLATE CROSSPOLYMER, DIPROPYLENE GLYCOL, ISODODECANE, ACRYLATES/POLYTRIMETHYLSILOXYMETHACRYLATE COPOLYMER, SODIUM CITRATE, TOCOPHEROL, PROPANEDIOL, 1,2-HEXANEDIOL, SODIUM MAGNESIUM SILICATE, ETHYLHEXYLGLYCERIN, GLUTATHIONE, MALPIGHIA EMARGINATA (ACEROLA) FRUIT EXTRACT, EUTERPE OLERACEA FRUIT EXTRACT
WATER / AQUA / EAU, TITANIUM DIOXIDE (CI 77891), METHYL TRIMETHICONE, ALCOHOL, CYCLOPENTASILOXANE, ETHYLHEXYL METHOXYCINNAMATE, PHENYL TRIMETHICONE, BUTYLENE GLYCOL, PEG-10 DIMETHICONE, CYCLOHEXASILOXANE, POLYMETHYL METHACRYLATE, SORBITAN ISOSTEARATE, MICA, IRON OXIDES (CI 77492), DIMETHICONE, PEG/PPG-19/19 DIMETHICONE, DISTEARDIMONIUM HECTORITE, SODIUM CHLORIDE, TRIMETHYLSILOXYSILICATE, VINYL DIMETHICONE/METHICONE SILSESQUIOXANE CROSSPOLYMER, IRON OXIDES (CI 77491), FRAGRANCE / PARFUM, ALUMINUM HYDROXIDE, TRIETHOXYCAPRYLYLSILANE, NYLON-12, IRON OXIDES (CI 77499), DIMETHICONE/POLYGLYCERIN-3 CROSSPOLYMER, DIMETHICONE/PEG-10/15 CROSSPOLYMER, CAPRYLYL GLYCOL, GLYCERYL CAPRYLATE, LAUROYL LYSINE, DISODIUM EDTA, METHYL METHACRYLATE CROSSPOLYMER, DIPROPYLENE GLYCOL, ISODODECANE, ACRYLATES/POLYTRIMETHYLSILOXYMETHACRYLATE COPOLYMER, SODIUM CITRATE, TOCOPHEROL, PROPANEDIOL, 1,2-HEXANEDIOL, SODIUM MAGNESIUM SILICATE, ETHYLHEXYLGLYCERIN, GLUTATHIONE, MALPIGHIA EMARGINATA (ACEROLA) FRUIT EXTRACT, EUTERPE OLERACEA FRUIT EXTRACT
WATER / AQUA / EAU, TITANIUM DIOXIDE (CI 77891), METHYL TRIMETHICONE, ALCOHOL, CYCLOPENTASILOXANE, ETHYLHEXYL METHOXYCINNAMATE, PHENYL TRIMETHICONE, BUTYLENE GLYCOL, POLYMETHYL METHACRYLATE, PEG-10 DIMETHICONE,CYCLOHEXASILOXANE, SORBITAN ISOSTEARATE, IRON OXIDES (CI 77492), MICA, DIMETHICONE, PEG/PPG-19/19 DIMETHICONE, DISTEARDIMONIUM HECTORITE, SODIUM CHLORIDE, TRIMETHYLSILOXYSILICATE, VINYL DIMETHICONE/METHICONE SILSESQUIOXANE CROSSPOLYMER, IRON OXIDES (CI 77491), FRAGRANCE / PARFUM, ALUMINUM HYDROXIDE, NYLON-12, TRIETHOXYCAPRYLYLSILANE, DIMETHICONE/POLYGLYCERIN-3 CROSSPOLYMER, IRON OXIDES (CI 77499), DIMETHICONE/PEG-10/15 CROSSPOLYMER, CAPRYLYL GLYCOL, GLYCERYL CAPRYLATE, LAUROYL LYSINE, DISODIUM EDTA, METHYL METHACRYLATE CROSSPOLYMER, DIPROPYLENE GLYCOL, ISODODECANE, ACRYLATES/POLYTRIMETHYLSILOXYMETHACRYLATE COPOLYMER, SODIUM CITRATE, TOCOPHEROL, PROPANEDIOL, 1,2-HEXANEDIOL, SODIUM MAGNESIUM SILICATE, ETHYLHEXYLGLYCERIN, GLUTATHIONE, MALPIGHIA EMARGINATA (ACEROLA) FRUIT EXTRACT, EUTERPE OLERACEA FRUIT EXTRACT
WATER / AQUA / EAU, TITANIUM DIOXIDE (CI 77891), METHYL TRIMETHICONE, ALCOHOL, CYCLOPENTASILOXANE, ETHYLHEXYL METHOXYCINNAMATE, PHENYL TRIMETHICONE, BUTYLENE GLYCOL, POLYMETHYL METHACRYLATE, PEG-10 DIMETHICONE, IRON OXIDES (CI 77492), CYCLOHEXASILOXANE, SORBITAN ISOSTEARATE, MICA, DIMETHICONE, PEG/PPG-19/19 DIMETHICONE, IRON OXIDES (CI 77491), DISTEARDIMONIUM HECTORITE, SODIUM CHLORIDE, TRIMETHYLSILOXYSILICATE, VINYL DIMETHICONE/METHICONE SILSESQUIOXANE CROSSPOLYMER, FRAGRANCE / PARFUM, IRON OXIDES (CI 77499), ALUMINUM HYDROXIDE, NYLON-12, TRIETHOXYCAPRYLYLSILANE, DIMETHICONE/POLYGLYCERIN-3 CROSSPOLYMER, DIMETHICONE/PEG-10/15 CROSSPOLYMER, CAPRYLYL GLYCOL, GLYCERYL CAPRYLATE, LAUROYL LYSINE, DISODIUM EDTA, METHYL METHACRYLATE CROSSPOLYMER, DIPROPYLENE GLYCOL, ISODODECANE, ACRYLATES/POLYTRIMETHYLSILOXYMETHACRYLATE COPOLYMER, SODIUM CITRATE, TOCOPHEROL, PROPANEDIOL, 1,2-HEXANEDIOL, SODIUM MAGNESIUM SILICATE, ETHYLHEXYLGLYCERIN, GLUTATHIONE, MALPIGHIA EMARGINATA (ACEROLA) FRUIT EXTRACT, EUTERPE OLERACEA FRUIT EXTRACT