Neo Cushion_Matte
Full coverage cushion that provides a flawless complexion for 24 hours by a single touch
Product features
Over 2.7 million KRW sales performance! Sold in every 15 secs.
9 awards winner LANEIGE Neo Cushion!
(Based on sales performance of Neo Cushion and Neo Cushion-linked products
from June 2020 to September 2021)
2021 Red dot design award main prize
2021 IF design award main prize
Marie Claire prix d'excellence de la beaute 2021
2020 Glow Pick Second Half Award ROOKIE
2020 Unnie's Pouch Second Half Cushion Special
Best New Product in the Second Half of 2020 Reconciliation
2020 Unnie's Pouch New Pick
Allure Product Rating Group 200 people Skin Adhesion Satisfaction 99.5%
ALLURE KOREA, BEST OF BEAUTY WINNER
Recommended for

Never running out makeup even in active outdoor activities
Transfer free on my phone screen, on my white clothes, on my mid-summer sunglasses, even on my cat.
Thin, even, and powerful coverage, excellent adhesion that does not transferred in everyday life, nevertheless, the perfect fitting cushion with my skin-like comfort!
THE PROOF
Creating perfect skin with a single touch
Cover powder which is about 2x thinner and specially coated pigments, makes you feel a thin and even ultra-light use and strong fit with almost no stains.
*Compared to BBC pore control

SECRET 1. Transfer free cushion fit
Strong Fixer Coverage

24-hour darkening free, cover lasting, and strong resistance on sweat and sebum which help you to keep your makeup fresh and clean without any touch up on your makeup.

SECRET 2. Sweat & sebum
resistance makeup fit
HUMID DEFENCETM

Cushion that can complete flawless skin with a simple but perfect cover with a high cover and matte formulation which is normally difficult to create as a cushion foundation.

SECRET 3.

Thin but perfect coverage
Natural matte FIT just like real my skin
Super-light coverage power with particles two times smaller than former product*,
and that feels thin and light on the skin
*LANEIGE BBC pore control
Big Pore Sponge* carrying matte-finish blend-able formula
to create perfectly covered yet natural looking flawless skin
*patent application no.10-2015-0049839
Help to cover various skin problems such as redness, yellowness, pore for 24H
*based on brand clinical test result, has personal difference
Long lasting makeup effect even Before & After 40 degree temperature sauna
Humid defence™ helps makeup to last longer in active outdoor activity or hot and humid weather.
Easy for everyone! #Universal design
Innovative One-Touch Spinning Refill
Structure helps to easily replace the refill
Grab the refill
and trun it
counter clockwise

Remove the refill
by lifting it up

Insert a new refill

Turn it clockwise
BEAUTY TIPS
MAKE-UP TIPS!
NEO CUSHION LAYERING TIPS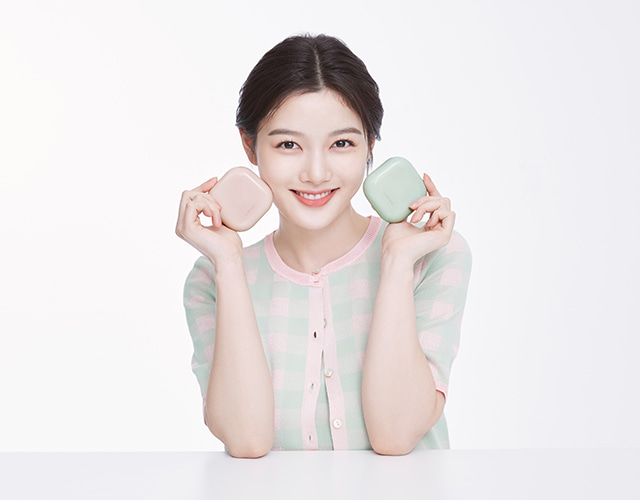 Apply the shade that matches your skintone onto your face and later use a brighter shade for the T-Zone (forehead and nose) as a highlighter
Ingredients
precaution
For external use only.

Avoid direct contact with eyes.

If contact occurs, rinse thoroughly with water.

Discontinue use if irritation occurs.

Keep out of reach of children.
ingredient
WATER / AQUA / EAU, TITANIUM DIOXIDE (CI 77891), CYCLOPENTASILOXANE, METHYL TRIMETHICONE, ETHYLHEXYL METHOXYCINNAMATE, CAPRYLYL METHICONE, POLYMETHYL METHACRYLATE, PEG-10 DIMETHICONE, PROPANEDIOL, CYCLOHEXASILOXANE, ZINC OXIDE (NANO), TRIMETHYLSILOXYSILICATE, TITANIUM DIOXIDE (NANO), NYLON-12, LAURYL PEG-9 POLYDIMETHYLSILOXYETHYL DIMETHICONE, HDI/TRIMETHYLOL HEXYLLACTONE CROSSPOLYMER, DISTEARDIMONIUM HECTORITE, IRON OXIDES (CI 77492), 1,2-HEXANEDIOL, ALUMINUM HYDROXIDE, SODIUM CHLORIDE, ACRYLATES/DIMETHICONE COPOLYMER, ISOPROPYL TITANIUM TRIISOSTEARATE, IRON OXIDES (CI 77491), ACRYLATES/ETHYLHEXYL ACRYLATE/DIMETHICONE METHACRYLATE COPOLYMER, FRAGRANCE / PARFUM, CAPRYLYL GLYCOL, BIS-PEG-15 DIMETHICONE/IPDI COPOLYMER, STEARIC ACID, PEG-2 SOYAMINE, ETHYLHEXYLGLYCERIN, DISODIUM EDTA, TRIETHOXYCAPRYLYLSILANE, SILICA, IRON OXIDES (CI 77499), CITRONELLOL, GERANIOL, LIMONENE, BHT, HYDROXYCITRONELLAL, TOCOPHEROL
WATER / AQUA / EAU, TITANIUM DIOXIDE (CI 77891), CYCLOPENTASILOXANE, METHYL TRIMETHICONE, ETHYLHEXYL METHOXYCINNAMATE, CAPRYLYL METHICONE, POLYMETHYL METHACRYLATE, PEG-10 DIMETHICONE, PROPANEDIOL, CYCLOHEXASILOXANE, ZINC OXIDE (NANO), TRIMETHYLSILOXYSILICATE, TITANIUM DIOXIDE (NANO), NYLON-12, LAURYL PEG-9 POLYDIMETHYLSILOXYETHYL DIMETHICONE, HDI/TRIMETHYLOL HEXYLLACTONE CROSSPOLYMER, DISTEARDIMONIUM HECTORITE, IRON OXIDES (CI 77492), 1,2-HEXANEDIOL, ALUMINUM HYDROXIDE, SODIUM CHLORIDE, ACRYLATES/DIMETHICONE COPOLYMER, IRON OXIDES (CI 77491), ISOPROPYL TITANIUM TRIISOSTEARATE, ACRYLATES/ETHYLHEXYL ACRYLATE/DIMETHICONE METHACRYLATE COPOLYMER, FRAGRANCE / PARFUM, CAPRYLYL GLYCOL, BIS-PEG-15 DIMETHICONE/IPDI COPOLYMER, STEARIC ACID, PEG-2 SOYAMINE, ETHYLHEXYLGLYCERIN, DISODIUM EDTA, TRIETHOXYCAPRYLYLSILANE, SILICA, IRON OXIDES (CI 77499), CITRONELLOL, GERANIOL, LIMONENE, BHT, HYDROXYCITRONELLAL, TOCOPHEROL
WATER / AQUA / EAU, TITANIUM DIOXIDE (CI 77891), CYCLOPENTASILOXANE, METHYL TRIMETHICONE, ETHYLHEXYL METHOXYCINNAMATE, CAPRYLYL METHICONE, PEG-10 DIMETHICONE, PROPANEDIOL, CYCLOHEXASILOXANE, POLYMETHYL METHACRYLATE, ZINC OXIDE (NANO), TRIMETHYLSILOXYSILICATE, TITANIUM DIOXIDE (NANO), NYLON-12, LAURYL PEG-9 POLYDIMETHYLSILOXYETHYL DIMETHICONE, HDI/TRIMETHYLOL HEXYLLACTONE CROSSPOLYMER, DISTEARDIMONIUM HECTORITE, IRON OXIDES (CI 77492), 1,2-HEXANEDIOL, IRON OXIDES (CI 77491), ALUMINUM HYDROXIDE, SODIUM CHLORIDE, ACRYLATES/DIMETHICONE COPOLYMER, ISOPROPYL TITANIUM TRIISOSTEARATE, ACRYLATES/ETHYLHEXYL ACRYLATE/DIMETHICONE METHACRYLATE COPOLYMER, FRAGRANCE / PARFUM, CAPRYLYL GLYCOL, BIS-PEG-15 DIMETHICONE/IPDI COPOLYMER, STEARIC ACID, PEG-2 SOYAMINE, ETHYLHEXYLGLYCERIN, DISODIUM EDTA, TRIETHOXYCAPRYLYLSILANE, SILICA, IRON OXIDES (CI 77499), CITRONELLOL, GERANIOL, LIMONENE, BHT, HYDROXYCITRONELLAL, TOCOPHEROL
WATER / AQUA / EAU, TITANIUM DIOXIDE (CI 77891), CYCLOPENTASILOXANE, METHYL TRIMETHICONE, ETHYLHEXYL METHOXYCINNAMATE, CAPRYLYL METHICONE, PEG-10 DIMETHICONE, PROPANEDIOL, CYCLOHEXASILOXANE, POLYMETHYL METHACRYLATE, ZINC OXIDE (NANO), TRIMETHYLSILOXYSILICATE, TITANIUM DIOXIDE (NANO), NYLON-12, LAURYL PEG-9 POLYDIMETHYLSILOXYETHYL DIMETHICONE, HDI/TRIMETHYLOL HEXYLLACTONE CROSSPOLYMER, IRON OXIDES (CI 77492), DISTEARDIMONIUM HECTORITE, 1,2-HEXANEDIOL, ALUMINUM HYDROXIDE, SODIUM CHLORIDE, IRON OXIDES (CI 77491), ACRYLATES/DIMETHICONE COPOLYMER, ISOPROPYL TITANIUM TRIISOSTEARATE, ACRYLATES/ETHYLHEXYL ACRYLATE/DIMETHICONE METHACRYLATE COPOLYMER, FRAGRANCE / PARFUM, CAPRYLYL GLYCOL, BIS-PEG-15 DIMETHICONE/IPDI COPOLYMER, STEARIC ACID, PEG-2 SOYAMINE, ETHYLHEXYLGLYCERIN, DISODIUM EDTA, IRON OXIDES (CI 77499), TRIETHOXYCAPRYLYLSILANE, SILICA, CITRONELLOL, GERANIOL, LIMONENE, BHT, HYDROXYCITRONELLAL, TOCOPHEROL
WATER / AQUA / EAU, TITANIUM DIOXIDE (CI 77891), CYCLOPENTASILOXANE, METHYL TRIMETHICONE, ETHYLHEXYL METHOXYCINNAMATE, CAPRYLYL METHICONE, POLYMETHYL METHACRYLATE, PEG-10 DIMETHICONE, PROPANEDIOL, CYCLOHEXASILOXANE, ZINC OXIDE (NANO), TRIMETHYLSILOXYSILICATE, TITANIUM DIOXIDE (NANO), IRON OXIDES (CI 77492), NYLON-12, LAURYL PEG-9 POLYDIMETHYLSILOXYETHYL DIMETHICONE, HDI/TRIMETHYLOL HEXYLLACTONE CROSSPOLYMER, DISTEARDIMONIUM HECTORITE, IRON OXIDES (CI 77491), 1,2-HEXANEDIOL, SODIUM CHLORIDE, ALUMINUM HYDROXIDE, ACRYLATES/DIMETHICONE COPOLYMER, ISOPROPYL TITANIUM TRIISOSTEARATE, ACRYLATES/ETHYLHEXYL ACRYLATE/DIMETHICONE METHACRYLATE COPOLYMER, FRAGRANCE / PARFUM, CAPRYLYL GLYCOL, BIS-PEG-15 DIMETHICONE/IPDI COPOLYMER, STEARIC ACID, PEG-2 SOYAMINE, ETHYLHEXYLGLYCERIN, DISODIUM EDTA, TRIETHOXYCAPRYLYLSILANE, SILICA, IRON OXIDES (CI 77499), CITRONELLOL, GERANIOL, LIMONENE, BHT, HYDROXYCITRONELLAL, TOCOPHEROL
WATER / AQUA / EAU, TITANIUM DIOXIDE (CI 77891), CYCLOPENTASILOXANE, METHYL TRIMETHICONE, ETHYLHEXYL METHOXYCINNAMATE, CAPRYLYL METHICONE, PEG-10 DIMETHICONE, PROPANEDIOL, CYCLOHEXASILOXANE, POLYMETHYL METHACRYLATE, IRON OXIDES (CI 77492), ZINC OXIDE (NANO), TRIMETHYLSILOXYSILICATE, TITANIUM DIOXIDE (NANO), NYLON-12, LAURYL PEG-9 POLYDIMETHYLSILOXYETHYL DIMETHICONE, HDI/TRIMETHYLOL HEXYLLACTONE CROSSPOLYMER, DISTEARDIMONIUM HECTORITE, IRON OXIDES (CI 77491), 1,2-HEXANEDIOL, ALUMINUM HYDROXIDE, SODIUM CHLORIDE, ACRYLATES/DIMETHICONE COPOLYMER, ISOPROPYL TITANIUM TRIISOSTEARATE, ACRYLATES/ETHYLHEXYL ACRYLATE/DIMETHICONE METHACRYLATE COPOLYMER, FRAGRANCE / PARFUM, CAPRYLYL GLYCOL, BIS-PEG-15 DIMETHICONE/IPDI COPOLYMER, STEARIC ACID, PEG-2 SOYAMINE, ETHYLHEXYLGLYCERIN, IRON OXIDES (CI 77499), DISODIUM EDTA, TRIETHOXYCAPRYLYLSILANE, SILICA, CITRONELLOL, GERANIOL, LIMONENE, BHT, HYDROXYCITRONELLAL, TOCOPHEROL
WATER / AQUA / EAU, TITANIUM DIOXIDE (CI 77891), CYCLOPENTASILOXANE, METHYL TRIMETHICONE, ETHYLHEXYL METHOXYCINNAMATE, CAPRYLYL METHICONE, PEG-10 DIMETHICONE, PROPANEDIOL, CYCLOHEXASILOXANE, IRON OXIDES (CI 77492), ZINC OXIDE (NANO), POLYMETHYL METHACRYLATE, TRIMETHYLSILOXYSILICATE, TITANIUM DIOXIDE (NANO), NYLON-12, LAURYL PEG-9 POLYDIMETHYLSILOXYETHYL DIMETHICONE, HDI/TRIMETHYLOL HEXYLLACTONE CROSSPOLYMER, DISTEARDIMONIUM HECTORITE, IRON OXIDES (CI 77491), 1,2-HEXANEDIOL, ALUMINUM HYDROXIDE, SODIUM CHLORIDE, ACRYLATES/DIMETHICONE COPOLYMER, ISOPROPYL TITANIUM TRIISOSTEARATE, ACRYLATES/ETHYLHEXYL ACRYLATE/DIMETHICONE METHACRYLATE COPOLYMER, FRAGRANCE / PARFUM, CAPRYLYL GLYCOL, BIS-PEG-15 DIMETHICONE/IPDI COPOLYMER, STEARIC ACID, PEG-2 SOYAMINE, IRON OXIDES (CI 77499), ETHYLHEXYLGLYCERIN, DISODIUM EDTA, TRIETHOXYCAPRYLYLSILANE, SILICA, CITRONELLOL, GERANIOL, LIMONENE, BHT, HYDROXYCITRONELLAL, TOCOPHEROL
WATER / AQUA / EAU, TITANIUM DIOXIDE (CI 77891), CYCLOPENTASILOXANE, METHYL TRIMETHICONE, ETHYLHEXYL METHOXYCINNAMATE, CAPRYLYL METHICONE, IRON OXIDES (CI 77492), POLYMETHYL METHACRYLATE, PEG-10 DIMETHICONE, PROPANEDIOL, CYCLOHEXASILOXANE, ZINC OXIDE (NANO), TRIMETHYLSILOXYSILICATE, TITANIUM DIOXIDE (NANO), NYLON-12, LAURYL PEG-9 POLYDIMETHYLSILOXYETHYL DIMETHICONE, HDI/TRIMETHYLOL HEXYLLACTONE CROSSPOLYMER, DISTEARDIMONIUM HECTORITE, IRON OXIDES (CI 77491), 1,2-HEXANEDIOL, SODIUM CHLORIDE, ACRYLATES/DIMETHICONE COPOLYMER, ALUMINUM HYDROXIDE, ISOPROPYL TITANIUM TRIISOSTEARATE, ACRYLATES/ETHYLHEXYL ACRYLATE/DIMETHICONE METHACRYLATE COPOLYMER, FRAGRANCE / PARFUM, CAPRYLYL GLYCOL, BIS-PEG-15 DIMETHICONE/IPDI COPOLYMER, STEARIC ACID, PEG-2 SOYAMINE, ETHYLHEXYLGLYCERIN, IRON OXIDES (CI 77499), DISODIUM EDTA, TRIETHOXYCAPRYLYLSILANE, SILICA, CITRONELLOL, GERANIOL, LIMONENE, BHT, HYDROXYCITRONELLAL, TOCOPHEROL
WATER / AQUA / EAU, TITANIUM DIOXIDE (CI 77891), CYCLOPENTASILOXANE, METHYL TRIMETHICONE, ETHYLHEXYL METHOXYCINNAMATE, CAPRYLYL METHICONE, IRON OXIDES (CI 77492), POLYMETHYL METHACRYLATE, PEG-10 DIMETHICONE, PROPANEDIOL, CYCLOHEXASILOXANE, ZINC OXIDE (NANO), TRIMETHYLSILOXYSILICATE, TITANIUM DIOXIDE (NANO), NYLON-12, LAURYL PEG-9 POLYDIMETHYLSILOXYETHYL DIMETHICONE, HDI/TRIMETHYLOL HEXYLLACTONE CROSSPOLYMER, IRON OXIDES (CI 77491), DISTEARDIMONIUM HECTORITE, 1,2-HEXANEDIOL, SODIUM CHLORIDE, ACRYLATES/DIMETHICONE COPOLYMER, ALUMINUM HYDROXIDE, ISOPROPYL TITANIUM TRIISOSTEARATE, ACRYLATES/ETHYLHEXYL ACRYLATE/DIMETHICONE METHACRYLATE COPOLYMER, FRAGRANCE / PARFUM, CAPRYLYL GLYCOL, BIS-PEG-15 DIMETHICONE/IPDI COPOLYMER, STEARIC ACID, IRON OXIDES (CI 77499), PEG-2 SOYAMINE, ETHYLHEXYLGLYCERIN, DISODIUM EDTA, TRIETHOXYCAPRYLYLSILANE, SILICA, CITRONELLOL, GERANIOL, LIMONENE, BHT, HYDROXYCITRONELLAL, TOCOPHEROL
WATER / AQUA / EAU, TITANIUM DIOXIDE (CI 77891), CYCLOPENTASILOXANE, METHYL TRIMETHICONE, ETHYLHEXYL METHOXYCINNAMATE, CAPRYLYL METHICONE, IRON OXIDES (CI 77492), POLYMETHYL METHACRYLATE, PEG-10 DIMETHICONE, PROPANEDIOL, CYCLOHEXASILOXANE, ZINC OXIDE (NANO), TRIMETHYLSILOXYSILICATE, TITANIUM DIOXIDE (NANO), NYLON-12, LAURYL PEG-9 POLYDIMETHYLSILOXYETHYL DIMETHICONE, HDI/TRIMETHYLOL HEXYLLACTONE CROSSPOLYMER, IRON OXIDES (CI 77491), DISTEARDIMONIUM HECTORITE, 1,2-HEXANEDIOL, SODIUM CHLORIDE, ACRYLATES/DIMETHICONE COPOLYMER, ALUMINUM HYDROXIDE, ISOPROPYL TITANIUM TRIISOSTEARATE, ACRYLATES/ETHYLHEXYL ACRYLATE/DIMETHICONE METHACRYLATE COPOLYMER, FRAGRANCE / PARFUM, CAPRYLYL GLYCOL, BIS-PEG-15 DIMETHICONE/IPDI COPOLYMER, STEARIC ACID, IRON OXIDES (CI 77499), PEG-2 SOYAMINE, ETHYLHEXYLGLYCERIN, DISODIUM EDTA, TRIETHOXYCAPRYLYLSILANE, SILICA, CITRONELLOL, GERANIOL, LIMONENE, BHT, HYDROXYCITRONELLAL, TOCOPHEROL