Neo Cushion_Glow
Radiant-Finish Cushion that creates a prismlike glowing complexion for 24 hours
Product features
Neo Cushion! over 2.7 million KRW sales performance!
Sold in every 15 secs (Based on sales performance of Neo Cushion and Neo Cushion-linked products
from June 2020 to September 2021)
Marie Claire prix d'excellence de la beaute 2021
2020 Unnie's Pouch Second Half Cushion Special
Recommended for

When you want to easily tone up your dull-looking skin by staying up all night
When you don't want to miss both the perfect face makeup and the glossiness
It's a reflective cushion that completes dull skin as a glossy skin just like that I set the reflective plate.
It contains real diamonds, so you can feel a unique gloss that shines from any angle.
THE PROOF
The most flattering cushion foundation to create bright and dewy glowing skin
Multi light reflection of the liquid diamond, which is the mixture of fine-tuned diamond & moisturizing factors

SECRET 1.

24-hour lasting diamondlike radiance

Transparent white pigment without white cast & true black color pigment without blueness

SECRET 2.

Clear and bright color without any greyness

It contains real brightening functional ingredient (niacinamide) and 7X high content of moisturizing ingredient compared to former cushion
*former cushion: BBC Whitening

SECRET 3.

Brightening & moisturizing dual care
360º Diamond Radiant Skin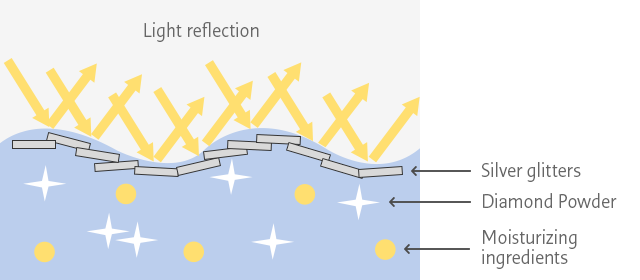 Liquid Diamond™ & silver glitters make skin glow radiantly from every angle
It contains 5.7 times higher moisturizing ingredients1) and hydrates the skin for 24 hours.
1)Compared to Laneige BB Cushion_Whitening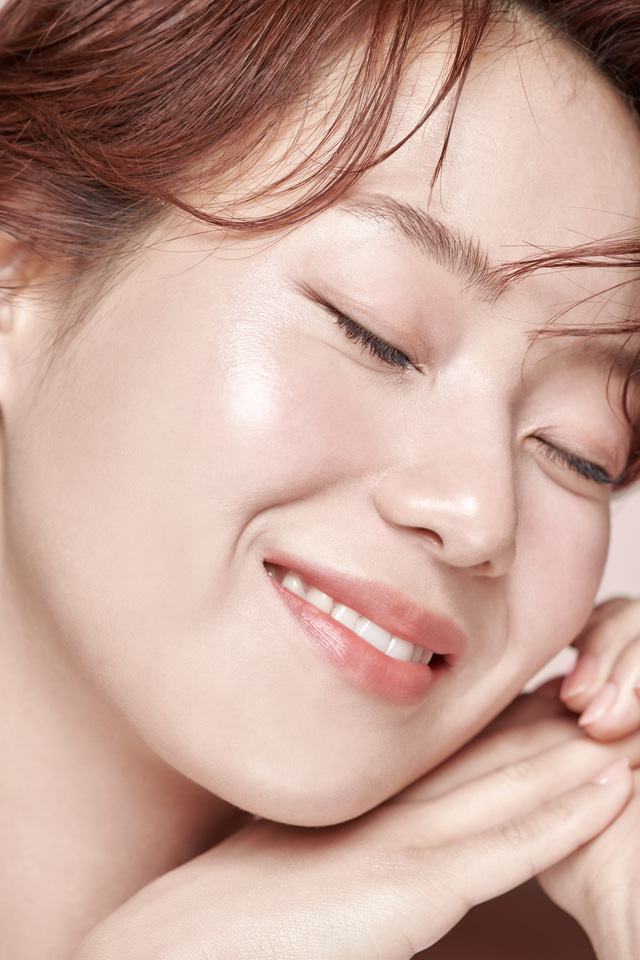 "My skin looks like as if I applied a mist"
Dewy Lasting Technology is the technology that
enables moisturizers to touch the skin first, before pigments do.
This provides a comfortable feel when formula is
applied on the skin and creates a radiant skin as if mist is applied.
"Neo Cushion is good for your skin!"
It contains niacinamide, a brightening ingredient, which helps to brighten up dull skin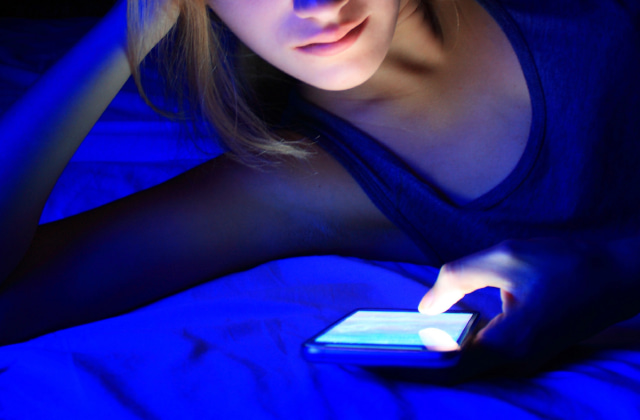 Neo Cushion can take care of skin damages, such as dryness,
from long-term exposure of blue light from mobile phones and PCs.
Easy for everyone! #Universal design
Innovative One-Touch Spinning Refill
Structure helps to easily replace the refill
Grab the refill
and turn it
counter clockwise

Remove the refill
by lifting it up

Insert a new refill

Turn it clockwise
ALL SHADES
FIND YOUR SHADE

13N
17N
21C
21N

23C

23N

25N

31N

33N

25N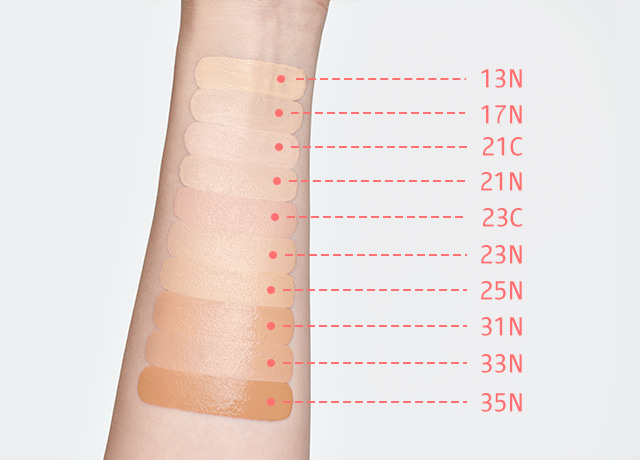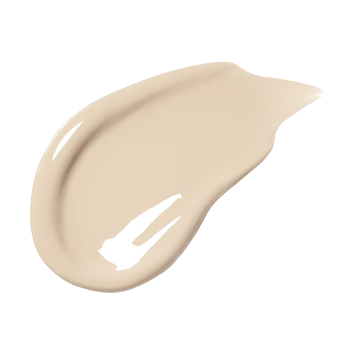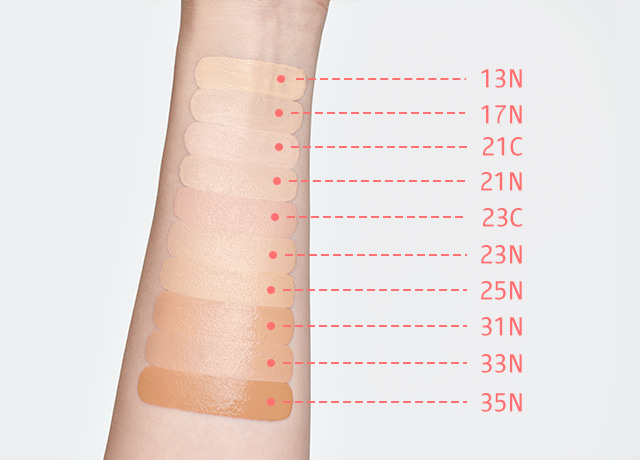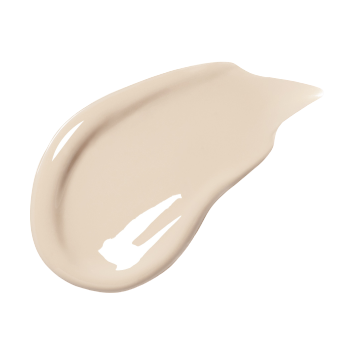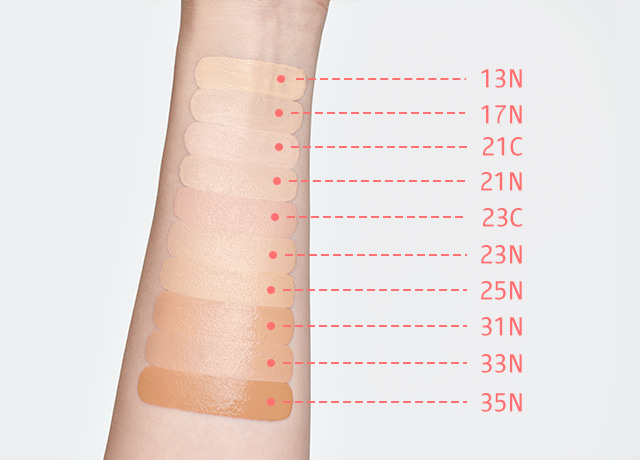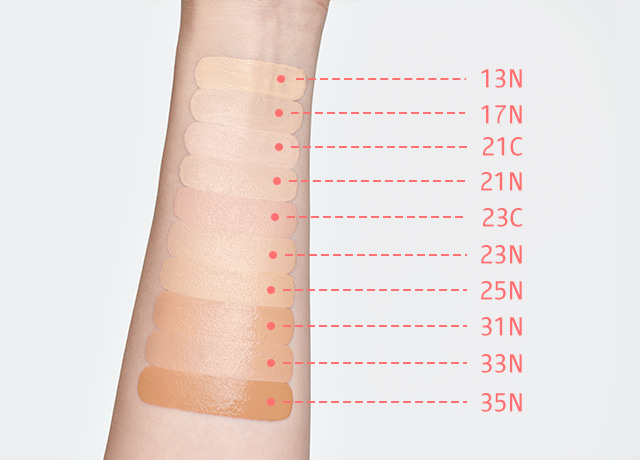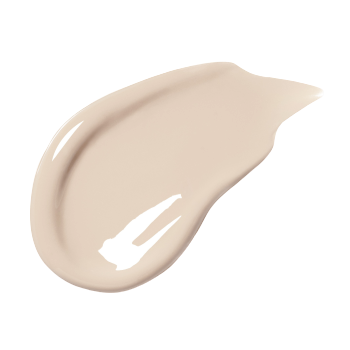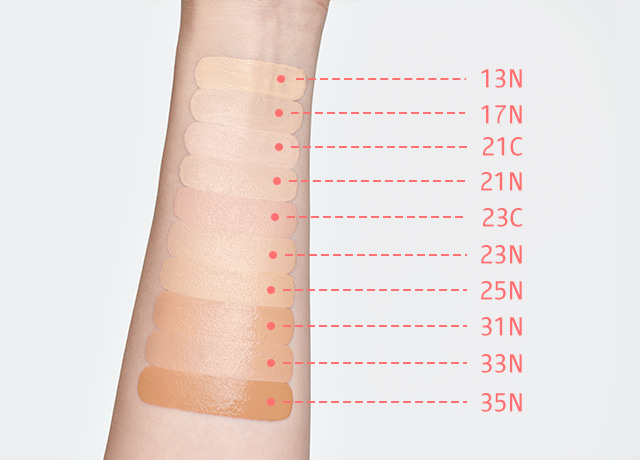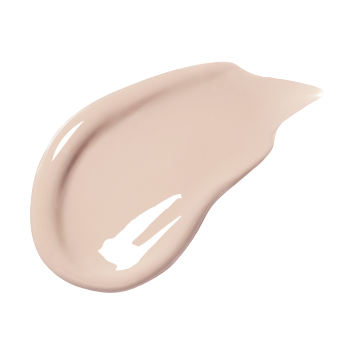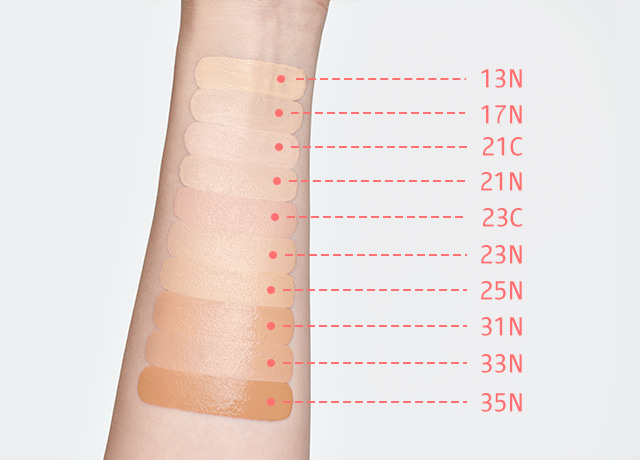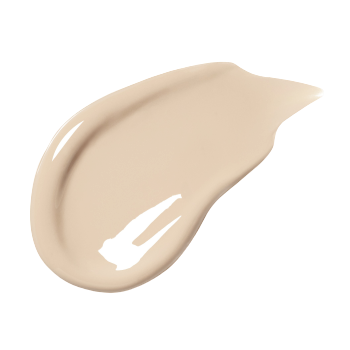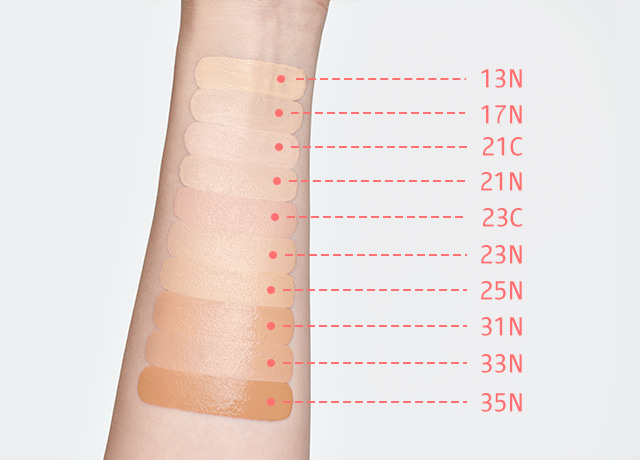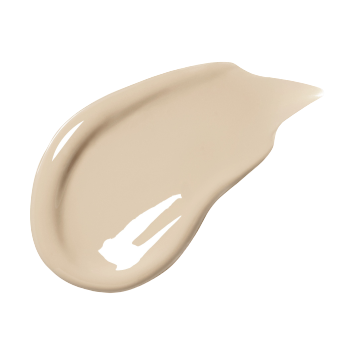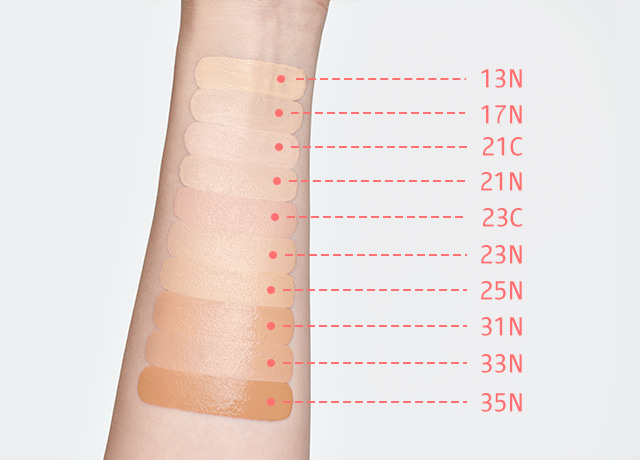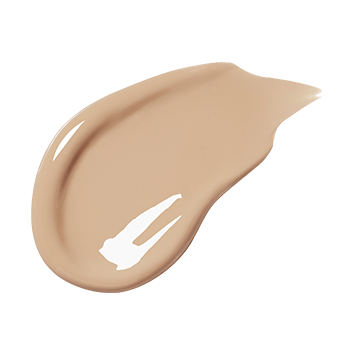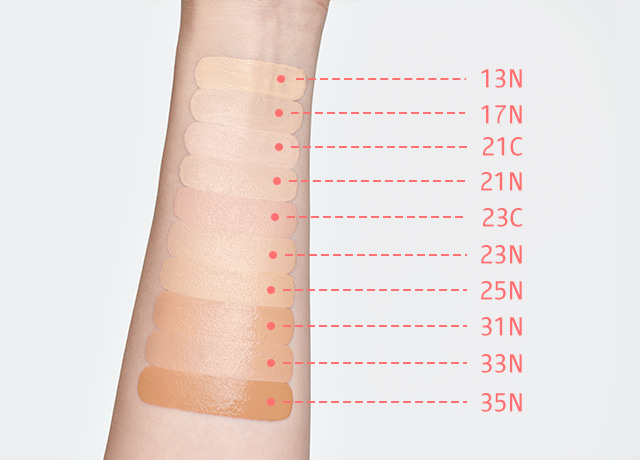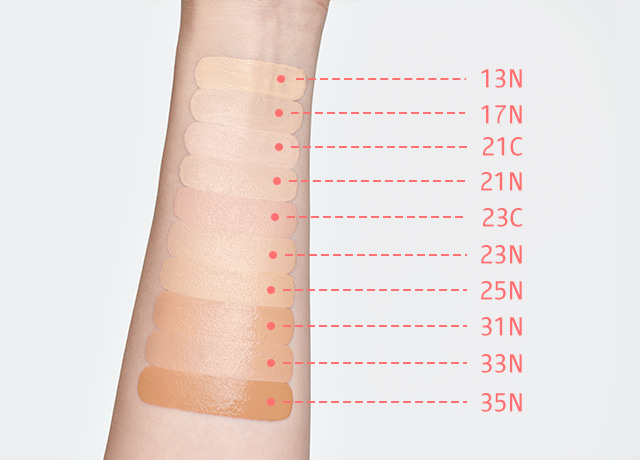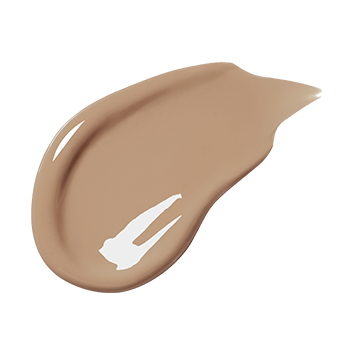 LANEIGE BB Cushion
11N
13N
21N
23N
17C, 21C
23C
31N
33N
35N
LANEIGE
NEO Cushion
13N
13N,17N
17N, 21N
23N, 25N
21C
23C
31N
33N
35N
BEAUTY TIPS
MAKE-UP TIPS!
NEO CUSHION LAYERING TIPS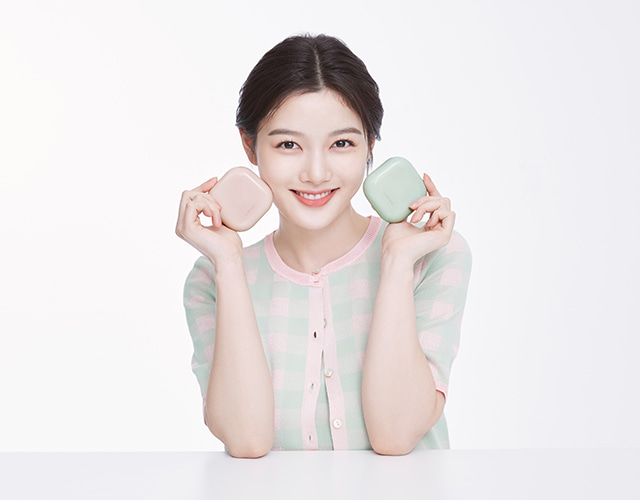 Apply the shade that matches your skintone onto your face and later use a brighter shade for the T-Zone (forehead and nose) as a highlighter
Ingredients
precaution
For external use only.


Avoid direct contact with eyes.


If contact occurs, rinse thoroughly with water.


Discontinue use if irritation occurs.


Keep out of reach of children.
ingredient
WATER / AQUA / EAU, CYCLOPENTASILOXANE, TITANIUM DIOXIDE (CI 77891), PHENYL TRIMETHICONE, HOMOSALATE, GLYCERIN, ETHYLHEXYL METHOXYCINNAMATE, TITANIUM DIOXIDE (NANO), PEG-10 DIMETHICONE, CYCLOHEXASILOXANE, BORON NITRIDE, TRIMETHYLSILOXYSILICATE, NIACINAMIDE, LAURYL PEG-10 TRIS(TRIMETHYLSILOXY)SILYLETHYL DIMETHICONE, PROPANEDIOL, POLYMETHYL METHACRYLATE, 1,2-HEXANEDIOL, ACRYLATES/DIMETHICONE COPOLYMER, DISTEARDIMONIUM HECTORITE, IRON OXIDES (CI 77492), SODIUM CHLORIDE, ALUMINA, BISMUTH OXYCHLORIDE (CI 77163), GLYCERYL STEARATE CITRATE, POLYSORBATE 80, DISODIUM STEAROYL GLUTAMATE, FRAGRANCE / PARFUM, ALUMINUM HYDROXIDE, DIMETHICONE/PEG-10/15 CROSSPOLYMER, CAPRYLYL GLYCOL, HYDROGENATED LECITHIN, ETHYLHEXYL HYDROXYSTEARATE, IRON OXIDES (CI 77491), SIMETHICONE, GLYCERYL CAPRYLATE, ETHYLHEXYLGLYCERIN, DISODIUM EDTA, ADENOSINE, IRON OXIDES (CI 77499), TRIETHOXYCAPRYLYLSILANE, CITRONELLOL, GERANIOL, LIMONENE, DIPROPYLENE GLYCOL, BHT, HYDROXYCITRONELLAL, THYMOL TRIMETHOXYCINNAMATE, SODIUM CITRATE, TOCOPHEROL, SODIUM BENZOATE, LACTIC ACID, POTASSIUM SORBATE, DIAMOND POWDER, XANTHAN GUM
WATER / AQUA / EAU, CYCLOPENTASILOXANE, TITANIUM DIOXIDE (CI 77891), PHENYL TRIMETHICONE, HOMOSALATE, GLYCERIN, ETHYLHEXYL METHOXYCINNAMATE, TITANIUM DIOXIDE (NANO), PEG-10 DIMETHICONE, CYCLOHEXASILOXANE, BORON NITRIDE, TRIMETHYLSILOXYSILICATE, NIACINAMIDE, LAURYL PEG-10 TRIS(TRIMETHYLSILOXY)SILYLETHYL DIMETHICONE, PROPANEDIOL, POLYMETHYL METHACRYLATE, 1,2-HEXANEDIOL, ACRYLATES/DIMETHICONE COPOLYMER, DISTEARDIMONIUM HECTORITE, IRON OXIDES (CI 77492), SODIUM CHLORIDE, ALUMINA, BISMUTH OXYCHLORIDE (CI 77163), GLYCERYL STEARATE CITRATE, POLYSORBATE 80, DISODIUM STEAROYL GLUTAMATE, FRAGRANCE / PARFUM, ALUMINUM HYDROXIDE, DIMETHICONE/PEG-10/15 CROSSPOLYMER, CAPRYLYL GLYCOL, IRON OXIDES (CI 77491), HYDROGENATED LECITHIN, ETHYLHEXYL HYDROXYSTEARATE, SIMETHICONE, GLYCERYL CAPRYLATE, ETHYLHEXYLGLYCERIN, IRON OXIDES (CI 77499), DISODIUM EDTA, ADENOSINE, TRIETHOXYCAPRYLYLSILANE, CITRONELLOL, GERANIOL, LIMONENE, DIPROPYLENE GLYCOL, BHT, HYDROXYCITRONELLAL, THYMOL TRIMETHOXYCINNAMATE, SODIUM CITRATE, TOCOPHEROL, SODIUM BENZOATE, LACTIC ACID, POTASSIUM SORBATE, DIAMOND POWDER, XANTHAN GUM
WATER / AQUA / EAU, CYCLOPENTASILOXANE, TITANIUM DIOXIDE (CI 77891), PHENYL TRIMETHICONE, HOMOSALATE, GLYCERIN, ETHYLHEXYL METHOXYCINNAMATE, TITANIUM DIOXIDE (NANO), PEG-10 DIMETHICONE, CYCLOHEXASILOXANE, BORON NITRIDE, TRIMETHYLSILOXYSILICATE, NIACINAMIDE, LAURYL PEG-10 TRIS(TRIMETHYLSILOXY)SILYLETHYL DIMETHICONE, PROPANEDIOL, POLYMETHYL METHACRYLATE, 1,2-HEXANEDIOL, ACRYLATES/DIMETHICONE COPOLYMER, DISTEARDIMONIUM HECTORITE, SODIUM CHLORIDE, ALUMINA, IRON OXIDES (CI 77492), BISMUTH OXYCHLORIDE (CI 77163), GLYCERYL STEARATE CITRATE, POLYSORBATE 80, DISODIUM STEAROYL GLUTAMATE, FRAGRANCE / PARFUM, ALUMINUM HYDROXIDE, DIMETHICONE/PEG-10/15 CROSSPOLYMER, CAPRYLYL GLYCOL, IRON OXIDES (CI 77491), HYDROGENATED LECITHIN, ETHYLHEXYL HYDROXYSTEARATE, SIMETHICONE, GLYCERYL CAPRYLATE, ETHYLHEXYLGLYCERIN, DISODIUM EDTA, ADENOSINE, IRON OXIDES (CI 77499), TRIETHOXYCAPRYLYLSILANE, CITRONELLOL, GERANIOL, LIMONENE, DIPROPYLENE GLYCOL, BHT, HYDROXYCITRONELLAL, THYMOL TRIMETHOXYCINNAMATE, SODIUM CITRATE, TOCOPHEROL, SODIUM BENZOATE, LACTIC ACID, POTASSIUM SORBATE, DIAMOND POWDER, XANTHAN GUM
WATER / AQUA / EAU, CYCLOPENTASILOXANE, TITANIUM DIOXIDE (CI 77891), PHENYL TRIMETHICONE, HOMOSALATE, GLYCERIN, ETHYLHEXYL METHOXYCINNAMATE, TITANIUM DIOXIDE (NANO), PEG-10 DIMETHICONE, CYCLOHEXASILOXANE, BORON NITRIDE, TRIMETHYLSILOXYSILICATE, NIACINAMIDE, LAURYL PEG-10 TRIS(TRIMETHYLSILOXY)SILYLETHYL DIMETHICONE, PROPANEDIOL, POLYMETHYL METHACRYLATE, 1,2-HEXANEDIOL, ACRYLATES/DIMETHICONE COPOLYMER, DISTEARDIMONIUM HECTORITE, IRON OXIDES (CI 77492), SODIUM CHLORIDE, ALUMINA, BISMUTH OXYCHLORIDE (CI 77163), GLYCERYL STEARATE CITRATE, POLYSORBATE 80, DISODIUM STEAROYL GLUTAMATE, FRAGRANCE / PARFUM, ALUMINUM HYDROXIDE, DIMETHICONE/PEG-10/15 CROSSPOLYMER, CAPRYLYL GLYCOL, IRON OXIDES (CI 77491), HYDROGENATED LECITHIN, ETHYLHEXYL HYDROXYSTEARATE, SIMETHICONE, GLYCERYL CAPRYLATE, ETHYLHEXYLGLYCERIN, IRON OXIDES (CI 77499), DISODIUM EDTA, ADENOSINE, TRIETHOXYCAPRYLYLSILANE, CITRONELLOL, GERANIOL, LIMONENE, DIPROPYLENE GLYCOL, BHT, HYDROXYCITRONELLAL, THYMOL TRIMETHOXYCINNAMATE, SODIUM CITRATE, TOCOPHEROL, SODIUM BENZOATE, LACTIC ACID, POTASSIUM SORBATE, DIAMOND POWDER, XANTHAN GUM
WATER / AQUA / EAU, CYCLOPENTASILOXANE, TITANIUM DIOXIDE (CI 77891), PHENYL TRIMETHICONE, HOMOSALATE, GLYCERIN, ETHYLHEXYL METHOXYCINNAMATE, TITANIUM DIOXIDE (NANO), PEG-10 DIMETHICONE, CYCLOHEXASILOXANE, BORON NITRIDE, TRIMETHYLSILOXYSILICATE, NIACINAMIDE, LAURYL PEG-10 TRIS(TRIMETHYLSILOXY)SILYLETHYL DIMETHICONE, PROPANEDIOL, 1,2-HEXANEDIOL, ACRYLATES/DIMETHICONE COPOLYMER, IRON OXIDES (CI 77492), POLYMETHYL METHACRYLATE, DISTEARDIMONIUM HECTORITE, SODIUM CHLORIDE, ALUMINA, BISMUTH OXYCHLORIDE (CI 77163), IRON OXIDES (CI 77491), GLYCERYL STEARATE CITRATE, POLYSORBATE 80, DISODIUM STEAROYL GLUTAMATE, FRAGRANCE / PARFUM, ALUMINUM HYDROXIDE, DIMETHICONE/PEG-10/15 CROSSPOLYMER, CAPRYLYL GLYCOL, HYDROGENATED LECITHIN, ETHYLHEXYL HYDROXYSTEARATE, SIMETHICONE, GLYCERYL CAPRYLATE, ETHYLHEXYLGLYCERIN, IRON OXIDES (CI 77499), DISODIUM EDTA, ADENOSINE, TRIETHOXYCAPRYLYLSILANE, CITRONELLOL, GERANIOL, LIMONENE, DIPROPYLENE GLYCOL, BHT, HYDROXYCITRONELLAL, THYMOL TRIMETHOXYCINNAMATE, SODIUM CITRATE, TOCOPHEROL, SODIUM BENZOATE, LACTIC ACID, POTASSIUM SORBATE, DIAMOND POWDER, XANTHAN GUM
WATER / AQUA / EAU, CYCLOPENTASILOXANE, TITANIUM DIOXIDE (CI 77891), PHENYL TRIMETHICONE, HOMOSALATE, GLYCERIN, ETHYLHEXYL METHOXYCINNAMATE, TITANIUM DIOXIDE (NANO), PEG-10 DIMETHICONE, CYCLOHEXASILOXANE, BORON NITRIDE, TRIMETHYLSILOXYSILICATE, NIACINAMIDE, LAURYL PEG-10 TRIS(TRIMETHYLSILOXY)SILYLETHYL DIMETHICONE, PROPANEDIOL, IRON OXIDES (CI 77492), 1,2-HEXANEDIOL, ACRYLATES/DIMETHICONE COPOLYMER, DISTEARDIMONIUM HECTORITE, POLYMETHYL METHACRYLATE, SODIUM CHLORIDE, ALUMINA, BISMUTH OXYCHLORIDE (CI 77163), GLYCERYL STEARATE CITRATE, POLYSORBATE 80, DISODIUM STEAROYL GLUTAMATE, FRAGRANCE / PARFUM, ALUMINUM HYDROXIDE, IRON OXIDES (CI 77491), DIMETHICONE/PEG-10/15 CROSSPOLYMER, CAPRYLYL GLYCOL, HYDROGENATED LECITHIN, ETHYLHEXYL HYDROXYSTEARATE, SIMETHICONE, GLYCERYL CAPRYLATE, ETHYLHEXYLGLYCERIN, IRON OXIDES (CI 77499), DISODIUM EDTA, ADENOSINE, TRIETHOXYCAPRYLYLSILANE, CITRONELLOL, GERANIOL, LIMONENE, DIPROPYLENE GLYCOL, BHT, HYDROXYCITRONELLAL, THYMOL TRIMETHOXYCINNAMATE, SODIUM CITRATE, TOCOPHEROL, SODIUM BENZOATE, LACTIC ACID, POTASSIUM SORBATE, DIAMOND POWDER, XANTHAN GUM
WATER / AQUA / EAU, CYCLOPENTASILOXANE, TITANIUM DIOXIDE (CI 77891), PHENYL TRIMETHICONE, HOMOSALATE, GLYCERIN, ETHYLHEXYL METHOXYCINNAMATE, TITANIUM DIOXIDE (NANO), PEG-10 DIMETHICONE, CYCLOHEXASILOXANE, BORON NITRIDE, TRIMETHYLSILOXYSILICATE, NIACINAMIDE, LAURYL PEG-10 TRIS(TRIMETHYLSILOXY)SILYLETHYL DIMETHICONE, PROPANEDIOL, IRON OXIDES (CI 77492), 1,2-HEXANEDIOL, ACRYLATES/DIMETHICONE COPOLYMER, DISTEARDIMONIUM HECTORITE, SODIUM CHLORIDE, ALUMINA, POLYMETHYL METHACRYLATE, BISMUTH OXYCHLORIDE (CI 77163), GLYCERYL STEARATE CITRATE, POLYSORBATE 80, DISODIUM STEAROYL GLUTAMATE, FRAGRANCE / PARFUM, ALUMINUM HYDROXIDE, IRON OXIDES (CI 77491), DIMETHICONE/PEG-10/15 CROSSPOLYMER, CAPRYLYL GLYCOL, HYDROGENATED LECITHIN, ETHYLHEXYL HYDROXYSTEARATE, SIMETHICONE, GLYCERYL CAPRYLATE, ETHYLHEXYLGLYCERIN, IRON OXIDES (CI 77499), DISODIUM EDTA, ADENOSINE, TRIETHOXYCAPRYLYLSILANE, CITRONELLOL, GERANIOL, LIMONENE, DIPROPYLENE GLYCOL, BHT, HYDROXYCITRONELLAL, THYMOL TRIMETHOXYCINNAMATE, SODIUM CITRATE, TOCOPHEROL, SODIUM BENZOATE, LACTIC ACID, POTASSIUM SORBATE, DIAMOND POWDER, XANTHAN GUM
WATER / AQUA / EAU, CYCLOPENTASILOXANE, PHENYL TRIMETHICONE, HOMOSALATE, TITANIUM DIOXIDE (CI 77891), ETHYLHEXYL METHOXYCINNAMATE, GLYCERIN, TITANIUM DIOXIDE (NANO), CYCLOHEXASILOXANE, PEG-10 DIMETHICONE, BORON NITRIDE, TRIMETHYLSILOXYSILICATE, NIACINAMIDE, LAURYL PEG-10 TRIS(TRIMETHYLSILOXY)SILYLETHYL DIMETHICONE, IRON OXIDES (CI 77492), 1,2-HEXANEDIOL, ACRYLATES/DIMETHICONE COPOLYMER, POLYMETHYL METHACRYLATE, DISTEARDIMONIUM HECTORITE, PROPANEDIOL, SODIUM CHLORIDE, ALUMINA, IRON OXIDES (CI 77491), BISMUTH OXYCHLORIDE (CI 77163), GLYCERYL STEARATE CITRATE, FRAGRANCE / PARFUM, DIMETHICONE/PEG-10/15 CROSSPOLYMER, CAPRYLYL GLYCOL, IRON OXIDES (CI 77499), ETHYLHEXYL HYDROXYSTEARATE, TRIETHOXYCAPRYLYLSILANE, SIMETHICONE, GLYCERYL CAPRYLATE, ETHYLHEXYLGLYCERIN, POLYSORBATE 80, DISODIUM STEAROYL GLUTAMATE, ALUMINUM HYDROXIDE, HYDROGENATED LECITHIN, DISODIUM EDTA, ADENOSINE, CITRONELLOL, GERANIOL, LIMONENE, DIPROPYLENE GLYCOL, BHT, HYDROXYCITRONELLAL, THYMOL TRIMETHOXYCINNAMATE, SODIUM CITRATE, TOCOPHEROL, SODIUM BENZOATE, LACTIC ACID, POTASSIUM SORBATE, DIAMOND POWDER, XANTHAN GUM
WATER / AQUA / EAU, CYCLOPENTASILOXANE, PHENYL TRIMETHICONE, HOMOSALATE, TITANIUM DIOXIDE (CI 77891), ETHYLHEXYL METHOXYCINNAMATE, GLYCERIN, TITANIUM DIOXIDE (NANO), CYCLOHEXASILOXANE, PEG-10 DIMETHICONE, BORON NITRIDE, TRIMETHYLSILOXYSILICATE, NIACINAMIDE, LAURYL PEG-10 TRIS(TRIMETHYLSILOXY)SILYLETHYL DIMETHICONE, IRON OXIDES (CI 77492), POLYMETHYL METHACRYLATE, 1,2-HEXANEDIOL, ACRYLATES/DIMETHICONE COPOLYMER, DISTEARDIMONIUM HECTORITE, PROPANEDIOL, SODIUM CHLORIDE, ALUMINA, IRON OXIDES (CI 77491), BISMUTH OXYCHLORIDE (CI 77163), GLYCERYL STEARATE CITRATE, FRAGRANCE / PARFUM, DIMETHICONE/PEG-10/15 CROSSPOLYMER, CAPRYLYL GLYCOL, IRON OXIDES (CI 77499), ETHYLHEXYL HYDROXYSTEARATE, TRIETHOXYCAPRYLYLSILANE, SIMETHICONE, GLYCERYL CAPRYLATE, ETHYLHEXYLGLYCERIN, POLYSORBATE 80, DISODIUM STEAROYL GLUTAMATE, ALUMINUM HYDROXIDE, HYDROGENATED LECITHIN, DISODIUM EDTA, ADENOSINE, CITRONELLOL, GERANIOL, LIMONENE, DIPROPYLENE GLYCOL, BHT, HYDROXYCITRONELLAL, THYMOL TRIMETHOXYCINNAMATE, SODIUM CITRATE, TOCOPHEROL, SODIUM BENZOATE, LACTIC ACID, POTASSIUM SORBATE, DIAMOND POWDER, XANTHAN GUM
WATER / AQUA / EAU, CYCLOPENTASILOXANE, PHENYL TRIMETHICONE, HOMOSALATE, ETHYLHEXYL METHOXYCINNAMATE, GLYCERIN, TITANIUM DIOXIDE (NANO), CYCLOHEXASILOXANE, PEG-10 DIMETHICONE, TITANIUM DIOXIDE (CI 77891), IRON OXIDES (CI 77492), POLYMETHYL METHACRYLATE, BORON NITRIDE, TRIMETHYLSILOXYSILICATE, NIACINAMIDE, LAURYL PEG-10 TRIS(TRIMETHYLSILOXY)SILYLETHYL DIMETHICONE, 1,2-HEXANEDIOL, ACRYLATES/DIMETHICONE COPOLYMER, DISTEARDIMONIUM HECTORITE, PROPANEDIOL, SODIUM CHLORIDE, ALUMINA, IRON OXIDES (CI 77491), BISMUTH OXYCHLORIDE (CI 77163), GLYCERYL STEARATE CITRATE, FRAGRANCE / PARFUM, DIMETHICONE/PEG-10/15 CROSSPOLYMER, CAPRYLYL GLYCOL, IRON OXIDES (CI 77499), ETHYLHEXYL HYDROXYSTEARATE, SIMETHICONE, GLYCERYL CAPRYLATE, ETHYLHEXYLGLYCERIN, TRIETHOXYCAPRYLYLSILANE, POLYSORBATE 80, DISODIUM STEAROYL GLUTAMATE, ALUMINUM HYDROXIDE, HYDROGENATED LECITHIN, DISODIUM EDTA, ADENOSINE, CITRONELLOL, GERANIOL, LIMONENE, DIPROPYLENE GLYCOL, BHT, HYDROXYCITRONELLAL, THYMOL TRIMETHOXYCINNAMATE, SODIUM CITRATE, TOCOPHEROL, SODIUM BENZOATE, LACTIC ACID, POTASSIUM SORBATE, DIAMOND POWDER, XANTHAN GUM