Eye Brow Cushion Cara
From natural line to brow coloring all at once! Eyebrow Cushion-Cara that's resistant to water and sweat
Product features
Recommended for

Concerned about eyebrow makeup creasing & caking problems
Concerned about eyebrow makeup fading
For a natural eyebrow makeup look
You can create a natural eyebrow makeup that looks like if the eyebrows were orginially yours
ALL SHADES
Color chart : Eye Brow Cushion Cara
No.1 Two-Tone Gray

No.2 Two-Tone Brown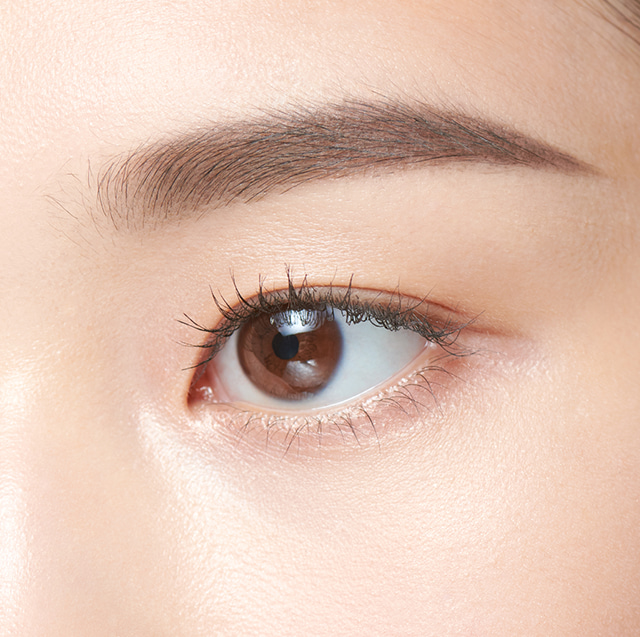 HOW TO
How to Use Eye Brow Cushion Cara
STEP 1.

Remove oil from the area around the eyebrow and tidy up the eyebrow texture.

STEP 2.

Adjust the amount on the cushion with the wide defining brush. Take care not to press too hard since too much content can be discharged.

STEP 3.

Take an appropriate amount with the Mohican brush and comb the eyebrow in the direction of eyebrow texture.

STEP 4.

With the short hair part of the brush, straighten the eyebrow on the front area of the eye for a more youthful look.

STEP 5.

Eyebrow makeup complete!.
TIP!
You can make young-looking eyebrows by raising the front part of eyebrows using the shorter side of the brush.
How to use the tip
New-concept foldable dual applicator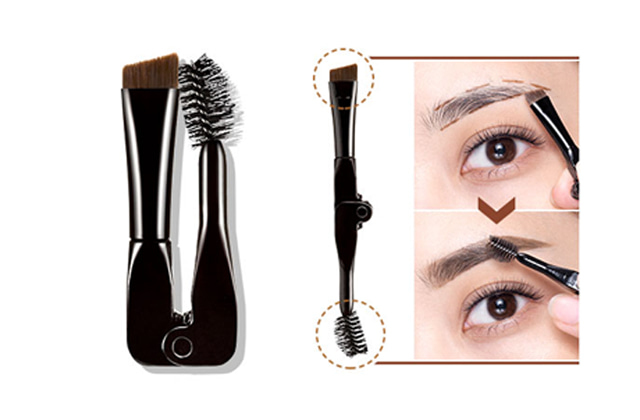 Step1. Wide defining brush
Draws fine lines intricately as if planting each eyebrow
Step2. Mohican brush
Color the eyebrow without clumps with the fine brush that's thinner than human hair
1. With the wide diagonal brush, adjust the amount by tapping on the cushion.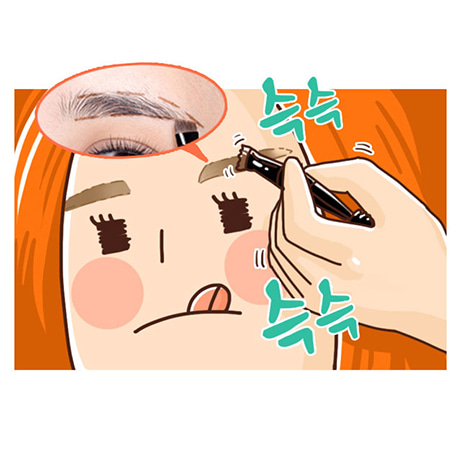 2. Draw a contour with the brush and fill in each eyebrow as if coloring each brow.
3. Take liquid with the dome-shaped applicator!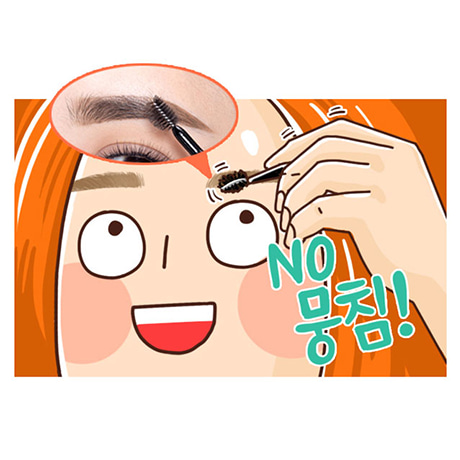 4. Color each eyebrow by combing! Long-lasting eyebrow makeup that's resistant to water and sweat are completed!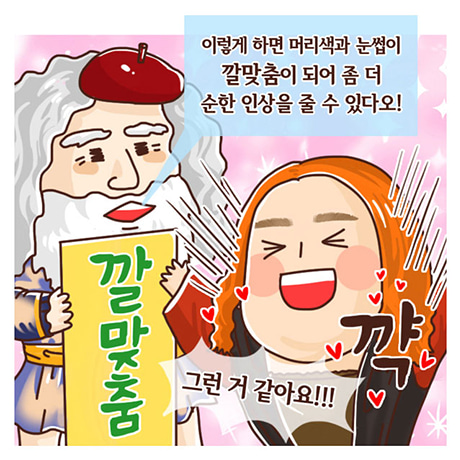 5. Hair color and eyebrows are matched to create a mild facial impression!
THE PROOF
What's special about Eyebrow Cushion-Cara?
It is easy to adjust the amount on the cushion and even makeup beginners can easily do natural eyebrow makeup without clumps

SECRET 1.

New cushion-type eyebrow makeup product for natural eyebrows

It has a transforming liquid-to-powder formula resistant to water and sweat for eyebrow makeup that lasts all day long

SECRET 2.

Lasts all day long thanks to its liquid-to-powder formula

You can mix two colors perfectly matching the color of Asian hair and eyes to create your own color

SECRET 3.

Trendy personalized color
Customer Reviews
Eye Brow Cushion Cara
To people who have a problem with drawing eyebrows with pencils. This is easier and more natural

It is moist product that provides moisture balance all over the face so I put on this in F/W season

If you are able to handle the quantity of liquid, you can make it natural. I love this so much
'THIS REVIEWS WERE SUBMITTED BY KOREAN CUSTOMERS'
Ingredients
precaution
1. If the following symptoms occur while using this product, discontinue use immediately and consult your dermatologist:

(1) Red spots, swelling, itching, or irritation

(2) If the application area develops the symptoms above after exposure to direct sunlight



2. Do not apply on areas with injuries, eczema, or dermatitis.



3. Storage & Handling

(1) Keep the cap closed after use.

(2) Keep out of reach of children.

(3) Keep away from direct sunlight and extreme high or low temperatures.
ingredient
[Gray Brown]

Purified Water, Methyl Trimethicone, Cyclopentasiloxane, Trimethylsiloxysilicate, Lauryl PEG-9 Polydimethylsiloxyethyl Dimethicone, PEG-10 Dimethicone, Methyl Methacrylate Crosspolymer, Vinyl Dimethicone/Methicone Silsesquioxane Crosspolymer, Acrylates/Stearyl Acrylate/Dimethicone Methacrylate Copolymer, Propanediol, Polymethyl Methacrylate, Acrylates/Ethylhexyl Acrylate/Dimethicone Methacrylate Copolymer, Disodium EDTA, Disteardimonium Hectorite, Sodium Chloride, Aluminum Hydroxide, Ethylhexylglycerin, Caprylyl Glycol, Triethoxycaprylylsilane, Titanium Dioxide, Phenoxyethanol, Yellow Oxide of Iron, Red Oxide of Iron, Black Oxide of Iron







[Khaki Brown]

Purified Water, Methyl Trimethicone, Cyclopentasiloxane, Trimethylsiloxysilicate, Lauryl PEG-9 Polydimethylsiloxyethyl Dimethicone, PEG-10 Dimethicone, Methyl Methacrylate Crosspolymer, Vinyl Dimethicone/Methicone Silsesquioxane Crosspolymer, Acrylates/Stearyl Acrylate/Dimethicone Methacrylate Copolymer, Propanediol, Polymethyl Methacrylate, Acrylates/Ethylhexyl Acrylate/Dimethicone Methacrylate Copolymer, Disodium EDTA, Disteardimonium Hectorite, Sodium Chloride, Aluminum Hydroxide, Ethylhexylglycerin, Caprylyl Glycol, Triethoxycaprylylsilane, Titanium Dioxide, Phenoxyethanol, Yellow Oxide of Iron, Red Oxide of Iron, Black Oxide of Iron
[Dark Brown]

Purified Water, Methyl Trimethicone, Cyclopentasiloxane, Trimethylsiloxysilicate, Lauryl PEG-9 Polydimethylsiloxyethyl Dimethicone, PEG-10 Dimethicone, Methyl Methacrylate Crosspolymer, Vinyl Dimethicone/Methicone Silsesquioxane Crosspolymer, Acrylates/Stearyl Acrylate/Dimethicone Methacrylate Copolymer, Propanediol, Polymethyl Methacrylate, Acrylates/Ethylhexyl Acrylate/Dimethicone Methacrylate Copolymer, Disodium EDTA, Disteardimonium Hectorite, Sodium Chloride, Aluminum Hydroxide, Ethylhexylglycerin, Caprylyl Glycol, Triethoxycaprylylsilane, Titanium Dioxide, Phenoxyethanol, Yellow Oxide of Iron, Red Oxide of Iron, Black Oxide of Iron







[Light Brown]

Purified Water, Methyl Trimethicone, Cyclopentasiloxane, Trimethylsiloxysilicate, Lauryl PEG-9 Polydimethylsiloxyethyl Dimethicone, PEG-10 Dimethicone, Vinyl Dimethicone/Methicone Silsesquioxane Crosspolymer, Acrylates/Stearyl Acrylate/Dimethicone Methacrylate Copolymer, Titanium Dioxide, Propanediol, Polymethyl Methacrylate, Methyl Methacrylate Crosspolymer, Acrylates/Ethylhexyl Acrylate/Dimethicone Methacrylate Copolymer, Disodium EDTA, Disteardimonium Hectorite, Sodium Chloride, Aluminum Hydroxide, Ethylhexylglycerin, Caprylyl Glycol, Triethoxycaprylylsilane, Phenoxyethanol, Yellow Oxide of Iron, Red Oxide of Iron, Black Oxide of Iron