Bespoke NEO
Just for me, Perfect for my skin tone, BESPOKE NEO
Cushion:15g
Foundation:30g
Cushion: KRW 45,000 Foundation: KRW 60,000
*Offline services and purchases are only available in Korea
Product features
Just for me, Perfect for my skin tone,
BESPOKE NEO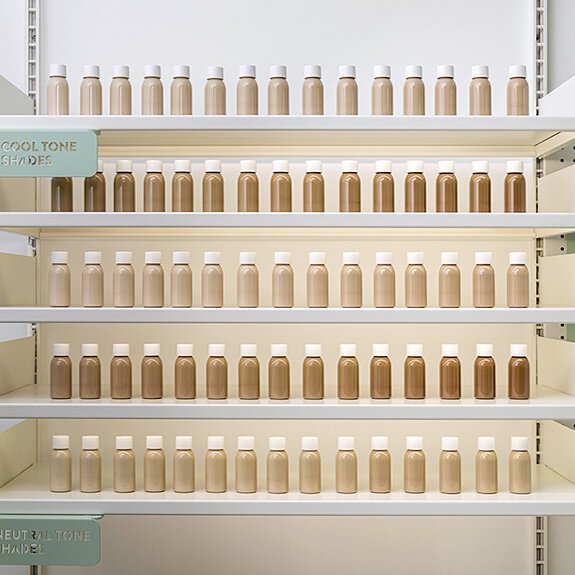 1:1 personalized color counseling!
Find your own NEO shade with 1:1 personalized color counseling!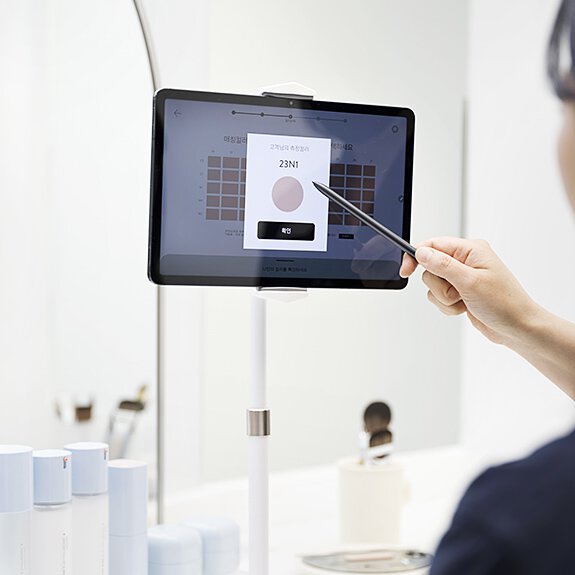 150 shade options
Densely-structured shade options feature fine color tuning to a level of 0.5 and 5 tones from which to choose.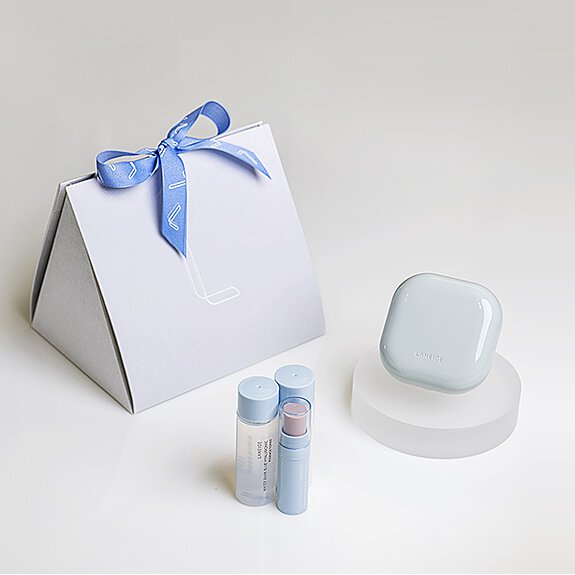 Special wrapping service
Three gift samples are provided to be used with Bespoke NEO.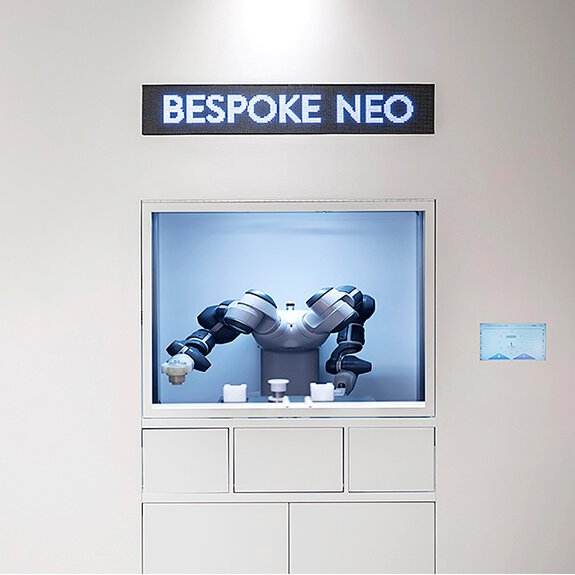 Made to order by robot.
Order your own shade and experience the freshly made Bespoke NEO.
We make Bespoke NEO that is perfectly matched to your current skin tone based on a precise analysis.

Secret1.

1:1 personalized color counseling service.

A total 150 shades can be created from No. 3 to 40. Colors can be finely adjusted e.g., to No. 21.5 or to No. 22.5, and there are 5 tone options to choose from. (C2, C1, N1, W1, W2)

Secret2.

Fine adjustment of the desired shade.

A manufacturing robot, patent-applied, from Amorepacific makes your own Bespoke NEO through a fast and hygienic process.

Secret3.

Fresh products made upon order.
ALL SHADES
UP TO 150 SHADES,
Find the ideal color for your skin tone!
Ingredients
precaution
For external use only.

Avoid direct contact with eyes.

If contact occurs, rinse thoroughly with water.

Discontinue use if irritation occurs.

Keep out of reach of children.
ingredient
Cushion
WATER / AQUA / EAU, CYCLOPENTASILOXANE, METHYL TRIMETHICONE, ETHYLHEXYL METHOXYCINNAMATE, CAPRYLYL METHICONE, POLYMETHYL METHACRYLATE, PEG-10 DIMETHICONE, PROPANEDIOL, CYCLOHEXASILOXANE, ZINC OXIDE (NANO), TRIMETHYLSILOXYSILICATE, TITANIUM DIOXIDE (NANO), NYLON-12, LAURYL PEG-9 POLYDIMETHYLSILOXYETHYL DIMETHICONE, HDI/TRIMETHYLOL HEXYLLACTONE CROSSPOLYMER, DISTEARDIMONIUM HECTORITE, 1,2-HEXANEDIOL, ALUMINUM HYDROXIDE, SODIUM CHLORIDE, ACRYLATES/DIMETHICONE COPOLYMER, ISOPROPYL TITANIUM TRIISOSTEARATE, ACRYLATES/ETHYLHEXYL ACRYLATE/DIMETHICONE METHACRYLATE COPOLYMER, FRAGRANCE / PARFUM, CAPRYLYL GLYCOL, STEARIC ACID, BIS-PEG-15 DIMETHICONE/IPDI COPOLYMER, PEG-2 SOYAMINE, ETHYLHEXYLGLYCERIN, DISODIUM EDTA, TRIETHOXYCAPRYLYLSILANE, SILICA, CITRONELLOL, GERANIOL, LIMONENE, BHT, HYDROXYCITRONELLAL, TOCOPHEROL [+/- TITANIUM DIOXIDE (CI 77891), IRON OXIDES (CI 77492), IRON OXIDES (CI 77491), IRON OXIDES (CI 77499)]

Foundation
WATER / AQUA / EAU, METHYL TRIMETHICONE, DIMETHICONE, PEG-10 DIMETHICONE, ALCOHOL DENAT., GLYCERIN, POLYMETHYLSILSESQUIOXANE, PROPANEDIOL, POLYMETHYL METHACRYLATE, TRIMETHYLSILOXYSILICATE, LAURYL PEG-10 TRIS(TRIMETHYLSILOXY)SILYLETHYL DIMETHICONE, TITANIUM DIOXIDE (NANO), TRISILOXANE, DIPHENYLSILOXY PHENYL TRIMETHICONE, CAPRYLYL METHICONE, ISODODECANE, DIPHENYL DIMETHICONE/VINYL DIPHENYL DIMETHICONE/SILSESQUIOXANE CROSSPOLYMER, LAURYL POLYGLYCERYL-3 POLYDIMETHYLSILOXYETHYL DIMETHICONE, SYNTHETIC FLUORPHLOGOPITE, ACRYLATES/POLYTRIMETHYLSILOXYMETHACRYLATE COPOLYMER, SODIUM CHLORIDE, DIMETHICONE CROSSPOLYMER, DISTEARDIMONIUM HECTORITE, 1,2-HEXANEDIOL, POLYETHYLENE, BORON NITRIDE, TRIETHOXYCAPRYLYLSILANE, ALUMINA, CAPRYLYL GLYCOL, LACTOBACILLUS FERMENT LYSATE, PANTHENOL, FRAGRANCE / PARFUM, GLYCERYL CAPRYLATE, BUTYLENE GLYCOL, LAUROYL LYSINE, DISODIUM EDTA, SIMETHICONE, SILICA, PEG-15/LAURYL DIMETHICONE CROSSPOLYMER, POLYQUATERNIUM-10, LACTIC ACID/GLYCOLIC ACID COPOLYMER, TOCOPHEROL, PROPYLENE CARBONATE, ALUMINUM HYDROXIDE [+/- TITANIUM DIOXIDE (CI 77891), IRON OXIDES (CI 77492), IRON OXIDES (CI 77491), IRON OXIDES (CI 77499)]
Cushion
WATER / AQUA / EAU, CYCLOPENTASILOXANE, METHYL TRIMETHICONE, ETHYLHEXYL METHOXYCINNAMATE, CAPRYLYL METHICONE, POLYMETHYL METHACRYLATE, PEG-10 DIMETHICONE, PROPANEDIOL, CYCLOHEXASILOXANE, ZINC OXIDE (NANO), TRIMETHYLSILOXYSILICATE, TITANIUM DIOXIDE (NANO), NYLON-12, LAURYL PEG-9 POLYDIMETHYLSILOXYETHYL DIMETHICONE, HDI/TRIMETHYLOL HEXYLLACTONE CROSSPOLYMER, DISTEARDIMONIUM HECTORITE, 1,2-HEXANEDIOL, ALUMINUM HYDROXIDE, SODIUM CHLORIDE, ACRYLATES/DIMETHICONE COPOLYMER, ISOPROPYL TITANIUM TRIISOSTEARATE, ACRYLATES/ETHYLHEXYL ACRYLATE/DIMETHICONE METHACRYLATE COPOLYMER, FRAGRANCE / PARFUM, CAPRYLYL GLYCOL, STEARIC ACID, BIS-PEG-15 DIMETHICONE/IPDI COPOLYMER, PEG-2 SOYAMINE, ETHYLHEXYLGLYCERIN, DISODIUM EDTA, TRIETHOXYCAPRYLYLSILANE, SILICA, CITRONELLOL, GERANIOL, LIMONENE, BHT, HYDROXYCITRONELLAL, TOCOPHEROL [+/- TITANIUM DIOXIDE (CI 77891), IRON OXIDES (CI 77492), IRON OXIDES (CI 77491), IRON OXIDES (CI 77499)]

Foundation
WATER / AQUA / EAU, METHYL TRIMETHICONE, DIMETHICONE, PEG-10 DIMETHICONE, ALCOHOL DENAT., GLYCERIN, POLYMETHYLSILSESQUIOXANE, PROPANEDIOL, POLYMETHYL METHACRYLATE, TRIMETHYLSILOXYSILICATE, LAURYL PEG-10 TRIS(TRIMETHYLSILOXY)SILYLETHYL DIMETHICONE, TITANIUM DIOXIDE (NANO), TRISILOXANE, DIPHENYLSILOXY PHENYL TRIMETHICONE, CAPRYLYL METHICONE, ISODODECANE, DIPHENYL DIMETHICONE/VINYL DIPHENYL DIMETHICONE/SILSESQUIOXANE CROSSPOLYMER, LAURYL POLYGLYCERYL-3 POLYDIMETHYLSILOXYETHYL DIMETHICONE, SYNTHETIC FLUORPHLOGOPITE, ACRYLATES/POLYTRIMETHYLSILOXYMETHACRYLATE COPOLYMER, SODIUM CHLORIDE, DIMETHICONE CROSSPOLYMER, DISTEARDIMONIUM HECTORITE, 1,2-HEXANEDIOL, POLYETHYLENE, BORON NITRIDE, TRIETHOXYCAPRYLYLSILANE, ALUMINA, CAPRYLYL GLYCOL, LACTOBACILLUS FERMENT LYSATE, PANTHENOL, FRAGRANCE / PARFUM, GLYCERYL CAPRYLATE, BUTYLENE GLYCOL, LAUROYL LYSINE, DISODIUM EDTA, SIMETHICONE, SILICA, PEG-15/LAURYL DIMETHICONE CROSSPOLYMER, POLYQUATERNIUM-10, LACTIC ACID/GLYCOLIC ACID COPOLYMER, TOCOPHEROL, PROPYLENE CARBONATE, ALUMINUM HYDROXIDE [+/- TITANIUM DIOXIDE (CI 77891), IRON OXIDES (CI 77492), IRON OXIDES (CI 77491), IRON OXIDES (CI 77499)]

Cushion
WATER / AQUA / EAU, CYCLOPENTASILOXANE, METHYL TRIMETHICONE, ETHYLHEXYL METHOXYCINNAMATE, CAPRYLYL METHICONE, POLYMETHYL METHACRYLATE, PEG-10 DIMETHICONE, PROPANEDIOL, CYCLOHEXASILOXANE, ZINC OXIDE (NANO), TRIMETHYLSILOXYSILICATE, TITANIUM DIOXIDE (NANO), NYLON-12, LAURYL PEG-9 POLYDIMETHYLSILOXYETHYL DIMETHICONE, HDI/TRIMETHYLOL HEXYLLACTONE CROSSPOLYMER, DISTEARDIMONIUM HECTORITE, 1,2-HEXANEDIOL, ALUMINUM HYDROXIDE, SODIUM CHLORIDE, ACRYLATES/DIMETHICONE COPOLYMER, ISOPROPYL TITANIUM TRIISOSTEARATE, ACRYLATES/ETHYLHEXYL ACRYLATE/DIMETHICONE METHACRYLATE COPOLYMER, FRAGRANCE / PARFUM, CAPRYLYL GLYCOL, STEARIC ACID, BIS-PEG-15 DIMETHICONE/IPDI COPOLYMER, PEG-2 SOYAMINE, ETHYLHEXYLGLYCERIN, DISODIUM EDTA, TRIETHOXYCAPRYLYLSILANE, SILICA, CITRONELLOL, GERANIOL, LIMONENE, BHT, HYDROXYCITRONELLAL, TOCOPHEROL [+/- TITANIUM DIOXIDE (CI 77891), IRON OXIDES (CI 77492), IRON OXIDES (CI 77491), IRON OXIDES (CI 77499)]

Foundation
WATER / AQUA / EAU, METHYL TRIMETHICONE, DIMETHICONE, PEG-10 DIMETHICONE, ALCOHOL DENAT., GLYCERIN, POLYMETHYLSILSESQUIOXANE, PROPANEDIOL, POLYMETHYL METHACRYLATE, TRIMETHYLSILOXYSILICATE, LAURYL PEG-10 TRIS(TRIMETHYLSILOXY)SILYLETHYL DIMETHICONE, TITANIUM DIOXIDE (NANO), TRISILOXANE, DIPHENYLSILOXY PHENYL TRIMETHICONE, CAPRYLYL METHICONE, ISODODECANE, DIPHENYL DIMETHICONE/VINYL DIPHENYL DIMETHICONE/SILSESQUIOXANE CROSSPOLYMER, LAURYL POLYGLYCERYL-3 POLYDIMETHYLSILOXYETHYL DIMETHICONE, SYNTHETIC FLUORPHLOGOPITE, ACRYLATES/POLYTRIMETHYLSILOXYMETHACRYLATE COPOLYMER, SODIUM CHLORIDE, DIMETHICONE CROSSPOLYMER, DISTEARDIMONIUM HECTORITE, 1,2-HEXANEDIOL, POLYETHYLENE, BORON NITRIDE, TRIETHOXYCAPRYLYLSILANE, ALUMINA, CAPRYLYL GLYCOL, LACTOBACILLUS FERMENT LYSATE, PANTHENOL, FRAGRANCE / PARFUM, GLYCERYL CAPRYLATE, BUTYLENE GLYCOL, LAUROYL LYSINE, DISODIUM EDTA, SIMETHICONE, SILICA, PEG-15/LAURYL DIMETHICONE CROSSPOLYMER, POLYQUATERNIUM-10, LACTIC ACID/GLYCOLIC ACID COPOLYMER, TOCOPHEROL, PROPYLENE CARBONATE, ALUMINUM HYDROXIDE [+/- TITANIUM DIOXIDE (CI 77891), IRON OXIDES (CI 77492), IRON OXIDES (CI 77491), IRON OXIDES (CI 77499)]

Cushion
WATER / AQUA / EAU, CYCLOPENTASILOXANE, METHYL TRIMETHICONE, ETHYLHEXYL METHOXYCINNAMATE, CAPRYLYL METHICONE, POLYMETHYL METHACRYLATE, PEG-10 DIMETHICONE, PROPANEDIOL, CYCLOHEXASILOXANE, ZINC OXIDE (NANO), TRIMETHYLSILOXYSILICATE, TITANIUM DIOXIDE (NANO), NYLON-12, LAURYL PEG-9 POLYDIMETHYLSILOXYETHYL DIMETHICONE, HDI/TRIMETHYLOL HEXYLLACTONE CROSSPOLYMER, DISTEARDIMONIUM HECTORITE, 1,2-HEXANEDIOL, ALUMINUM HYDROXIDE, SODIUM CHLORIDE, ACRYLATES/DIMETHICONE COPOLYMER, ISOPROPYL TITANIUM TRIISOSTEARATE, ACRYLATES/ETHYLHEXYL ACRYLATE/DIMETHICONE METHACRYLATE COPOLYMER, FRAGRANCE / PARFUM, CAPRYLYL GLYCOL, STEARIC ACID, BIS-PEG-15 DIMETHICONE/IPDI COPOLYMER, PEG-2 SOYAMINE, ETHYLHEXYLGLYCERIN, DISODIUM EDTA, TRIETHOXYCAPRYLYLSILANE, SILICA, CITRONELLOL, GERANIOL, LIMONENE, BHT, HYDROXYCITRONELLAL, TOCOPHEROL [+/- TITANIUM DIOXIDE (CI 77891), IRON OXIDES (CI 77492), IRON OXIDES (CI 77491), IRON OXIDES (CI 77499)]

Foundation
WATER / AQUA / EAU, METHYL TRIMETHICONE, DIMETHICONE, PEG-10 DIMETHICONE, ALCOHOL DENAT., GLYCERIN, POLYMETHYLSILSESQUIOXANE, PROPANEDIOL, POLYMETHYL METHACRYLATE, TRIMETHYLSILOXYSILICATE, LAURYL PEG-10 TRIS(TRIMETHYLSILOXY)SILYLETHYL DIMETHICONE, TITANIUM DIOXIDE (NANO), TRISILOXANE, DIPHENYLSILOXY PHENYL TRIMETHICONE, CAPRYLYL METHICONE, ISODODECANE, DIPHENYL DIMETHICONE/VINYL DIPHENYL DIMETHICONE/SILSESQUIOXANE CROSSPOLYMER, LAURYL POLYGLYCERYL-3 POLYDIMETHYLSILOXYETHYL DIMETHICONE, SYNTHETIC FLUORPHLOGOPITE, ACRYLATES/POLYTRIMETHYLSILOXYMETHACRYLATE COPOLYMER, SODIUM CHLORIDE, DIMETHICONE CROSSPOLYMER, DISTEARDIMONIUM HECTORITE, 1,2-HEXANEDIOL, POLYETHYLENE, BORON NITRIDE, TRIETHOXYCAPRYLYLSILANE, ALUMINA, CAPRYLYL GLYCOL, LACTOBACILLUS FERMENT LYSATE, PANTHENOL, FRAGRANCE / PARFUM, GLYCERYL CAPRYLATE, BUTYLENE GLYCOL, LAUROYL LYSINE, DISODIUM EDTA, SIMETHICONE, SILICA, PEG-15/LAURYL DIMETHICONE CROSSPOLYMER, POLYQUATERNIUM-10, LACTIC ACID/GLYCOLIC ACID COPOLYMER, TOCOPHEROL, PROPYLENE CARBONATE, ALUMINUM HYDROXIDE [+/- TITANIUM DIOXIDE (CI 77891), IRON OXIDES (CI 77492), IRON OXIDES (CI 77491), IRON OXIDES (CI 77499)]


Cushion
WATER / AQUA / EAU, CYCLOPENTASILOXANE, METHYL TRIMETHICONE, ETHYLHEXYL METHOXYCINNAMATE, CAPRYLYL METHICONE, POLYMETHYL METHACRYLATE, PEG-10 DIMETHICONE, PROPANEDIOL, CYCLOHEXASILOXANE, ZINC OXIDE (NANO), TRIMETHYLSILOXYSILICATE, TITANIUM DIOXIDE (NANO), NYLON-12, LAURYL PEG-9 POLYDIMETHYLSILOXYETHYL DIMETHICONE, HDI/TRIMETHYLOL HEXYLLACTONE CROSSPOLYMER, DISTEARDIMONIUM HECTORITE, 1,2-HEXANEDIOL, ALUMINUM HYDROXIDE, SODIUM CHLORIDE, ACRYLATES/DIMETHICONE COPOLYMER, ISOPROPYL TITANIUM TRIISOSTEARATE, ACRYLATES/ETHYLHEXYL ACRYLATE/DIMETHICONE METHACRYLATE COPOLYMER, FRAGRANCE / PARFUM, CAPRYLYL GLYCOL, STEARIC ACID, BIS-PEG-15 DIMETHICONE/IPDI COPOLYMER, PEG-2 SOYAMINE, ETHYLHEXYLGLYCERIN, DISODIUM EDTA, TRIETHOXYCAPRYLYLSILANE, SILICA, CITRONELLOL, GERANIOL, LIMONENE, BHT, HYDROXYCITRONELLAL, TOCOPHEROL [+/- TITANIUM DIOXIDE (CI 77891), IRON OXIDES (CI 77492), IRON OXIDES (CI 77491), IRON OXIDES (CI 77499)]

Foundation
WATER / AQUA / EAU, METHYL TRIMETHICONE, DIMETHICONE, PEG-10 DIMETHICONE, ALCOHOL DENAT., GLYCERIN, POLYMETHYLSILSESQUIOXANE, PROPANEDIOL, POLYMETHYL METHACRYLATE, TRIMETHYLSILOXYSILICATE, LAURYL PEG-10 TRIS(TRIMETHYLSILOXY)SILYLETHYL DIMETHICONE, TITANIUM DIOXIDE (NANO), TRISILOXANE, DIPHENYLSILOXY PHENYL TRIMETHICONE, CAPRYLYL METHICONE, ISODODECANE, DIPHENYL DIMETHICONE/VINYL DIPHENYL DIMETHICONE/SILSESQUIOXANE CROSSPOLYMER, LAURYL POLYGLYCERYL-3 POLYDIMETHYLSILOXYETHYL DIMETHICONE, SYNTHETIC FLUORPHLOGOPITE, ACRYLATES/POLYTRIMETHYLSILOXYMETHACRYLATE COPOLYMER, SODIUM CHLORIDE, DIMETHICONE CROSSPOLYMER, DISTEARDIMONIUM HECTORITE, 1,2-HEXANEDIOL, POLYETHYLENE, BORON NITRIDE, TRIETHOXYCAPRYLYLSILANE, ALUMINA, CAPRYLYL GLYCOL, LACTOBACILLUS FERMENT LYSATE, PANTHENOL, FRAGRANCE / PARFUM, GLYCERYL CAPRYLATE, BUTYLENE GLYCOL, LAUROYL LYSINE, DISODIUM EDTA, SIMETHICONE, SILICA, PEG-15/LAURYL DIMETHICONE CROSSPOLYMER, POLYQUATERNIUM-10, LACTIC ACID/GLYCOLIC ACID COPOLYMER, TOCOPHEROL, PROPYLENE CARBONATE, ALUMINUM HYDROXIDE [+/- TITANIUM DIOXIDE (CI 77891), IRON OXIDES (CI 77492), IRON OXIDES (CI 77491), IRON OXIDES (CI 77499)]

Cushion
WATER / AQUA / EAU, CYCLOPENTASILOXANE, METHYL TRIMETHICONE, ETHYLHEXYL METHOXYCINNAMATE, CAPRYLYL METHICONE, POLYMETHYL METHACRYLATE, PEG-10 DIMETHICONE, PROPANEDIOL, CYCLOHEXASILOXANE, ZINC OXIDE (NANO), TRIMETHYLSILOXYSILICATE, TITANIUM DIOXIDE (NANO), NYLON-12, LAURYL PEG-9 POLYDIMETHYLSILOXYETHYL DIMETHICONE, HDI/TRIMETHYLOL HEXYLLACTONE CROSSPOLYMER, DISTEARDIMONIUM HECTORITE, 1,2-HEXANEDIOL, ALUMINUM HYDROXIDE, SODIUM CHLORIDE, ACRYLATES/DIMETHICONE COPOLYMER, ISOPROPYL TITANIUM TRIISOSTEARATE, ACRYLATES/ETHYLHEXYL ACRYLATE/DIMETHICONE METHACRYLATE COPOLYMER, FRAGRANCE / PARFUM, CAPRYLYL GLYCOL, STEARIC ACID, BIS-PEG-15 DIMETHICONE/IPDI COPOLYMER, PEG-2 SOYAMINE, ETHYLHEXYLGLYCERIN, DISODIUM EDTA, TRIETHOXYCAPRYLYLSILANE, SILICA, CITRONELLOL, GERANIOL, LIMONENE, BHT, HYDROXYCITRONELLAL, TOCOPHEROL [+/- TITANIUM DIOXIDE (CI 77891), IRON OXIDES (CI 77492), IRON OXIDES (CI 77491), IRON OXIDES (CI 77499)]

Foundation
WATER / AQUA / EAU, METHYL TRIMETHICONE, DIMETHICONE, PEG-10 DIMETHICONE, ALCOHOL DENAT., GLYCERIN, POLYMETHYLSILSESQUIOXANE, PROPANEDIOL, POLYMETHYL METHACRYLATE, TRIMETHYLSILOXYSILICATE, LAURYL PEG-10 TRIS(TRIMETHYLSILOXY)SILYLETHYL DIMETHICONE, TITANIUM DIOXIDE (NANO), TRISILOXANE, DIPHENYLSILOXY PHENYL TRIMETHICONE, CAPRYLYL METHICONE, ISODODECANE, DIPHENYL DIMETHICONE/VINYL DIPHENYL DIMETHICONE/SILSESQUIOXANE CROSSPOLYMER, LAURYL POLYGLYCERYL-3 POLYDIMETHYLSILOXYETHYL DIMETHICONE, SYNTHETIC FLUORPHLOGOPITE, ACRYLATES/POLYTRIMETHYLSILOXYMETHACRYLATE COPOLYMER, SODIUM CHLORIDE, DIMETHICONE CROSSPOLYMER, DISTEARDIMONIUM HECTORITE, 1,2-HEXANEDIOL, POLYETHYLENE, BORON NITRIDE, TRIETHOXYCAPRYLYLSILANE, ALUMINA, CAPRYLYL GLYCOL, LACTOBACILLUS FERMENT LYSATE, PANTHENOL, FRAGRANCE / PARFUM, GLYCERYL CAPRYLATE, BUTYLENE GLYCOL, LAUROYL LYSINE, DISODIUM EDTA, SIMETHICONE, SILICA, PEG-15/LAURYL DIMETHICONE CROSSPOLYMER, POLYQUATERNIUM-10, LACTIC ACID/GLYCOLIC ACID COPOLYMER, TOCOPHEROL, PROPYLENE CARBONATE, ALUMINUM HYDROXIDE [+/- TITANIUM DIOXIDE (CI 77891), IRON OXIDES (CI 77492), IRON OXIDES (CI 77491), IRON OXIDES (CI 77499)]
Cushion
WATER / AQUA / EAU, CYCLOPENTASILOXANE, METHYL TRIMETHICONE, ETHYLHEXYL METHOXYCINNAMATE, CAPRYLYL METHICONE, POLYMETHYL METHACRYLATE, PEG-10 DIMETHICONE, PROPANEDIOL, CYCLOHEXASILOXANE, ZINC OXIDE (NANO), TRIMETHYLSILOXYSILICATE, TITANIUM DIOXIDE (NANO), NYLON-12, LAURYL PEG-9 POLYDIMETHYLSILOXYETHYL DIMETHICONE, HDI/TRIMETHYLOL HEXYLLACTONE CROSSPOLYMER, DISTEARDIMONIUM HECTORITE, 1,2-HEXANEDIOL, ALUMINUM HYDROXIDE, SODIUM CHLORIDE, ACRYLATES/DIMETHICONE COPOLYMER, ISOPROPYL TITANIUM TRIISOSTEARATE, ACRYLATES/ETHYLHEXYL ACRYLATE/DIMETHICONE METHACRYLATE COPOLYMER, FRAGRANCE / PARFUM, CAPRYLYL GLYCOL, STEARIC ACID, BIS-PEG-15 DIMETHICONE/IPDI COPOLYMER, PEG-2 SOYAMINE, ETHYLHEXYLGLYCERIN, DISODIUM EDTA, TRIETHOXYCAPRYLYLSILANE, SILICA, CITRONELLOL, GERANIOL, LIMONENE, BHT, HYDROXYCITRONELLAL, TOCOPHEROL [+/- TITANIUM DIOXIDE (CI 77891), IRON OXIDES (CI 77492), IRON OXIDES (CI 77491), IRON OXIDES (CI 77499)]

Foundation
WATER / AQUA / EAU, METHYL TRIMETHICONE, DIMETHICONE, PEG-10 DIMETHICONE, ALCOHOL DENAT., GLYCERIN, POLYMETHYLSILSESQUIOXANE, PROPANEDIOL, POLYMETHYL METHACRYLATE, TRIMETHYLSILOXYSILICATE, LAURYL PEG-10 TRIS(TRIMETHYLSILOXY)SILYLETHYL DIMETHICONE, TITANIUM DIOXIDE (NANO), TRISILOXANE, DIPHENYLSILOXY PHENYL TRIMETHICONE, CAPRYLYL METHICONE, ISODODECANE, DIPHENYL DIMETHICONE/VINYL DIPHENYL DIMETHICONE/SILSESQUIOXANE CROSSPOLYMER, LAURYL POLYGLYCERYL-3 POLYDIMETHYLSILOXYETHYL DIMETHICONE, SYNTHETIC FLUORPHLOGOPITE, ACRYLATES/POLYTRIMETHYLSILOXYMETHACRYLATE COPOLYMER, SODIUM CHLORIDE, DIMETHICONE CROSSPOLYMER, DISTEARDIMONIUM HECTORITE, 1,2-HEXANEDIOL, POLYETHYLENE, BORON NITRIDE, TRIETHOXYCAPRYLYLSILANE, ALUMINA, CAPRYLYL GLYCOL, LACTOBACILLUS FERMENT LYSATE, PANTHENOL, FRAGRANCE / PARFUM, GLYCERYL CAPRYLATE, BUTYLENE GLYCOL, LAUROYL LYSINE, DISODIUM EDTA, SIMETHICONE, SILICA, PEG-15/LAURYL DIMETHICONE CROSSPOLYMER, POLYQUATERNIUM-10, LACTIC ACID/GLYCOLIC ACID COPOLYMER, TOCOPHEROL, PROPYLENE CARBONATE, ALUMINUM HYDROXIDE [+/- TITANIUM DIOXIDE (CI 77891), IRON OXIDES (CI 77492), IRON OXIDES (CI 77491), IRON OXIDES (CI 77499)]

Cushion
WATER / AQUA / EAU, CYCLOPENTASILOXANE, METHYL TRIMETHICONE, ETHYLHEXYL METHOXYCINNAMATE, CAPRYLYL METHICONE, POLYMETHYL METHACRYLATE, PEG-10 DIMETHICONE, PROPANEDIOL, CYCLOHEXASILOXANE, ZINC OXIDE (NANO), TRIMETHYLSILOXYSILICATE, TITANIUM DIOXIDE (NANO), NYLON-12, LAURYL PEG-9 POLYDIMETHYLSILOXYETHYL DIMETHICONE, HDI/TRIMETHYLOL HEXYLLACTONE CROSSPOLYMER, DISTEARDIMONIUM HECTORITE, 1,2-HEXANEDIOL, ALUMINUM HYDROXIDE, SODIUM CHLORIDE, ACRYLATES/DIMETHICONE COPOLYMER, ISOPROPYL TITANIUM TRIISOSTEARATE, ACRYLATES/ETHYLHEXYL ACRYLATE/DIMETHICONE METHACRYLATE COPOLYMER, FRAGRANCE / PARFUM, CAPRYLYL GLYCOL, STEARIC ACID, BIS-PEG-15 DIMETHICONE/IPDI COPOLYMER, PEG-2 SOYAMINE, ETHYLHEXYLGLYCERIN, DISODIUM EDTA, TRIETHOXYCAPRYLYLSILANE, SILICA, CITRONELLOL, GERANIOL, LIMONENE, BHT, HYDROXYCITRONELLAL, TOCOPHEROL [+/- TITANIUM DIOXIDE (CI 77891), IRON OXIDES (CI 77492), IRON OXIDES (CI 77491), IRON OXIDES (CI 77499)]

Foundation
WATER / AQUA / EAU, METHYL TRIMETHICONE, DIMETHICONE, PEG-10 DIMETHICONE, ALCOHOL DENAT., GLYCERIN, POLYMETHYLSILSESQUIOXANE, PROPANEDIOL, POLYMETHYL METHACRYLATE, TRIMETHYLSILOXYSILICATE, LAURYL PEG-10 TRIS(TRIMETHYLSILOXY)SILYLETHYL DIMETHICONE, TITANIUM DIOXIDE (NANO), TRISILOXANE, DIPHENYLSILOXY PHENYL TRIMETHICONE, CAPRYLYL METHICONE, ISODODECANE, DIPHENYL DIMETHICONE/VINYL DIPHENYL DIMETHICONE/SILSESQUIOXANE CROSSPOLYMER, LAURYL POLYGLYCERYL-3 POLYDIMETHYLSILOXYETHYL DIMETHICONE, SYNTHETIC FLUORPHLOGOPITE, ACRYLATES/POLYTRIMETHYLSILOXYMETHACRYLATE COPOLYMER, SODIUM CHLORIDE, DIMETHICONE CROSSPOLYMER, DISTEARDIMONIUM HECTORITE, 1,2-HEXANEDIOL, POLYETHYLENE, BORON NITRIDE, TRIETHOXYCAPRYLYLSILANE, ALUMINA, CAPRYLYL GLYCOL, LACTOBACILLUS FERMENT LYSATE, PANTHENOL, FRAGRANCE / PARFUM, GLYCERYL CAPRYLATE, BUTYLENE GLYCOL, LAUROYL LYSINE, DISODIUM EDTA, SIMETHICONE, SILICA, PEG-15/LAURYL DIMETHICONE CROSSPOLYMER, POLYQUATERNIUM-10, LACTIC ACID/GLYCOLIC ACID COPOLYMER, TOCOPHEROL, PROPYLENE CARBONATE, ALUMINUM HYDROXIDE [+/- TITANIUM DIOXIDE (CI 77891), IRON OXIDES (CI 77492), IRON OXIDES (CI 77491), IRON OXIDES (CI 77499)]

Cushion
WATER / AQUA / EAU, CYCLOPENTASILOXANE, METHYL TRIMETHICONE, ETHYLHEXYL METHOXYCINNAMATE, CAPRYLYL METHICONE, POLYMETHYL METHACRYLATE, PEG-10 DIMETHICONE, PROPANEDIOL, CYCLOHEXASILOXANE, ZINC OXIDE (NANO), TRIMETHYLSILOXYSILICATE, TITANIUM DIOXIDE (NANO), NYLON-12, LAURYL PEG-9 POLYDIMETHYLSILOXYETHYL DIMETHICONE, HDI/TRIMETHYLOL HEXYLLACTONE CROSSPOLYMER, DISTEARDIMONIUM HECTORITE, 1,2-HEXANEDIOL, ALUMINUM HYDROXIDE, SODIUM CHLORIDE, ACRYLATES/DIMETHICONE COPOLYMER, ISOPROPYL TITANIUM TRIISOSTEARATE, ACRYLATES/ETHYLHEXYL ACRYLATE/DIMETHICONE METHACRYLATE COPOLYMER, FRAGRANCE / PARFUM, CAPRYLYL GLYCOL, STEARIC ACID, BIS-PEG-15 DIMETHICONE/IPDI COPOLYMER, PEG-2 SOYAMINE, ETHYLHEXYLGLYCERIN, DISODIUM EDTA, TRIETHOXYCAPRYLYLSILANE, SILICA, CITRONELLOL, GERANIOL, LIMONENE, BHT, HYDROXYCITRONELLAL, TOCOPHEROL [+/- TITANIUM DIOXIDE (CI 77891), IRON OXIDES (CI 77492), IRON OXIDES (CI 77491), IRON OXIDES (CI 77499)]

Foundation
WATER / AQUA / EAU, METHYL TRIMETHICONE, DIMETHICONE, PEG-10 DIMETHICONE, ALCOHOL DENAT., GLYCERIN, POLYMETHYLSILSESQUIOXANE, PROPANEDIOL, POLYMETHYL METHACRYLATE, TRIMETHYLSILOXYSILICATE, LAURYL PEG-10 TRIS(TRIMETHYLSILOXY)SILYLETHYL DIMETHICONE, TITANIUM DIOXIDE (NANO), TRISILOXANE, DIPHENYLSILOXY PHENYL TRIMETHICONE, CAPRYLYL METHICONE, ISODODECANE, DIPHENYL DIMETHICONE/VINYL DIPHENYL DIMETHICONE/SILSESQUIOXANE CROSSPOLYMER, LAURYL POLYGLYCERYL-3 POLYDIMETHYLSILOXYETHYL DIMETHICONE, SYNTHETIC FLUORPHLOGOPITE, ACRYLATES/POLYTRIMETHYLSILOXYMETHACRYLATE COPOLYMER, SODIUM CHLORIDE, DIMETHICONE CROSSPOLYMER, DISTEARDIMONIUM HECTORITE, 1,2-HEXANEDIOL, POLYETHYLENE, BORON NITRIDE, TRIETHOXYCAPRYLYLSILANE, ALUMINA, CAPRYLYL GLYCOL, LACTOBACILLUS FERMENT LYSATE, PANTHENOL, FRAGRANCE / PARFUM, GLYCERYL CAPRYLATE, BUTYLENE GLYCOL, LAUROYL LYSINE, DISODIUM EDTA, SIMETHICONE, SILICA, PEG-15/LAURYL DIMETHICONE CROSSPOLYMER, POLYQUATERNIUM-10, LACTIC ACID/GLYCOLIC ACID COPOLYMER, TOCOPHEROL, PROPYLENE CARBONATE, ALUMINUM HYDROXIDE [+/- TITANIUM DIOXIDE (CI 77891), IRON OXIDES (CI 77492), IRON OXIDES (CI 77491), IRON OXIDES (CI 77499)]
Cushion
WATER / AQUA / EAU, CYCLOPENTASILOXANE, METHYL TRIMETHICONE, ETHYLHEXYL METHOXYCINNAMATE, CAPRYLYL METHICONE, POLYMETHYL METHACRYLATE, PEG-10 DIMETHICONE, PROPANEDIOL, CYCLOHEXASILOXANE, ZINC OXIDE (NANO), TRIMETHYLSILOXYSILICATE, TITANIUM DIOXIDE (NANO), NYLON-12, LAURYL PEG-9 POLYDIMETHYLSILOXYETHYL DIMETHICONE, HDI/TRIMETHYLOL HEXYLLACTONE CROSSPOLYMER, DISTEARDIMONIUM HECTORITE, 1,2-HEXANEDIOL, ALUMINUM HYDROXIDE, SODIUM CHLORIDE, ACRYLATES/DIMETHICONE COPOLYMER, ISOPROPYL TITANIUM TRIISOSTEARATE, ACRYLATES/ETHYLHEXYL ACRYLATE/DIMETHICONE METHACRYLATE COPOLYMER, FRAGRANCE / PARFUM, CAPRYLYL GLYCOL, STEARIC ACID, BIS-PEG-15 DIMETHICONE/IPDI COPOLYMER, PEG-2 SOYAMINE, ETHYLHEXYLGLYCERIN, DISODIUM EDTA, TRIETHOXYCAPRYLYLSILANE, SILICA, CITRONELLOL, GERANIOL, LIMONENE, BHT, HYDROXYCITRONELLAL, TOCOPHEROL [+/- TITANIUM DIOXIDE (CI 77891), IRON OXIDES (CI 77492), IRON OXIDES (CI 77491), IRON OXIDES (CI 77499)]

Foundation
WATER / AQUA / EAU, METHYL TRIMETHICONE, DIMETHICONE, PEG-10 DIMETHICONE, ALCOHOL DENAT., GLYCERIN, POLYMETHYLSILSESQUIOXANE, PROPANEDIOL, TRIMETHYLSILOXYSILICATE, POLYMETHYL METHACRYLATE, LAURYL PEG-10 TRIS(TRIMETHYLSILOXY)SILYLETHYL DIMETHICONE, TITANIUM DIOXIDE (NANO), TRISILOXANE, DIPHENYLSILOXY PHENYL TRIMETHICONE, CAPRYLYL METHICONE, ISODODECANE, DIPHENYL DIMETHICONE/VINYL DIPHENYL DIMETHICONE/SILSESQUIOXANE CROSSPOLYMER, LAURYL POLYGLYCERYL-3 POLYDIMETHYLSILOXYETHYL DIMETHICONE, SYNTHETIC FLUORPHLOGOPITE, ACRYLATES/POLYTRIMETHYLSILOXYMETHACRYLATE COPOLYMER, SODIUM CHLORIDE, DIMETHICONE CROSSPOLYMER, DISTEARDIMONIUM HECTORITE, 1,2-HEXANEDIOL, POLYETHYLENE, BORON NITRIDE, TRIETHOXYCAPRYLYLSILANE, ALUMINA, CAPRYLYL GLYCOL, LACTOBACILLUS FERMENT LYSATE, PANTHENOL, FRAGRANCE / PARFUM, GLYCERYL CAPRYLATE, BUTYLENE GLYCOL, LAUROYL LYSINE, DISODIUM EDTA, SIMETHICONE, SILICA, PEG-15/LAURYL DIMETHICONE CROSSPOLYMER, POLYQUATERNIUM-10, LACTIC ACID/GLYCOLIC ACID COPOLYMER, TOCOPHEROL, PROPYLENE CARBONATE, ALUMINUM HYDROXIDE [+/- TITANIUM DIOXIDE (CI 77891), IRON OXIDES (CI 77492), IRON OXIDES (CI 77491), IRON OXIDES (CI 77499)]
Cushion
WATER / AQUA / EAU, CYCLOPENTASILOXANE, METHYL TRIMETHICONE, ETHYLHEXYL METHOXYCINNAMATE, CAPRYLYL METHICONE, POLYMETHYL METHACRYLATE, PEG-10 DIMETHICONE, PROPANEDIOL, CYCLOHEXASILOXANE, ZINC OXIDE (NANO), TRIMETHYLSILOXYSILICATE, TITANIUM DIOXIDE (NANO), NYLON-12, LAURYL PEG-9 POLYDIMETHYLSILOXYETHYL DIMETHICONE, HDI/TRIMETHYLOL HEXYLLACTONE CROSSPOLYMER, DISTEARDIMONIUM HECTORITE, 1,2-HEXANEDIOL, ALUMINUM HYDROXIDE, SODIUM CHLORIDE, ACRYLATES/DIMETHICONE COPOLYMER, ISOPROPYL TITANIUM TRIISOSTEARATE, ACRYLATES/ETHYLHEXYL ACRYLATE/DIMETHICONE METHACRYLATE COPOLYMER, FRAGRANCE / PARFUM, CAPRYLYL GLYCOL, STEARIC ACID, BIS-PEG-15 DIMETHICONE/IPDI COPOLYMER, PEG-2 SOYAMINE, ETHYLHEXYLGLYCERIN, DISODIUM EDTA, TRIETHOXYCAPRYLYLSILANE, SILICA, CITRONELLOL, GERANIOL, LIMONENE, BHT, HYDROXYCITRONELLAL, TOCOPHEROL [+/- TITANIUM DIOXIDE (CI 77891), IRON OXIDES (CI 77492), IRON OXIDES (CI 77491), IRON OXIDES (CI 77499)]

Foundation
WATER / AQUA / EAU, METHYL TRIMETHICONE, DIMETHICONE, PEG-10 DIMETHICONE, ALCOHOL DENAT., GLYCERIN, POLYMETHYLSILSESQUIOXANE, PROPANEDIOL, POLYMETHYL METHACRYLATE, TRIMETHYLSILOXYSILICATE, LAURYL PEG-10 TRIS(TRIMETHYLSILOXY)SILYLETHYL DIMETHICONE, TITANIUM DIOXIDE (NANO), TRISILOXANE, DIPHENYLSILOXY PHENYL TRIMETHICONE, CAPRYLYL METHICONE, ISODODECANE, DIPHENYL DIMETHICONE/VINYL DIPHENYL DIMETHICONE/SILSESQUIOXANE CROSSPOLYMER, LAURYL POLYGLYCERYL-3 POLYDIMETHYLSILOXYETHYL DIMETHICONE, SYNTHETIC FLUORPHLOGOPITE, ACRYLATES/POLYTRIMETHYLSILOXYMETHACRYLATE COPOLYMER, SODIUM CHLORIDE, DIMETHICONE CROSSPOLYMER, DISTEARDIMONIUM HECTORITE, 1,2-HEXANEDIOL, POLYETHYLENE, BORON NITRIDE, TRIETHOXYCAPRYLYLSILANE, ALUMINA, CAPRYLYL GLYCOL, LACTOBACILLUS FERMENT LYSATE, PANTHENOL, FRAGRANCE / PARFUM, GLYCERYL CAPRYLATE, BUTYLENE GLYCOL, LAUROYL LYSINE, DISODIUM EDTA, SIMETHICONE, SILICA, PEG-15/LAURYL DIMETHICONE CROSSPOLYMER, POLYQUATERNIUM-10, LACTIC ACID/GLYCOLIC ACID COPOLYMER, TOCOPHEROL, PROPYLENE CARBONATE, ALUMINUM HYDROXIDE [+/- TITANIUM DIOXIDE (CI 77891), IRON OXIDES (CI 77492), IRON OXIDES (CI 77491), IRON OXIDES (CI 77499)]
Cushion
WATER / AQUA / EAU, CYCLOPENTASILOXANE, METHYL TRIMETHICONE, ETHYLHEXYL METHOXYCINNAMATE, CAPRYLYL METHICONE, POLYMETHYL METHACRYLATE, PEG-10 DIMETHICONE, PROPANEDIOL, CYCLOHEXASILOXANE, ZINC OXIDE (NANO), TRIMETHYLSILOXYSILICATE, TITANIUM DIOXIDE (NANO), NYLON-12, LAURYL PEG-9 POLYDIMETHYLSILOXYETHYL DIMETHICONE, HDI/TRIMETHYLOL HEXYLLACTONE CROSSPOLYMER, DISTEARDIMONIUM HECTORITE, 1,2-HEXANEDIOL, ALUMINUM HYDROXIDE, SODIUM CHLORIDE, ACRYLATES/DIMETHICONE COPOLYMER, ISOPROPYL TITANIUM TRIISOSTEARATE, ACRYLATES/ETHYLHEXYL ACRYLATE/DIMETHICONE METHACRYLATE COPOLYMER, FRAGRANCE / PARFUM, CAPRYLYL GLYCOL, STEARIC ACID, BIS-PEG-15 DIMETHICONE/IPDI COPOLYMER, PEG-2 SOYAMINE, ETHYLHEXYLGLYCERIN, DISODIUM EDTA, TRIETHOXYCAPRYLYLSILANE, SILICA, CITRONELLOL, GERANIOL, LIMONENE, BHT, HYDROXYCITRONELLAL, TOCOPHEROL [+/- TITANIUM DIOXIDE (CI 77891), IRON OXIDES (CI 77492), IRON OXIDES (CI 77491), IRON OXIDES (CI 77499)]

Foundation
WATER / AQUA / EAU, METHYL TRIMETHICONE, DIMETHICONE, PEG-10 DIMETHICONE, ALCOHOL DENAT., GLYCERIN, POLYMETHYLSILSESQUIOXANE, PROPANEDIOL, POLYMETHYL METHACRYLATE, TRIMETHYLSILOXYSILICATE, LAURYL PEG-10 TRIS(TRIMETHYLSILOXY)SILYLETHYL DIMETHICONE, TITANIUM DIOXIDE (NANO), TRISILOXANE, DIPHENYLSILOXY PHENYL TRIMETHICONE, CAPRYLYL METHICONE, ISODODECANE, DIPHENYL DIMETHICONE/VINYL DIPHENYL DIMETHICONE/SILSESQUIOXANE CROSSPOLYMER, LAURYL POLYGLYCERYL-3 POLYDIMETHYLSILOXYETHYL DIMETHICONE, SYNTHETIC FLUORPHLOGOPITE, ACRYLATES/POLYTRIMETHYLSILOXYMETHACRYLATE COPOLYMER, SODIUM CHLORIDE, DIMETHICONE CROSSPOLYMER, DISTEARDIMONIUM HECTORITE, 1,2-HEXANEDIOL, POLYETHYLENE, BORON NITRIDE, TRIETHOXYCAPRYLYLSILANE, ALUMINA, CAPRYLYL GLYCOL, LACTOBACILLUS FERMENT LYSATE, PANTHENOL, FRAGRANCE / PARFUM, GLYCERYL CAPRYLATE, BUTYLENE GLYCOL, LAUROYL LYSINE, DISODIUM EDTA, SIMETHICONE, SILICA, PEG-15/LAURYL DIMETHICONE CROSSPOLYMER, POLYQUATERNIUM-10, LACTIC ACID/GLYCOLIC ACID COPOLYMER, TOCOPHEROL, PROPYLENE CARBONATE, ALUMINUM HYDROXIDE [+/- TITANIUM DIOXIDE (CI 77891), IRON OXIDES (CI 77492), IRON OXIDES (CI 77491), IRON OXIDES (CI 77499)]

Cushion
WATER / AQUA / EAU, CYCLOPENTASILOXANE, METHYL TRIMETHICONE, ETHYLHEXYL METHOXYCINNAMATE, CAPRYLYL METHICONE, POLYMETHYL METHACRYLATE, PEG-10 DIMETHICONE, PROPANEDIOL, CYCLOHEXASILOXANE, ZINC OXIDE (NANO), TRIMETHYLSILOXYSILICATE, TITANIUM DIOXIDE (NANO), NYLON-12, LAURYL PEG-9 POLYDIMETHYLSILOXYETHYL DIMETHICONE, HDI/TRIMETHYLOL HEXYLLACTONE CROSSPOLYMER, DISTEARDIMONIUM HECTORITE, 1,2-HEXANEDIOL, ALUMINUM HYDROXIDE, SODIUM CHLORIDE, ACRYLATES/DIMETHICONE COPOLYMER, ISOPROPYL TITANIUM TRIISOSTEARATE, ACRYLATES/ETHYLHEXYL ACRYLATE/DIMETHICONE METHACRYLATE COPOLYMER, FRAGRANCE / PARFUM, CAPRYLYL GLYCOL, STEARIC ACID, BIS-PEG-15 DIMETHICONE/IPDI COPOLYMER, PEG-2 SOYAMINE, ETHYLHEXYLGLYCERIN, DISODIUM EDTA, TRIETHOXYCAPRYLYLSILANE, SILICA, CITRONELLOL, GERANIOL, LIMONENE, BHT, HYDROXYCITRONELLAL, TOCOPHEROL [+/- TITANIUM DIOXIDE (CI 77891), IRON OXIDES (CI 77492), IRON OXIDES (CI 77491), IRON OXIDES (CI 77499)]

Foundation
WATER / AQUA / EAU, METHYL TRIMETHICONE, DIMETHICONE, PEG-10 DIMETHICONE, ALCOHOL DENAT., GLYCERIN, POLYMETHYLSILSESQUIOXANE, PROPANEDIOL, POLYMETHYL METHACRYLATE, TRIMETHYLSILOXYSILICATE, LAURYL PEG-10 TRIS(TRIMETHYLSILOXY)SILYLETHYL DIMETHICONE, TITANIUM DIOXIDE (NANO), TRISILOXANE, DIPHENYLSILOXY PHENYL TRIMETHICONE, CAPRYLYL METHICONE, ISODODECANE, DIPHENYL DIMETHICONE/VINYL DIPHENYL DIMETHICONE/SILSESQUIOXANE CROSSPOLYMER, LAURYL POLYGLYCERYL-3 POLYDIMETHYLSILOXYETHYL DIMETHICONE, SYNTHETIC FLUORPHLOGOPITE, ACRYLATES/POLYTRIMETHYLSILOXYMETHACRYLATE COPOLYMER, SODIUM CHLORIDE, DIMETHICONE CROSSPOLYMER, DISTEARDIMONIUM HECTORITE, 1,2-HEXANEDIOL, POLYETHYLENE, BORON NITRIDE, TRIETHOXYCAPRYLYLSILANE, ALUMINA, CAPRYLYL GLYCOL, LACTOBACILLUS FERMENT LYSATE, PANTHENOL, FRAGRANCE / PARFUM, GLYCERYL CAPRYLATE, BUTYLENE GLYCOL, LAUROYL LYSINE, DISODIUM EDTA, SIMETHICONE, SILICA, PEG-15/LAURYL DIMETHICONE CROSSPOLYMER, POLYQUATERNIUM-10, LACTIC ACID/GLYCOLIC ACID COPOLYMER, TOCOPHEROL, PROPYLENE CARBONATE, ALUMINUM HYDROXIDE [+/- TITANIUM DIOXIDE (CI 77891), IRON OXIDES (CI 77492), IRON OXIDES (CI 77491), IRON OXIDES (CI 77499)]

Cushion
WATER / AQUA / EAU, CYCLOPENTASILOXANE, METHYL TRIMETHICONE, ETHYLHEXYL METHOXYCINNAMATE, CAPRYLYL METHICONE, POLYMETHYL METHACRYLATE, PEG-10 DIMETHICONE, PROPANEDIOL, CYCLOHEXASILOXANE, ZINC OXIDE (NANO), TRIMETHYLSILOXYSILICATE, TITANIUM DIOXIDE (NANO), NYLON-12, LAURYL PEG-9 POLYDIMETHYLSILOXYETHYL DIMETHICONE, HDI/TRIMETHYLOL HEXYLLACTONE CROSSPOLYMER, DISTEARDIMONIUM HECTORITE, 1,2-HEXANEDIOL, ALUMINUM HYDROXIDE, SODIUM CHLORIDE, ACRYLATES/DIMETHICONE COPOLYMER, ISOPROPYL TITANIUM TRIISOSTEARATE, ACRYLATES/ETHYLHEXYL ACRYLATE/DIMETHICONE METHACRYLATE COPOLYMER, FRAGRANCE / PARFUM, CAPRYLYL GLYCOL, STEARIC ACID, BIS-PEG-15 DIMETHICONE/IPDI COPOLYMER, PEG-2 SOYAMINE, ETHYLHEXYLGLYCERIN, DISODIUM EDTA, TRIETHOXYCAPRYLYLSILANE, SILICA, CITRONELLOL, GERANIOL, LIMONENE, BHT, HYDROXYCITRONELLAL, TOCOPHEROL [+/- TITANIUM DIOXIDE (CI 77891), IRON OXIDES (CI 77492), IRON OXIDES (CI 77491), IRON OXIDES (CI 77499)]

Foundation
WATER / AQUA / EAU, METHYL TRIMETHICONE, DIMETHICONE, PEG-10 DIMETHICONE, ALCOHOL DENAT., GLYCERIN, POLYMETHYLSILSESQUIOXANE, PROPANEDIOL, POLYMETHYL METHACRYLATE, TRIMETHYLSILOXYSILICATE, LAURYL PEG-10 TRIS(TRIMETHYLSILOXY)SILYLETHYL DIMETHICONE, TITANIUM DIOXIDE (NANO), TRISILOXANE, DIPHENYLSILOXY PHENYL TRIMETHICONE, CAPRYLYL METHICONE, ISODODECANE, DIPHENYL DIMETHICONE/VINYL DIPHENYL DIMETHICONE/SILSESQUIOXANE CROSSPOLYMER, LAURYL POLYGLYCERYL-3 POLYDIMETHYLSILOXYETHYL DIMETHICONE, SYNTHETIC FLUORPHLOGOPITE, ACRYLATES/POLYTRIMETHYLSILOXYMETHACRYLATE COPOLYMER, SODIUM CHLORIDE, DIMETHICONE CROSSPOLYMER, DISTEARDIMONIUM HECTORITE, 1,2-HEXANEDIOL, POLYETHYLENE, BORON NITRIDE, TRIETHOXYCAPRYLYLSILANE, ALUMINA, CAPRYLYL GLYCOL, LACTOBACILLUS FERMENT LYSATE, PANTHENOL, FRAGRANCE / PARFUM, GLYCERYL CAPRYLATE, BUTYLENE GLYCOL, LAUROYL LYSINE, DISODIUM EDTA, SIMETHICONE, SILICA, PEG-15/LAURYL DIMETHICONE CROSSPOLYMER, POLYQUATERNIUM-10, LACTIC ACID/GLYCOLIC ACID COPOLYMER, TOCOPHEROL, PROPYLENE CARBONATE, ALUMINUM HYDROXIDE [+/- TITANIUM DIOXIDE (CI 77891), IRON OXIDES (CI 77492), IRON OXIDES (CI 77491), IRON OXIDES (CI 77499)]
Cushion
WATER / AQUA / EAU, CYCLOPENTASILOXANE, METHYL TRIMETHICONE, ETHYLHEXYL METHOXYCINNAMATE, CAPRYLYL METHICONE, POLYMETHYL METHACRYLATE, PEG-10 DIMETHICONE, PROPANEDIOL, CYCLOHEXASILOXANE, ZINC OXIDE (NANO), TRIMETHYLSILOXYSILICATE, TITANIUM DIOXIDE (NANO), NYLON-12, LAURYL PEG-9 POLYDIMETHYLSILOXYETHYL DIMETHICONE, HDI/TRIMETHYLOL HEXYLLACTONE CROSSPOLYMER, DISTEARDIMONIUM HECTORITE, 1,2-HEXANEDIOL, ALUMINUM HYDROXIDE, SODIUM CHLORIDE, ACRYLATES/DIMETHICONE COPOLYMER, ISOPROPYL TITANIUM TRIISOSTEARATE, ACRYLATES/ETHYLHEXYL ACRYLATE/DIMETHICONE METHACRYLATE COPOLYMER, FRAGRANCE / PARFUM, CAPRYLYL GLYCOL, STEARIC ACID, BIS-PEG-15 DIMETHICONE/IPDI COPOLYMER, PEG-2 SOYAMINE, ETHYLHEXYLGLYCERIN, DISODIUM EDTA, TRIETHOXYCAPRYLYLSILANE, SILICA, CITRONELLOL, GERANIOL, LIMONENE, BHT, HYDROXYCITRONELLAL, TOCOPHEROL [+/- TITANIUM DIOXIDE (CI 77891), IRON OXIDES (CI 77492), IRON OXIDES (CI 77491), IRON OXIDES (CI 77499)]

Foundation
WATER / AQUA / EAU, METHYL TRIMETHICONE, DIMETHICONE, PEG-10 DIMETHICONE, ALCOHOL DENAT., GLYCERIN, POLYMETHYLSILSESQUIOXANE, PROPANEDIOL, TRIMETHYLSILOXYSILICATE, POLYMETHYL METHACRYLATE, LAURYL PEG-10 TRIS(TRIMETHYLSILOXY)SILYLETHYL DIMETHICONE, TITANIUM DIOXIDE (NANO), TRISILOXANE, DIPHENYLSILOXY PHENYL TRIMETHICONE, CAPRYLYL METHICONE, ISODODECANE, DIPHENYL DIMETHICONE/VINYL DIPHENYL DIMETHICONE/SILSESQUIOXANE CROSSPOLYMER, LAURYL POLYGLYCERYL-3 POLYDIMETHYLSILOXYETHYL DIMETHICONE, SYNTHETIC FLUORPHLOGOPITE, ACRYLATES/POLYTRIMETHYLSILOXYMETHACRYLATE COPOLYMER, SODIUM CHLORIDE, DIMETHICONE CROSSPOLYMER, DISTEARDIMONIUM HECTORITE, 1,2-HEXANEDIOL, POLYETHYLENE, BORON NITRIDE, TRIETHOXYCAPRYLYLSILANE, ALUMINA, CAPRYLYL GLYCOL, LACTOBACILLUS FERMENT LYSATE, PANTHENOL, FRAGRANCE / PARFUM, GLYCERYL CAPRYLATE, BUTYLENE GLYCOL, LAUROYL LYSINE, DISODIUM EDTA, SIMETHICONE, SILICA, PEG-15/LAURYL DIMETHICONE CROSSPOLYMER, POLYQUATERNIUM-10, LACTIC ACID/GLYCOLIC ACID COPOLYMER, TOCOPHEROL, PROPYLENE CARBONATE, ALUMINUM HYDROXIDE [+/- TITANIUM DIOXIDE (CI 77891), IRON OXIDES (CI 77492), IRON OXIDES (CI 77491), IRON OXIDES (CI 77499)]
Cushion
WATER / AQUA / EAU, CYCLOPENTASILOXANE, METHYL TRIMETHICONE, ETHYLHEXYL METHOXYCINNAMATE, CAPRYLYL METHICONE, POLYMETHYL METHACRYLATE, PEG-10 DIMETHICONE, PROPANEDIOL, CYCLOHEXASILOXANE, ZINC OXIDE (NANO), TRIMETHYLSILOXYSILICATE, TITANIUM DIOXIDE (NANO), NYLON-12, LAURYL PEG-9 POLYDIMETHYLSILOXYETHYL DIMETHICONE, HDI/TRIMETHYLOL HEXYLLACTONE CROSSPOLYMER, DISTEARDIMONIUM HECTORITE, 1,2-HEXANEDIOL, ALUMINUM HYDROXIDE, SODIUM CHLORIDE, ACRYLATES/DIMETHICONE COPOLYMER, ISOPROPYL TITANIUM TRIISOSTEARATE, ACRYLATES/ETHYLHEXYL ACRYLATE/DIMETHICONE METHACRYLATE COPOLYMER, FRAGRANCE / PARFUM, CAPRYLYL GLYCOL, STEARIC ACID, BIS-PEG-15 DIMETHICONE/IPDI COPOLYMER, PEG-2 SOYAMINE, ETHYLHEXYLGLYCERIN, DISODIUM EDTA, TRIETHOXYCAPRYLYLSILANE, SILICA, CITRONELLOL, GERANIOL, LIMONENE, BHT, HYDROXYCITRONELLAL, TOCOPHEROL [+/- TITANIUM DIOXIDE (CI 77891), IRON OXIDES (CI 77492), IRON OXIDES (CI 77491), IRON OXIDES (CI 77499)]

Foundation
WATER / AQUA / EAU, METHYL TRIMETHICONE, DIMETHICONE, PEG-10 DIMETHICONE, ALCOHOL DENAT., GLYCERIN, POLYMETHYLSILSESQUIOXANE, PROPANEDIOL, POLYMETHYL METHACRYLATE, TRIMETHYLSILOXYSILICATE, LAURYL PEG-10 TRIS(TRIMETHYLSILOXY)SILYLETHYL DIMETHICONE, TITANIUM DIOXIDE (NANO), TRISILOXANE, DIPHENYLSILOXY PHENYL TRIMETHICONE, CAPRYLYL METHICONE, ISODODECANE, DIPHENYL DIMETHICONE/VINYL DIPHENYL DIMETHICONE/SILSESQUIOXANE CROSSPOLYMER, LAURYL POLYGLYCERYL-3 POLYDIMETHYLSILOXYETHYL DIMETHICONE, SYNTHETIC FLUORPHLOGOPITE, ACRYLATES/POLYTRIMETHYLSILOXYMETHACRYLATE COPOLYMER, SODIUM CHLORIDE, DIMETHICONE CROSSPOLYMER, DISTEARDIMONIUM HECTORITE, 1,2-HEXANEDIOL, POLYETHYLENE, BORON NITRIDE, TRIETHOXYCAPRYLYLSILANE, ALUMINA, CAPRYLYL GLYCOL, LACTOBACILLUS FERMENT LYSATE, PANTHENOL, FRAGRANCE / PARFUM, GLYCERYL CAPRYLATE, BUTYLENE GLYCOL, LAUROYL LYSINE, DISODIUM EDTA, SIMETHICONE, SILICA, PEG-15/LAURYL DIMETHICONE CROSSPOLYMER, POLYQUATERNIUM-10, LACTIC ACID/GLYCOLIC ACID COPOLYMER, TOCOPHEROL, PROPYLENE CARBONATE, ALUMINUM HYDROXIDE [+/- TITANIUM DIOXIDE (CI 77891), IRON OXIDES (CI 77492), IRON OXIDES (CI 77491), IRON OXIDES (CI 77499)]
Cushion
WATER / AQUA / EAU, CYCLOPENTASILOXANE, METHYL TRIMETHICONE, ETHYLHEXYL METHOXYCINNAMATE, CAPRYLYL METHICONE, POLYMETHYL METHACRYLATE, PEG-10 DIMETHICONE, PROPANEDIOL, CYCLOHEXASILOXANE, ZINC OXIDE (NANO), TRIMETHYLSILOXYSILICATE, TITANIUM DIOXIDE (NANO), NYLON-12, LAURYL PEG-9 POLYDIMETHYLSILOXYETHYL DIMETHICONE, HDI/TRIMETHYLOL HEXYLLACTONE CROSSPOLYMER, DISTEARDIMONIUM HECTORITE, 1,2-HEXANEDIOL, ALUMINUM HYDROXIDE, SODIUM CHLORIDE, ACRYLATES/DIMETHICONE COPOLYMER, ISOPROPYL TITANIUM TRIISOSTEARATE, ACRYLATES/ETHYLHEXYL ACRYLATE/DIMETHICONE METHACRYLATE COPOLYMER, FRAGRANCE / PARFUM, CAPRYLYL GLYCOL, STEARIC ACID, BIS-PEG-15 DIMETHICONE/IPDI COPOLYMER, PEG-2 SOYAMINE, ETHYLHEXYLGLYCERIN, DISODIUM EDTA, TRIETHOXYCAPRYLYLSILANE, SILICA, CITRONELLOL, GERANIOL, LIMONENE, BHT, HYDROXYCITRONELLAL, TOCOPHEROL [+/- TITANIUM DIOXIDE (CI 77891), IRON OXIDES (CI 77492), IRON OXIDES (CI 77491), IRON OXIDES (CI 77499)]

Foundation
WATER / AQUA / EAU, METHYL TRIMETHICONE, DIMETHICONE, PEG-10 DIMETHICONE, ALCOHOL DENAT., GLYCERIN, POLYMETHYLSILSESQUIOXANE, PROPANEDIOL, POLYMETHYL METHACRYLATE, TRIMETHYLSILOXYSILICATE, LAURYL PEG-10 TRIS(TRIMETHYLSILOXY)SILYLETHYL DIMETHICONE, TITANIUM DIOXIDE (NANO), TRISILOXANE, DIPHENYLSILOXY PHENYL TRIMETHICONE, CAPRYLYL METHICONE, ISODODECANE, DIPHENYL DIMETHICONE/VINYL DIPHENYL DIMETHICONE/SILSESQUIOXANE CROSSPOLYMER, LAURYL POLYGLYCERYL-3 POLYDIMETHYLSILOXYETHYL DIMETHICONE, SYNTHETIC FLUORPHLOGOPITE, ACRYLATES/POLYTRIMETHYLSILOXYMETHACRYLATE COPOLYMER, SODIUM CHLORIDE, DIMETHICONE CROSSPOLYMER, DISTEARDIMONIUM HECTORITE, 1,2-HEXANEDIOL, POLYETHYLENE, BORON NITRIDE, TRIETHOXYCAPRYLYLSILANE, ALUMINA, CAPRYLYL GLYCOL, LACTOBACILLUS FERMENT LYSATE, PANTHENOL, FRAGRANCE / PARFUM, GLYCERYL CAPRYLATE, BUTYLENE GLYCOL, LAUROYL LYSINE, DISODIUM EDTA, SIMETHICONE, SILICA, PEG-15/LAURYL DIMETHICONE CROSSPOLYMER, POLYQUATERNIUM-10, LACTIC ACID/GLYCOLIC ACID COPOLYMER, TOCOPHEROL, PROPYLENE CARBONATE, ALUMINUM HYDROXIDE [+/- TITANIUM DIOXIDE (CI 77891), IRON OXIDES (CI 77492), IRON OXIDES (CI 77491), IRON OXIDES (CI 77499)]

Cushion
WATER / AQUA / EAU, CYCLOPENTASILOXANE, METHYL TRIMETHICONE, ETHYLHEXYL METHOXYCINNAMATE, CAPRYLYL METHICONE, POLYMETHYL METHACRYLATE, PEG-10 DIMETHICONE, PROPANEDIOL, CYCLOHEXASILOXANE, ZINC OXIDE (NANO), TRIMETHYLSILOXYSILICATE, TITANIUM DIOXIDE (NANO), NYLON-12, LAURYL PEG-9 POLYDIMETHYLSILOXYETHYL DIMETHICONE, HDI/TRIMETHYLOL HEXYLLACTONE CROSSPOLYMER, DISTEARDIMONIUM HECTORITE, 1,2-HEXANEDIOL, ALUMINUM HYDROXIDE, SODIUM CHLORIDE, ACRYLATES/DIMETHICONE COPOLYMER, ISOPROPYL TITANIUM TRIISOSTEARATE, ACRYLATES/ETHYLHEXYL ACRYLATE/DIMETHICONE METHACRYLATE COPOLYMER, FRAGRANCE / PARFUM, CAPRYLYL GLYCOL, STEARIC ACID, BIS-PEG-15 DIMETHICONE/IPDI COPOLYMER, PEG-2 SOYAMINE, ETHYLHEXYLGLYCERIN, DISODIUM EDTA, TRIETHOXYCAPRYLYLSILANE, SILICA, CITRONELLOL, GERANIOL, LIMONENE, BHT, HYDROXYCITRONELLAL, TOCOPHEROL [+/- TITANIUM DIOXIDE (CI 77891), IRON OXIDES (CI 77492), IRON OXIDES (CI 77491), IRON OXIDES (CI 77499)]

Foundation
WATER / AQUA / EAU, METHYL TRIMETHICONE, DIMETHICONE, PEG-10 DIMETHICONE, ALCOHOL DENAT., GLYCERIN, POLYMETHYLSILSESQUIOXANE, PROPANEDIOL, POLYMETHYL METHACRYLATE, TRIMETHYLSILOXYSILICATE, LAURYL PEG-10 TRIS(TRIMETHYLSILOXY)SILYLETHYL DIMETHICONE, TITANIUM DIOXIDE (NANO), TRISILOXANE, DIPHENYLSILOXY PHENYL TRIMETHICONE, CAPRYLYL METHICONE, ISODODECANE, DIPHENYL DIMETHICONE/VINYL DIPHENYL DIMETHICONE/SILSESQUIOXANE CROSSPOLYMER, LAURYL POLYGLYCERYL-3 POLYDIMETHYLSILOXYETHYL DIMETHICONE, SYNTHETIC FLUORPHLOGOPITE, ACRYLATES/POLYTRIMETHYLSILOXYMETHACRYLATE COPOLYMER, SODIUM CHLORIDE, DIMETHICONE CROSSPOLYMER, DISTEARDIMONIUM HECTORITE, 1,2-HEXANEDIOL, POLYETHYLENE, BORON NITRIDE, TRIETHOXYCAPRYLYLSILANE, ALUMINA, CAPRYLYL GLYCOL, LACTOBACILLUS FERMENT LYSATE, PANTHENOL, FRAGRANCE / PARFUM, GLYCERYL CAPRYLATE, BUTYLENE GLYCOL, LAUROYL LYSINE, DISODIUM EDTA, SIMETHICONE, SILICA, PEG-15/LAURYL DIMETHICONE CROSSPOLYMER, POLYQUATERNIUM-10, LACTIC ACID/GLYCOLIC ACID COPOLYMER, TOCOPHEROL, PROPYLENE CARBONATE, ALUMINUM HYDROXIDE [+/- TITANIUM DIOXIDE (CI 77891), IRON OXIDES (CI 77492), IRON OXIDES (CI 77491), IRON OXIDES (CI 77499)]
Cushion
WATER / AQUA / EAU, CYCLOPENTASILOXANE, METHYL TRIMETHICONE, ETHYLHEXYL METHOXYCINNAMATE, CAPRYLYL METHICONE, POLYMETHYL METHACRYLATE, PEG-10 DIMETHICONE, PROPANEDIOL, CYCLOHEXASILOXANE, ZINC OXIDE (NANO), TRIMETHYLSILOXYSILICATE, TITANIUM DIOXIDE (NANO), NYLON-12, LAURYL PEG-9 POLYDIMETHYLSILOXYETHYL DIMETHICONE, HDI/TRIMETHYLOL HEXYLLACTONE CROSSPOLYMER, DISTEARDIMONIUM HECTORITE, 1,2-HEXANEDIOL, ALUMINUM HYDROXIDE, SODIUM CHLORIDE, ACRYLATES/DIMETHICONE COPOLYMER, ISOPROPYL TITANIUM TRIISOSTEARATE, ACRYLATES/ETHYLHEXYL ACRYLATE/DIMETHICONE METHACRYLATE COPOLYMER, FRAGRANCE / PARFUM, CAPRYLYL GLYCOL, STEARIC ACID, BIS-PEG-15 DIMETHICONE/IPDI COPOLYMER, PEG-2 SOYAMINE, ETHYLHEXYLGLYCERIN, DISODIUM EDTA, TRIETHOXYCAPRYLYLSILANE, SILICA, CITRONELLOL, GERANIOL, LIMONENE, BHT, HYDROXYCITRONELLAL, TOCOPHEROL [+/- TITANIUM DIOXIDE (CI 77891), IRON OXIDES (CI 77492), IRON OXIDES (CI 77491), IRON OXIDES (CI 77499)]

Foundation
WATER / AQUA / EAU, METHYL TRIMETHICONE, DIMETHICONE, PEG-10 DIMETHICONE, ALCOHOL DENAT., GLYCERIN, POLYMETHYLSILSESQUIOXANE, PROPANEDIOL, TRIMETHYLSILOXYSILICATE, POLYMETHYL METHACRYLATE, LAURYL PEG-10 TRIS(TRIMETHYLSILOXY)SILYLETHYL DIMETHICONE, TITANIUM DIOXIDE (NANO), TRISILOXANE, DIPHENYLSILOXY PHENYL TRIMETHICONE, CAPRYLYL METHICONE, ISODODECANE, DIPHENYL DIMETHICONE/VINYL DIPHENYL DIMETHICONE/SILSESQUIOXANE CROSSPOLYMER, LAURYL POLYGLYCERYL-3 POLYDIMETHYLSILOXYETHYL DIMETHICONE, SYNTHETIC FLUORPHLOGOPITE, ACRYLATES/POLYTRIMETHYLSILOXYMETHACRYLATE COPOLYMER, SODIUM CHLORIDE, DIMETHICONE CROSSPOLYMER, DISTEARDIMONIUM HECTORITE, 1,2-HEXANEDIOL, POLYETHYLENE, BORON NITRIDE, TRIETHOXYCAPRYLYLSILANE, ALUMINA, CAPRYLYL GLYCOL, LACTOBACILLUS FERMENT LYSATE, PANTHENOL, FRAGRANCE / PARFUM, GLYCERYL CAPRYLATE, BUTYLENE GLYCOL, LAUROYL LYSINE, DISODIUM EDTA, SIMETHICONE, SILICA, PEG-15/LAURYL DIMETHICONE CROSSPOLYMER, POLYQUATERNIUM-10, LACTIC ACID/GLYCOLIC ACID COPOLYMER, TOCOPHEROL, PROPYLENE CARBONATE, ALUMINUM HYDROXIDE [+/- TITANIUM DIOXIDE (CI 77891), IRON OXIDES (CI 77492), IRON OXIDES (CI 77491), IRON OXIDES (CI 77499)]
Cushion
WATER / AQUA / EAU, CYCLOPENTASILOXANE, METHYL TRIMETHICONE, ETHYLHEXYL METHOXYCINNAMATE, CAPRYLYL METHICONE, POLYMETHYL METHACRYLATE, PEG-10 DIMETHICONE, PROPANEDIOL, CYCLOHEXASILOXANE, ZINC OXIDE (NANO), TRIMETHYLSILOXYSILICATE, TITANIUM DIOXIDE (NANO), NYLON-12, LAURYL PEG-9 POLYDIMETHYLSILOXYETHYL DIMETHICONE, HDI/TRIMETHYLOL HEXYLLACTONE CROSSPOLYMER, DISTEARDIMONIUM HECTORITE, 1,2-HEXANEDIOL, ALUMINUM HYDROXIDE, SODIUM CHLORIDE, ACRYLATES/DIMETHICONE COPOLYMER, ISOPROPYL TITANIUM TRIISOSTEARATE, ACRYLATES/ETHYLHEXYL ACRYLATE/DIMETHICONE METHACRYLATE COPOLYMER, FRAGRANCE / PARFUM, CAPRYLYL GLYCOL, STEARIC ACID, BIS-PEG-15 DIMETHICONE/IPDI COPOLYMER, PEG-2 SOYAMINE, ETHYLHEXYLGLYCERIN, DISODIUM EDTA, TRIETHOXYCAPRYLYLSILANE, SILICA, CITRONELLOL, GERANIOL, LIMONENE, BHT, HYDROXYCITRONELLAL, TOCOPHEROL [+/- TITANIUM DIOXIDE (CI 77891), IRON OXIDES (CI 77492), IRON OXIDES (CI 77491), IRON OXIDES (CI 77499)]

Foundation
WATER / AQUA / EAU, METHYL TRIMETHICONE, DIMETHICONE, PEG-10 DIMETHICONE, ALCOHOL DENAT., GLYCERIN, POLYMETHYLSILSESQUIOXANE, PROPANEDIOL, TRIMETHYLSILOXYSILICATE, POLYMETHYL METHACRYLATE, LAURYL PEG-10 TRIS(TRIMETHYLSILOXY)SILYLETHYL DIMETHICONE, TITANIUM DIOXIDE (NANO), TRISILOXANE, DIPHENYLSILOXY PHENYL TRIMETHICONE, CAPRYLYL METHICONE, ISODODECANE, DIPHENYL DIMETHICONE/VINYL DIPHENYL DIMETHICONE/SILSESQUIOXANE CROSSPOLYMER, LAURYL POLYGLYCERYL-3 POLYDIMETHYLSILOXYETHYL DIMETHICONE, SYNTHETIC FLUORPHLOGOPITE, ACRYLATES/POLYTRIMETHYLSILOXYMETHACRYLATE COPOLYMER, SODIUM CHLORIDE, DIMETHICONE CROSSPOLYMER, DISTEARDIMONIUM HECTORITE, 1,2-HEXANEDIOL, POLYETHYLENE, BORON NITRIDE, TRIETHOXYCAPRYLYLSILANE, ALUMINA, CAPRYLYL GLYCOL, LACTOBACILLUS FERMENT LYSATE, PANTHENOL, FRAGRANCE / PARFUM, GLYCERYL CAPRYLATE, BUTYLENE GLYCOL, LAUROYL LYSINE, DISODIUM EDTA, SIMETHICONE, SILICA, PEG-15/LAURYL DIMETHICONE CROSSPOLYMER, POLYQUATERNIUM-10, LACTIC ACID/GLYCOLIC ACID COPOLYMER, TOCOPHEROL, PROPYLENE CARBONATE, ALUMINUM HYDROXIDE [+/- TITANIUM DIOXIDE (CI 77891), IRON OXIDES (CI 77492), IRON OXIDES (CI 77491), IRON OXIDES (CI 77499)]

Cushion
WATER / AQUA / EAU, CYCLOPENTASILOXANE, METHYL TRIMETHICONE, ETHYLHEXYL METHOXYCINNAMATE, CAPRYLYL METHICONE, POLYMETHYL METHACRYLATE, PEG-10 DIMETHICONE, PROPANEDIOL, CYCLOHEXASILOXANE, ZINC OXIDE (NANO), TRIMETHYLSILOXYSILICATE, TITANIUM DIOXIDE (NANO), NYLON-12, LAURYL PEG-9 POLYDIMETHYLSILOXYETHYL DIMETHICONE, HDI/TRIMETHYLOL HEXYLLACTONE CROSSPOLYMER, DISTEARDIMONIUM HECTORITE, 1,2-HEXANEDIOL, ALUMINUM HYDROXIDE, SODIUM CHLORIDE, ACRYLATES/DIMETHICONE COPOLYMER, ISOPROPYL TITANIUM TRIISOSTEARATE, ACRYLATES/ETHYLHEXYL ACRYLATE/DIMETHICONE METHACRYLATE COPOLYMER, FRAGRANCE / PARFUM, CAPRYLYL GLYCOL, STEARIC ACID, BIS-PEG-15 DIMETHICONE/IPDI COPOLYMER, PEG-2 SOYAMINE, ETHYLHEXYLGLYCERIN, DISODIUM EDTA, TRIETHOXYCAPRYLYLSILANE, SILICA, CITRONELLOL, GERANIOL, LIMONENE, BHT, HYDROXYCITRONELLAL, TOCOPHEROL [+/- TITANIUM DIOXIDE (CI 77891), IRON OXIDES (CI 77492), IRON OXIDES (CI 77491), IRON OXIDES (CI 77499)]

Foundation
WATER / AQUA / EAU, METHYL TRIMETHICONE, DIMETHICONE, PEG-10 DIMETHICONE, ALCOHOL DENAT., GLYCERIN, POLYMETHYLSILSESQUIOXANE, PROPANEDIOL, POLYMETHYL METHACRYLATE, TRIMETHYLSILOXYSILICATE, LAURYL PEG-10 TRIS(TRIMETHYLSILOXY)SILYLETHYL DIMETHICONE, TITANIUM DIOXIDE (NANO), TRISILOXANE, DIPHENYLSILOXY PHENYL TRIMETHICONE, CAPRYLYL METHICONE, ISODODECANE, DIPHENYL DIMETHICONE/VINYL DIPHENYL DIMETHICONE/SILSESQUIOXANE CROSSPOLYMER, LAURYL POLYGLYCERYL-3 POLYDIMETHYLSILOXYETHYL DIMETHICONE, SYNTHETIC FLUORPHLOGOPITE, ACRYLATES/POLYTRIMETHYLSILOXYMETHACRYLATE COPOLYMER, SODIUM CHLORIDE, DIMETHICONE CROSSPOLYMER, DISTEARDIMONIUM HECTORITE, 1,2-HEXANEDIOL, POLYETHYLENE, BORON NITRIDE, TRIETHOXYCAPRYLYLSILANE, ALUMINA, CAPRYLYL GLYCOL, LACTOBACILLUS FERMENT LYSATE, PANTHENOL, FRAGRANCE / PARFUM, GLYCERYL CAPRYLATE, BUTYLENE GLYCOL, LAUROYL LYSINE, DISODIUM EDTA, SIMETHICONE, SILICA, PEG-15/LAURYL DIMETHICONE CROSSPOLYMER, POLYQUATERNIUM-10, LACTIC ACID/GLYCOLIC ACID COPOLYMER, TOCOPHEROL, PROPYLENE CARBONATE, ALUMINUM HYDROXIDE [+/- TITANIUM DIOXIDE (CI 77891), IRON OXIDES (CI 77492), IRON OXIDES (CI 77491), IRON OXIDES (CI 77499)]
Cushion
WATER / AQUA / EAU, CYCLOPENTASILOXANE, METHYL TRIMETHICONE, ETHYLHEXYL METHOXYCINNAMATE, CAPRYLYL METHICONE, POLYMETHYL METHACRYLATE, PEG-10 DIMETHICONE, PROPANEDIOL, CYCLOHEXASILOXANE, ZINC OXIDE (NANO), TRIMETHYLSILOXYSILICATE, TITANIUM DIOXIDE (NANO), NYLON-12, LAURYL PEG-9 POLYDIMETHYLSILOXYETHYL DIMETHICONE, HDI/TRIMETHYLOL HEXYLLACTONE CROSSPOLYMER, DISTEARDIMONIUM HECTORITE, 1,2-HEXANEDIOL, ALUMINUM HYDROXIDE, SODIUM CHLORIDE, ACRYLATES/DIMETHICONE COPOLYMER, ISOPROPYL TITANIUM TRIISOSTEARATE, ACRYLATES/ETHYLHEXYL ACRYLATE/DIMETHICONE METHACRYLATE COPOLYMER, FRAGRANCE / PARFUM, CAPRYLYL GLYCOL, STEARIC ACID, BIS-PEG-15 DIMETHICONE/IPDI COPOLYMER, PEG-2 SOYAMINE, ETHYLHEXYLGLYCERIN, DISODIUM EDTA, TRIETHOXYCAPRYLYLSILANE, SILICA, CITRONELLOL, GERANIOL, LIMONENE, BHT, HYDROXYCITRONELLAL, TOCOPHEROL [+/- TITANIUM DIOXIDE (CI 77891), IRON OXIDES (CI 77492), IRON OXIDES (CI 77491), IRON OXIDES (CI 77499)]

Foundation
WATER / AQUA / EAU, METHYL TRIMETHICONE, DIMETHICONE, PEG-10 DIMETHICONE, ALCOHOL DENAT., GLYCERIN, POLYMETHYLSILSESQUIOXANE, PROPANEDIOL, POLYMETHYL METHACRYLATE, TRIMETHYLSILOXYSILICATE, LAURYL PEG-10 TRIS(TRIMETHYLSILOXY)SILYLETHYL DIMETHICONE, TITANIUM DIOXIDE (NANO), TRISILOXANE, DIPHENYLSILOXY PHENYL TRIMETHICONE, CAPRYLYL METHICONE, ISODODECANE, DIPHENYL DIMETHICONE/VINYL DIPHENYL DIMETHICONE/SILSESQUIOXANE CROSSPOLYMER, LAURYL POLYGLYCERYL-3 POLYDIMETHYLSILOXYETHYL DIMETHICONE, SYNTHETIC FLUORPHLOGOPITE, ACRYLATES/POLYTRIMETHYLSILOXYMETHACRYLATE COPOLYMER, SODIUM CHLORIDE, DIMETHICONE CROSSPOLYMER, DISTEARDIMONIUM HECTORITE, 1,2-HEXANEDIOL, POLYETHYLENE, BORON NITRIDE, TRIETHOXYCAPRYLYLSILANE, ALUMINA, CAPRYLYL GLYCOL, LACTOBACILLUS FERMENT LYSATE, PANTHENOL, FRAGRANCE / PARFUM, GLYCERYL CAPRYLATE, BUTYLENE GLYCOL, LAUROYL LYSINE, DISODIUM EDTA, SIMETHICONE, SILICA, PEG-15/LAURYL DIMETHICONE CROSSPOLYMER, POLYQUATERNIUM-10, LACTIC ACID/GLYCOLIC ACID COPOLYMER, TOCOPHEROL, PROPYLENE CARBONATE, ALUMINUM HYDROXIDE [+/- TITANIUM DIOXIDE (CI 77891), IRON OXIDES (CI 77492), IRON OXIDES (CI 77491), IRON OXIDES (CI 77499)]
Cushion
WATER / AQUA / EAU, CYCLOPENTASILOXANE, METHYL TRIMETHICONE, ETHYLHEXYL METHOXYCINNAMATE, CAPRYLYL METHICONE, POLYMETHYL METHACRYLATE, PEG-10 DIMETHICONE, PROPANEDIOL, CYCLOHEXASILOXANE, ZINC OXIDE (NANO), TRIMETHYLSILOXYSILICATE, TITANIUM DIOXIDE (NANO), NYLON-12, LAURYL PEG-9 POLYDIMETHYLSILOXYETHYL DIMETHICONE, HDI/TRIMETHYLOL HEXYLLACTONE CROSSPOLYMER, DISTEARDIMONIUM HECTORITE, 1,2-HEXANEDIOL, ALUMINUM HYDROXIDE, SODIUM CHLORIDE, ACRYLATES/DIMETHICONE COPOLYMER, ISOPROPYL TITANIUM TRIISOSTEARATE, ACRYLATES/ETHYLHEXYL ACRYLATE/DIMETHICONE METHACRYLATE COPOLYMER, FRAGRANCE / PARFUM, CAPRYLYL GLYCOL, STEARIC ACID, BIS-PEG-15 DIMETHICONE/IPDI COPOLYMER, PEG-2 SOYAMINE, ETHYLHEXYLGLYCERIN, DISODIUM EDTA, TRIETHOXYCAPRYLYLSILANE, SILICA, CITRONELLOL, GERANIOL, LIMONENE, BHT, HYDROXYCITRONELLAL, TOCOPHEROL [+/- TITANIUM DIOXIDE (CI 77891), IRON OXIDES (CI 77492), IRON OXIDES (CI 77491), IRON OXIDES (CI 77499)]

Foundaion
WATER / AQUA / EAU, METHYL TRIMETHICONE, DIMETHICONE, PEG-10 DIMETHICONE, ALCOHOL DENAT., GLYCERIN, POLYMETHYLSILSESQUIOXANE, PROPANEDIOL, POLYMETHYL METHACRYLATE, TRIMETHYLSILOXYSILICATE, LAURYL PEG-10 TRIS(TRIMETHYLSILOXY)SILYLETHYL DIMETHICONE, TITANIUM DIOXIDE (NANO), TRISILOXANE, DIPHENYLSILOXY PHENYL TRIMETHICONE, CAPRYLYL METHICONE, ISODODECANE, DIPHENYL DIMETHICONE/VINYL DIPHENYL DIMETHICONE/SILSESQUIOXANE CROSSPOLYMER, LAURYL POLYGLYCERYL-3 POLYDIMETHYLSILOXYETHYL DIMETHICONE, SYNTHETIC FLUORPHLOGOPITE, ACRYLATES/POLYTRIMETHYLSILOXYMETHACRYLATE COPOLYMER, SODIUM CHLORIDE, DIMETHICONE CROSSPOLYMER, DISTEARDIMONIUM HECTORITE, 1,2-HEXANEDIOL, POLYETHYLENE, BORON NITRIDE, TRIETHOXYCAPRYLYLSILANE, ALUMINA, CAPRYLYL GLYCOL, LACTOBACILLUS FERMENT LYSATE, PANTHENOL, FRAGRANCE / PARFUM, GLYCERYL CAPRYLATE, BUTYLENE GLYCOL, LAUROYL LYSINE, DISODIUM EDTA, SIMETHICONE, SILICA, PEG-15/LAURYL DIMETHICONE CROSSPOLYMER, POLYQUATERNIUM-10, LACTIC ACID/GLYCOLIC ACID COPOLYMER, TOCOPHEROL, PROPYLENE CARBONATE, ALUMINUM HYDROXIDE [+/- TITANIUM DIOXIDE (CI 77891), IRON OXIDES (CI 77492), IRON OXIDES (CI 77491), IRON OXIDES (CI 77499)]

Cushion
WATER / AQUA / EAU, CYCLOPENTASILOXANE, METHYL TRIMETHICONE, ETHYLHEXYL METHOXYCINNAMATE, CAPRYLYL METHICONE, POLYMETHYL METHACRYLATE, PEG-10 DIMETHICONE, PROPANEDIOL, CYCLOHEXASILOXANE, ZINC OXIDE (NANO), TRIMETHYLSILOXYSILICATE, TITANIUM DIOXIDE (NANO), NYLON-12, LAURYL PEG-9 POLYDIMETHYLSILOXYETHYL DIMETHICONE, HDI/TRIMETHYLOL HEXYLLACTONE CROSSPOLYMER, DISTEARDIMONIUM HECTORITE, 1,2-HEXANEDIOL, ALUMINUM HYDROXIDE, SODIUM CHLORIDE, ACRYLATES/DIMETHICONE COPOLYMER, ISOPROPYL TITANIUM TRIISOSTEARATE, ACRYLATES/ETHYLHEXYL ACRYLATE/DIMETHICONE METHACRYLATE COPOLYMER, FRAGRANCE / PARFUM, CAPRYLYL GLYCOL, STEARIC ACID, BIS-PEG-15 DIMETHICONE/IPDI COPOLYMER, PEG-2 SOYAMINE, ETHYLHEXYLGLYCERIN, DISODIUM EDTA, TRIETHOXYCAPRYLYLSILANE, SILICA, CITRONELLOL, GERANIOL, LIMONENE, BHT, HYDROXYCITRONELLAL, TOCOPHEROL [+/- TITANIUM DIOXIDE (CI 77891), IRON OXIDES (CI 77492), IRON OXIDES (CI 77491), IRON OXIDES (CI 77499)]

Foundation
WATER / AQUA / EAU, METHYL TRIMETHICONE, DIMETHICONE, PEG-10 DIMETHICONE, ALCOHOL DENAT., GLYCERIN, POLYMETHYLSILSESQUIOXANE, PROPANEDIOL, POLYMETHYL METHACRYLATE, TRIMETHYLSILOXYSILICATE, LAURYL PEG-10 TRIS(TRIMETHYLSILOXY)SILYLETHYL DIMETHICONE, TITANIUM DIOXIDE (NANO), TRISILOXANE, DIPHENYLSILOXY PHENYL TRIMETHICONE, CAPRYLYL METHICONE, ISODODECANE, DIPHENYL DIMETHICONE/VINYL DIPHENYL DIMETHICONE/SILSESQUIOXANE CROSSPOLYMER, LAURYL POLYGLYCERYL-3 POLYDIMETHYLSILOXYETHYL DIMETHICONE, SYNTHETIC FLUORPHLOGOPITE, ACRYLATES/POLYTRIMETHYLSILOXYMETHACRYLATE COPOLYMER, SODIUM CHLORIDE, DIMETHICONE CROSSPOLYMER, DISTEARDIMONIUM HECTORITE, 1,2-HEXANEDIOL, POLYETHYLENE, BORON NITRIDE, TRIETHOXYCAPRYLYLSILANE, ALUMINA, CAPRYLYL GLYCOL, LACTOBACILLUS FERMENT LYSATE, PANTHENOL, FRAGRANCE / PARFUM, GLYCERYL CAPRYLATE, BUTYLENE GLYCOL, LAUROYL LYSINE, DISODIUM EDTA, SIMETHICONE, SILICA, PEG-15/LAURYL DIMETHICONE CROSSPOLYMER, POLYQUATERNIUM-10, LACTIC ACID/GLYCOLIC ACID COPOLYMER, TOCOPHEROL, PROPYLENE CARBONATE, ALUMINUM HYDROXIDE [+/- TITANIUM DIOXIDE (CI 77891), IRON OXIDES (CI 77492), IRON OXIDES (CI 77491), IRON OXIDES (CI 77499)]
Cushion
WATER / AQUA / EAU, CYCLOPENTASILOXANE, METHYL TRIMETHICONE, ETHYLHEXYL METHOXYCINNAMATE, CAPRYLYL METHICONE, POLYMETHYL METHACRYLATE, PEG-10 DIMETHICONE, PROPANEDIOL, CYCLOHEXASILOXANE, ZINC OXIDE (NANO), TRIMETHYLSILOXYSILICATE, TITANIUM DIOXIDE (NANO), NYLON-12, LAURYL PEG-9 POLYDIMETHYLSILOXYETHYL DIMETHICONE, HDI/TRIMETHYLOL HEXYLLACTONE CROSSPOLYMER, DISTEARDIMONIUM HECTORITE, 1,2-HEXANEDIOL, ALUMINUM HYDROXIDE, SODIUM CHLORIDE, ACRYLATES/DIMETHICONE COPOLYMER, ISOPROPYL TITANIUM TRIISOSTEARATE, ACRYLATES/ETHYLHEXYL ACRYLATE/DIMETHICONE METHACRYLATE COPOLYMER, FRAGRANCE / PARFUM, CAPRYLYL GLYCOL, STEARIC ACID, BIS-PEG-15 DIMETHICONE/IPDI COPOLYMER, PEG-2 SOYAMINE, ETHYLHEXYLGLYCERIN, DISODIUM EDTA, TRIETHOXYCAPRYLYLSILANE, SILICA, CITRONELLOL, GERANIOL, LIMONENE, BHT, HYDROXYCITRONELLAL, TOCOPHEROL [+/- TITANIUM DIOXIDE (CI 77891), IRON OXIDES (CI 77492), IRON OXIDES (CI 77491), IRON OXIDES (CI 77499)]

Foundation
WATER / AQUA / EAU, METHYL TRIMETHICONE, DIMETHICONE, PEG-10 DIMETHICONE, ALCOHOL DENAT., GLYCERIN, POLYMETHYLSILSESQUIOXANE, PROPANEDIOL, TRIMETHYLSILOXYSILICATE, POLYMETHYL METHACRYLATE, LAURYL PEG-10 TRIS(TRIMETHYLSILOXY)SILYLETHYL DIMETHICONE, TITANIUM DIOXIDE (NANO), TRISILOXANE, DIPHENYLSILOXY PHENYL TRIMETHICONE, CAPRYLYL METHICONE, ISODODECANE, DIPHENYL DIMETHICONE/VINYL DIPHENYL DIMETHICONE/SILSESQUIOXANE CROSSPOLYMER, LAURYL POLYGLYCERYL-3 POLYDIMETHYLSILOXYETHYL DIMETHICONE, SYNTHETIC FLUORPHLOGOPITE, ACRYLATES/POLYTRIMETHYLSILOXYMETHACRYLATE COPOLYMER, SODIUM CHLORIDE, DIMETHICONE CROSSPOLYMER, DISTEARDIMONIUM HECTORITE, 1,2-HEXANEDIOL, POLYETHYLENE, BORON NITRIDE, TRIETHOXYCAPRYLYLSILANE, ALUMINA, CAPRYLYL GLYCOL, LACTOBACILLUS FERMENT LYSATE, PANTHENOL, FRAGRANCE / PARFUM, GLYCERYL CAPRYLATE, BUTYLENE GLYCOL, LAUROYL LYSINE, DISODIUM EDTA, SIMETHICONE, SILICA, PEG-15/LAURYL DIMETHICONE CROSSPOLYMER, POLYQUATERNIUM-10, LACTIC ACID/GLYCOLIC ACID COPOLYMER, TOCOPHEROL, PROPYLENE CARBONATE, ALUMINUM HYDROXIDE [+/- TITANIUM DIOXIDE (CI 77891), IRON OXIDES (CI 77492), IRON OXIDES (CI 77491), IRON OXIDES (CI 77499)]
Cushion
WATER / AQUA / EAU, CYCLOPENTASILOXANE, METHYL TRIMETHICONE, ETHYLHEXYL METHOXYCINNAMATE, CAPRYLYL METHICONE, POLYMETHYL METHACRYLATE, PEG-10 DIMETHICONE, PROPANEDIOL, CYCLOHEXASILOXANE, ZINC OXIDE (NANO), TRIMETHYLSILOXYSILICATE, TITANIUM DIOXIDE (NANO), NYLON-12, LAURYL PEG-9 POLYDIMETHYLSILOXYETHYL DIMETHICONE, HDI/TRIMETHYLOL HEXYLLACTONE CROSSPOLYMER, DISTEARDIMONIUM HECTORITE, 1,2-HEXANEDIOL, ALUMINUM HYDROXIDE, SODIUM CHLORIDE, ACRYLATES/DIMETHICONE COPOLYMER, ISOPROPYL TITANIUM TRIISOSTEARATE, ACRYLATES/ETHYLHEXYL ACRYLATE/DIMETHICONE METHACRYLATE COPOLYMER, FRAGRANCE / PARFUM, CAPRYLYL GLYCOL, STEARIC ACID, BIS-PEG-15 DIMETHICONE/IPDI COPOLYMER, PEG-2 SOYAMINE, ETHYLHEXYLGLYCERIN, DISODIUM EDTA, TRIETHOXYCAPRYLYLSILANE, SILICA, CITRONELLOL, GERANIOL, LIMONENE, BHT, HYDROXYCITRONELLAL, TOCOPHEROL [+/- TITANIUM DIOXIDE (CI 77891), IRON OXIDES (CI 77492), IRON OXIDES (CI 77491), IRON OXIDES (CI 77499)]

Foundation
WATER / AQUA / EAU, METHYL TRIMETHICONE, DIMETHICONE, PEG-10 DIMETHICONE, ALCOHOL DENAT., GLYCERIN, POLYMETHYLSILSESQUIOXANE, PROPANEDIOL, POLYMETHYL METHACRYLATE, TRIMETHYLSILOXYSILICATE, LAURYL PEG-10 TRIS(TRIMETHYLSILOXY)SILYLETHYL DIMETHICONE, TITANIUM DIOXIDE (NANO), TRISILOXANE, DIPHENYLSILOXY PHENYL TRIMETHICONE, CAPRYLYL METHICONE, ISODODECANE, DIPHENYL DIMETHICONE/VINYL DIPHENYL DIMETHICONE/SILSESQUIOXANE CROSSPOLYMER, LAURYL POLYGLYCERYL-3 POLYDIMETHYLSILOXYETHYL DIMETHICONE, SYNTHETIC FLUORPHLOGOPITE, ACRYLATES/POLYTRIMETHYLSILOXYMETHACRYLATE COPOLYMER, SODIUM CHLORIDE, DIMETHICONE CROSSPOLYMER, DISTEARDIMONIUM HECTORITE, 1,2-HEXANEDIOL, POLYETHYLENE, BORON NITRIDE, TRIETHOXYCAPRYLYLSILANE, ALUMINA, CAPRYLYL GLYCOL, LACTOBACILLUS FERMENT LYSATE, PANTHENOL, FRAGRANCE / PARFUM, GLYCERYL CAPRYLATE, BUTYLENE GLYCOL, LAUROYL LYSINE, DISODIUM EDTA, SIMETHICONE, SILICA, PEG-15/LAURYL DIMETHICONE CROSSPOLYMER, POLYQUATERNIUM-10, LACTIC ACID/GLYCOLIC ACID COPOLYMER, TOCOPHEROL, PROPYLENE CARBONATE, ALUMINUM HYDROXIDE [+/- TITANIUM DIOXIDE (CI 77891), IRON OXIDES (CI 77492), IRON OXIDES (CI 77491), IRON OXIDES (CI 77499)]
Cushion
WATER / AQUA / EAU, CYCLOPENTASILOXANE, METHYL TRIMETHICONE, ETHYLHEXYL METHOXYCINNAMATE, CAPRYLYL METHICONE, POLYMETHYL METHACRYLATE, PEG-10 DIMETHICONE, PROPANEDIOL, CYCLOHEXASILOXANE, ZINC OXIDE (NANO), TRIMETHYLSILOXYSILICATE, TITANIUM DIOXIDE (NANO), NYLON-12, LAURYL PEG-9 POLYDIMETHYLSILOXYETHYL DIMETHICONE, HDI/TRIMETHYLOL HEXYLLACTONE CROSSPOLYMER, DISTEARDIMONIUM HECTORITE, 1,2-HEXANEDIOL, ALUMINUM HYDROXIDE, SODIUM CHLORIDE, ACRYLATES/DIMETHICONE COPOLYMER, ISOPROPYL TITANIUM TRIISOSTEARATE, ACRYLATES/ETHYLHEXYL ACRYLATE/DIMETHICONE METHACRYLATE COPOLYMER, FRAGRANCE / PARFUM, CAPRYLYL GLYCOL, STEARIC ACID, BIS-PEG-15 DIMETHICONE/IPDI COPOLYMER, PEG-2 SOYAMINE, ETHYLHEXYLGLYCERIN, DISODIUM EDTA, TRIETHOXYCAPRYLYLSILANE, SILICA, CITRONELLOL, GERANIOL, LIMONENE, BHT, HYDROXYCITRONELLAL, TOCOPHEROL [+/- TITANIUM DIOXIDE (CI 77891), IRON OXIDES (CI 77492), IRON OXIDES (CI 77491), IRON OXIDES (CI 77499)]

Foundation
WATER / AQUA / EAU, METHYL TRIMETHICONE, DIMETHICONE, PEG-10 DIMETHICONE, ALCOHOL DENAT., GLYCERIN, POLYMETHYLSILSESQUIOXANE, PROPANEDIOL, POLYMETHYL METHACRYLATE, TRIMETHYLSILOXYSILICATE, LAURYL PEG-10 TRIS(TRIMETHYLSILOXY)SILYLETHYL DIMETHICONE, TITANIUM DIOXIDE (NANO), TRISILOXANE, DIPHENYLSILOXY PHENYL TRIMETHICONE, CAPRYLYL METHICONE, ISODODECANE, DIPHENYL DIMETHICONE/VINYL DIPHENYL DIMETHICONE/SILSESQUIOXANE CROSSPOLYMER, LAURYL POLYGLYCERYL-3 POLYDIMETHYLSILOXYETHYL DIMETHICONE, SYNTHETIC FLUORPHLOGOPITE, ACRYLATES/POLYTRIMETHYLSILOXYMETHACRYLATE COPOLYMER, SODIUM CHLORIDE, DIMETHICONE CROSSPOLYMER, DISTEARDIMONIUM HECTORITE, 1,2-HEXANEDIOL, POLYETHYLENE, BORON NITRIDE, TRIETHOXYCAPRYLYLSILANE, ALUMINA, CAPRYLYL GLYCOL, LACTOBACILLUS FERMENT LYSATE, PANTHENOL, FRAGRANCE / PARFUM, GLYCERYL CAPRYLATE, BUTYLENE GLYCOL, LAUROYL LYSINE, DISODIUM EDTA, SIMETHICONE, SILICA, PEG-15/LAURYL DIMETHICONE CROSSPOLYMER, POLYQUATERNIUM-10, LACTIC ACID/GLYCOLIC ACID COPOLYMER, TOCOPHEROL, PROPYLENE CARBONATE, ALUMINUM HYDROXIDE [+/- TITANIUM DIOXIDE (CI 77891), IRON OXIDES (CI 77492), IRON OXIDES (CI 77491), IRON OXIDES (CI 77499)]

Cushion
WATER / AQUA / EAU, CYCLOPENTASILOXANE, METHYL TRIMETHICONE, ETHYLHEXYL METHOXYCINNAMATE, CAPRYLYL METHICONE, POLYMETHYL METHACRYLATE, PEG-10 DIMETHICONE, PROPANEDIOL, CYCLOHEXASILOXANE, ZINC OXIDE (NANO), TRIMETHYLSILOXYSILICATE, TITANIUM DIOXIDE (NANO), NYLON-12, LAURYL PEG-9 POLYDIMETHYLSILOXYETHYL DIMETHICONE, HDI/TRIMETHYLOL HEXYLLACTONE CROSSPOLYMER, DISTEARDIMONIUM HECTORITE, 1,2-HEXANEDIOL, ALUMINUM HYDROXIDE, SODIUM CHLORIDE, ACRYLATES/DIMETHICONE COPOLYMER, ISOPROPYL TITANIUM TRIISOSTEARATE, ACRYLATES/ETHYLHEXYL ACRYLATE/DIMETHICONE METHACRYLATE COPOLYMER, FRAGRANCE / PARFUM, CAPRYLYL GLYCOL, STEARIC ACID, BIS-PEG-15 DIMETHICONE/IPDI COPOLYMER, PEG-2 SOYAMINE, ETHYLHEXYLGLYCERIN, DISODIUM EDTA, TRIETHOXYCAPRYLYLSILANE, SILICA, CITRONELLOL, GERANIOL, LIMONENE, BHT, HYDROXYCITRONELLAL, TOCOPHEROL [+/- TITANIUM DIOXIDE (CI 77891), IRON OXIDES (CI 77492), IRON OXIDES (CI 77491), IRON OXIDES (CI 77499)]

Foundation
WATER / AQUA / EAU, METHYL TRIMETHICONE, DIMETHICONE, PEG-10 DIMETHICONE, ALCOHOL DENAT., GLYCERIN, POLYMETHYLSILSESQUIOXANE, PROPANEDIOL, POLYMETHYL METHACRYLATE, TRIMETHYLSILOXYSILICATE, LAURYL PEG-10 TRIS(TRIMETHYLSILOXY)SILYLETHYL DIMETHICONE, TITANIUM DIOXIDE (NANO), TRISILOXANE, DIPHENYLSILOXY PHENYL TRIMETHICONE, CAPRYLYL METHICONE, ISODODECANE, DIPHENYL DIMETHICONE/VINYL DIPHENYL DIMETHICONE/SILSESQUIOXANE CROSSPOLYMER, LAURYL POLYGLYCERYL-3 POLYDIMETHYLSILOXYETHYL DIMETHICONE, SYNTHETIC FLUORPHLOGOPITE, ACRYLATES/POLYTRIMETHYLSILOXYMETHACRYLATE COPOLYMER, SODIUM CHLORIDE, DIMETHICONE CROSSPOLYMER, DISTEARDIMONIUM HECTORITE, 1,2-HEXANEDIOL, POLYETHYLENE, BORON NITRIDE, TRIETHOXYCAPRYLYLSILANE, ALUMINA, CAPRYLYL GLYCOL, LACTOBACILLUS FERMENT LYSATE, PANTHENOL, FRAGRANCE / PARFUM, GLYCERYL CAPRYLATE, BUTYLENE GLYCOL, LAUROYL LYSINE, DISODIUM EDTA, SIMETHICONE, SILICA, PEG-15/LAURYL DIMETHICONE CROSSPOLYMER, POLYQUATERNIUM-10, LACTIC ACID/GLYCOLIC ACID COPOLYMER, TOCOPHEROL, PROPYLENE CARBONATE, ALUMINUM HYDROXIDE [+/- TITANIUM DIOXIDE (CI 77891), IRON OXIDES (CI 77492), IRON OXIDES (CI 77491), IRON OXIDES (CI 77499)]
Cushion
WATER / AQUA / EAU, CYCLOPENTASILOXANE, METHYL TRIMETHICONE, ETHYLHEXYL METHOXYCINNAMATE, CAPRYLYL METHICONE, POLYMETHYL METHACRYLATE, PEG-10 DIMETHICONE, PROPANEDIOL, CYCLOHEXASILOXANE, ZINC OXIDE (NANO), TRIMETHYLSILOXYSILICATE, TITANIUM DIOXIDE (NANO), NYLON-12, LAURYL PEG-9 POLYDIMETHYLSILOXYETHYL DIMETHICONE, HDI/TRIMETHYLOL HEXYLLACTONE CROSSPOLYMER, DISTEARDIMONIUM HECTORITE, 1,2-HEXANEDIOL, ALUMINUM HYDROXIDE, SODIUM CHLORIDE, ACRYLATES/DIMETHICONE COPOLYMER, ISOPROPYL TITANIUM TRIISOSTEARATE, ACRYLATES/ETHYLHEXYL ACRYLATE/DIMETHICONE METHACRYLATE COPOLYMER, FRAGRANCE / PARFUM, CAPRYLYL GLYCOL, STEARIC ACID, BIS-PEG-15 DIMETHICONE/IPDI COPOLYMER, PEG-2 SOYAMINE, ETHYLHEXYLGLYCERIN, DISODIUM EDTA, TRIETHOXYCAPRYLYLSILANE, SILICA, CITRONELLOL, GERANIOL, LIMONENE, BHT, HYDROXYCITRONELLAL, TOCOPHEROL [+/- TITANIUM DIOXIDE (CI 77891), IRON OXIDES (CI 77492), IRON OXIDES (CI 77491), IRON OXIDES (CI 77499)]

Foundaion
WATER / AQUA / EAU, METHYL TRIMETHICONE, DIMETHICONE, PEG-10 DIMETHICONE, ALCOHOL DENAT., GLYCERIN, POLYMETHYLSILSESQUIOXANE, PROPANEDIOL, TRIMETHYLSILOXYSILICATE, POLYMETHYL METHACRYLATE, LAURYL PEG-10 TRIS(TRIMETHYLSILOXY)SILYLETHYL DIMETHICONE, TITANIUM DIOXIDE (NANO), TRISILOXANE, DIPHENYLSILOXY PHENYL TRIMETHICONE, CAPRYLYL METHICONE, ISODODECANE, DIPHENYL DIMETHICONE/VINYL DIPHENYL DIMETHICONE/SILSESQUIOXANE CROSSPOLYMER, LAURYL POLYGLYCERYL-3 POLYDIMETHYLSILOXYETHYL DIMETHICONE, SYNTHETIC FLUORPHLOGOPITE, ACRYLATES/POLYTRIMETHYLSILOXYMETHACRYLATE COPOLYMER, SODIUM CHLORIDE, DIMETHICONE CROSSPOLYMER, DISTEARDIMONIUM HECTORITE, 1,2-HEXANEDIOL, POLYETHYLENE, BORON NITRIDE, TRIETHOXYCAPRYLYLSILANE, ALUMINA, CAPRYLYL GLYCOL, LACTOBACILLUS FERMENT LYSATE, PANTHENOL, FRAGRANCE / PARFUM, GLYCERYL CAPRYLATE, BUTYLENE GLYCOL, LAUROYL LYSINE, DISODIUM EDTA, SIMETHICONE, SILICA, PEG-15/LAURYL DIMETHICONE CROSSPOLYMER, POLYQUATERNIUM-10, LACTIC ACID/GLYCOLIC ACID COPOLYMER, TOCOPHEROL, PROPYLENE CARBONATE, ALUMINUM HYDROXIDE [+/- TITANIUM DIOXIDE (CI 77891), IRON OXIDES (CI 77492), IRON OXIDES (CI 77491), IRON OXIDES (CI 77499)]
Cushion
WATER / AQUA / EAU, CYCLOPENTASILOXANE, METHYL TRIMETHICONE, ETHYLHEXYL METHOXYCINNAMATE, CAPRYLYL METHICONE, POLYMETHYL METHACRYLATE, PEG-10 DIMETHICONE, PROPANEDIOL, CYCLOHEXASILOXANE, ZINC OXIDE (NANO), TRIMETHYLSILOXYSILICATE, TITANIUM DIOXIDE (NANO), NYLON-12, LAURYL PEG-9 POLYDIMETHYLSILOXYETHYL DIMETHICONE, HDI/TRIMETHYLOL HEXYLLACTONE CROSSPOLYMER, DISTEARDIMONIUM HECTORITE, 1,2-HEXANEDIOL, ALUMINUM HYDROXIDE, SODIUM CHLORIDE, ACRYLATES/DIMETHICONE COPOLYMER, ISOPROPYL TITANIUM TRIISOSTEARATE, ACRYLATES/ETHYLHEXYL ACRYLATE/DIMETHICONE METHACRYLATE COPOLYMER, FRAGRANCE / PARFUM, CAPRYLYL GLYCOL, STEARIC ACID, BIS-PEG-15 DIMETHICONE/IPDI COPOLYMER, PEG-2 SOYAMINE, ETHYLHEXYLGLYCERIN, DISODIUM EDTA, TRIETHOXYCAPRYLYLSILANE, SILICA, CITRONELLOL, GERANIOL, LIMONENE, BHT, HYDROXYCITRONELLAL, TOCOPHEROL [+/- TITANIUM DIOXIDE (CI 77891), IRON OXIDES (CI 77492), IRON OXIDES (CI 77491), IRON OXIDES (CI 77499)]

Foundation
WATER / AQUA / EAU, METHYL TRIMETHICONE, DIMETHICONE, PEG-10 DIMETHICONE, ALCOHOL DENAT., GLYCERIN, POLYMETHYLSILSESQUIOXANE, PROPANEDIOL, TRIMETHYLSILOXYSILICATE, POLYMETHYL METHACRYLATE, LAURYL PEG-10 TRIS(TRIMETHYLSILOXY)SILYLETHYL DIMETHICONE, TITANIUM DIOXIDE (NANO), TRISILOXANE, DIPHENYLSILOXY PHENYL TRIMETHICONE, CAPRYLYL METHICONE, ISODODECANE, DIPHENYL DIMETHICONE/VINYL DIPHENYL DIMETHICONE/SILSESQUIOXANE CROSSPOLYMER, LAURYL POLYGLYCERYL-3 POLYDIMETHYLSILOXYETHYL DIMETHICONE, SYNTHETIC FLUORPHLOGOPITE, ACRYLATES/POLYTRIMETHYLSILOXYMETHACRYLATE COPOLYMER, SODIUM CHLORIDE, DIMETHICONE CROSSPOLYMER, DISTEARDIMONIUM HECTORITE, 1,2-HEXANEDIOL, POLYETHYLENE, BORON NITRIDE, TRIETHOXYCAPRYLYLSILANE, ALUMINA, CAPRYLYL GLYCOL, LACTOBACILLUS FERMENT LYSATE, PANTHENOL, FRAGRANCE / PARFUM, GLYCERYL CAPRYLATE, BUTYLENE GLYCOL, LAUROYL LYSINE, DISODIUM EDTA, SIMETHICONE, SILICA, PEG-15/LAURYL DIMETHICONE CROSSPOLYMER, POLYQUATERNIUM-10, LACTIC ACID/GLYCOLIC ACID COPOLYMER, TOCOPHEROL, PROPYLENE CARBONATE, ALUMINUM HYDROXIDE [+/- TITANIUM DIOXIDE (CI 77891), IRON OXIDES (CI 77492), IRON OXIDES (CI 77491), IRON OXIDES (CI 77499)]
Cushion
WATER / AQUA / EAU, CYCLOPENTASILOXANE, METHYL TRIMETHICONE, ETHYLHEXYL METHOXYCINNAMATE, CAPRYLYL METHICONE, POLYMETHYL METHACRYLATE, PEG-10 DIMETHICONE, PROPANEDIOL, CYCLOHEXASILOXANE, ZINC OXIDE (NANO), TRIMETHYLSILOXYSILICATE, TITANIUM DIOXIDE (NANO), NYLON-12, LAURYL PEG-9 POLYDIMETHYLSILOXYETHYL DIMETHICONE, HDI/TRIMETHYLOL HEXYLLACTONE CROSSPOLYMER, DISTEARDIMONIUM HECTORITE, 1,2-HEXANEDIOL, ALUMINUM HYDROXIDE, SODIUM CHLORIDE, ACRYLATES/DIMETHICONE COPOLYMER, ISOPROPYL TITANIUM TRIISOSTEARATE, ACRYLATES/ETHYLHEXYL ACRYLATE/DIMETHICONE METHACRYLATE COPOLYMER, FRAGRANCE / PARFUM, CAPRYLYL GLYCOL, STEARIC ACID, BIS-PEG-15 DIMETHICONE/IPDI COPOLYMER, PEG-2 SOYAMINE, ETHYLHEXYLGLYCERIN, DISODIUM EDTA, TRIETHOXYCAPRYLYLSILANE, SILICA, CITRONELLOL, GERANIOL, LIMONENE, BHT, HYDROXYCITRONELLAL, TOCOPHEROL [+/- TITANIUM DIOXIDE (CI 77891), IRON OXIDES (CI 77492), IRON OXIDES (CI 77491), IRON OXIDES (CI 77499)]

Foundation
WATER / AQUA / EAU, METHYL TRIMETHICONE, DIMETHICONE, PEG-10 DIMETHICONE, ALCOHOL DENAT., GLYCERIN, POLYMETHYLSILSESQUIOXANE, PROPANEDIOL, POLYMETHYL METHACRYLATE, TRIMETHYLSILOXYSILICATE, LAURYL PEG-10 TRIS(TRIMETHYLSILOXY)SILYLETHYL DIMETHICONE, TITANIUM DIOXIDE (NANO), TRISILOXANE, DIPHENYLSILOXY PHENYL TRIMETHICONE, CAPRYLYL METHICONE, ISODODECANE, DIPHENYL DIMETHICONE/VINYL DIPHENYL DIMETHICONE/SILSESQUIOXANE CROSSPOLYMER, LAURYL POLYGLYCERYL-3 POLYDIMETHYLSILOXYETHYL DIMETHICONE, SYNTHETIC FLUORPHLOGOPITE, ACRYLATES/POLYTRIMETHYLSILOXYMETHACRYLATE COPOLYMER, SODIUM CHLORIDE, DIMETHICONE CROSSPOLYMER, DISTEARDIMONIUM HECTORITE, 1,2-HEXANEDIOL, POLYETHYLENE, BORON NITRIDE, TRIETHOXYCAPRYLYLSILANE, ALUMINA, CAPRYLYL GLYCOL, LACTOBACILLUS FERMENT LYSATE, PANTHENOL, FRAGRANCE / PARFUM, GLYCERYL CAPRYLATE, BUTYLENE GLYCOL, LAUROYL LYSINE, DISODIUM EDTA, SIMETHICONE, SILICA, PEG-15/LAURYL DIMETHICONE CROSSPOLYMER, POLYQUATERNIUM-10, LACTIC ACID/GLYCOLIC ACID COPOLYMER, TOCOPHEROL, PROPYLENE CARBONATE, ALUMINUM HYDROXIDE [+/- TITANIUM DIOXIDE (CI 77891), IRON OXIDES (CI 77492), IRON OXIDES (CI 77491), IRON OXIDES (CI 77499)]
Cushion
WATER / AQUA / EAU, CYCLOPENTASILOXANE, METHYL TRIMETHICONE, ETHYLHEXYL METHOXYCINNAMATE, CAPRYLYL METHICONE, POLYMETHYL METHACRYLATE, PEG-10 DIMETHICONE, PROPANEDIOL, CYCLOHEXASILOXANE, ZINC OXIDE (NANO), TRIMETHYLSILOXYSILICATE, TITANIUM DIOXIDE (NANO), NYLON-12, LAURYL PEG-9 POLYDIMETHYLSILOXYETHYL DIMETHICONE, HDI/TRIMETHYLOL HEXYLLACTONE CROSSPOLYMER, DISTEARDIMONIUM HECTORITE, 1,2-HEXANEDIOL, ALUMINUM HYDROXIDE, SODIUM CHLORIDE, ACRYLATES/DIMETHICONE COPOLYMER, ISOPROPYL TITANIUM TRIISOSTEARATE, ACRYLATES/ETHYLHEXYL ACRYLATE/DIMETHICONE METHACRYLATE COPOLYMER, FRAGRANCE / PARFUM, CAPRYLYL GLYCOL, STEARIC ACID, BIS-PEG-15 DIMETHICONE/IPDI COPOLYMER, PEG-2 SOYAMINE, ETHYLHEXYLGLYCERIN, DISODIUM EDTA, TRIETHOXYCAPRYLYLSILANE, SILICA, CITRONELLOL, GERANIOL, LIMONENE, BHT, HYDROXYCITRONELLAL, TOCOPHEROL [+/- TITANIUM DIOXIDE (CI 77891), IRON OXIDES (CI 77492), IRON OXIDES (CI 77491), IRON OXIDES (CI 77499)]

Foundation
WATER / AQUA / EAU, METHYL TRIMETHICONE, DIMETHICONE, PEG-10 DIMETHICONE, ALCOHOL DENAT., GLYCERIN, POLYMETHYLSILSESQUIOXANE, PROPANEDIOL, POLYMETHYL METHACRYLATE, TRIMETHYLSILOXYSILICATE, LAURYL PEG-10 TRIS(TRIMETHYLSILOXY)SILYLETHYL DIMETHICONE, TITANIUM DIOXIDE (NANO), TRISILOXANE, DIPHENYLSILOXY PHENYL TRIMETHICONE, CAPRYLYL METHICONE, ISODODECANE, DIPHENYL DIMETHICONE/VINYL DIPHENYL DIMETHICONE/SILSESQUIOXANE CROSSPOLYMER, LAURYL POLYGLYCERYL-3 POLYDIMETHYLSILOXYETHYL DIMETHICONE, SYNTHETIC FLUORPHLOGOPITE, ACRYLATES/POLYTRIMETHYLSILOXYMETHACRYLATE COPOLYMER, SODIUM CHLORIDE, DIMETHICONE CROSSPOLYMER, DISTEARDIMONIUM HECTORITE, 1,2-HEXANEDIOL, POLYETHYLENE, BORON NITRIDE, TRIETHOXYCAPRYLYLSILANE, ALUMINA, CAPRYLYL GLYCOL, LACTOBACILLUS FERMENT LYSATE, PANTHENOL, FRAGRANCE / PARFUM, GLYCERYL CAPRYLATE, BUTYLENE GLYCOL, LAUROYL LYSINE, DISODIUM EDTA, SIMETHICONE, SILICA, PEG-15/LAURYL DIMETHICONE CROSSPOLYMER, POLYQUATERNIUM-10, LACTIC ACID/GLYCOLIC ACID COPOLYMER, TOCOPHEROL, PROPYLENE CARBONATE, ALUMINUM HYDROXIDE [+/- TITANIUM DIOXIDE (CI 77891), IRON OXIDES (CI 77492), IRON OXIDES (CI 77491), IRON OXIDES (CI 77499)]
Cushion
WATER / AQUA / EAU, CYCLOPENTASILOXANE, METHYL TRIMETHICONE, ETHYLHEXYL METHOXYCINNAMATE, CAPRYLYL METHICONE, POLYMETHYL METHACRYLATE, PEG-10 DIMETHICONE, PROPANEDIOL, CYCLOHEXASILOXANE, ZINC OXIDE (NANO), TRIMETHYLSILOXYSILICATE, TITANIUM DIOXIDE (NANO), NYLON-12, LAURYL PEG-9 POLYDIMETHYLSILOXYETHYL DIMETHICONE, HDI/TRIMETHYLOL HEXYLLACTONE CROSSPOLYMER, DISTEARDIMONIUM HECTORITE, 1,2-HEXANEDIOL, ALUMINUM HYDROXIDE, SODIUM CHLORIDE, ACRYLATES/DIMETHICONE COPOLYMER, ISOPROPYL TITANIUM TRIISOSTEARATE, ACRYLATES/ETHYLHEXYL ACRYLATE/DIMETHICONE METHACRYLATE COPOLYMER, FRAGRANCE / PARFUM, CAPRYLYL GLYCOL, STEARIC ACID, BIS-PEG-15 DIMETHICONE/IPDI COPOLYMER, PEG-2 SOYAMINE, ETHYLHEXYLGLYCERIN, DISODIUM EDTA, TRIETHOXYCAPRYLYLSILANE, SILICA, CITRONELLOL, GERANIOL, LIMONENE, BHT, HYDROXYCITRONELLAL, TOCOPHEROL [+/- TITANIUM DIOXIDE (CI 77891), IRON OXIDES (CI 77492), IRON OXIDES (CI 77491), IRON OXIDES (CI 77499)]

Foundation
WATER / AQUA / EAU, METHYL TRIMETHICONE, DIMETHICONE, PEG-10 DIMETHICONE, ALCOHOL DENAT., GLYCERIN, POLYMETHYLSILSESQUIOXANE, PROPANEDIOL, POLYMETHYL METHACRYLATE, TRIMETHYLSILOXYSILICATE, LAURYL PEG-10 TRIS(TRIMETHYLSILOXY)SILYLETHYL DIMETHICONE, TITANIUM DIOXIDE (NANO), TRISILOXANE, DIPHENYLSILOXY PHENYL TRIMETHICONE, CAPRYLYL METHICONE, ISODODECANE, DIPHENYL DIMETHICONE/VINYL DIPHENYL DIMETHICONE/SILSESQUIOXANE CROSSPOLYMER, LAURYL POLYGLYCERYL-3 POLYDIMETHYLSILOXYETHYL DIMETHICONE, SYNTHETIC FLUORPHLOGOPITE, ACRYLATES/POLYTRIMETHYLSILOXYMETHACRYLATE COPOLYMER, SODIUM CHLORIDE, DIMETHICONE CROSSPOLYMER, DISTEARDIMONIUM HECTORITE, 1,2-HEXANEDIOL, POLYETHYLENE, BORON NITRIDE, TRIETHOXYCAPRYLYLSILANE, ALUMINA, CAPRYLYL GLYCOL, LACTOBACILLUS FERMENT LYSATE, PANTHENOL, FRAGRANCE / PARFUM, GLYCERYL CAPRYLATE, BUTYLENE GLYCOL, LAUROYL LYSINE, DISODIUM EDTA, SIMETHICONE, SILICA, PEG-15/LAURYL DIMETHICONE CROSSPOLYMER, POLYQUATERNIUM-10, LACTIC ACID/GLYCOLIC ACID COPOLYMER, TOCOPHEROL, PROPYLENE CARBONATE, ALUMINUM HYDROXIDE [+/- TITANIUM DIOXIDE (CI 77891), IRON OXIDES (CI 77492), IRON OXIDES (CI 77491), IRON OXIDES (CI 77499)]
Cushion
WATER / AQUA / EAU, CYCLOPENTASILOXANE, METHYL TRIMETHICONE, ETHYLHEXYL METHOXYCINNAMATE, CAPRYLYL METHICONE, POLYMETHYL METHACRYLATE, PEG-10 DIMETHICONE, PROPANEDIOL, CYCLOHEXASILOXANE, ZINC OXIDE (NANO), TRIMETHYLSILOXYSILICATE, TITANIUM DIOXIDE (NANO), NYLON-12, LAURYL PEG-9 POLYDIMETHYLSILOXYETHYL DIMETHICONE, HDI/TRIMETHYLOL HEXYLLACTONE CROSSPOLYMER, DISTEARDIMONIUM HECTORITE, 1,2-HEXANEDIOL, ALUMINUM HYDROXIDE, SODIUM CHLORIDE, ACRYLATES/DIMETHICONE COPOLYMER, ISOPROPYL TITANIUM TRIISOSTEARATE, ACRYLATES/ETHYLHEXYL ACRYLATE/DIMETHICONE METHACRYLATE COPOLYMER, FRAGRANCE / PARFUM, CAPRYLYL GLYCOL, STEARIC ACID, BIS-PEG-15 DIMETHICONE/IPDI COPOLYMER, PEG-2 SOYAMINE, ETHYLHEXYLGLYCERIN, DISODIUM EDTA, TRIETHOXYCAPRYLYLSILANE, SILICA, CITRONELLOL, GERANIOL, LIMONENE, BHT, HYDROXYCITRONELLAL, TOCOPHEROL [+/- TITANIUM DIOXIDE (CI 77891), IRON OXIDES (CI 77492), IRON OXIDES (CI 77491), IRON OXIDES (CI 77499)]

Foundation
WATER / AQUA / EAU, METHYL TRIMETHICONE, DIMETHICONE, PEG-10 DIMETHICONE, ALCOHOL DENAT., GLYCERIN, POLYMETHYLSILSESQUIOXANE, PROPANEDIOL, POLYMETHYL METHACRYLATE, TRIMETHYLSILOXYSILICATE, LAURYL PEG-10 TRIS(TRIMETHYLSILOXY)SILYLETHYL DIMETHICONE, TITANIUM DIOXIDE (NANO), TRISILOXANE, DIPHENYLSILOXY PHENYL TRIMETHICONE, CAPRYLYL METHICONE, ISODODECANE, DIPHENYL DIMETHICONE/VINYL DIPHENYL DIMETHICONE/SILSESQUIOXANE CROSSPOLYMER, LAURYL POLYGLYCERYL-3 POLYDIMETHYLSILOXYETHYL DIMETHICONE, SYNTHETIC FLUORPHLOGOPITE, ACRYLATES/POLYTRIMETHYLSILOXYMETHACRYLATE COPOLYMER, SODIUM CHLORIDE, DIMETHICONE CROSSPOLYMER, DISTEARDIMONIUM HECTORITE, 1,2-HEXANEDIOL, POLYETHYLENE, BORON NITRIDE, TRIETHOXYCAPRYLYLSILANE, ALUMINA, CAPRYLYL GLYCOL, LACTOBACILLUS FERMENT LYSATE, PANTHENOL, FRAGRANCE / PARFUM, GLYCERYL CAPRYLATE, BUTYLENE GLYCOL, LAUROYL LYSINE, DISODIUM EDTA, SIMETHICONE, SILICA, PEG-15/LAURYL DIMETHICONE CROSSPOLYMER, POLYQUATERNIUM-10, LACTIC ACID/GLYCOLIC ACID COPOLYMER, TOCOPHEROL, PROPYLENE CARBONATE, ALUMINUM HYDROXIDE [+/- TITANIUM DIOXIDE (CI 77891), IRON OXIDES (CI 77492), IRON OXIDES (CI 77491), IRON OXIDES (CI 77499)]

Cushion
WATER / AQUA / EAU, CYCLOPENTASILOXANE, METHYL TRIMETHICONE, ETHYLHEXYL METHOXYCINNAMATE, CAPRYLYL METHICONE, POLYMETHYL METHACRYLATE, PEG-10 DIMETHICONE, PROPANEDIOL, CYCLOHEXASILOXANE, ZINC OXIDE (NANO), TRIMETHYLSILOXYSILICATE, TITANIUM DIOXIDE (NANO), NYLON-12, LAURYL PEG-9 POLYDIMETHYLSILOXYETHYL DIMETHICONE, HDI/TRIMETHYLOL HEXYLLACTONE CROSSPOLYMER, DISTEARDIMONIUM HECTORITE, 1,2-HEXANEDIOL, ALUMINUM HYDROXIDE, SODIUM CHLORIDE, ACRYLATES/DIMETHICONE COPOLYMER, ISOPROPYL TITANIUM TRIISOSTEARATE, ACRYLATES/ETHYLHEXYL ACRYLATE/DIMETHICONE METHACRYLATE COPOLYMER, FRAGRANCE / PARFUM, CAPRYLYL GLYCOL, STEARIC ACID, BIS-PEG-15 DIMETHICONE/IPDI COPOLYMER, PEG-2 SOYAMINE, ETHYLHEXYLGLYCERIN, DISODIUM EDTA, TRIETHOXYCAPRYLYLSILANE, SILICA, CITRONELLOL, GERANIOL, LIMONENE, BHT, HYDROXYCITRONELLAL, TOCOPHEROL [+/- TITANIUM DIOXIDE (CI 77891), IRON OXIDES (CI 77492), IRON OXIDES (CI 77491), IRON OXIDES (CI 77499)]

Foundation
WATER / AQUA / EAU, METHYL TRIMETHICONE, DIMETHICONE, PEG-10 DIMETHICONE, ALCOHOL DENAT., GLYCERIN, POLYMETHYLSILSESQUIOXANE, PROPANEDIOL, TRIMETHYLSILOXYSILICATE, POLYMETHYL METHACRYLATE, LAURYL PEG-10 TRIS(TRIMETHYLSILOXY)SILYLETHYL DIMETHICONE, TITANIUM DIOXIDE (NANO), TRISILOXANE, DIPHENYLSILOXY PHENYL TRIMETHICONE, CAPRYLYL METHICONE, ISODODECANE, DIPHENYL DIMETHICONE/VINYL DIPHENYL DIMETHICONE/SILSESQUIOXANE CROSSPOLYMER, LAURYL POLYGLYCERYL-3 POLYDIMETHYLSILOXYETHYL DIMETHICONE, SYNTHETIC FLUORPHLOGOPITE, ACRYLATES/POLYTRIMETHYLSILOXYMETHACRYLATE COPOLYMER, SODIUM CHLORIDE, DIMETHICONE CROSSPOLYMER, DISTEARDIMONIUM HECTORITE, 1,2-HEXANEDIOL, POLYETHYLENE, BORON NITRIDE, TRIETHOXYCAPRYLYLSILANE, ALUMINA, CAPRYLYL GLYCOL, LACTOBACILLUS FERMENT LYSATE, PANTHENOL, FRAGRANCE / PARFUM, GLYCERYL CAPRYLATE, BUTYLENE GLYCOL, LAUROYL LYSINE, DISODIUM EDTA, SIMETHICONE, SILICA, PEG-15/LAURYL DIMETHICONE CROSSPOLYMER, POLYQUATERNIUM-10, LACTIC ACID/GLYCOLIC ACID COPOLYMER, TOCOPHEROL, PROPYLENE CARBONATE, ALUMINUM HYDROXIDE [+/- TITANIUM DIOXIDE (CI 77891), IRON OXIDES (CI 77492), IRON OXIDES (CI 77491), IRON OXIDES (CI 77499)]
Cushion
WATER / AQUA / EAU, CYCLOPENTASILOXANE, METHYL TRIMETHICONE, ETHYLHEXYL METHOXYCINNAMATE, CAPRYLYL METHICONE, POLYMETHYL METHACRYLATE, PEG-10 DIMETHICONE, PROPANEDIOL, CYCLOHEXASILOXANE, ZINC OXIDE (NANO), TRIMETHYLSILOXYSILICATE, TITANIUM DIOXIDE (NANO), NYLON-12, LAURYL PEG-9 POLYDIMETHYLSILOXYETHYL DIMETHICONE, HDI/TRIMETHYLOL HEXYLLACTONE CROSSPOLYMER, DISTEARDIMONIUM HECTORITE, 1,2-HEXANEDIOL, ALUMINUM HYDROXIDE, SODIUM CHLORIDE, ACRYLATES/DIMETHICONE COPOLYMER, ISOPROPYL TITANIUM TRIISOSTEARATE, ACRYLATES/ETHYLHEXYL ACRYLATE/DIMETHICONE METHACRYLATE COPOLYMER, FRAGRANCE / PARFUM, CAPRYLYL GLYCOL, STEARIC ACID, BIS-PEG-15 DIMETHICONE/IPDI COPOLYMER, PEG-2 SOYAMINE, ETHYLHEXYLGLYCERIN, DISODIUM EDTA, TRIETHOXYCAPRYLYLSILANE, SILICA, CITRONELLOL, GERANIOL, LIMONENE, BHT, HYDROXYCITRONELLAL, TOCOPHEROL [+/- TITANIUM DIOXIDE (CI 77891), IRON OXIDES (CI 77492), IRON OXIDES (CI 77491), IRON OXIDES (CI 77499)]

Foundation
WATER / AQUA / EAU, METHYL TRIMETHICONE, DIMETHICONE, PEG-10 DIMETHICONE, ALCOHOL DENAT., GLYCERIN, POLYMETHYLSILSESQUIOXANE, PROPANEDIOL, POLYMETHYL METHACRYLATE, TRIMETHYLSILOXYSILICATE, LAURYL PEG-10 TRIS(TRIMETHYLSILOXY)SILYLETHYL DIMETHICONE, TITANIUM DIOXIDE (NANO), TRISILOXANE, DIPHENYLSILOXY PHENYL TRIMETHICONE, CAPRYLYL METHICONE, ISODODECANE, DIPHENYL DIMETHICONE/VINYL DIPHENYL DIMETHICONE/SILSESQUIOXANE CROSSPOLYMER, LAURYL POLYGLYCERYL-3 POLYDIMETHYLSILOXYETHYL DIMETHICONE, SYNTHETIC FLUORPHLOGOPITE, ACRYLATES/POLYTRIMETHYLSILOXYMETHACRYLATE COPOLYMER, SODIUM CHLORIDE, DIMETHICONE CROSSPOLYMER, DISTEARDIMONIUM HECTORITE, 1,2-HEXANEDIOL, POLYETHYLENE, BORON NITRIDE, TRIETHOXYCAPRYLYLSILANE, ALUMINA, CAPRYLYL GLYCOL, LACTOBACILLUS FERMENT LYSATE, PANTHENOL, FRAGRANCE / PARFUM, GLYCERYL CAPRYLATE, BUTYLENE GLYCOL, LAUROYL LYSINE, DISODIUM EDTA, SIMETHICONE, SILICA, PEG-15/LAURYL DIMETHICONE CROSSPOLYMER, POLYQUATERNIUM-10, LACTIC ACID/GLYCOLIC ACID COPOLYMER, TOCOPHEROL, PROPYLENE CARBONATE, ALUMINUM HYDROXIDE [+/- TITANIUM DIOXIDE (CI 77891), IRON OXIDES (CI 77492), IRON OXIDES (CI 77491), IRON OXIDES (CI 77499)]

Cushion
WATER / AQUA / EAU, CYCLOPENTASILOXANE, METHYL TRIMETHICONE, ETHYLHEXYL METHOXYCINNAMATE, CAPRYLYL METHICONE, POLYMETHYL METHACRYLATE, PEG-10 DIMETHICONE, PROPANEDIOL, CYCLOHEXASILOXANE, ZINC OXIDE (NANO), TRIMETHYLSILOXYSILICATE, TITANIUM DIOXIDE (NANO), NYLON-12, LAURYL PEG-9 POLYDIMETHYLSILOXYETHYL DIMETHICONE, HDI/TRIMETHYLOL HEXYLLACTONE CROSSPOLYMER, DISTEARDIMONIUM HECTORITE, 1,2-HEXANEDIOL, ALUMINUM HYDROXIDE, SODIUM CHLORIDE, ACRYLATES/DIMETHICONE COPOLYMER, ISOPROPYL TITANIUM TRIISOSTEARATE, ACRYLATES/ETHYLHEXYL ACRYLATE/DIMETHICONE METHACRYLATE COPOLYMER, FRAGRANCE / PARFUM, CAPRYLYL GLYCOL, STEARIC ACID, BIS-PEG-15 DIMETHICONE/IPDI COPOLYMER, PEG-2 SOYAMINE, ETHYLHEXYLGLYCERIN, DISODIUM EDTA, TRIETHOXYCAPRYLYLSILANE, SILICA, CITRONELLOL, GERANIOL, LIMONENE, BHT, HYDROXYCITRONELLAL, TOCOPHEROL [+/- TITANIUM DIOXIDE (CI 77891), IRON OXIDES (CI 77492), IRON OXIDES (CI 77491), IRON OXIDES (CI 77499)]

Foundation
WATER / AQUA / EAU, METHYL TRIMETHICONE, DIMETHICONE, PEG-10 DIMETHICONE, ALCOHOL DENAT., GLYCERIN, POLYMETHYLSILSESQUIOXANE, PROPANEDIOL, POLYMETHYL METHACRYLATE, TRIMETHYLSILOXYSILICATE, LAURYL PEG-10 TRIS(TRIMETHYLSILOXY)SILYLETHYL DIMETHICONE, TITANIUM DIOXIDE (NANO), TRISILOXANE, DIPHENYLSILOXY PHENYL TRIMETHICONE, CAPRYLYL METHICONE, ISODODECANE, DIPHENYL DIMETHICONE/VINYL DIPHENYL DIMETHICONE/SILSESQUIOXANE CROSSPOLYMER, LAURYL POLYGLYCERYL-3 POLYDIMETHYLSILOXYETHYL DIMETHICONE, SYNTHETIC FLUORPHLOGOPITE, ACRYLATES/POLYTRIMETHYLSILOXYMETHACRYLATE COPOLYMER, SODIUM CHLORIDE, DIMETHICONE CROSSPOLYMER, DISTEARDIMONIUM HECTORITE, 1,2-HEXANEDIOL, POLYETHYLENE, BORON NITRIDE, TRIETHOXYCAPRYLYLSILANE, ALUMINA, CAPRYLYL GLYCOL, LACTOBACILLUS FERMENT LYSATE, PANTHENOL, FRAGRANCE / PARFUM, GLYCERYL CAPRYLATE, BUTYLENE GLYCOL, LAUROYL LYSINE, DISODIUM EDTA, SIMETHICONE, SILICA, PEG-15/LAURYL DIMETHICONE CROSSPOLYMER, POLYQUATERNIUM-10, LACTIC ACID/GLYCOLIC ACID COPOLYMER, TOCOPHEROL, PROPYLENE CARBONATE, ALUMINUM HYDROXIDE [+/- TITANIUM DIOXIDE (CI 77891), IRON OXIDES (CI 77492), IRON OXIDES (CI 77491), IRON OXIDES (CI 77499)]
Cushion
WATER / AQUA / EAU, CYCLOPENTASILOXANE, METHYL TRIMETHICONE, ETHYLHEXYL METHOXYCINNAMATE, CAPRYLYL METHICONE, POLYMETHYL METHACRYLATE, PEG-10 DIMETHICONE, PROPANEDIOL, CYCLOHEXASILOXANE, ZINC OXIDE (NANO), TRIMETHYLSILOXYSILICATE, TITANIUM DIOXIDE (NANO), NYLON-12, LAURYL PEG-9 POLYDIMETHYLSILOXYETHYL DIMETHICONE, HDI/TRIMETHYLOL HEXYLLACTONE CROSSPOLYMER, DISTEARDIMONIUM HECTORITE, 1,2-HEXANEDIOL, ALUMINUM HYDROXIDE, SODIUM CHLORIDE, ACRYLATES/DIMETHICONE COPOLYMER, ISOPROPYL TITANIUM TRIISOSTEARATE, ACRYLATES/ETHYLHEXYL ACRYLATE/DIMETHICONE METHACRYLATE COPOLYMER, FRAGRANCE / PARFUM, CAPRYLYL GLYCOL, STEARIC ACID, BIS-PEG-15 DIMETHICONE/IPDI COPOLYMER, PEG-2 SOYAMINE, ETHYLHEXYLGLYCERIN, DISODIUM EDTA, TRIETHOXYCAPRYLYLSILANE, SILICA, CITRONELLOL, GERANIOL, LIMONENE, BHT, HYDROXYCITRONELLAL, TOCOPHEROL [+/- TITANIUM DIOXIDE (CI 77891), IRON OXIDES (CI 77492), IRON OXIDES (CI 77491), IRON OXIDES (CI 77499)]

Foundation
WATER / AQUA / EAU, METHYL TRIMETHICONE, DIMETHICONE, PEG-10 DIMETHICONE, ALCOHOL DENAT., GLYCERIN, POLYMETHYLSILSESQUIOXANE, PROPANEDIOL, POLYMETHYL METHACRYLATE, TRIMETHYLSILOXYSILICATE, LAURYL PEG-10 TRIS(TRIMETHYLSILOXY)SILYLETHYL DIMETHICONE, TITANIUM DIOXIDE (NANO), TRISILOXANE, DIPHENYLSILOXY PHENYL TRIMETHICONE, CAPRYLYL METHICONE, ISODODECANE, DIPHENYL DIMETHICONE/VINYL DIPHENYL DIMETHICONE/SILSESQUIOXANE CROSSPOLYMER, LAURYL POLYGLYCERYL-3 POLYDIMETHYLSILOXYETHYL DIMETHICONE, SYNTHETIC FLUORPHLOGOPITE, ACRYLATES/POLYTRIMETHYLSILOXYMETHACRYLATE COPOLYMER, SODIUM CHLORIDE, DIMETHICONE CROSSPOLYMER, DISTEARDIMONIUM HECTORITE, 1,2-HEXANEDIOL, POLYETHYLENE, BORON NITRIDE, TRIETHOXYCAPRYLYLSILANE, ALUMINA, CAPRYLYL GLYCOL, LACTOBACILLUS FERMENT LYSATE, PANTHENOL, FRAGRANCE / PARFUM, GLYCERYL CAPRYLATE, BUTYLENE GLYCOL, LAUROYL LYSINE, DISODIUM EDTA, SIMETHICONE, SILICA, PEG-15/LAURYL DIMETHICONE CROSSPOLYMER, POLYQUATERNIUM-10, LACTIC ACID/GLYCOLIC ACID COPOLYMER, TOCOPHEROL, PROPYLENE CARBONATE, ALUMINUM HYDROXIDE [+/- TITANIUM DIOXIDE (CI 77891), IRON OXIDES (CI 77492), IRON OXIDES (CI 77491), IRON OXIDES (CI 77499)]
Cushion
WATER / AQUA / EAU, CYCLOPENTASILOXANE, METHYL TRIMETHICONE, ETHYLHEXYL METHOXYCINNAMATE, CAPRYLYL METHICONE, POLYMETHYL METHACRYLATE, PEG-10 DIMETHICONE, PROPANEDIOL, CYCLOHEXASILOXANE, ZINC OXIDE (NANO), TRIMETHYLSILOXYSILICATE, TITANIUM DIOXIDE (NANO), NYLON-12, LAURYL PEG-9 POLYDIMETHYLSILOXYETHYL DIMETHICONE, HDI/TRIMETHYLOL HEXYLLACTONE CROSSPOLYMER, DISTEARDIMONIUM HECTORITE, 1,2-HEXANEDIOL, ALUMINUM HYDROXIDE, SODIUM CHLORIDE, ACRYLATES/DIMETHICONE COPOLYMER, ISOPROPYL TITANIUM TRIISOSTEARATE, ACRYLATES/ETHYLHEXYL ACRYLATE/DIMETHICONE METHACRYLATE COPOLYMER, FRAGRANCE / PARFUM, CAPRYLYL GLYCOL, STEARIC ACID, BIS-PEG-15 DIMETHICONE/IPDI COPOLYMER, PEG-2 SOYAMINE, ETHYLHEXYLGLYCERIN, DISODIUM EDTA, TRIETHOXYCAPRYLYLSILANE, SILICA, CITRONELLOL, GERANIOL, LIMONENE, BHT, HYDROXYCITRONELLAL, TOCOPHEROL [+/- TITANIUM DIOXIDE (CI 77891), IRON OXIDES (CI 77492), IRON OXIDES (CI 77491), IRON OXIDES (CI 77499)]

Foundation
WATER / AQUA / EAU, METHYL TRIMETHICONE, DIMETHICONE, PEG-10 DIMETHICONE, ALCOHOL DENAT., GLYCERIN, POLYMETHYLSILSESQUIOXANE, PROPANEDIOL, POLYMETHYL METHACRYLATE, TRIMETHYLSILOXYSILICATE, LAURYL PEG-10 TRIS(TRIMETHYLSILOXY)SILYLETHYL DIMETHICONE, TITANIUM DIOXIDE (NANO), TRISILOXANE, DIPHENYLSILOXY PHENYL TRIMETHICONE, CAPRYLYL METHICONE, ISODODECANE, DIPHENYL DIMETHICONE/VINYL DIPHENYL DIMETHICONE/SILSESQUIOXANE CROSSPOLYMER, LAURYL POLYGLYCERYL-3 POLYDIMETHYLSILOXYETHYL DIMETHICONE, SYNTHETIC FLUORPHLOGOPITE, ACRYLATES/POLYTRIMETHYLSILOXYMETHACRYLATE COPOLYMER, SODIUM CHLORIDE, DIMETHICONE CROSSPOLYMER, DISTEARDIMONIUM HECTORITE, 1,2-HEXANEDIOL, POLYETHYLENE, BORON NITRIDE, TRIETHOXYCAPRYLYLSILANE, ALUMINA, CAPRYLYL GLYCOL, LACTOBACILLUS FERMENT LYSATE, PANTHENOL, FRAGRANCE / PARFUM, GLYCERYL CAPRYLATE, BUTYLENE GLYCOL, LAUROYL LYSINE, DISODIUM EDTA, SIMETHICONE, SILICA, PEG-15/LAURYL DIMETHICONE CROSSPOLYMER, POLYQUATERNIUM-10, LACTIC ACID/GLYCOLIC ACID COPOLYMER, TOCOPHEROL, PROPYLENE CARBONATE, ALUMINUM HYDROXIDE [+/- TITANIUM DIOXIDE (CI 77891), IRON OXIDES (CI 77492), IRON OXIDES (CI 77491), IRON OXIDES (CI 77499)]

Cushion
WATER / AQUA / EAU, CYCLOPENTASILOXANE, METHYL TRIMETHICONE, ETHYLHEXYL METHOXYCINNAMATE, CAPRYLYL METHICONE, POLYMETHYL METHACRYLATE, PEG-10 DIMETHICONE, PROPANEDIOL, CYCLOHEXASILOXANE, ZINC OXIDE (NANO), TRIMETHYLSILOXYSILICATE, TITANIUM DIOXIDE (NANO), NYLON-12, LAURYL PEG-9 POLYDIMETHYLSILOXYETHYL DIMETHICONE, HDI/TRIMETHYLOL HEXYLLACTONE CROSSPOLYMER, DISTEARDIMONIUM HECTORITE, 1,2-HEXANEDIOL, ALUMINUM HYDROXIDE, SODIUM CHLORIDE, ACRYLATES/DIMETHICONE COPOLYMER, ISOPROPYL TITANIUM TRIISOSTEARATE, ACRYLATES/ETHYLHEXYL ACRYLATE/DIMETHICONE METHACRYLATE COPOLYMER, FRAGRANCE / PARFUM, CAPRYLYL GLYCOL, STEARIC ACID, BIS-PEG-15 DIMETHICONE/IPDI COPOLYMER, PEG-2 SOYAMINE, ETHYLHEXYLGLYCERIN, DISODIUM EDTA, TRIETHOXYCAPRYLYLSILANE, SILICA, CITRONELLOL, GERANIOL, LIMONENE, BHT, HYDROXYCITRONELLAL, TOCOPHEROL [+/- TITANIUM DIOXIDE (CI 77891), IRON OXIDES (CI 77492), IRON OXIDES (CI 77491), IRON OXIDES (CI 77499)]

Foundation
WATER / AQUA / EAU, METHYL TRIMETHICONE, DIMETHICONE, PEG-10 DIMETHICONE, ALCOHOL DENAT., GLYCERIN, POLYMETHYLSILSESQUIOXANE, PROPANEDIOL, POLYMETHYL METHACRYLATE, TRIMETHYLSILOXYSILICATE, LAURYL PEG-10 TRIS(TRIMETHYLSILOXY)SILYLETHYL DIMETHICONE, TITANIUM DIOXIDE (NANO), TRISILOXANE, DIPHENYLSILOXY PHENYL TRIMETHICONE, CAPRYLYL METHICONE, ISODODECANE, DIPHENYL DIMETHICONE/VINYL DIPHENYL DIMETHICONE/SILSESQUIOXANE CROSSPOLYMER, LAURYL POLYGLYCERYL-3 POLYDIMETHYLSILOXYETHYL DIMETHICONE, SYNTHETIC FLUORPHLOGOPITE, ACRYLATES/POLYTRIMETHYLSILOXYMETHACRYLATE COPOLYMER, SODIUM CHLORIDE, DIMETHICONE CROSSPOLYMER, DISTEARDIMONIUM HECTORITE, 1,2-HEXANEDIOL, POLYETHYLENE, BORON NITRIDE, TRIETHOXYCAPRYLYLSILANE, ALUMINA, CAPRYLYL GLYCOL, LACTOBACILLUS FERMENT LYSATE, PANTHENOL, FRAGRANCE / PARFUM, GLYCERYL CAPRYLATE, BUTYLENE GLYCOL, LAUROYL LYSINE, DISODIUM EDTA, SIMETHICONE, SILICA, PEG-15/LAURYL DIMETHICONE CROSSPOLYMER, POLYQUATERNIUM-10, LACTIC ACID/GLYCOLIC ACID COPOLYMER, TOCOPHEROL, PROPYLENE CARBONATE, ALUMINUM HYDROXIDE [+/- TITANIUM DIOXIDE (CI 77891), IRON OXIDES (CI 77492), IRON OXIDES (CI 77491), IRON OXIDES (CI 77499)]
Cushion
WATER / AQUA / EAU, CYCLOPENTASILOXANE, METHYL TRIMETHICONE, ETHYLHEXYL METHOXYCINNAMATE, CAPRYLYL METHICONE, POLYMETHYL METHACRYLATE, PEG-10 DIMETHICONE, PROPANEDIOL, CYCLOHEXASILOXANE, ZINC OXIDE (NANO), TRIMETHYLSILOXYSILICATE, TITANIUM DIOXIDE (NANO), NYLON-12, LAURYL PEG-9 POLYDIMETHYLSILOXYETHYL DIMETHICONE, HDI/TRIMETHYLOL HEXYLLACTONE CROSSPOLYMER, DISTEARDIMONIUM HECTORITE, 1,2-HEXANEDIOL, ALUMINUM HYDROXIDE, SODIUM CHLORIDE, ACRYLATES/DIMETHICONE COPOLYMER, ISOPROPYL TITANIUM TRIISOSTEARATE, ACRYLATES/ETHYLHEXYL ACRYLATE/DIMETHICONE METHACRYLATE COPOLYMER, FRAGRANCE / PARFUM, CAPRYLYL GLYCOL, STEARIC ACID, BIS-PEG-15 DIMETHICONE/IPDI COPOLYMER, PEG-2 SOYAMINE, ETHYLHEXYLGLYCERIN, DISODIUM EDTA, TRIETHOXYCAPRYLYLSILANE, SILICA, CITRONELLOL, GERANIOL, LIMONENE, BHT, HYDROXYCITRONELLAL, TOCOPHEROL [+/- TITANIUM DIOXIDE (CI 77891), IRON OXIDES (CI 77492), IRON OXIDES (CI 77491), IRON OXIDES (CI 77499)]

Foundation
WATER / AQUA / EAU, METHYL TRIMETHICONE, DIMETHICONE, PEG-10 DIMETHICONE, ALCOHOL DENAT., GLYCERIN, POLYMETHYLSILSESQUIOXANE, PROPANEDIOL, POLYMETHYL METHACRYLATE, TRIMETHYLSILOXYSILICATE, LAURYL PEG-10 TRIS(TRIMETHYLSILOXY)SILYLETHYL DIMETHICONE, TITANIUM DIOXIDE (NANO), TRISILOXANE, DIPHENYLSILOXY PHENYL TRIMETHICONE, CAPRYLYL METHICONE, ISODODECANE, DIPHENYL DIMETHICONE/VINYL DIPHENYL DIMETHICONE/SILSESQUIOXANE CROSSPOLYMER, LAURYL POLYGLYCERYL-3 POLYDIMETHYLSILOXYETHYL DIMETHICONE, SYNTHETIC FLUORPHLOGOPITE, ACRYLATES/POLYTRIMETHYLSILOXYMETHACRYLATE COPOLYMER, SODIUM CHLORIDE, DIMETHICONE CROSSPOLYMER, DISTEARDIMONIUM HECTORITE, 1,2-HEXANEDIOL, POLYETHYLENE, BORON NITRIDE, TRIETHOXYCAPRYLYLSILANE, ALUMINA, CAPRYLYL GLYCOL, LACTOBACILLUS FERMENT LYSATE, PANTHENOL, FRAGRANCE / PARFUM, GLYCERYL CAPRYLATE, BUTYLENE GLYCOL, LAUROYL LYSINE, DISODIUM EDTA, SIMETHICONE, SILICA, PEG-15/LAURYL DIMETHICONE CROSSPOLYMER, POLYQUATERNIUM-10, LACTIC ACID/GLYCOLIC ACID COPOLYMER, TOCOPHEROL, PROPYLENE CARBONATE, ALUMINUM HYDROXIDE [+/- TITANIUM DIOXIDE (CI 77891), IRON OXIDES (CI 77492), IRON OXIDES (CI 77491), IRON OXIDES (CI 77499)]
Cushion
WATER / AQUA / EAU, CYCLOPENTASILOXANE, METHYL TRIMETHICONE, ETHYLHEXYL METHOXYCINNAMATE, CAPRYLYL METHICONE, POLYMETHYL METHACRYLATE, PEG-10 DIMETHICONE, PROPANEDIOL, CYCLOHEXASILOXANE, ZINC OXIDE (NANO), TRIMETHYLSILOXYSILICATE, TITANIUM DIOXIDE (NANO), NYLON-12, LAURYL PEG-9 POLYDIMETHYLSILOXYETHYL DIMETHICONE, HDI/TRIMETHYLOL HEXYLLACTONE CROSSPOLYMER, DISTEARDIMONIUM HECTORITE, 1,2-HEXANEDIOL, ALUMINUM HYDROXIDE, SODIUM CHLORIDE, ACRYLATES/DIMETHICONE COPOLYMER, ISOPROPYL TITANIUM TRIISOSTEARATE, ACRYLATES/ETHYLHEXYL ACRYLATE/DIMETHICONE METHACRYLATE COPOLYMER, FRAGRANCE / PARFUM, CAPRYLYL GLYCOL, STEARIC ACID, BIS-PEG-15 DIMETHICONE/IPDI COPOLYMER, PEG-2 SOYAMINE, ETHYLHEXYLGLYCERIN, DISODIUM EDTA, TRIETHOXYCAPRYLYLSILANE, SILICA, CITRONELLOL, GERANIOL, LIMONENE, BHT, HYDROXYCITRONELLAL, TOCOPHEROL [+/- TITANIUM DIOXIDE (CI 77891), IRON OXIDES (CI 77492), IRON OXIDES (CI 77491), IRON OXIDES (CI 77499)]

Foundation
WATER / AQUA / EAU, METHYL TRIMETHICONE, DIMETHICONE, PEG-10 DIMETHICONE, ALCOHOL DENAT. , POLYMETHYL METHACRYLATE, GLYCERIN, POLYMETHYLSILSESQUIOXANE, PROPANEDIOL, TRIMETHYLSILOXYSILICATE, LAURYL PEG-10 TRIS(TRIMETHYLSILOXY)SILYLETHYL DIMETHICONE, TITANIUM DIOXIDE (NANO), TRISILOXANE, DIPHENYLSILOXY PHENYL TRIMETHICONE, CAPRYLYL METHICONE, ISODODECANE, DIPHENYL DIMETHICONE/VINYL DIPHENYL DIMETHICONE/SILSESQUIOXANE CROSSPOLYMER, LAURYL POLYGLYCERYL-3 POLYDIMETHYLSILOXYETHYL DIMETHICONE, SYNTHETIC FLUORPHLOGOPITE, ACRYLATES/POLYTRIMETHYLSILOXYMETHACRYLATE COPOLYMER, SODIUM CHLORIDE, DIMETHICONE CROSSPOLYMER, DISTEARDIMONIUM HECTORITE, 1,2-HEXANEDIOL, POLYETHYLENE, BORON NITRIDE, TRIETHOXYCAPRYLYLSILANE, ALUMINA, CAPRYLYL GLYCOL, LACTOBACILLUS FERMENT LYSATE, PANTHENOL, FRAGRANCE / PARFUM, GLYCERYL CAPRYLATE, BUTYLENE GLYCOL, LAUROYL LYSINE, DISODIUM EDTA, SIMETHICONE, SILICA, PEG-15/LAURYL DIMETHICONE CROSSPOLYMER, POLYQUATERNIUM-10, LACTIC ACID/GLYCOLIC ACID COPOLYMER, TOCOPHEROL, PROPYLENE CARBONATE, ALUMINUM HYDROXIDE [+/- TITANIUM DIOXIDE (CI 77891), IRON OXIDES (CI 77492), IRON OXIDES (CI 77491), IRON OXIDES (CI 77499)]
Cushion
WATER / AQUA / EAU, CYCLOPENTASILOXANE, METHYL TRIMETHICONE, ETHYLHEXYL METHOXYCINNAMATE, CAPRYLYL METHICONE, POLYMETHYL METHACRYLATE, PEG-10 DIMETHICONE, PROPANEDIOL, CYCLOHEXASILOXANE, ZINC OXIDE (NANO), TRIMETHYLSILOXYSILICATE, TITANIUM DIOXIDE (NANO), NYLON-12, LAURYL PEG-9 POLYDIMETHYLSILOXYETHYL DIMETHICONE, HDI/TRIMETHYLOL HEXYLLACTONE CROSSPOLYMER, DISTEARDIMONIUM HECTORITE, 1,2-HEXANEDIOL, ALUMINUM HYDROXIDE, SODIUM CHLORIDE, ACRYLATES/DIMETHICONE COPOLYMER, ISOPROPYL TITANIUM TRIISOSTEARATE, ACRYLATES/ETHYLHEXYL ACRYLATE/DIMETHICONE METHACRYLATE COPOLYMER, FRAGRANCE / PARFUM, CAPRYLYL GLYCOL, STEARIC ACID, BIS-PEG-15 DIMETHICONE/IPDI COPOLYMER, PEG-2 SOYAMINE, ETHYLHEXYLGLYCERIN, DISODIUM EDTA, TRIETHOXYCAPRYLYLSILANE, SILICA, CITRONELLOL, GERANIOL, LIMONENE, BHT, HYDROXYCITRONELLAL, TOCOPHEROL [+/- TITANIUM DIOXIDE (CI 77891), IRON OXIDES (CI 77492), IRON OXIDES (CI 77491), IRON OXIDES (CI 77499)]

Foundation
WATER / AQUA / EAU, METHYL TRIMETHICONE, DIMETHICONE, PEG-10 DIMETHICONE, ALCOHOL DENAT., GLYCERIN, POLYMETHYLSILSESQUIOXANE, PROPANEDIOL, POLYMETHYL METHACRYLATE, TRIMETHYLSILOXYSILICATE, LAURYL PEG-10 TRIS(TRIMETHYLSILOXY)SILYLETHYL DIMETHICONE, TITANIUM DIOXIDE (NANO), TRISILOXANE, DIPHENYLSILOXY PHENYL TRIMETHICONE, CAPRYLYL METHICONE, ISODODECANE, DIPHENYL DIMETHICONE/VINYL DIPHENYL DIMETHICONE/SILSESQUIOXANE CROSSPOLYMER, LAURYL POLYGLYCERYL-3 POLYDIMETHYLSILOXYETHYL DIMETHICONE, SYNTHETIC FLUORPHLOGOPITE, ACRYLATES/POLYTRIMETHYLSILOXYMETHACRYLATE COPOLYMER, SODIUM CHLORIDE, DIMETHICONE CROSSPOLYMER, DISTEARDIMONIUM HECTORITE, 1,2-HEXANEDIOL, POLYETHYLENE, BORON NITRIDE, TRIETHOXYCAPRYLYLSILANE, ALUMINA, CAPRYLYL GLYCOL, LACTOBACILLUS FERMENT LYSATE, PANTHENOL, FRAGRANCE / PARFUM, GLYCERYL CAPRYLATE, BUTYLENE GLYCOL, LAUROYL LYSINE, DISODIUM EDTA, SIMETHICONE, SILICA, PEG-15/LAURYL DIMETHICONE CROSSPOLYMER, POLYQUATERNIUM-10, LACTIC ACID/GLYCOLIC ACID COPOLYMER, TOCOPHEROL, PROPYLENE CARBONATE, ALUMINUM HYDROXIDE [+/- TITANIUM DIOXIDE (CI 77891), IRON OXIDES (CI 77492), IRON OXIDES (CI 77491), IRON OXIDES (CI 77499)]
Cushion
WATER / AQUA / EAU, CYCLOPENTASILOXANE, METHYL TRIMETHICONE, ETHYLHEXYL METHOXYCINNAMATE, CAPRYLYL METHICONE, POLYMETHYL METHACRYLATE, PEG-10 DIMETHICONE, PROPANEDIOL, CYCLOHEXASILOXANE, ZINC OXIDE (NANO), TRIMETHYLSILOXYSILICATE, TITANIUM DIOXIDE (NANO), NYLON-12, LAURYL PEG-9 POLYDIMETHYLSILOXYETHYL DIMETHICONE, HDI/TRIMETHYLOL HEXYLLACTONE CROSSPOLYMER, DISTEARDIMONIUM HECTORITE, 1,2-HEXANEDIOL, ALUMINUM HYDROXIDE, SODIUM CHLORIDE, ACRYLATES/DIMETHICONE COPOLYMER, ISOPROPYL TITANIUM TRIISOSTEARATE, ACRYLATES/ETHYLHEXYL ACRYLATE/DIMETHICONE METHACRYLATE COPOLYMER, FRAGRANCE / PARFUM, CAPRYLYL GLYCOL, STEARIC ACID, BIS-PEG-15 DIMETHICONE/IPDI COPOLYMER, PEG-2 SOYAMINE, ETHYLHEXYLGLYCERIN, DISODIUM EDTA, TRIETHOXYCAPRYLYLSILANE, SILICA, CITRONELLOL, GERANIOL, LIMONENE, BHT, HYDROXYCITRONELLAL, TOCOPHEROL [+/- TITANIUM DIOXIDE (CI 77891), IRON OXIDES (CI 77492), IRON OXIDES (CI 77491), IRON OXIDES (CI 77499)]

Foundation
WATER / AQUA / EAU, METHYL TRIMETHICONE, DIMETHICONE, PEG-10 DIMETHICONE, ALCOHOL DENAT., GLYCERIN, POLYMETHYLSILSESQUIOXANE, PROPANEDIOL, POLYMETHYL METHACRYLATE, TRIMETHYLSILOXYSILICATE, LAURYL PEG-10 TRIS(TRIMETHYLSILOXY)SILYLETHYL DIMETHICONE, TITANIUM DIOXIDE (NANO), TRISILOXANE, DIPHENYLSILOXY PHENYL TRIMETHICONE, CAPRYLYL METHICONE, ISODODECANE, DIPHENYL DIMETHICONE/VINYL DIPHENYL DIMETHICONE/SILSESQUIOXANE CROSSPOLYMER, LAURYL POLYGLYCERYL-3 POLYDIMETHYLSILOXYETHYL DIMETHICONE, SYNTHETIC FLUORPHLOGOPITE, ACRYLATES/POLYTRIMETHYLSILOXYMETHACRYLATE COPOLYMER, SODIUM CHLORIDE, DIMETHICONE CROSSPOLYMER, DISTEARDIMONIUM HECTORITE, 1,2-HEXANEDIOL, POLYETHYLENE, BORON NITRIDE, TRIETHOXYCAPRYLYLSILANE, ALUMINA, CAPRYLYL GLYCOL, LACTOBACILLUS FERMENT LYSATE, PANTHENOL, FRAGRANCE / PARFUM, GLYCERYL CAPRYLATE, BUTYLENE GLYCOL, LAUROYL LYSINE, DISODIUM EDTA, SIMETHICONE, SILICA, PEG-15/LAURYL DIMETHICONE CROSSPOLYMER, POLYQUATERNIUM-10, LACTIC ACID/GLYCOLIC ACID COPOLYMER, TOCOPHEROL, PROPYLENE CARBONATE, ALUMINUM HYDROXIDE [+/- TITANIUM DIOXIDE (CI 77891), IRON OXIDES (CI 77492), IRON OXIDES (CI 77491), IRON OXIDES (CI 77499)]
Cushion
WATER / AQUA / EAU, CYCLOPENTASILOXANE, METHYL TRIMETHICONE, ETHYLHEXYL METHOXYCINNAMATE, CAPRYLYL METHICONE, POLYMETHYL METHACRYLATE, PEG-10 DIMETHICONE, PROPANEDIOL, CYCLOHEXASILOXANE, ZINC OXIDE (NANO), TRIMETHYLSILOXYSILICATE, TITANIUM DIOXIDE (NANO), NYLON-12, LAURYL PEG-9 POLYDIMETHYLSILOXYETHYL DIMETHICONE, HDI/TRIMETHYLOL HEXYLLACTONE CROSSPOLYMER, DISTEARDIMONIUM HECTORITE, 1,2-HEXANEDIOL, ALUMINUM HYDROXIDE, SODIUM CHLORIDE, ACRYLATES/DIMETHICONE COPOLYMER, ISOPROPYL TITANIUM TRIISOSTEARATE, ACRYLATES/ETHYLHEXYL ACRYLATE/DIMETHICONE METHACRYLATE COPOLYMER, FRAGRANCE / PARFUM, CAPRYLYL GLYCOL, STEARIC ACID, BIS-PEG-15 DIMETHICONE/IPDI COPOLYMER, PEG-2 SOYAMINE, ETHYLHEXYLGLYCERIN, DISODIUM EDTA, TRIETHOXYCAPRYLYLSILANE, SILICA, CITRONELLOL, GERANIOL, LIMONENE, BHT, HYDROXYCITRONELLAL, TOCOPHEROL [+/- TITANIUM DIOXIDE (CI 77891), IRON OXIDES (CI 77492), IRON OXIDES (CI 77491), IRON OXIDES (CI 77499)]

Foundation
WATER / AQUA / EAU, METHYL TRIMETHICONE, DIMETHICONE, PEG-10 DIMETHICONE, ALCOHOL DENAT., GLYCERIN, POLYMETHYLSILSESQUIOXANE, PROPANEDIOL, POLYMETHYL METHACRYLATE, TRIMETHYLSILOXYSILICATE, LAURYL PEG-10 TRIS(TRIMETHYLSILOXY)SILYLETHYL DIMETHICONE, TITANIUM DIOXIDE (NANO), TRISILOXANE, DIPHENYLSILOXY PHENYL TRIMETHICONE, CAPRYLYL METHICONE, ISODODECANE, DIPHENYL DIMETHICONE/VINYL DIPHENYL DIMETHICONE/SILSESQUIOXANE CROSSPOLYMER, LAURYL POLYGLYCERYL-3 POLYDIMETHYLSILOXYETHYL DIMETHICONE, SYNTHETIC FLUORPHLOGOPITE, ACRYLATES/POLYTRIMETHYLSILOXYMETHACRYLATE COPOLYMER, SODIUM CHLORIDE, DIMETHICONE CROSSPOLYMER, DISTEARDIMONIUM HECTORITE, 1,2-HEXANEDIOL, POLYETHYLENE, BORON NITRIDE, TRIETHOXYCAPRYLYLSILANE, ALUMINA, CAPRYLYL GLYCOL, LACTOBACILLUS FERMENT LYSATE, PANTHENOL, FRAGRANCE / PARFUM, GLYCERYL CAPRYLATE, BUTYLENE GLYCOL, LAUROYL LYSINE, DISODIUM EDTA, SIMETHICONE, SILICA, PEG-15/LAURYL DIMETHICONE CROSSPOLYMER, POLYQUATERNIUM-10, LACTIC ACID/GLYCOLIC ACID COPOLYMER, TOCOPHEROL, PROPYLENE CARBONATE, ALUMINUM HYDROXIDE [+/- TITANIUM DIOXIDE (CI 77891), IRON OXIDES (CI 77492), IRON OXIDES (CI 77491), IRON OXIDES (CI 77499)]
Cushion
WATER / AQUA / EAU, CYCLOPENTASILOXANE, METHYL TRIMETHICONE, ETHYLHEXYL METHOXYCINNAMATE, CAPRYLYL METHICONE, POLYMETHYL METHACRYLATE, PEG-10 DIMETHICONE, PROPANEDIOL, CYCLOHEXASILOXANE, ZINC OXIDE (NANO), TRIMETHYLSILOXYSILICATE, TITANIUM DIOXIDE (NANO), NYLON-12, LAURYL PEG-9 POLYDIMETHYLSILOXYETHYL DIMETHICONE, HDI/TRIMETHYLOL HEXYLLACTONE CROSSPOLYMER, DISTEARDIMONIUM HECTORITE, 1,2-HEXANEDIOL, ALUMINUM HYDROXIDE, SODIUM CHLORIDE, ACRYLATES/DIMETHICONE COPOLYMER, ISOPROPYL TITANIUM TRIISOSTEARATE, ACRYLATES/ETHYLHEXYL ACRYLATE/DIMETHICONE METHACRYLATE COPOLYMER, FRAGRANCE / PARFUM, CAPRYLYL GLYCOL, STEARIC ACID, BIS-PEG-15 DIMETHICONE/IPDI COPOLYMER, PEG-2 SOYAMINE, ETHYLHEXYLGLYCERIN, DISODIUM EDTA, TRIETHOXYCAPRYLYLSILANE, SILICA, CITRONELLOL, GERANIOL, LIMONENE, BHT, HYDROXYCITRONELLAL, TOCOPHEROL [+/- TITANIUM DIOXIDE (CI 77891), IRON OXIDES (CI 77492), IRON OXIDES (CI 77491), IRON OXIDES (CI 77499)]

Foundation
WATER / AQUA / EAU, METHYL TRIMETHICONE, DIMETHICONE, PEG-10 DIMETHICONE, ALCOHOL DENAT., GLYCERIN, POLYMETHYLSILSESQUIOXANE, PROPANEDIOL, POLYMETHYL METHACRYLATE, TRIMETHYLSILOXYSILICATE, LAURYL PEG-10 TRIS(TRIMETHYLSILOXY)SILYLETHYL DIMETHICONE, TITANIUM DIOXIDE (NANO), TRISILOXANE, DIPHENYLSILOXY PHENYL TRIMETHICONE, CAPRYLYL METHICONE, ISODODECANE, DIPHENYL DIMETHICONE/VINYL DIPHENYL DIMETHICONE/SILSESQUIOXANE CROSSPOLYMER, LAURYL POLYGLYCERYL-3 POLYDIMETHYLSILOXYETHYL DIMETHICONE, SYNTHETIC FLUORPHLOGOPITE, ACRYLATES/POLYTRIMETHYLSILOXYMETHACRYLATE COPOLYMER, SODIUM CHLORIDE, DIMETHICONE CROSSPOLYMER, DISTEARDIMONIUM HECTORITE, 1,2-HEXANEDIOL, POLYETHYLENE, BORON NITRIDE, TRIETHOXYCAPRYLYLSILANE, ALUMINA, CAPRYLYL GLYCOL, LACTOBACILLUS FERMENT LYSATE, PANTHENOL, FRAGRANCE / PARFUM, GLYCERYL CAPRYLATE, BUTYLENE GLYCOL, LAUROYL LYSINE, DISODIUM EDTA, SIMETHICONE, SILICA, PEG-15/LAURYL DIMETHICONE CROSSPOLYMER, POLYQUATERNIUM-10, LACTIC ACID/GLYCOLIC ACID COPOLYMER, TOCOPHEROL, PROPYLENE CARBONATE, ALUMINUM HYDROXIDE [+/- TITANIUM DIOXIDE (CI 77891), IRON OXIDES (CI 77492), IRON OXIDES (CI 77491), IRON OXIDES (CI 77499)]

Cushion
WATER / AQUA / EAU, CYCLOPENTASILOXANE, METHYL TRIMETHICONE, ETHYLHEXYL METHOXYCINNAMATE, CAPRYLYL METHICONE, POLYMETHYL METHACRYLATE, PEG-10 DIMETHICONE, PROPANEDIOL, CYCLOHEXASILOXANE, ZINC OXIDE (NANO), TRIMETHYLSILOXYSILICATE, TITANIUM DIOXIDE (NANO), NYLON-12, LAURYL PEG-9 POLYDIMETHYLSILOXYETHYL DIMETHICONE, HDI/TRIMETHYLOL HEXYLLACTONE CROSSPOLYMER, DISTEARDIMONIUM HECTORITE, 1,2-HEXANEDIOL, ALUMINUM HYDROXIDE, SODIUM CHLORIDE, ACRYLATES/DIMETHICONE COPOLYMER, ISOPROPYL TITANIUM TRIISOSTEARATE, ACRYLATES/ETHYLHEXYL ACRYLATE/DIMETHICONE METHACRYLATE COPOLYMER, FRAGRANCE / PARFUM, CAPRYLYL GLYCOL, STEARIC ACID, BIS-PEG-15 DIMETHICONE/IPDI COPOLYMER, PEG-2 SOYAMINE, ETHYLHEXYLGLYCERIN, DISODIUM EDTA, TRIETHOXYCAPRYLYLSILANE, SILICA, CITRONELLOL, GERANIOL, LIMONENE, BHT, HYDROXYCITRONELLAL, TOCOPHEROL [+/- TITANIUM DIOXIDE (CI 77891), IRON OXIDES (CI 77492), IRON OXIDES (CI 77491), IRON OXIDES (CI 77499)]

Foundation
WATER / AQUA / EAU, METHYL TRIMETHICONE, DIMETHICONE, PEG-10 DIMETHICONE, ALCOHOL DENAT., GLYCERIN, POLYMETHYLSILSESQUIOXANE, PROPANEDIOL, POLYMETHYL METHACRYLATE, TRIMETHYLSILOXYSILICATE, LAURYL PEG-10 TRIS(TRIMETHYLSILOXY)SILYLETHYL DIMETHICONE, TITANIUM DIOXIDE (NANO), TRISILOXANE, DIPHENYLSILOXY PHENYL TRIMETHICONE, CAPRYLYL METHICONE, ISODODECANE, DIPHENYL DIMETHICONE/VINYL DIPHENYL DIMETHICONE/SILSESQUIOXANE CROSSPOLYMER, LAURYL POLYGLYCERYL-3 POLYDIMETHYLSILOXYETHYL DIMETHICONE, SYNTHETIC FLUORPHLOGOPITE, ACRYLATES/POLYTRIMETHYLSILOXYMETHACRYLATE COPOLYMER, SODIUM CHLORIDE, DIMETHICONE CROSSPOLYMER, DISTEARDIMONIUM HECTORITE, 1,2-HEXANEDIOL, POLYETHYLENE, BORON NITRIDE, TRIETHOXYCAPRYLYLSILANE, ALUMINA, CAPRYLYL GLYCOL, LACTOBACILLUS FERMENT LYSATE, PANTHENOL, FRAGRANCE / PARFUM, GLYCERYL CAPRYLATE, BUTYLENE GLYCOL, LAUROYL LYSINE, DISODIUM EDTA, SIMETHICONE, SILICA, PEG-15/LAURYL DIMETHICONE CROSSPOLYMER, POLYQUATERNIUM-10, LACTIC ACID/GLYCOLIC ACID COPOLYMER, TOCOPHEROL, PROPYLENE CARBONATE, ALUMINUM HYDROXIDE [+/- TITANIUM DIOXIDE (CI 77891), IRON OXIDES (CI 77492), IRON OXIDES (CI 77491), IRON OXIDES (CI 77499)]
Cushion
WATER / AQUA / EAU, CYCLOPENTASILOXANE, METHYL TRIMETHICONE, ETHYLHEXYL METHOXYCINNAMATE, CAPRYLYL METHICONE, POLYMETHYL METHACRYLATE, PEG-10 DIMETHICONE, PROPANEDIOL, CYCLOHEXASILOXANE, ZINC OXIDE (NANO), TRIMETHYLSILOXYSILICATE, TITANIUM DIOXIDE (NANO), NYLON-12, LAURYL PEG-9 POLYDIMETHYLSILOXYETHYL DIMETHICONE, HDI/TRIMETHYLOL HEXYLLACTONE CROSSPOLYMER, DISTEARDIMONIUM HECTORITE, 1,2-HEXANEDIOL, ALUMINUM HYDROXIDE, SODIUM CHLORIDE, ACRYLATES/DIMETHICONE COPOLYMER, ISOPROPYL TITANIUM TRIISOSTEARATE, ACRYLATES/ETHYLHEXYL ACRYLATE/DIMETHICONE METHACRYLATE COPOLYMER, FRAGRANCE / PARFUM, CAPRYLYL GLYCOL, STEARIC ACID, BIS-PEG-15 DIMETHICONE/IPDI COPOLYMER, PEG-2 SOYAMINE, ETHYLHEXYLGLYCERIN, DISODIUM EDTA, TRIETHOXYCAPRYLYLSILANE, SILICA, CITRONELLOL, GERANIOL, LIMONENE, BHT, HYDROXYCITRONELLAL, TOCOPHEROL [+/- TITANIUM DIOXIDE (CI 77891), IRON OXIDES (CI 77492), IRON OXIDES (CI 77491), IRON OXIDES (CI 77499)]

Foundation
WATER / AQUA / EAU, METHYL TRIMETHICONE, DIMETHICONE, PEG-10 DIMETHICONE, ALCOHOL DENAT., GLYCERIN, POLYMETHYLSILSESQUIOXANE, PROPANEDIOL, POLYMETHYL METHACRYLATE, TRIMETHYLSILOXYSILICATE, LAURYL PEG-10 TRIS(TRIMETHYLSILOXY)SILYLETHYL DIMETHICONE, TITANIUM DIOXIDE (NANO), TRISILOXANE, DIPHENYLSILOXY PHENYL TRIMETHICONE, CAPRYLYL METHICONE, ISODODECANE, DIPHENYL DIMETHICONE/VINYL DIPHENYL DIMETHICONE/SILSESQUIOXANE CROSSPOLYMER, LAURYL POLYGLYCERYL-3 POLYDIMETHYLSILOXYETHYL DIMETHICONE, SYNTHETIC FLUORPHLOGOPITE, ACRYLATES/POLYTRIMETHYLSILOXYMETHACRYLATE COPOLYMER, SODIUM CHLORIDE, DIMETHICONE CROSSPOLYMER, DISTEARDIMONIUM HECTORITE, 1,2-HEXANEDIOL, POLYETHYLENE, BORON NITRIDE, TRIETHOXYCAPRYLYLSILANE, ALUMINA, CAPRYLYL GLYCOL, LACTOBACILLUS FERMENT LYSATE, PANTHENOL, FRAGRANCE / PARFUM, GLYCERYL CAPRYLATE, BUTYLENE GLYCOL, LAUROYL LYSINE, DISODIUM EDTA, SIMETHICONE, SILICA, PEG-15/LAURYL DIMETHICONE CROSSPOLYMER, POLYQUATERNIUM-10, LACTIC ACID/GLYCOLIC ACID COPOLYMER, TOCOPHEROL, PROPYLENE CARBONATE, ALUMINUM HYDROXIDE [+/- TITANIUM DIOXIDE (CI 77891), IRON OXIDES (CI 77492), IRON OXIDES (CI 77491), IRON OXIDES (CI 77499)]

Cushion
WATER / AQUA / EAU, CYCLOPENTASILOXANE, METHYL TRIMETHICONE, ETHYLHEXYL METHOXYCINNAMATE, CAPRYLYL METHICONE, POLYMETHYL METHACRYLATE, PEG-10 DIMETHICONE, PROPANEDIOL, CYCLOHEXASILOXANE, ZINC OXIDE (NANO), TRIMETHYLSILOXYSILICATE, TITANIUM DIOXIDE (NANO), NYLON-12, LAURYL PEG-9 POLYDIMETHYLSILOXYETHYL DIMETHICONE, HDI/TRIMETHYLOL HEXYLLACTONE CROSSPOLYMER, DISTEARDIMONIUM HECTORITE, 1,2-HEXANEDIOL, ALUMINUM HYDROXIDE, SODIUM CHLORIDE, ACRYLATES/DIMETHICONE COPOLYMER, ISOPROPYL TITANIUM TRIISOSTEARATE, ACRYLATES/ETHYLHEXYL ACRYLATE/DIMETHICONE METHACRYLATE COPOLYMER, FRAGRANCE / PARFUM, CAPRYLYL GLYCOL, STEARIC ACID, BIS-PEG-15 DIMETHICONE/IPDI COPOLYMER, PEG-2 SOYAMINE, ETHYLHEXYLGLYCERIN, DISODIUM EDTA, TRIETHOXYCAPRYLYLSILANE, SILICA, CITRONELLOL, GERANIOL, LIMONENE, BHT, HYDROXYCITRONELLAL, TOCOPHEROL [+/- TITANIUM DIOXIDE (CI 77891), IRON OXIDES (CI 77492), IRON OXIDES (CI 77491), IRON OXIDES (CI 77499)]

Foundation
WATER / AQUA / EAU, METHYL TRIMETHICONE, DIMETHICONE, PEG-10 DIMETHICONE, ALCOHOL DENAT., GLYCERIN, POLYMETHYLSILSESQUIOXANE, PROPANEDIOL, POLYMETHYL METHACRYLATE, TRIMETHYLSILOXYSILICATE, LAURYL PEG-10 TRIS(TRIMETHYLSILOXY)SILYLETHYL DIMETHICONE, TITANIUM DIOXIDE (NANO), TRISILOXANE, DIPHENYLSILOXY PHENYL TRIMETHICONE, CAPRYLYL METHICONE, ISODODECANE, DIPHENYL DIMETHICONE/VINYL DIPHENYL DIMETHICONE/SILSESQUIOXANE CROSSPOLYMER, LAURYL POLYGLYCERYL-3 POLYDIMETHYLSILOXYETHYL DIMETHICONE, SYNTHETIC FLUORPHLOGOPITE, ACRYLATES/POLYTRIMETHYLSILOXYMETHACRYLATE COPOLYMER, SODIUM CHLORIDE, DIMETHICONE CROSSPOLYMER, DISTEARDIMONIUM HECTORITE, 1,2-HEXANEDIOL, POLYETHYLENE, BORON NITRIDE, TRIETHOXYCAPRYLYLSILANE, ALUMINA, CAPRYLYL GLYCOL, LACTOBACILLUS FERMENT LYSATE, PANTHENOL, FRAGRANCE / PARFUM, GLYCERYL CAPRYLATE, BUTYLENE GLYCOL, LAUROYL LYSINE, DISODIUM EDTA, SIMETHICONE, SILICA, PEG-15/LAURYL DIMETHICONE CROSSPOLYMER, POLYQUATERNIUM-10, LACTIC ACID/GLYCOLIC ACID COPOLYMER, TOCOPHEROL, PROPYLENE CARBONATE, ALUMINUM HYDROXIDE [+/- TITANIUM DIOXIDE (CI 77891), IRON OXIDES (CI 77492), IRON OXIDES (CI 77491), IRON OXIDES (CI 77499)]

Cushion
WATER / AQUA / EAU, CYCLOPENTASILOXANE, METHYL TRIMETHICONE, ETHYLHEXYL METHOXYCINNAMATE, CAPRYLYL METHICONE, POLYMETHYL METHACRYLATE, PEG-10 DIMETHICONE, PROPANEDIOL, CYCLOHEXASILOXANE, ZINC OXIDE (NANO), TRIMETHYLSILOXYSILICATE, TITANIUM DIOXIDE (NANO), NYLON-12, LAURYL PEG-9 POLYDIMETHYLSILOXYETHYL DIMETHICONE, HDI/TRIMETHYLOL HEXYLLACTONE CROSSPOLYMER, DISTEARDIMONIUM HECTORITE, 1,2-HEXANEDIOL, ALUMINUM HYDROXIDE, SODIUM CHLORIDE, ACRYLATES/DIMETHICONE COPOLYMER, ISOPROPYL TITANIUM TRIISOSTEARATE, ACRYLATES/ETHYLHEXYL ACRYLATE/DIMETHICONE METHACRYLATE COPOLYMER, FRAGRANCE / PARFUM, CAPRYLYL GLYCOL, STEARIC ACID, BIS-PEG-15 DIMETHICONE/IPDI COPOLYMER, PEG-2 SOYAMINE, ETHYLHEXYLGLYCERIN, DISODIUM EDTA, TRIETHOXYCAPRYLYLSILANE, SILICA, CITRONELLOL, GERANIOL, LIMONENE, BHT, HYDROXYCITRONELLAL, TOCOPHEROL [+/- TITANIUM DIOXIDE (CI 77891), IRON OXIDES (CI 77492), IRON OXIDES (CI 77491), IRON OXIDES (CI 77499)]

Foundation
WATER / AQUA / EAU, METHYL TRIMETHICONE, DIMETHICONE, PEG-10 DIMETHICONE, ALCOHOL DENAT., GLYCERIN, POLYMETHYLSILSESQUIOXANE, PROPANEDIOL, POLYMETHYL METHACRYLATE, TRIMETHYLSILOXYSILICATE, LAURYL PEG-10 TRIS(TRIMETHYLSILOXY)SILYLETHYL DIMETHICONE, TITANIUM DIOXIDE (NANO), TRISILOXANE, DIPHENYLSILOXY PHENYL TRIMETHICONE, CAPRYLYL METHICONE, ISODODECANE, DIPHENYL DIMETHICONE/VINYL DIPHENYL DIMETHICONE/SILSESQUIOXANE CROSSPOLYMER, LAURYL POLYGLYCERYL-3 POLYDIMETHYLSILOXYETHYL DIMETHICONE, SYNTHETIC FLUORPHLOGOPITE, ACRYLATES/POLYTRIMETHYLSILOXYMETHACRYLATE COPOLYMER, SODIUM CHLORIDE, DIMETHICONE CROSSPOLYMER, DISTEARDIMONIUM HECTORITE, 1,2-HEXANEDIOL, POLYETHYLENE, BORON NITRIDE, TRIETHOXYCAPRYLYLSILANE, ALUMINA, CAPRYLYL GLYCOL, LACTOBACILLUS FERMENT LYSATE, PANTHENOL, FRAGRANCE / PARFUM, GLYCERYL CAPRYLATE, BUTYLENE GLYCOL, LAUROYL LYSINE, DISODIUM EDTA, SIMETHICONE, SILICA, PEG-15/LAURYL DIMETHICONE CROSSPOLYMER, POLYQUATERNIUM-10, LACTIC ACID/GLYCOLIC ACID COPOLYMER, TOCOPHEROL, PROPYLENE CARBONATE, ALUMINUM HYDROXIDE [+/- TITANIUM DIOXIDE (CI 77891), IRON OXIDES (CI 77492), IRON OXIDES (CI 77491), IRON OXIDES (CI 77499)]
Cushion
WATER / AQUA / EAU, CYCLOPENTASILOXANE, METHYL TRIMETHICONE, ETHYLHEXYL METHOXYCINNAMATE, CAPRYLYL METHICONE, POLYMETHYL METHACRYLATE, PEG-10 DIMETHICONE, PROPANEDIOL, CYCLOHEXASILOXANE, ZINC OXIDE (NANO), TRIMETHYLSILOXYSILICATE, TITANIUM DIOXIDE (NANO), NYLON-12, LAURYL PEG-9 POLYDIMETHYLSILOXYETHYL DIMETHICONE, HDI/TRIMETHYLOL HEXYLLACTONE CROSSPOLYMER, DISTEARDIMONIUM HECTORITE, 1,2-HEXANEDIOL, ALUMINUM HYDROXIDE, SODIUM CHLORIDE, ACRYLATES/DIMETHICONE COPOLYMER, ISOPROPYL TITANIUM TRIISOSTEARATE, ACRYLATES/ETHYLHEXYL ACRYLATE/DIMETHICONE METHACRYLATE COPOLYMER, FRAGRANCE / PARFUM, CAPRYLYL GLYCOL, STEARIC ACID, BIS-PEG-15 DIMETHICONE/IPDI COPOLYMER, PEG-2 SOYAMINE, ETHYLHEXYLGLYCERIN, DISODIUM EDTA, TRIETHOXYCAPRYLYLSILANE, SILICA, CITRONELLOL, GERANIOL, LIMONENE, BHT, HYDROXYCITRONELLAL, TOCOPHEROL [+/- TITANIUM DIOXIDE (CI 77891), IRON OXIDES (CI 77492), IRON OXIDES (CI 77491), IRON OXIDES (CI 77499)]

Foundation
WATER / AQUA / EAU, METHYL TRIMETHICONE, DIMETHICONE, PEG-10 DIMETHICONE, ALCOHOL DENAT., GLYCERIN, POLYMETHYLSILSESQUIOXANE, PROPANEDIOL, POLYMETHYL METHACRYLATE, TRIMETHYLSILOXYSILICATE, LAURYL PEG-10 TRIS(TRIMETHYLSILOXY)SILYLETHYL DIMETHICONE, TITANIUM DIOXIDE (NANO), TRISILOXANE, DIPHENYLSILOXY PHENYL TRIMETHICONE, CAPRYLYL METHICONE, ISODODECANE, DIPHENYL DIMETHICONE/VINYL DIPHENYL DIMETHICONE/SILSESQUIOXANE CROSSPOLYMER, LAURYL POLYGLYCERYL-3 POLYDIMETHYLSILOXYETHYL DIMETHICONE, SYNTHETIC FLUORPHLOGOPITE, ACRYLATES/POLYTRIMETHYLSILOXYMETHACRYLATE COPOLYMER, SODIUM CHLORIDE, DIMETHICONE CROSSPOLYMER, DISTEARDIMONIUM HECTORITE, 1,2-HEXANEDIOL, POLYETHYLENE, BORON NITRIDE, TRIETHOXYCAPRYLYLSILANE, ALUMINA, CAPRYLYL GLYCOL, LACTOBACILLUS FERMENT LYSATE, PANTHENOL, FRAGRANCE / PARFUM, GLYCERYL CAPRYLATE, BUTYLENE GLYCOL, LAUROYL LYSINE, DISODIUM EDTA, SIMETHICONE, SILICA, PEG-15/LAURYL DIMETHICONE CROSSPOLYMER, POLYQUATERNIUM-10, LACTIC ACID/GLYCOLIC ACID COPOLYMER, TOCOPHEROL, PROPYLENE CARBONATE, ALUMINUM HYDROXIDE [+/- TITANIUM DIOXIDE (CI 77891), IRON OXIDES (CI 77492), IRON OXIDES (CI 77491), IRON OXIDES (CI 77499)]
Cushion
WATER / AQUA / EAU, CYCLOPENTASILOXANE, METHYL TRIMETHICONE, ETHYLHEXYL METHOXYCINNAMATE, CAPRYLYL METHICONE, POLYMETHYL METHACRYLATE, PEG-10 DIMETHICONE, PROPANEDIOL, CYCLOHEXASILOXANE, ZINC OXIDE (NANO), TRIMETHYLSILOXYSILICATE, TITANIUM DIOXIDE (NANO), NYLON-12, LAURYL PEG-9 POLYDIMETHYLSILOXYETHYL DIMETHICONE, HDI/TRIMETHYLOL HEXYLLACTONE CROSSPOLYMER, DISTEARDIMONIUM HECTORITE, 1,2-HEXANEDIOL, ALUMINUM HYDROXIDE, SODIUM CHLORIDE, ACRYLATES/DIMETHICONE COPOLYMER, ISOPROPYL TITANIUM TRIISOSTEARATE, ACRYLATES/ETHYLHEXYL ACRYLATE/DIMETHICONE METHACRYLATE COPOLYMER, FRAGRANCE / PARFUM, CAPRYLYL GLYCOL, STEARIC ACID, BIS-PEG-15 DIMETHICONE/IPDI COPOLYMER, PEG-2 SOYAMINE, ETHYLHEXYLGLYCERIN, DISODIUM EDTA, TRIETHOXYCAPRYLYLSILANE, SILICA, CITRONELLOL, GERANIOL, LIMONENE, BHT, HYDROXYCITRONELLAL, TOCOPHEROL [+/- TITANIUM DIOXIDE (CI 77891), IRON OXIDES (CI 77492), IRON OXIDES (CI 77491), IRON OXIDES (CI 77499)]

Foundation
WATER / AQUA / EAU, METHYL TRIMETHICONE, DIMETHICONE, PEG-10 DIMETHICONE, ALCOHOL DENAT., GLYCERIN, POLYMETHYLSILSESQUIOXANE, PROPANEDIOL, POLYMETHYL METHACRYLATE, TRIMETHYLSILOXYSILICATE, LAURYL PEG-10 TRIS(TRIMETHYLSILOXY)SILYLETHYL DIMETHICONE, TITANIUM DIOXIDE (NANO), TRISILOXANE, DIPHENYLSILOXY PHENYL TRIMETHICONE, CAPRYLYL METHICONE, ISODODECANE, DIPHENYL DIMETHICONE/VINYL DIPHENYL DIMETHICONE/SILSESQUIOXANE CROSSPOLYMER, LAURYL POLYGLYCERYL-3 POLYDIMETHYLSILOXYETHYL DIMETHICONE, SYNTHETIC FLUORPHLOGOPITE, ACRYLATES/POLYTRIMETHYLSILOXYMETHACRYLATE COPOLYMER, SODIUM CHLORIDE, DIMETHICONE CROSSPOLYMER, DISTEARDIMONIUM HECTORITE, 1,2-HEXANEDIOL, POLYETHYLENE, BORON NITRIDE, TRIETHOXYCAPRYLYLSILANE, ALUMINA, CAPRYLYL GLYCOL, LACTOBACILLUS FERMENT LYSATE, PANTHENOL, FRAGRANCE / PARFUM, GLYCERYL CAPRYLATE, BUTYLENE GLYCOL, LAUROYL LYSINE, DISODIUM EDTA, SIMETHICONE, SILICA, PEG-15/LAURYL DIMETHICONE CROSSPOLYMER, POLYQUATERNIUM-10, LACTIC ACID/GLYCOLIC ACID COPOLYMER, TOCOPHEROL, PROPYLENE CARBONATE, ALUMINUM HYDROXIDE [+/- TITANIUM DIOXIDE (CI 77891), IRON OXIDES (CI 77492), IRON OXIDES (CI 77491), IRON OXIDES (CI 77499)]
Cushion
WATER / AQUA / EAU, CYCLOPENTASILOXANE, METHYL TRIMETHICONE, ETHYLHEXYL METHOXYCINNAMATE, CAPRYLYL METHICONE, POLYMETHYL METHACRYLATE, PEG-10 DIMETHICONE, PROPANEDIOL, CYCLOHEXASILOXANE, ZINC OXIDE (NANO), TRIMETHYLSILOXYSILICATE, TITANIUM DIOXIDE (NANO), NYLON-12, LAURYL PEG-9 POLYDIMETHYLSILOXYETHYL DIMETHICONE, HDI/TRIMETHYLOL HEXYLLACTONE CROSSPOLYMER, DISTEARDIMONIUM HECTORITE, 1,2-HEXANEDIOL, ALUMINUM HYDROXIDE, SODIUM CHLORIDE, ACRYLATES/DIMETHICONE COPOLYMER, ISOPROPYL TITANIUM TRIISOSTEARATE, ACRYLATES/ETHYLHEXYL ACRYLATE/DIMETHICONE METHACRYLATE COPOLYMER, FRAGRANCE / PARFUM, CAPRYLYL GLYCOL, STEARIC ACID, BIS-PEG-15 DIMETHICONE/IPDI COPOLYMER, PEG-2 SOYAMINE, ETHYLHEXYLGLYCERIN, DISODIUM EDTA, TRIETHOXYCAPRYLYLSILANE, SILICA, CITRONELLOL, GERANIOL, LIMONENE, BHT, HYDROXYCITRONELLAL, TOCOPHEROL [+/- TITANIUM DIOXIDE (CI 77891), IRON OXIDES (CI 77492), IRON OXIDES (CI 77491), IRON OXIDES (CI 77499)]

Foundation
WATER / AQUA / EAU, METHYL TRIMETHICONE, DIMETHICONE, PEG-10 DIMETHICONE, ALCOHOL DENAT., GLYCERIN, POLYMETHYLSILSESQUIOXANE, PROPANEDIOL, POLYMETHYL METHACRYLATE, TRIMETHYLSILOXYSILICATE, LAURYL PEG-10 TRIS(TRIMETHYLSILOXY)SILYLETHYL DIMETHICONE, TITANIUM DIOXIDE (NANO), TRISILOXANE, DIPHENYLSILOXY PHENYL TRIMETHICONE, CAPRYLYL METHICONE, ISODODECANE, DIPHENYL DIMETHICONE/VINYL DIPHENYL DIMETHICONE/SILSESQUIOXANE CROSSPOLYMER, LAURYL POLYGLYCERYL-3 POLYDIMETHYLSILOXYETHYL DIMETHICONE, SYNTHETIC FLUORPHLOGOPITE, ACRYLATES/POLYTRIMETHYLSILOXYMETHACRYLATE COPOLYMER, SODIUM CHLORIDE, DIMETHICONE CROSSPOLYMER, DISTEARDIMONIUM HECTORITE, 1,2-HEXANEDIOL, POLYETHYLENE, BORON NITRIDE, TRIETHOXYCAPRYLYLSILANE, ALUMINA, CAPRYLYL GLYCOL, LACTOBACILLUS FERMENT LYSATE, PANTHENOL, FRAGRANCE / PARFUM, GLYCERYL CAPRYLATE, BUTYLENE GLYCOL, LAUROYL LYSINE, DISODIUM EDTA, SIMETHICONE, SILICA, PEG-15/LAURYL DIMETHICONE CROSSPOLYMER, POLYQUATERNIUM-10, LACTIC ACID/GLYCOLIC ACID COPOLYMER, TOCOPHEROL, PROPYLENE CARBONATE, ALUMINUM HYDROXIDE [+/- TITANIUM DIOXIDE (CI 77891), IRON OXIDES (CI 77492), IRON OXIDES (CI 77491), IRON OXIDES (CI 77499)]
Cushion
WATER / AQUA / EAU, CYCLOPENTASILOXANE, METHYL TRIMETHICONE, ETHYLHEXYL METHOXYCINNAMATE, CAPRYLYL METHICONE, POLYMETHYL METHACRYLATE, PEG-10 DIMETHICONE, PROPANEDIOL, CYCLOHEXASILOXANE, ZINC OXIDE (NANO), TRIMETHYLSILOXYSILICATE, TITANIUM DIOXIDE (NANO), NYLON-12, LAURYL PEG-9 POLYDIMETHYLSILOXYETHYL DIMETHICONE, HDI/TRIMETHYLOL HEXYLLACTONE CROSSPOLYMER, DISTEARDIMONIUM HECTORITE, 1,2-HEXANEDIOL, ALUMINUM HYDROXIDE, SODIUM CHLORIDE, ACRYLATES/DIMETHICONE COPOLYMER, ISOPROPYL TITANIUM TRIISOSTEARATE, ACRYLATES/ETHYLHEXYL ACRYLATE/DIMETHICONE METHACRYLATE COPOLYMER, FRAGRANCE / PARFUM, CAPRYLYL GLYCOL, STEARIC ACID, BIS-PEG-15 DIMETHICONE/IPDI COPOLYMER, PEG-2 SOYAMINE, ETHYLHEXYLGLYCERIN, DISODIUM EDTA, TRIETHOXYCAPRYLYLSILANE, SILICA, CITRONELLOL, GERANIOL, LIMONENE, BHT, HYDROXYCITRONELLAL, TOCOPHEROL [+/- TITANIUM DIOXIDE (CI 77891), IRON OXIDES (CI 77492), IRON OXIDES (CI 77491), IRON OXIDES (CI 77499)]

Foundation
WATER / AQUA / EAU, METHYL TRIMETHICONE, DIMETHICONE, PEG-10 DIMETHICONE, ALCOHOL DENAT., GLYCERIN, POLYMETHYLSILSESQUIOXANE, PROPANEDIOL, POLYMETHYL METHACRYLATE, TRIMETHYLSILOXYSILICATE, LAURYL PEG-10 TRIS(TRIMETHYLSILOXY)SILYLETHYL DIMETHICONE, TITANIUM DIOXIDE (NANO), TRISILOXANE, DIPHENYLSILOXY PHENYL TRIMETHICONE, CAPRYLYL METHICONE, ISODODECANE, DIPHENYL DIMETHICONE/VINYL DIPHENYL DIMETHICONE/SILSESQUIOXANE CROSSPOLYMER, LAURYL POLYGLYCERYL-3 POLYDIMETHYLSILOXYETHYL DIMETHICONE, SYNTHETIC FLUORPHLOGOPITE, ACRYLATES/POLYTRIMETHYLSILOXYMETHACRYLATE COPOLYMER, SODIUM CHLORIDE, DIMETHICONE CROSSPOLYMER, DISTEARDIMONIUM HECTORITE, 1,2-HEXANEDIOL, POLYETHYLENE, BORON NITRIDE, TRIETHOXYCAPRYLYLSILANE, ALUMINA, CAPRYLYL GLYCOL, LACTOBACILLUS FERMENT LYSATE, PANTHENOL, FRAGRANCE / PARFUM, GLYCERYL CAPRYLATE, BUTYLENE GLYCOL, LAUROYL LYSINE, DISODIUM EDTA, SIMETHICONE, SILICA, PEG-15/LAURYL DIMETHICONE CROSSPOLYMER, POLYQUATERNIUM-10, LACTIC ACID/GLYCOLIC ACID COPOLYMER, TOCOPHEROL, PROPYLENE CARBONATE, ALUMINUM HYDROXIDE [+/- TITANIUM DIOXIDE (CI 77891), IRON OXIDES (CI 77492), IRON OXIDES (CI 77491), IRON OXIDES (CI 77499)]
Cushion
WATER / AQUA / EAU, CYCLOPENTASILOXANE, METHYL TRIMETHICONE, ETHYLHEXYL METHOXYCINNAMATE, CAPRYLYL METHICONE, POLYMETHYL METHACRYLATE, PEG-10 DIMETHICONE, PROPANEDIOL, CYCLOHEXASILOXANE, ZINC OXIDE (NANO), TRIMETHYLSILOXYSILICATE, TITANIUM DIOXIDE (NANO), NYLON-12, LAURYL PEG-9 POLYDIMETHYLSILOXYETHYL DIMETHICONE, HDI/TRIMETHYLOL HEXYLLACTONE CROSSPOLYMER, DISTEARDIMONIUM HECTORITE, 1,2-HEXANEDIOL, ALUMINUM HYDROXIDE, SODIUM CHLORIDE, ACRYLATES/DIMETHICONE COPOLYMER, ISOPROPYL TITANIUM TRIISOSTEARATE, ACRYLATES/ETHYLHEXYL ACRYLATE/DIMETHICONE METHACRYLATE COPOLYMER, FRAGRANCE / PARFUM, CAPRYLYL GLYCOL, STEARIC ACID, BIS-PEG-15 DIMETHICONE/IPDI COPOLYMER, PEG-2 SOYAMINE, ETHYLHEXYLGLYCERIN, DISODIUM EDTA, TRIETHOXYCAPRYLYLSILANE, SILICA, CITRONELLOL, GERANIOL, LIMONENE, BHT, HYDROXYCITRONELLAL, TOCOPHEROL [+/- TITANIUM DIOXIDE (CI 77891), IRON OXIDES (CI 77492), IRON OXIDES (CI 77491), IRON OXIDES (CI 77499)]

Foundation
WATER / AQUA / EAU, METHYL TRIMETHICONE, DIMETHICONE, PEG-10 DIMETHICONE, ALCOHOL DENAT., GLYCERIN, POLYMETHYLSILSESQUIOXANE, PROPANEDIOL, POLYMETHYL METHACRYLATE, TRIMETHYLSILOXYSILICATE, LAURYL PEG-10 TRIS(TRIMETHYLSILOXY)SILYLETHYL DIMETHICONE, TITANIUM DIOXIDE (NANO), TRISILOXANE, DIPHENYLSILOXY PHENYL TRIMETHICONE, CAPRYLYL METHICONE, ISODODECANE, DIPHENYL DIMETHICONE/VINYL DIPHENYL DIMETHICONE/SILSESQUIOXANE CROSSPOLYMER, LAURYL POLYGLYCERYL-3 POLYDIMETHYLSILOXYETHYL DIMETHICONE, SYNTHETIC FLUORPHLOGOPITE, ACRYLATES/POLYTRIMETHYLSILOXYMETHACRYLATE COPOLYMER, SODIUM CHLORIDE, DIMETHICONE CROSSPOLYMER, DISTEARDIMONIUM HECTORITE, 1,2-HEXANEDIOL, POLYETHYLENE, BORON NITRIDE, TRIETHOXYCAPRYLYLSILANE, ALUMINA, CAPRYLYL GLYCOL, LACTOBACILLUS FERMENT LYSATE, PANTHENOL, FRAGRANCE / PARFUM, GLYCERYL CAPRYLATE, BUTYLENE GLYCOL, LAUROYL LYSINE, DISODIUM EDTA, SIMETHICONE, SILICA, PEG-15/LAURYL DIMETHICONE CROSSPOLYMER, POLYQUATERNIUM-10, LACTIC ACID/GLYCOLIC ACID COPOLYMER, TOCOPHEROL, PROPYLENE CARBONATE, ALUMINUM HYDROXIDE [+/- TITANIUM DIOXIDE (CI 77891), IRON OXIDES (CI 77492), IRON OXIDES (CI 77491), IRON OXIDES (CI 77499)]

Cushion
WATER / AQUA / EAU, CYCLOPENTASILOXANE, METHYL TRIMETHICONE, ETHYLHEXYL METHOXYCINNAMATE, CAPRYLYL METHICONE, POLYMETHYL METHACRYLATE, PEG-10 DIMETHICONE, PROPANEDIOL, CYCLOHEXASILOXANE, ZINC OXIDE (NANO), TRIMETHYLSILOXYSILICATE, TITANIUM DIOXIDE (NANO), NYLON-12, LAURYL PEG-9 POLYDIMETHYLSILOXYETHYL DIMETHICONE, HDI/TRIMETHYLOL HEXYLLACTONE CROSSPOLYMER, DISTEARDIMONIUM HECTORITE, 1,2-HEXANEDIOL, ALUMINUM HYDROXIDE, SODIUM CHLORIDE, ACRYLATES/DIMETHICONE COPOLYMER, ISOPROPYL TITANIUM TRIISOSTEARATE, ACRYLATES/ETHYLHEXYL ACRYLATE/DIMETHICONE METHACRYLATE COPOLYMER, FRAGRANCE / PARFUM, CAPRYLYL GLYCOL, STEARIC ACID, BIS-PEG-15 DIMETHICONE/IPDI COPOLYMER, PEG-2 SOYAMINE, ETHYLHEXYLGLYCERIN, DISODIUM EDTA, TRIETHOXYCAPRYLYLSILANE, SILICA, CITRONELLOL, GERANIOL, LIMONENE, BHT, HYDROXYCITRONELLAL, TOCOPHEROL [+/- TITANIUM DIOXIDE (CI 77891), IRON OXIDES (CI 77492), IRON OXIDES (CI 77491), IRON OXIDES (CI 77499)]

Foundation
WATER / AQUA / EAU, METHYL TRIMETHICONE, DIMETHICONE, PEG-10 DIMETHICONE, ALCOHOL DENAT. , POLYMETHYL METHACRYLATE, GLYCERIN, POLYMETHYLSILSESQUIOXANE, PROPANEDIOL, TRIMETHYLSILOXYSILICATE, LAURYL PEG-10 TRIS(TRIMETHYLSILOXY)SILYLETHYL DIMETHICONE, TITANIUM DIOXIDE (NANO), TRISILOXANE, DIPHENYLSILOXY PHENYL TRIMETHICONE, CAPRYLYL METHICONE, ISODODECANE, DIPHENYL DIMETHICONE/VINYL DIPHENYL DIMETHICONE/SILSESQUIOXANE CROSSPOLYMER, LAURYL POLYGLYCERYL-3 POLYDIMETHYLSILOXYETHYL DIMETHICONE, SYNTHETIC FLUORPHLOGOPITE, ACRYLATES/POLYTRIMETHYLSILOXYMETHACRYLATE COPOLYMER, SODIUM CHLORIDE, DIMETHICONE CROSSPOLYMER, DISTEARDIMONIUM HECTORITE, 1,2-HEXANEDIOL, POLYETHYLENE, BORON NITRIDE, TRIETHOXYCAPRYLYLSILANE, ALUMINA, CAPRYLYL GLYCOL, LACTOBACILLUS FERMENT LYSATE, PANTHENOL, FRAGRANCE / PARFUM, GLYCERYL CAPRYLATE, BUTYLENE GLYCOL, LAUROYL LYSINE, DISODIUM EDTA, SIMETHICONE, SILICA, PEG-15/LAURYL DIMETHICONE CROSSPOLYMER, POLYQUATERNIUM-10, LACTIC ACID/GLYCOLIC ACID COPOLYMER, TOCOPHEROL, PROPYLENE CARBONATE, ALUMINUM HYDROXIDE [+/- TITANIUM DIOXIDE (CI 77891), IRON OXIDES (CI 77492), IRON OXIDES (CI 77491), IRON OXIDES (CI 77499)]

Cushion
WATER / AQUA / EAU, CYCLOPENTASILOXANE, METHYL TRIMETHICONE, ETHYLHEXYL METHOXYCINNAMATE, CAPRYLYL METHICONE, POLYMETHYL METHACRYLATE, PEG-10 DIMETHICONE, PROPANEDIOL, CYCLOHEXASILOXANE, ZINC OXIDE (NANO), TRIMETHYLSILOXYSILICATE, TITANIUM DIOXIDE (NANO), NYLON-12, LAURYL PEG-9 POLYDIMETHYLSILOXYETHYL DIMETHICONE, HDI/TRIMETHYLOL HEXYLLACTONE CROSSPOLYMER, DISTEARDIMONIUM HECTORITE, 1,2-HEXANEDIOL, ALUMINUM HYDROXIDE, SODIUM CHLORIDE, ACRYLATES/DIMETHICONE COPOLYMER, ISOPROPYL TITANIUM TRIISOSTEARATE, ACRYLATES/ETHYLHEXYL ACRYLATE/DIMETHICONE METHACRYLATE COPOLYMER, FRAGRANCE / PARFUM, CAPRYLYL GLYCOL, STEARIC ACID, BIS-PEG-15 DIMETHICONE/IPDI COPOLYMER, PEG-2 SOYAMINE, ETHYLHEXYLGLYCERIN, DISODIUM EDTA, TRIETHOXYCAPRYLYLSILANE, SILICA, CITRONELLOL, GERANIOL, LIMONENE, BHT, HYDROXYCITRONELLAL, TOCOPHEROL [+/- TITANIUM DIOXIDE (CI 77891), IRON OXIDES (CI 77492), IRON OXIDES (CI 77491), IRON OXIDES (CI 77499)]

Foundation
WATER / AQUA / EAU, METHYL TRIMETHICONE, DIMETHICONE, PEG-10 DIMETHICONE, ALCOHOL DENAT. , POLYMETHYL METHACRYLATE, GLYCERIN, POLYMETHYLSILSESQUIOXANE, PROPANEDIOL, TRIMETHYLSILOXYSILICATE, LAURYL PEG-10 TRIS(TRIMETHYLSILOXY)SILYLETHYL DIMETHICONE, TITANIUM DIOXIDE (NANO), TRISILOXANE, DIPHENYLSILOXY PHENYL TRIMETHICONE, CAPRYLYL METHICONE, ISODODECANE, DIPHENYL DIMETHICONE/VINYL DIPHENYL DIMETHICONE/SILSESQUIOXANE CROSSPOLYMER, LAURYL POLYGLYCERYL-3 POLYDIMETHYLSILOXYETHYL DIMETHICONE, SYNTHETIC FLUORPHLOGOPITE, ACRYLATES/POLYTRIMETHYLSILOXYMETHACRYLATE COPOLYMER, SODIUM CHLORIDE, DIMETHICONE CROSSPOLYMER, DISTEARDIMONIUM HECTORITE, 1,2-HEXANEDIOL, POLYETHYLENE, BORON NITRIDE, TRIETHOXYCAPRYLYLSILANE, ALUMINA, CAPRYLYL GLYCOL, LACTOBACILLUS FERMENT LYSATE, PANTHENOL, FRAGRANCE / PARFUM, GLYCERYL CAPRYLATE, BUTYLENE GLYCOL, LAUROYL LYSINE, DISODIUM EDTA, SIMETHICONE, SILICA, PEG-15/LAURYL DIMETHICONE CROSSPOLYMER, POLYQUATERNIUM-10, LACTIC ACID/GLYCOLIC ACID COPOLYMER, TOCOPHEROL, PROPYLENE CARBONATE, ALUMINUM HYDROXIDE [+/- TITANIUM DIOXIDE (CI 77891), IRON OXIDES (CI 77492), IRON OXIDES (CI 77491), IRON OXIDES (CI 77499)]
Cushion
WATER / AQUA / EAU, CYCLOPENTASILOXANE, METHYL TRIMETHICONE, ETHYLHEXYL METHOXYCINNAMATE, CAPRYLYL METHICONE, POLYMETHYL METHACRYLATE, PEG-10 DIMETHICONE, PROPANEDIOL, CYCLOHEXASILOXANE, ZINC OXIDE (NANO), TRIMETHYLSILOXYSILICATE, TITANIUM DIOXIDE (NANO), NYLON-12, LAURYL PEG-9 POLYDIMETHYLSILOXYETHYL DIMETHICONE, HDI/TRIMETHYLOL HEXYLLACTONE CROSSPOLYMER, DISTEARDIMONIUM HECTORITE, 1,2-HEXANEDIOL, ALUMINUM HYDROXIDE, SODIUM CHLORIDE, ACRYLATES/DIMETHICONE COPOLYMER, ISOPROPYL TITANIUM TRIISOSTEARATE, ACRYLATES/ETHYLHEXYL ACRYLATE/DIMETHICONE METHACRYLATE COPOLYMER, FRAGRANCE / PARFUM, CAPRYLYL GLYCOL, STEARIC ACID, BIS-PEG-15 DIMETHICONE/IPDI COPOLYMER, PEG-2 SOYAMINE, ETHYLHEXYLGLYCERIN, DISODIUM EDTA, TRIETHOXYCAPRYLYLSILANE, SILICA, CITRONELLOL, GERANIOL, LIMONENE, BHT, HYDROXYCITRONELLAL, TOCOPHEROL [+/- TITANIUM DIOXIDE (CI 77891), IRON OXIDES (CI 77492), IRON OXIDES (CI 77491), IRON OXIDES (CI 77499)]

Foundation
WATER / AQUA / EAU, METHYL TRIMETHICONE, DIMETHICONE, PEG-10 DIMETHICONE, ALCOHOL DENAT., GLYCERIN, POLYMETHYLSILSESQUIOXANE, PROPANEDIOL, POLYMETHYL METHACRYLATE, TRIMETHYLSILOXYSILICATE, LAURYL PEG-10 TRIS(TRIMETHYLSILOXY)SILYLETHYL DIMETHICONE, TITANIUM DIOXIDE (NANO), TRISILOXANE, DIPHENYLSILOXY PHENYL TRIMETHICONE, CAPRYLYL METHICONE, ISODODECANE, DIPHENYL DIMETHICONE/VINYL DIPHENYL DIMETHICONE/SILSESQUIOXANE CROSSPOLYMER, LAURYL POLYGLYCERYL-3 POLYDIMETHYLSILOXYETHYL DIMETHICONE, SYNTHETIC FLUORPHLOGOPITE, ACRYLATES/POLYTRIMETHYLSILOXYMETHACRYLATE COPOLYMER, SODIUM CHLORIDE, DIMETHICONE CROSSPOLYMER, DISTEARDIMONIUM HECTORITE, 1,2-HEXANEDIOL, POLYETHYLENE, BORON NITRIDE, TRIETHOXYCAPRYLYLSILANE, ALUMINA, CAPRYLYL GLYCOL, LACTOBACILLUS FERMENT LYSATE, PANTHENOL, FRAGRANCE / PARFUM, GLYCERYL CAPRYLATE, BUTYLENE GLYCOL, LAUROYL LYSINE, DISODIUM EDTA, SIMETHICONE, SILICA, PEG-15/LAURYL DIMETHICONE CROSSPOLYMER, POLYQUATERNIUM-10, LACTIC ACID/GLYCOLIC ACID COPOLYMER, TOCOPHEROL, PROPYLENE CARBONATE, ALUMINUM HYDROXIDE [+/- TITANIUM DIOXIDE (CI 77891), IRON OXIDES (CI 77492), IRON OXIDES (CI 77491), IRON OXIDES (CI 77499)]
Cushion
WATER / AQUA / EAU, CYCLOPENTASILOXANE, METHYL TRIMETHICONE, ETHYLHEXYL METHOXYCINNAMATE, CAPRYLYL METHICONE, POLYMETHYL METHACRYLATE, PEG-10 DIMETHICONE, PROPANEDIOL, CYCLOHEXASILOXANE, ZINC OXIDE (NANO), TRIMETHYLSILOXYSILICATE, TITANIUM DIOXIDE (NANO), NYLON-12, LAURYL PEG-9 POLYDIMETHYLSILOXYETHYL DIMETHICONE, HDI/TRIMETHYLOL HEXYLLACTONE CROSSPOLYMER, DISTEARDIMONIUM HECTORITE, 1,2-HEXANEDIOL, ALUMINUM HYDROXIDE, SODIUM CHLORIDE, ACRYLATES/DIMETHICONE COPOLYMER, ISOPROPYL TITANIUM TRIISOSTEARATE, ACRYLATES/ETHYLHEXYL ACRYLATE/DIMETHICONE METHACRYLATE COPOLYMER, FRAGRANCE / PARFUM, CAPRYLYL GLYCOL, STEARIC ACID, BIS-PEG-15 DIMETHICONE/IPDI COPOLYMER, PEG-2 SOYAMINE, ETHYLHEXYLGLYCERIN, DISODIUM EDTA, TRIETHOXYCAPRYLYLSILANE, SILICA, CITRONELLOL, GERANIOL, LIMONENE, BHT, HYDROXYCITRONELLAL, TOCOPHEROL [+/- TITANIUM DIOXIDE (CI 77891), IRON OXIDES (CI 77492), IRON OXIDES (CI 77491), IRON OXIDES (CI 77499)]

Foundation
WATER / AQUA / EAU, METHYL TRIMETHICONE, DIMETHICONE, PEG-10 DIMETHICONE, ALCOHOL DENAT., GLYCERIN, POLYMETHYLSILSESQUIOXANE, PROPANEDIOL, POLYMETHYL METHACRYLATE, TRIMETHYLSILOXYSILICATE, LAURYL PEG-10 TRIS(TRIMETHYLSILOXY)SILYLETHYL DIMETHICONE, TITANIUM DIOXIDE (NANO), TRISILOXANE, DIPHENYLSILOXY PHENYL TRIMETHICONE, CAPRYLYL METHICONE, ISODODECANE, DIPHENYL DIMETHICONE/VINYL DIPHENYL DIMETHICONE/SILSESQUIOXANE CROSSPOLYMER, LAURYL POLYGLYCERYL-3 POLYDIMETHYLSILOXYETHYL DIMETHICONE, SYNTHETIC FLUORPHLOGOPITE, ACRYLATES/POLYTRIMETHYLSILOXYMETHACRYLATE COPOLYMER, SODIUM CHLORIDE, DIMETHICONE CROSSPOLYMER, DISTEARDIMONIUM HECTORITE, 1,2-HEXANEDIOL, POLYETHYLENE, BORON NITRIDE, TRIETHOXYCAPRYLYLSILANE, ALUMINA, CAPRYLYL GLYCOL, LACTOBACILLUS FERMENT LYSATE, PANTHENOL, FRAGRANCE / PARFUM, GLYCERYL CAPRYLATE, BUTYLENE GLYCOL, LAUROYL LYSINE, DISODIUM EDTA, SIMETHICONE, SILICA, PEG-15/LAURYL DIMETHICONE CROSSPOLYMER, POLYQUATERNIUM-10, LACTIC ACID/GLYCOLIC ACID COPOLYMER, TOCOPHEROL, PROPYLENE CARBONATE, ALUMINUM HYDROXIDE [+/- TITANIUM DIOXIDE (CI 77891), IRON OXIDES (CI 77492), IRON OXIDES (CI 77491), IRON OXIDES (CI 77499)]
Cushion
WATER / AQUA / EAU, CYCLOPENTASILOXANE, METHYL TRIMETHICONE, ETHYLHEXYL METHOXYCINNAMATE, CAPRYLYL METHICONE, POLYMETHYL METHACRYLATE, PEG-10 DIMETHICONE, PROPANEDIOL, CYCLOHEXASILOXANE, ZINC OXIDE (NANO), TRIMETHYLSILOXYSILICATE, TITANIUM DIOXIDE (NANO), NYLON-12, LAURYL PEG-9 POLYDIMETHYLSILOXYETHYL DIMETHICONE, HDI/TRIMETHYLOL HEXYLLACTONE CROSSPOLYMER, DISTEARDIMONIUM HECTORITE, 1,2-HEXANEDIOL, ALUMINUM HYDROXIDE, SODIUM CHLORIDE, ACRYLATES/DIMETHICONE COPOLYMER, ISOPROPYL TITANIUM TRIISOSTEARATE, ACRYLATES/ETHYLHEXYL ACRYLATE/DIMETHICONE METHACRYLATE COPOLYMER, FRAGRANCE / PARFUM, CAPRYLYL GLYCOL, STEARIC ACID, BIS-PEG-15 DIMETHICONE/IPDI COPOLYMER, PEG-2 SOYAMINE, ETHYLHEXYLGLYCERIN, DISODIUM EDTA, TRIETHOXYCAPRYLYLSILANE, SILICA, CITRONELLOL, GERANIOL, LIMONENE, BHT, HYDROXYCITRONELLAL, TOCOPHEROL [+/- TITANIUM DIOXIDE (CI 77891), IRON OXIDES (CI 77492), IRON OXIDES (CI 77491), IRON OXIDES (CI 77499)]

Foundation
WATER / AQUA / EAU, METHYL TRIMETHICONE, DIMETHICONE, PEG-10 DIMETHICONE, ALCOHOL DENAT., GLYCERIN, POLYMETHYLSILSESQUIOXANE, PROPANEDIOL, TRIMETHYLSILOXYSILICATE, POLYMETHYL METHACRYLATE, LAURYL PEG-10 TRIS(TRIMETHYLSILOXY)SILYLETHYL DIMETHICONE, TITANIUM DIOXIDE (NANO), TRISILOXANE, DIPHENYLSILOXY PHENYL TRIMETHICONE, CAPRYLYL METHICONE, ISODODECANE, DIPHENYL DIMETHICONE/VINYL DIPHENYL DIMETHICONE/SILSESQUIOXANE CROSSPOLYMER, LAURYL POLYGLYCERYL-3 POLYDIMETHYLSILOXYETHYL DIMETHICONE, SYNTHETIC FLUORPHLOGOPITE, ACRYLATES/POLYTRIMETHYLSILOXYMETHACRYLATE COPOLYMER, SODIUM CHLORIDE, DIMETHICONE CROSSPOLYMER, DISTEARDIMONIUM HECTORITE, 1,2-HEXANEDIOL, POLYETHYLENE, BORON NITRIDE, TRIETHOXYCAPRYLYLSILANE, ALUMINA, CAPRYLYL GLYCOL, LACTOBACILLUS FERMENT LYSATE, PANTHENOL, FRAGRANCE / PARFUM, GLYCERYL CAPRYLATE, BUTYLENE GLYCOL, LAUROYL LYSINE, DISODIUM EDTA, SIMETHICONE, SILICA, PEG-15/LAURYL DIMETHICONE CROSSPOLYMER, POLYQUATERNIUM-10, LACTIC ACID/GLYCOLIC ACID COPOLYMER, TOCOPHEROL, PROPYLENE CARBONATE, ALUMINUM HYDROXIDE [+/- TITANIUM DIOXIDE (CI 77891), IRON OXIDES (CI 77492), IRON OXIDES (CI 77491), IRON OXIDES (CI 77499)]
Cushion
WATER / AQUA / EAU, CYCLOPENTASILOXANE, METHYL TRIMETHICONE, ETHYLHEXYL METHOXYCINNAMATE, CAPRYLYL METHICONE, POLYMETHYL METHACRYLATE, PEG-10 DIMETHICONE, PROPANEDIOL, CYCLOHEXASILOXANE, ZINC OXIDE (NANO), TRIMETHYLSILOXYSILICATE, TITANIUM DIOXIDE (NANO), NYLON-12, LAURYL PEG-9 POLYDIMETHYLSILOXYETHYL DIMETHICONE, HDI/TRIMETHYLOL HEXYLLACTONE CROSSPOLYMER, DISTEARDIMONIUM HECTORITE, 1,2-HEXANEDIOL, ALUMINUM HYDROXIDE, SODIUM CHLORIDE, ACRYLATES/DIMETHICONE COPOLYMER, ISOPROPYL TITANIUM TRIISOSTEARATE, ACRYLATES/ETHYLHEXYL ACRYLATE/DIMETHICONE METHACRYLATE COPOLYMER, FRAGRANCE / PARFUM, CAPRYLYL GLYCOL, STEARIC ACID, BIS-PEG-15 DIMETHICONE/IPDI COPOLYMER, PEG-2 SOYAMINE, ETHYLHEXYLGLYCERIN, DISODIUM EDTA, TRIETHOXYCAPRYLYLSILANE, SILICA, CITRONELLOL, GERANIOL, LIMONENE, BHT, HYDROXYCITRONELLAL, TOCOPHEROL [+/- TITANIUM DIOXIDE (CI 77891), IRON OXIDES (CI 77492), IRON OXIDES (CI 77491), IRON OXIDES (CI 77499)]

Foundation
WATER / AQUA / EAU, METHYL TRIMETHICONE, DIMETHICONE, PEG-10 DIMETHICONE, ALCOHOL DENAT. , POLYMETHYL METHACRYLATE, GLYCERIN, POLYMETHYLSILSESQUIOXANE, PROPANEDIOL, TRIMETHYLSILOXYSILICATE, LAURYL PEG-10 TRIS(TRIMETHYLSILOXY)SILYLETHYL DIMETHICONE, TITANIUM DIOXIDE (NANO), TRISILOXANE, DIPHENYLSILOXY PHENYL TRIMETHICONE, CAPRYLYL METHICONE, ISODODECANE, DIPHENYL DIMETHICONE/VINYL DIPHENYL DIMETHICONE/SILSESQUIOXANE CROSSPOLYMER, LAURYL POLYGLYCERYL-3 POLYDIMETHYLSILOXYETHYL DIMETHICONE, SYNTHETIC FLUORPHLOGOPITE, ACRYLATES/POLYTRIMETHYLSILOXYMETHACRYLATE COPOLYMER, SODIUM CHLORIDE, DIMETHICONE CROSSPOLYMER, DISTEARDIMONIUM HECTORITE, 1,2-HEXANEDIOL, POLYETHYLENE, BORON NITRIDE, TRIETHOXYCAPRYLYLSILANE, ALUMINA, CAPRYLYL GLYCOL, LACTOBACILLUS FERMENT LYSATE, PANTHENOL, FRAGRANCE / PARFUM, GLYCERYL CAPRYLATE, BUTYLENE GLYCOL, LAUROYL LYSINE, DISODIUM EDTA, SIMETHICONE, SILICA, PEG-15/LAURYL DIMETHICONE CROSSPOLYMER, POLYQUATERNIUM-10, LACTIC ACID/GLYCOLIC ACID COPOLYMER, TOCOPHEROL, PROPYLENE CARBONATE, ALUMINUM HYDROXIDE [+/- TITANIUM DIOXIDE (CI 77891), IRON OXIDES (CI 77492), IRON OXIDES (CI 77491), IRON OXIDES (CI 77499)]

Cushion
WATER / AQUA / EAU, CYCLOPENTASILOXANE, METHYL TRIMETHICONE, ETHYLHEXYL METHOXYCINNAMATE, CAPRYLYL METHICONE, POLYMETHYL METHACRYLATE, PEG-10 DIMETHICONE, PROPANEDIOL, CYCLOHEXASILOXANE, ZINC OXIDE (NANO), TRIMETHYLSILOXYSILICATE, TITANIUM DIOXIDE (NANO), NYLON-12, LAURYL PEG-9 POLYDIMETHYLSILOXYETHYL DIMETHICONE, HDI/TRIMETHYLOL HEXYLLACTONE CROSSPOLYMER, DISTEARDIMONIUM HECTORITE, 1,2-HEXANEDIOL, ALUMINUM HYDROXIDE, SODIUM CHLORIDE, ACRYLATES/DIMETHICONE COPOLYMER, ISOPROPYL TITANIUM TRIISOSTEARATE, ACRYLATES/ETHYLHEXYL ACRYLATE/DIMETHICONE METHACRYLATE COPOLYMER, FRAGRANCE / PARFUM, CAPRYLYL GLYCOL, STEARIC ACID, BIS-PEG-15 DIMETHICONE/IPDI COPOLYMER, PEG-2 SOYAMINE, ETHYLHEXYLGLYCERIN, DISODIUM EDTA, TRIETHOXYCAPRYLYLSILANE, SILICA, CITRONELLOL, GERANIOL, LIMONENE, BHT, HYDROXYCITRONELLAL, TOCOPHEROL [+/- TITANIUM DIOXIDE (CI 77891), IRON OXIDES (CI 77492), IRON OXIDES (CI 77491), IRON OXIDES (CI 77499)]

Foundation
WATER / AQUA / EAU, METHYL TRIMETHICONE, DIMETHICONE, PEG-10 DIMETHICONE, ALCOHOL DENAT. , POLYMETHYL METHACRYLATE, GLYCERIN, POLYMETHYLSILSESQUIOXANE, PROPANEDIOL, TRIMETHYLSILOXYSILICATE, LAURYL PEG-10 TRIS(TRIMETHYLSILOXY)SILYLETHYL DIMETHICONE, TITANIUM DIOXIDE (NANO), TRISILOXANE, DIPHENYLSILOXY PHENYL TRIMETHICONE, CAPRYLYL METHICONE, ISODODECANE, DIPHENYL DIMETHICONE/VINYL DIPHENYL DIMETHICONE/SILSESQUIOXANE CROSSPOLYMER, LAURYL POLYGLYCERYL-3 POLYDIMETHYLSILOXYETHYL DIMETHICONE, SYNTHETIC FLUORPHLOGOPITE, ACRYLATES/POLYTRIMETHYLSILOXYMETHACRYLATE COPOLYMER, SODIUM CHLORIDE, DIMETHICONE CROSSPOLYMER, DISTEARDIMONIUM HECTORITE, 1,2-HEXANEDIOL, POLYETHYLENE, BORON NITRIDE, TRIETHOXYCAPRYLYLSILANE, ALUMINA, CAPRYLYL GLYCOL, LACTOBACILLUS FERMENT LYSATE, PANTHENOL, FRAGRANCE / PARFUM, GLYCERYL CAPRYLATE, BUTYLENE GLYCOL, LAUROYL LYSINE, DISODIUM EDTA, SIMETHICONE, SILICA, PEG-15/LAURYL DIMETHICONE CROSSPOLYMER, POLYQUATERNIUM-10, LACTIC ACID/GLYCOLIC ACID COPOLYMER, TOCOPHEROL, PROPYLENE CARBONATE, ALUMINUM HYDROXIDE [+/- TITANIUM DIOXIDE (CI 77891), IRON OXIDES (CI 77492), IRON OXIDES (CI 77491), IRON OXIDES (CI 77499)]
Cushion
WATER / AQUA / EAU, CYCLOPENTASILOXANE, METHYL TRIMETHICONE, ETHYLHEXYL METHOXYCINNAMATE, CAPRYLYL METHICONE, POLYMETHYL METHACRYLATE, PEG-10 DIMETHICONE, PROPANEDIOL, CYCLOHEXASILOXANE, ZINC OXIDE (NANO), TRIMETHYLSILOXYSILICATE, TITANIUM DIOXIDE (NANO), NYLON-12, LAURYL PEG-9 POLYDIMETHYLSILOXYETHYL DIMETHICONE, HDI/TRIMETHYLOL HEXYLLACTONE CROSSPOLYMER, DISTEARDIMONIUM HECTORITE, 1,2-HEXANEDIOL, ALUMINUM HYDROXIDE, SODIUM CHLORIDE, ACRYLATES/DIMETHICONE COPOLYMER, ISOPROPYL TITANIUM TRIISOSTEARATE, ACRYLATES/ETHYLHEXYL ACRYLATE/DIMETHICONE METHACRYLATE COPOLYMER, FRAGRANCE / PARFUM, CAPRYLYL GLYCOL, STEARIC ACID, BIS-PEG-15 DIMETHICONE/IPDI COPOLYMER, PEG-2 SOYAMINE, ETHYLHEXYLGLYCERIN, DISODIUM EDTA, TRIETHOXYCAPRYLYLSILANE, SILICA, CITRONELLOL, GERANIOL, LIMONENE, BHT, HYDROXYCITRONELLAL, TOCOPHEROL [+/- TITANIUM DIOXIDE (CI 77891), IRON OXIDES (CI 77492), IRON OXIDES (CI 77491), IRON OXIDES (CI 77499)]

Foundation
WATER / AQUA / EAU, METHYL TRIMETHICONE, DIMETHICONE, PEG-10 DIMETHICONE, ALCOHOL DENAT., GLYCERIN, POLYMETHYLSILSESQUIOXANE, PROPANEDIOL, POLYMETHYL METHACRYLATE, TRIMETHYLSILOXYSILICATE, LAURYL PEG-10 TRIS(TRIMETHYLSILOXY)SILYLETHYL DIMETHICONE, TITANIUM DIOXIDE (NANO), TRISILOXANE, DIPHENYLSILOXY PHENYL TRIMETHICONE, CAPRYLYL METHICONE, ISODODECANE, DIPHENYL DIMETHICONE/VINYL DIPHENYL DIMETHICONE/SILSESQUIOXANE CROSSPOLYMER, LAURYL POLYGLYCERYL-3 POLYDIMETHYLSILOXYETHYL DIMETHICONE, SYNTHETIC FLUORPHLOGOPITE, ACRYLATES/POLYTRIMETHYLSILOXYMETHACRYLATE COPOLYMER, SODIUM CHLORIDE, DIMETHICONE CROSSPOLYMER, DISTEARDIMONIUM HECTORITE, 1,2-HEXANEDIOL, POLYETHYLENE, BORON NITRIDE, TRIETHOXYCAPRYLYLSILANE, ALUMINA, CAPRYLYL GLYCOL, LACTOBACILLUS FERMENT LYSATE, PANTHENOL, FRAGRANCE / PARFUM, GLYCERYL CAPRYLATE, BUTYLENE GLYCOL, LAUROYL LYSINE, DISODIUM EDTA, SIMETHICONE, SILICA, PEG-15/LAURYL DIMETHICONE CROSSPOLYMER, POLYQUATERNIUM-10, LACTIC ACID/GLYCOLIC ACID COPOLYMER, TOCOPHEROL, PROPYLENE CARBONATE, ALUMINUM HYDROXIDE [+/- TITANIUM DIOXIDE (CI 77891), IRON OXIDES (CI 77492), IRON OXIDES (CI 77491), IRON OXIDES (CI 77499)]

Cushion
WATER / AQUA / EAU, CYCLOPENTASILOXANE, METHYL TRIMETHICONE, ETHYLHEXYL METHOXYCINNAMATE, CAPRYLYL METHICONE, POLYMETHYL METHACRYLATE, PEG-10 DIMETHICONE, PROPANEDIOL, CYCLOHEXASILOXANE, ZINC OXIDE (NANO), TRIMETHYLSILOXYSILICATE, TITANIUM DIOXIDE (NANO), NYLON-12, LAURYL PEG-9 POLYDIMETHYLSILOXYETHYL DIMETHICONE, HDI/TRIMETHYLOL HEXYLLACTONE CROSSPOLYMER, DISTEARDIMONIUM HECTORITE, 1,2-HEXANEDIOL, ALUMINUM HYDROXIDE, SODIUM CHLORIDE, ACRYLATES/DIMETHICONE COPOLYMER, ISOPROPYL TITANIUM TRIISOSTEARATE, ACRYLATES/ETHYLHEXYL ACRYLATE/DIMETHICONE METHACRYLATE COPOLYMER, FRAGRANCE / PARFUM, CAPRYLYL GLYCOL, STEARIC ACID, BIS-PEG-15 DIMETHICONE/IPDI COPOLYMER, PEG-2 SOYAMINE, ETHYLHEXYLGLYCERIN, DISODIUM EDTA, TRIETHOXYCAPRYLYLSILANE, SILICA, CITRONELLOL, GERANIOL, LIMONENE, BHT, HYDROXYCITRONELLAL, TOCOPHEROL [+/- TITANIUM DIOXIDE (CI 77891), IRON OXIDES (CI 77492), IRON OXIDES (CI 77491), IRON OXIDES (CI 77499)]

Foundation
WATER / AQUA / EAU, METHYL TRIMETHICONE, DIMETHICONE, PEG-10 DIMETHICONE, ALCOHOL DENAT., GLYCERIN, POLYMETHYLSILSESQUIOXANE, PROPANEDIOL, POLYMETHYL METHACRYLATE, TRIMETHYLSILOXYSILICATE, LAURYL PEG-10 TRIS(TRIMETHYLSILOXY)SILYLETHYL DIMETHICONE, TITANIUM DIOXIDE (NANO), TRISILOXANE, DIPHENYLSILOXY PHENYL TRIMETHICONE, CAPRYLYL METHICONE, ISODODECANE, DIPHENYL DIMETHICONE/VINYL DIPHENYL DIMETHICONE/SILSESQUIOXANE CROSSPOLYMER, LAURYL POLYGLYCERYL-3 POLYDIMETHYLSILOXYETHYL DIMETHICONE, SYNTHETIC FLUORPHLOGOPITE, ACRYLATES/POLYTRIMETHYLSILOXYMETHACRYLATE COPOLYMER, SODIUM CHLORIDE, DIMETHICONE CROSSPOLYMER, DISTEARDIMONIUM HECTORITE, 1,2-HEXANEDIOL, POLYETHYLENE, BORON NITRIDE, TRIETHOXYCAPRYLYLSILANE, ALUMINA, CAPRYLYL GLYCOL, LACTOBACILLUS FERMENT LYSATE, PANTHENOL, FRAGRANCE / PARFUM, GLYCERYL CAPRYLATE, BUTYLENE GLYCOL, LAUROYL LYSINE, DISODIUM EDTA, SIMETHICONE, SILICA, PEG-15/LAURYL DIMETHICONE CROSSPOLYMER, POLYQUATERNIUM-10, LACTIC ACID/GLYCOLIC ACID COPOLYMER, TOCOPHEROL, PROPYLENE CARBONATE, ALUMINUM HYDROXIDE [+/- TITANIUM DIOXIDE (CI 77891), IRON OXIDES (CI 77492), IRON OXIDES (CI 77491), IRON OXIDES (CI 77499)]
Cushion
WATER / AQUA / EAU, CYCLOPENTASILOXANE, METHYL TRIMETHICONE, ETHYLHEXYL METHOXYCINNAMATE, CAPRYLYL METHICONE, POLYMETHYL METHACRYLATE, PEG-10 DIMETHICONE, PROPANEDIOL, CYCLOHEXASILOXANE, ZINC OXIDE (NANO), TRIMETHYLSILOXYSILICATE, TITANIUM DIOXIDE (NANO), NYLON-12, LAURYL PEG-9 POLYDIMETHYLSILOXYETHYL DIMETHICONE, HDI/TRIMETHYLOL HEXYLLACTONE CROSSPOLYMER, DISTEARDIMONIUM HECTORITE, 1,2-HEXANEDIOL, ALUMINUM HYDROXIDE, SODIUM CHLORIDE, ACRYLATES/DIMETHICONE COPOLYMER, ISOPROPYL TITANIUM TRIISOSTEARATE, ACRYLATES/ETHYLHEXYL ACRYLATE/DIMETHICONE METHACRYLATE COPOLYMER, FRAGRANCE / PARFUM, CAPRYLYL GLYCOL, STEARIC ACID, BIS-PEG-15 DIMETHICONE/IPDI COPOLYMER, PEG-2 SOYAMINE, ETHYLHEXYLGLYCERIN, DISODIUM EDTA, TRIETHOXYCAPRYLYLSILANE, SILICA, CITRONELLOL, GERANIOL, LIMONENE, BHT, HYDROXYCITRONELLAL, TOCOPHEROL [+/- TITANIUM DIOXIDE (CI 77891), IRON OXIDES (CI 77492), IRON OXIDES (CI 77491), IRON OXIDES (CI 77499)]

Foundation
WATER / AQUA / EAU, METHYL TRIMETHICONE, DIMETHICONE, PEG-10 DIMETHICONE, ALCOHOL DENAT., GLYCERIN, POLYMETHYLSILSESQUIOXANE, PROPANEDIOL, TRIMETHYLSILOXYSILICATE, POLYMETHYL METHACRYLATE, LAURYL PEG-10 TRIS(TRIMETHYLSILOXY)SILYLETHYL DIMETHICONE, TITANIUM DIOXIDE (NANO), TRISILOXANE, DIPHENYLSILOXY PHENYL TRIMETHICONE, CAPRYLYL METHICONE, ISODODECANE, DIPHENYL DIMETHICONE/VINYL DIPHENYL DIMETHICONE/SILSESQUIOXANE CROSSPOLYMER, LAURYL POLYGLYCERYL-3 POLYDIMETHYLSILOXYETHYL DIMETHICONE, SYNTHETIC FLUORPHLOGOPITE, ACRYLATES/POLYTRIMETHYLSILOXYMETHACRYLATE COPOLYMER, SODIUM CHLORIDE, DIMETHICONE CROSSPOLYMER, DISTEARDIMONIUM HECTORITE, 1,2-HEXANEDIOL, POLYETHYLENE, BORON NITRIDE, TRIETHOXYCAPRYLYLSILANE, ALUMINA, CAPRYLYL GLYCOL, LACTOBACILLUS FERMENT LYSATE, PANTHENOL, FRAGRANCE / PARFUM, GLYCERYL CAPRYLATE, BUTYLENE GLYCOL, LAUROYL LYSINE, DISODIUM EDTA, SIMETHICONE, SILICA, PEG-15/LAURYL DIMETHICONE CROSSPOLYMER, POLYQUATERNIUM-10, LACTIC ACID/GLYCOLIC ACID COPOLYMER, TOCOPHEROL, PROPYLENE CARBONATE, ALUMINUM HYDROXIDE [+/- TITANIUM DIOXIDE (CI 77891), IRON OXIDES (CI 77492), IRON OXIDES (CI 77491), IRON OXIDES (CI 77499)]
Cushion
WATER / AQUA / EAU, CYCLOPENTASILOXANE, METHYL TRIMETHICONE, ETHYLHEXYL METHOXYCINNAMATE, CAPRYLYL METHICONE, POLYMETHYL METHACRYLATE, PEG-10 DIMETHICONE, PROPANEDIOL, CYCLOHEXASILOXANE, ZINC OXIDE (NANO), TRIMETHYLSILOXYSILICATE, TITANIUM DIOXIDE (NANO), NYLON-12, LAURYL PEG-9 POLYDIMETHYLSILOXYETHYL DIMETHICONE, HDI/TRIMETHYLOL HEXYLLACTONE CROSSPOLYMER, DISTEARDIMONIUM HECTORITE, 1,2-HEXANEDIOL, ALUMINUM HYDROXIDE, SODIUM CHLORIDE, ACRYLATES/DIMETHICONE COPOLYMER, ISOPROPYL TITANIUM TRIISOSTEARATE, ACRYLATES/ETHYLHEXYL ACRYLATE/DIMETHICONE METHACRYLATE COPOLYMER, FRAGRANCE / PARFUM, CAPRYLYL GLYCOL, STEARIC ACID, BIS-PEG-15 DIMETHICONE/IPDI COPOLYMER, PEG-2 SOYAMINE, ETHYLHEXYLGLYCERIN, DISODIUM EDTA, TRIETHOXYCAPRYLYLSILANE, SILICA, CITRONELLOL, GERANIOL, LIMONENE, BHT, HYDROXYCITRONELLAL, TOCOPHEROL [+/- TITANIUM DIOXIDE (CI 77891), IRON OXIDES (CI 77492), IRON OXIDES (CI 77491), IRON OXIDES (CI 77499)]

Foundation
WATER / AQUA / EAU, METHYL TRIMETHICONE, DIMETHICONE, PEG-10 DIMETHICONE, ALCOHOL DENAT. , POLYMETHYL METHACRYLATE, GLYCERIN, POLYMETHYLSILSESQUIOXANE, PROPANEDIOL, TRIMETHYLSILOXYSILICATE, LAURYL PEG-10 TRIS(TRIMETHYLSILOXY)SILYLETHYL DIMETHICONE, TITANIUM DIOXIDE (NANO), TRISILOXANE, DIPHENYLSILOXY PHENYL TRIMETHICONE, CAPRYLYL METHICONE, ISODODECANE, DIPHENYL DIMETHICONE/VINYL DIPHENYL DIMETHICONE/SILSESQUIOXANE CROSSPOLYMER, LAURYL POLYGLYCERYL-3 POLYDIMETHYLSILOXYETHYL DIMETHICONE, SYNTHETIC FLUORPHLOGOPITE, ACRYLATES/POLYTRIMETHYLSILOXYMETHACRYLATE COPOLYMER, SODIUM CHLORIDE, DIMETHICONE CROSSPOLYMER, DISTEARDIMONIUM HECTORITE, 1,2-HEXANEDIOL, POLYETHYLENE, BORON NITRIDE, TRIETHOXYCAPRYLYLSILANE, ALUMINA, CAPRYLYL GLYCOL, LACTOBACILLUS FERMENT LYSATE, PANTHENOL, FRAGRANCE / PARFUM, GLYCERYL CAPRYLATE, BUTYLENE GLYCOL, LAUROYL LYSINE, DISODIUM EDTA, SIMETHICONE, SILICA, PEG-15/LAURYL DIMETHICONE CROSSPOLYMER, POLYQUATERNIUM-10, LACTIC ACID/GLYCOLIC ACID COPOLYMER, TOCOPHEROL, PROPYLENE CARBONATE, ALUMINUM HYDROXIDE [+/- TITANIUM DIOXIDE (CI 77891), IRON OXIDES (CI 77492), IRON OXIDES (CI 77491), IRON OXIDES (CI 77499)]
Cushion
WATER / AQUA / EAU, CYCLOPENTASILOXANE, METHYL TRIMETHICONE, ETHYLHEXYL METHOXYCINNAMATE, CAPRYLYL METHICONE, POLYMETHYL METHACRYLATE, PEG-10 DIMETHICONE, PROPANEDIOL, CYCLOHEXASILOXANE, ZINC OXIDE (NANO), TRIMETHYLSILOXYSILICATE, TITANIUM DIOXIDE (NANO), NYLON-12, LAURYL PEG-9 POLYDIMETHYLSILOXYETHYL DIMETHICONE, HDI/TRIMETHYLOL HEXYLLACTONE CROSSPOLYMER, DISTEARDIMONIUM HECTORITE, 1,2-HEXANEDIOL, ALUMINUM HYDROXIDE, SODIUM CHLORIDE, ACRYLATES/DIMETHICONE COPOLYMER, ISOPROPYL TITANIUM TRIISOSTEARATE, ACRYLATES/ETHYLHEXYL ACRYLATE/DIMETHICONE METHACRYLATE COPOLYMER, FRAGRANCE / PARFUM, CAPRYLYL GLYCOL, STEARIC ACID, BIS-PEG-15 DIMETHICONE/IPDI COPOLYMER, PEG-2 SOYAMINE, ETHYLHEXYLGLYCERIN, DISODIUM EDTA, TRIETHOXYCAPRYLYLSILANE, SILICA, CITRONELLOL, GERANIOL, LIMONENE, BHT, HYDROXYCITRONELLAL, TOCOPHEROL [+/- TITANIUM DIOXIDE (CI 77891), IRON OXIDES (CI 77492), IRON OXIDES (CI 77491), IRON OXIDES (CI 77499)]

Foundation
WATER / AQUA / EAU, METHYL TRIMETHICONE, DIMETHICONE, PEG-10 DIMETHICONE, ALCOHOL DENAT. , POLYMETHYL METHACRYLATE, GLYCERIN, POLYMETHYLSILSESQUIOXANE, PROPANEDIOL, TRIMETHYLSILOXYSILICATE, LAURYL PEG-10 TRIS(TRIMETHYLSILOXY)SILYLETHYL DIMETHICONE, TITANIUM DIOXIDE (NANO), TRISILOXANE, DIPHENYLSILOXY PHENYL TRIMETHICONE, CAPRYLYL METHICONE, ISODODECANE, DIPHENYL DIMETHICONE/VINYL DIPHENYL DIMETHICONE/SILSESQUIOXANE CROSSPOLYMER, LAURYL POLYGLYCERYL-3 POLYDIMETHYLSILOXYETHYL DIMETHICONE, SYNTHETIC FLUORPHLOGOPITE, ACRYLATES/POLYTRIMETHYLSILOXYMETHACRYLATE COPOLYMER, SODIUM CHLORIDE, DIMETHICONE CROSSPOLYMER, DISTEARDIMONIUM HECTORITE, 1,2-HEXANEDIOL, POLYETHYLENE, BORON NITRIDE, TRIETHOXYCAPRYLYLSILANE, ALUMINA, CAPRYLYL GLYCOL, LACTOBACILLUS FERMENT LYSATE, PANTHENOL, FRAGRANCE / PARFUM, GLYCERYL CAPRYLATE, BUTYLENE GLYCOL, LAUROYL LYSINE, DISODIUM EDTA, SIMETHICONE, SILICA, PEG-15/LAURYL DIMETHICONE CROSSPOLYMER, POLYQUATERNIUM-10, LACTIC ACID/GLYCOLIC ACID COPOLYMER, TOCOPHEROL, PROPYLENE CARBONATE, ALUMINUM HYDROXIDE [+/- TITANIUM DIOXIDE (CI 77891), IRON OXIDES (CI 77492), IRON OXIDES (CI 77491), IRON OXIDES (CI 77499)]
Cushion
WATER / AQUA / EAU, CYCLOPENTASILOXANE, METHYL TRIMETHICONE, ETHYLHEXYL METHOXYCINNAMATE, CAPRYLYL METHICONE, POLYMETHYL METHACRYLATE, PEG-10 DIMETHICONE, PROPANEDIOL, CYCLOHEXASILOXANE, ZINC OXIDE (NANO), TRIMETHYLSILOXYSILICATE, TITANIUM DIOXIDE (NANO), NYLON-12, LAURYL PEG-9 POLYDIMETHYLSILOXYETHYL DIMETHICONE, HDI/TRIMETHYLOL HEXYLLACTONE CROSSPOLYMER, DISTEARDIMONIUM HECTORITE, 1,2-HEXANEDIOL, ALUMINUM HYDROXIDE, SODIUM CHLORIDE, ACRYLATES/DIMETHICONE COPOLYMER, ISOPROPYL TITANIUM TRIISOSTEARATE, ACRYLATES/ETHYLHEXYL ACRYLATE/DIMETHICONE METHACRYLATE COPOLYMER, FRAGRANCE / PARFUM, CAPRYLYL GLYCOL, STEARIC ACID, BIS-PEG-15 DIMETHICONE/IPDI COPOLYMER, PEG-2 SOYAMINE, ETHYLHEXYLGLYCERIN, DISODIUM EDTA, TRIETHOXYCAPRYLYLSILANE, SILICA, CITRONELLOL, GERANIOL, LIMONENE, BHT, HYDROXYCITRONELLAL, TOCOPHEROL [+/- TITANIUM DIOXIDE (CI 77891), IRON OXIDES (CI 77492), IRON OXIDES (CI 77491), IRON OXIDES (CI 77499)]

Foundation
WATER / AQUA / EAU, METHYL TRIMETHICONE, DIMETHICONE, PEG-10 DIMETHICONE, ALCOHOL DENAT., GLYCERIN, POLYMETHYLSILSESQUIOXANE, PROPANEDIOL, POLYMETHYL METHACRYLATE, TRIMETHYLSILOXYSILICATE, LAURYL PEG-10 TRIS(TRIMETHYLSILOXY)SILYLETHYL DIMETHICONE, TITANIUM DIOXIDE (NANO), TRISILOXANE, DIPHENYLSILOXY PHENYL TRIMETHICONE, CAPRYLYL METHICONE, ISODODECANE, DIPHENYL DIMETHICONE/VINYL DIPHENYL DIMETHICONE/SILSESQUIOXANE CROSSPOLYMER, LAURYL POLYGLYCERYL-3 POLYDIMETHYLSILOXYETHYL DIMETHICONE, SYNTHETIC FLUORPHLOGOPITE, ACRYLATES/POLYTRIMETHYLSILOXYMETHACRYLATE COPOLYMER, SODIUM CHLORIDE, DIMETHICONE CROSSPOLYMER, DISTEARDIMONIUM HECTORITE, 1,2-HEXANEDIOL, POLYETHYLENE, BORON NITRIDE, TRIETHOXYCAPRYLYLSILANE, ALUMINA, CAPRYLYL GLYCOL, LACTOBACILLUS FERMENT LYSATE, PANTHENOL, FRAGRANCE / PARFUM, GLYCERYL CAPRYLATE, BUTYLENE GLYCOL, LAUROYL LYSINE, DISODIUM EDTA, SIMETHICONE, SILICA, PEG-15/LAURYL DIMETHICONE CROSSPOLYMER, POLYQUATERNIUM-10, LACTIC ACID/GLYCOLIC ACID COPOLYMER, TOCOPHEROL, PROPYLENE CARBONATE, ALUMINUM HYDROXIDE [+/- TITANIUM DIOXIDE (CI 77891), IRON OXIDES (CI 77492), IRON OXIDES (CI 77491), IRON OXIDES (CI 77499)]
Cushion
WATER / AQUA / EAU, CYCLOPENTASILOXANE, METHYL TRIMETHICONE, ETHYLHEXYL METHOXYCINNAMATE, CAPRYLYL METHICONE, POLYMETHYL METHACRYLATE, PEG-10 DIMETHICONE, PROPANEDIOL, CYCLOHEXASILOXANE, ZINC OXIDE (NANO), TRIMETHYLSILOXYSILICATE, TITANIUM DIOXIDE (NANO), NYLON-12, LAURYL PEG-9 POLYDIMETHYLSILOXYETHYL DIMETHICONE, HDI/TRIMETHYLOL HEXYLLACTONE CROSSPOLYMER, DISTEARDIMONIUM HECTORITE, 1,2-HEXANEDIOL, ALUMINUM HYDROXIDE, SODIUM CHLORIDE, ACRYLATES/DIMETHICONE COPOLYMER, ISOPROPYL TITANIUM TRIISOSTEARATE, ACRYLATES/ETHYLHEXYL ACRYLATE/DIMETHICONE METHACRYLATE COPOLYMER, FRAGRANCE / PARFUM, CAPRYLYL GLYCOL, STEARIC ACID, BIS-PEG-15 DIMETHICONE/IPDI COPOLYMER, PEG-2 SOYAMINE, ETHYLHEXYLGLYCERIN, DISODIUM EDTA, TRIETHOXYCAPRYLYLSILANE, SILICA, CITRONELLOL, GERANIOL, LIMONENE, BHT, HYDROXYCITRONELLAL, TOCOPHEROL [+/- TITANIUM DIOXIDE (CI 77891), IRON OXIDES (CI 77492), IRON OXIDES (CI 77491), IRON OXIDES (CI 77499)]

Foundation
WATER / AQUA / EAU, METHYL TRIMETHICONE, DIMETHICONE, PEG-10 DIMETHICONE, ALCOHOL DENAT., GLYCERIN, POLYMETHYLSILSESQUIOXANE, PROPANEDIOL, POLYMETHYL METHACRYLATE, TRIMETHYLSILOXYSILICATE, LAURYL PEG-10 TRIS(TRIMETHYLSILOXY)SILYLETHYL DIMETHICONE, TITANIUM DIOXIDE (NANO), TRISILOXANE, DIPHENYLSILOXY PHENYL TRIMETHICONE, CAPRYLYL METHICONE, ISODODECANE, DIPHENYL DIMETHICONE/VINYL DIPHENYL DIMETHICONE/SILSESQUIOXANE CROSSPOLYMER, LAURYL POLYGLYCERYL-3 POLYDIMETHYLSILOXYETHYL DIMETHICONE, SYNTHETIC FLUORPHLOGOPITE, ACRYLATES/POLYTRIMETHYLSILOXYMETHACRYLATE COPOLYMER, SODIUM CHLORIDE, DIMETHICONE CROSSPOLYMER, DISTEARDIMONIUM HECTORITE, 1,2-HEXANEDIOL, POLYETHYLENE, BORON NITRIDE, TRIETHOXYCAPRYLYLSILANE, ALUMINA, CAPRYLYL GLYCOL, LACTOBACILLUS FERMENT LYSATE, PANTHENOL, FRAGRANCE / PARFUM, GLYCERYL CAPRYLATE, BUTYLENE GLYCOL, LAUROYL LYSINE, DISODIUM EDTA, SIMETHICONE, SILICA, PEG-15/LAURYL DIMETHICONE CROSSPOLYMER, POLYQUATERNIUM-10, LACTIC ACID/GLYCOLIC ACID COPOLYMER, TOCOPHEROL, PROPYLENE CARBONATE, ALUMINUM HYDROXIDE [+/- TITANIUM DIOXIDE (CI 77891), IRON OXIDES (CI 77492), IRON OXIDES (CI 77491), IRON OXIDES (CI 77499)]
Cushion
WATER / AQUA / EAU, CYCLOPENTASILOXANE, METHYL TRIMETHICONE, ETHYLHEXYL METHOXYCINNAMATE, CAPRYLYL METHICONE, POLYMETHYL METHACRYLATE, PEG-10 DIMETHICONE, PROPANEDIOL, CYCLOHEXASILOXANE, ZINC OXIDE (NANO), TRIMETHYLSILOXYSILICATE, TITANIUM DIOXIDE (NANO), NYLON-12, LAURYL PEG-9 POLYDIMETHYLSILOXYETHYL DIMETHICONE, HDI/TRIMETHYLOL HEXYLLACTONE CROSSPOLYMER, DISTEARDIMONIUM HECTORITE, 1,2-HEXANEDIOL, ALUMINUM HYDROXIDE, SODIUM CHLORIDE, ACRYLATES/DIMETHICONE COPOLYMER, ISOPROPYL TITANIUM TRIISOSTEARATE, ACRYLATES/ETHYLHEXYL ACRYLATE/DIMETHICONE METHACRYLATE COPOLYMER, FRAGRANCE / PARFUM, CAPRYLYL GLYCOL, STEARIC ACID, BIS-PEG-15 DIMETHICONE/IPDI COPOLYMER, PEG-2 SOYAMINE, ETHYLHEXYLGLYCERIN, DISODIUM EDTA, TRIETHOXYCAPRYLYLSILANE, SILICA, CITRONELLOL, GERANIOL, LIMONENE, BHT, HYDROXYCITRONELLAL, TOCOPHEROL [+/- TITANIUM DIOXIDE (CI 77891), IRON OXIDES (CI 77492), IRON OXIDES (CI 77491), IRON OXIDES (CI 77499)]

Foundation
WATER / AQUA / EAU, METHYL TRIMETHICONE, DIMETHICONE, PEG-10 DIMETHICONE, ALCOHOL DENAT., GLYCERIN, POLYMETHYLSILSESQUIOXANE, PROPANEDIOL, TRIMETHYLSILOXYSILICATE, POLYMETHYL METHACRYLATE, LAURYL PEG-10 TRIS(TRIMETHYLSILOXY)SILYLETHYL DIMETHICONE, TITANIUM DIOXIDE (NANO), TRISILOXANE, DIPHENYLSILOXY PHENYL TRIMETHICONE, CAPRYLYL METHICONE, ISODODECANE, DIPHENYL DIMETHICONE/VINYL DIPHENYL DIMETHICONE/SILSESQUIOXANE CROSSPOLYMER, LAURYL POLYGLYCERYL-3 POLYDIMETHYLSILOXYETHYL DIMETHICONE, SYNTHETIC FLUORPHLOGOPITE, ACRYLATES/POLYTRIMETHYLSILOXYMETHACRYLATE COPOLYMER, SODIUM CHLORIDE, DIMETHICONE CROSSPOLYMER, DISTEARDIMONIUM HECTORITE, 1,2-HEXANEDIOL, POLYETHYLENE, BORON NITRIDE, TRIETHOXYCAPRYLYLSILANE, ALUMINA, CAPRYLYL GLYCOL, LACTOBACILLUS FERMENT LYSATE, PANTHENOL, FRAGRANCE / PARFUM, GLYCERYL CAPRYLATE, BUTYLENE GLYCOL, LAUROYL LYSINE, DISODIUM EDTA, SIMETHICONE, SILICA, PEG-15/LAURYL DIMETHICONE CROSSPOLYMER, POLYQUATERNIUM-10, LACTIC ACID/GLYCOLIC ACID COPOLYMER, TOCOPHEROL, PROPYLENE CARBONATE, ALUMINUM HYDROXIDE [+/- TITANIUM DIOXIDE (CI 77891), IRON OXIDES (CI 77492), IRON OXIDES (CI 77491), IRON OXIDES (CI 77499)]
Cushion
WATER / AQUA / EAU, CYCLOPENTASILOXANE, METHYL TRIMETHICONE, ETHYLHEXYL METHOXYCINNAMATE, CAPRYLYL METHICONE, POLYMETHYL METHACRYLATE, PEG-10 DIMETHICONE, PROPANEDIOL, CYCLOHEXASILOXANE, ZINC OXIDE (NANO), TRIMETHYLSILOXYSILICATE, TITANIUM DIOXIDE (NANO), NYLON-12, LAURYL PEG-9 POLYDIMETHYLSILOXYETHYL DIMETHICONE, HDI/TRIMETHYLOL HEXYLLACTONE CROSSPOLYMER, DISTEARDIMONIUM HECTORITE, 1,2-HEXANEDIOL, ALUMINUM HYDROXIDE, SODIUM CHLORIDE, ACRYLATES/DIMETHICONE COPOLYMER, ISOPROPYL TITANIUM TRIISOSTEARATE, ACRYLATES/ETHYLHEXYL ACRYLATE/DIMETHICONE METHACRYLATE COPOLYMER, FRAGRANCE / PARFUM, CAPRYLYL GLYCOL, STEARIC ACID, BIS-PEG-15 DIMETHICONE/IPDI COPOLYMER, PEG-2 SOYAMINE, ETHYLHEXYLGLYCERIN, DISODIUM EDTA, TRIETHOXYCAPRYLYLSILANE, SILICA, CITRONELLOL, GERANIOL, LIMONENE, BHT, HYDROXYCITRONELLAL, TOCOPHEROL [+/- TITANIUM DIOXIDE (CI 77891), IRON OXIDES (CI 77492), IRON OXIDES (CI 77491), IRON OXIDES (CI 77499)]

Foundation
WATER / AQUA / EAU, METHYL TRIMETHICONE, DIMETHICONE, PEG-10 DIMETHICONE, ALCOHOL DENAT. , POLYMETHYL METHACRYLATE, GLYCERIN, POLYMETHYLSILSESQUIOXANE, PROPANEDIOL, TRIMETHYLSILOXYSILICATE, LAURYL PEG-10 TRIS(TRIMETHYLSILOXY)SILYLETHYL DIMETHICONE, TITANIUM DIOXIDE (NANO), TRISILOXANE, DIPHENYLSILOXY PHENYL TRIMETHICONE, CAPRYLYL METHICONE, ISODODECANE, DIPHENYL DIMETHICONE/VINYL DIPHENYL DIMETHICONE/SILSESQUIOXANE CROSSPOLYMER, LAURYL POLYGLYCERYL-3 POLYDIMETHYLSILOXYETHYL DIMETHICONE, SYNTHETIC FLUORPHLOGOPITE, ACRYLATES/POLYTRIMETHYLSILOXYMETHACRYLATE COPOLYMER, SODIUM CHLORIDE, DIMETHICONE CROSSPOLYMER, DISTEARDIMONIUM HECTORITE, 1,2-HEXANEDIOL, POLYETHYLENE, BORON NITRIDE, TRIETHOXYCAPRYLYLSILANE, ALUMINA, CAPRYLYL GLYCOL, LACTOBACILLUS FERMENT LYSATE, PANTHENOL, FRAGRANCE / PARFUM, GLYCERYL CAPRYLATE, BUTYLENE GLYCOL, LAUROYL LYSINE, DISODIUM EDTA, SIMETHICONE, SILICA, PEG-15/LAURYL DIMETHICONE CROSSPOLYMER, POLYQUATERNIUM-10, LACTIC ACID/GLYCOLIC ACID COPOLYMER, TOCOPHEROL, PROPYLENE CARBONATE, ALUMINUM HYDROXIDE [+/- TITANIUM DIOXIDE (CI 77891), IRON OXIDES (CI 77492), IRON OXIDES (CI 77491), IRON OXIDES (CI 77499)]
Cushion
WATER / AQUA / EAU, CYCLOPENTASILOXANE, METHYL TRIMETHICONE, ETHYLHEXYL METHOXYCINNAMATE, CAPRYLYL METHICONE, POLYMETHYL METHACRYLATE, PEG-10 DIMETHICONE, PROPANEDIOL, CYCLOHEXASILOXANE, ZINC OXIDE (NANO), TRIMETHYLSILOXYSILICATE, TITANIUM DIOXIDE (NANO), NYLON-12, LAURYL PEG-9 POLYDIMETHYLSILOXYETHYL DIMETHICONE, HDI/TRIMETHYLOL HEXYLLACTONE CROSSPOLYMER, DISTEARDIMONIUM HECTORITE, 1,2-HEXANEDIOL, ALUMINUM HYDROXIDE, SODIUM CHLORIDE, ACRYLATES/DIMETHICONE COPOLYMER, ISOPROPYL TITANIUM TRIISOSTEARATE, ACRYLATES/ETHYLHEXYL ACRYLATE/DIMETHICONE METHACRYLATE COPOLYMER, FRAGRANCE / PARFUM, CAPRYLYL GLYCOL, STEARIC ACID, BIS-PEG-15 DIMETHICONE/IPDI COPOLYMER, PEG-2 SOYAMINE, ETHYLHEXYLGLYCERIN, DISODIUM EDTA, TRIETHOXYCAPRYLYLSILANE, SILICA, CITRONELLOL, GERANIOL, LIMONENE, BHT, HYDROXYCITRONELLAL, TOCOPHEROL [+/- TITANIUM DIOXIDE (CI 77891), IRON OXIDES (CI 77492), IRON OXIDES (CI 77491), IRON OXIDES (CI 77499)]

Foundation
WATER / AQUA / EAU, METHYL TRIMETHICONE, DIMETHICONE, PEG-10 DIMETHICONE, ALCOHOL DENAT. , POLYMETHYL METHACRYLATE, GLYCERIN, POLYMETHYLSILSESQUIOXANE, PROPANEDIOL, TRIMETHYLSILOXYSILICATE, LAURYL PEG-10 TRIS(TRIMETHYLSILOXY)SILYLETHYL DIMETHICONE, TITANIUM DIOXIDE (NANO), TRISILOXANE, DIPHENYLSILOXY PHENYL TRIMETHICONE, CAPRYLYL METHICONE, ISODODECANE, DIPHENYL DIMETHICONE/VINYL DIPHENYL DIMETHICONE/SILSESQUIOXANE CROSSPOLYMER, LAURYL POLYGLYCERYL-3 POLYDIMETHYLSILOXYETHYL DIMETHICONE, SYNTHETIC FLUORPHLOGOPITE, ACRYLATES/POLYTRIMETHYLSILOXYMETHACRYLATE COPOLYMER, SODIUM CHLORIDE, DIMETHICONE CROSSPOLYMER, DISTEARDIMONIUM HECTORITE, 1,2-HEXANEDIOL, POLYETHYLENE, BORON NITRIDE, TRIETHOXYCAPRYLYLSILANE, ALUMINA, CAPRYLYL GLYCOL, LACTOBACILLUS FERMENT LYSATE, PANTHENOL, FRAGRANCE / PARFUM, GLYCERYL CAPRYLATE, BUTYLENE GLYCOL, LAUROYL LYSINE, DISODIUM EDTA, SIMETHICONE, SILICA, PEG-15/LAURYL DIMETHICONE CROSSPOLYMER, POLYQUATERNIUM-10, LACTIC ACID/GLYCOLIC ACID COPOLYMER, TOCOPHEROL, PROPYLENE CARBONATE, ALUMINUM HYDROXIDE [+/- TITANIUM DIOXIDE (CI 77891), IRON OXIDES (CI 77492), IRON OXIDES (CI 77491), IRON OXIDES (CI 77499)]
Cushion
WATER / AQUA / EAU, CYCLOPENTASILOXANE, METHYL TRIMETHICONE, ETHYLHEXYL METHOXYCINNAMATE, CAPRYLYL METHICONE, POLYMETHYL METHACRYLATE, PEG-10 DIMETHICONE, PROPANEDIOL, CYCLOHEXASILOXANE, ZINC OXIDE (NANO), TRIMETHYLSILOXYSILICATE, TITANIUM DIOXIDE (NANO), NYLON-12, LAURYL PEG-9 POLYDIMETHYLSILOXYETHYL DIMETHICONE, HDI/TRIMETHYLOL HEXYLLACTONE CROSSPOLYMER, DISTEARDIMONIUM HECTORITE, 1,2-HEXANEDIOL, ALUMINUM HYDROXIDE, SODIUM CHLORIDE, ACRYLATES/DIMETHICONE COPOLYMER, ISOPROPYL TITANIUM TRIISOSTEARATE, ACRYLATES/ETHYLHEXYL ACRYLATE/DIMETHICONE METHACRYLATE COPOLYMER, FRAGRANCE / PARFUM, CAPRYLYL GLYCOL, STEARIC ACID, BIS-PEG-15 DIMETHICONE/IPDI COPOLYMER, PEG-2 SOYAMINE, ETHYLHEXYLGLYCERIN, DISODIUM EDTA, TRIETHOXYCAPRYLYLSILANE, SILICA, CITRONELLOL, GERANIOL, LIMONENE, BHT, HYDROXYCITRONELLAL, TOCOPHEROL [+/- TITANIUM DIOXIDE (CI 77891), IRON OXIDES (CI 77492), IRON OXIDES (CI 77491), IRON OXIDES (CI 77499)]

Foundation
WATER / AQUA / EAU, METHYL TRIMETHICONE, DIMETHICONE, PEG-10 DIMETHICONE, ALCOHOL DENAT. , POLYMETHYL METHACRYLATE, GLYCERIN, POLYMETHYLSILSESQUIOXANE, PROPANEDIOL, TRIMETHYLSILOXYSILICATE, LAURYL PEG-10 TRIS(TRIMETHYLSILOXY)SILYLETHYL DIMETHICONE, TITANIUM DIOXIDE (NANO), TRISILOXANE, DIPHENYLSILOXY PHENYL TRIMETHICONE, CAPRYLYL METHICONE, ISODODECANE, DIPHENYL DIMETHICONE/VINYL DIPHENYL DIMETHICONE/SILSESQUIOXANE CROSSPOLYMER, LAURYL POLYGLYCERYL-3 POLYDIMETHYLSILOXYETHYL DIMETHICONE, SYNTHETIC FLUORPHLOGOPITE, ACRYLATES/POLYTRIMETHYLSILOXYMETHACRYLATE COPOLYMER, SODIUM CHLORIDE, DIMETHICONE CROSSPOLYMER, DISTEARDIMONIUM HECTORITE, 1,2-HEXANEDIOL, POLYETHYLENE, BORON NITRIDE, TRIETHOXYCAPRYLYLSILANE, ALUMINA, CAPRYLYL GLYCOL, LACTOBACILLUS FERMENT LYSATE, PANTHENOL, FRAGRANCE / PARFUM, GLYCERYL CAPRYLATE, BUTYLENE GLYCOL, LAUROYL LYSINE, DISODIUM EDTA, SIMETHICONE, SILICA, PEG-15/LAURYL DIMETHICONE CROSSPOLYMER, POLYQUATERNIUM-10, LACTIC ACID/GLYCOLIC ACID COPOLYMER, TOCOPHEROL, PROPYLENE CARBONATE, ALUMINUM HYDROXIDE [+/- TITANIUM DIOXIDE (CI 77891), IRON OXIDES (CI 77492), IRON OXIDES (CI 77491), IRON OXIDES (CI 77499)]

Cushion
WATER / AQUA / EAU, CYCLOPENTASILOXANE, METHYL TRIMETHICONE, ETHYLHEXYL METHOXYCINNAMATE, CAPRYLYL METHICONE, POLYMETHYL METHACRYLATE, PEG-10 DIMETHICONE, PROPANEDIOL, CYCLOHEXASILOXANE, ZINC OXIDE (NANO), TRIMETHYLSILOXYSILICATE, TITANIUM DIOXIDE (NANO), NYLON-12, LAURYL PEG-9 POLYDIMETHYLSILOXYETHYL DIMETHICONE, HDI/TRIMETHYLOL HEXYLLACTONE CROSSPOLYMER, DISTEARDIMONIUM HECTORITE, 1,2-HEXANEDIOL, ALUMINUM HYDROXIDE, SODIUM CHLORIDE, ACRYLATES/DIMETHICONE COPOLYMER, ISOPROPYL TITANIUM TRIISOSTEARATE, ACRYLATES/ETHYLHEXYL ACRYLATE/DIMETHICONE METHACRYLATE COPOLYMER, FRAGRANCE / PARFUM, CAPRYLYL GLYCOL, STEARIC ACID, BIS-PEG-15 DIMETHICONE/IPDI COPOLYMER, PEG-2 SOYAMINE, ETHYLHEXYLGLYCERIN, DISODIUM EDTA, TRIETHOXYCAPRYLYLSILANE, SILICA, CITRONELLOL, GERANIOL, LIMONENE, BHT, HYDROXYCITRONELLAL, TOCOPHEROL [+/- TITANIUM DIOXIDE (CI 77891), IRON OXIDES (CI 77492), IRON OXIDES (CI 77491), IRON OXIDES (CI 77499)]

Foundation
WATER / AQUA / EAU, METHYL TRIMETHICONE, DIMETHICONE, PEG-10 DIMETHICONE, ALCOHOL DENAT., GLYCERIN, POLYMETHYLSILSESQUIOXANE, PROPANEDIOL, POLYMETHYL METHACRYLATE, TRIMETHYLSILOXYSILICATE, LAURYL PEG-10 TRIS(TRIMETHYLSILOXY)SILYLETHYL DIMETHICONE, TITANIUM DIOXIDE (NANO), TRISILOXANE, DIPHENYLSILOXY PHENYL TRIMETHICONE, CAPRYLYL METHICONE, ISODODECANE, DIPHENYL DIMETHICONE/VINYL DIPHENYL DIMETHICONE/SILSESQUIOXANE CROSSPOLYMER, LAURYL POLYGLYCERYL-3 POLYDIMETHYLSILOXYETHYL DIMETHICONE, SYNTHETIC FLUORPHLOGOPITE, ACRYLATES/POLYTRIMETHYLSILOXYMETHACRYLATE COPOLYMER, SODIUM CHLORIDE, DIMETHICONE CROSSPOLYMER, DISTEARDIMONIUM HECTORITE, 1,2-HEXANEDIOL, POLYETHYLENE, BORON NITRIDE, TRIETHOXYCAPRYLYLSILANE, ALUMINA, CAPRYLYL GLYCOL, LACTOBACILLUS FERMENT LYSATE, PANTHENOL, FRAGRANCE / PARFUM, GLYCERYL CAPRYLATE, BUTYLENE GLYCOL, LAUROYL LYSINE, DISODIUM EDTA, SIMETHICONE, SILICA, PEG-15/LAURYL DIMETHICONE CROSSPOLYMER, POLYQUATERNIUM-10, LACTIC ACID/GLYCOLIC ACID COPOLYMER, TOCOPHEROL, PROPYLENE CARBONATE, ALUMINUM HYDROXIDE [+/- TITANIUM DIOXIDE (CI 77891), IRON OXIDES (CI 77492), IRON OXIDES (CI 77491), IRON OXIDES (CI 77499)]

Cushion
WATER / AQUA / EAU, CYCLOPENTASILOXANE, METHYL TRIMETHICONE, ETHYLHEXYL METHOXYCINNAMATE, CAPRYLYL METHICONE, POLYMETHYL METHACRYLATE, PEG-10 DIMETHICONE, PROPANEDIOL, CYCLOHEXASILOXANE, ZINC OXIDE (NANO), TRIMETHYLSILOXYSILICATE, TITANIUM DIOXIDE (NANO), NYLON-12, LAURYL PEG-9 POLYDIMETHYLSILOXYETHYL DIMETHICONE, HDI/TRIMETHYLOL HEXYLLACTONE CROSSPOLYMER, DISTEARDIMONIUM HECTORITE, 1,2-HEXANEDIOL, ALUMINUM HYDROXIDE, SODIUM CHLORIDE, ACRYLATES/DIMETHICONE COPOLYMER, ISOPROPYL TITANIUM TRIISOSTEARATE, ACRYLATES/ETHYLHEXYL ACRYLATE/DIMETHICONE METHACRYLATE COPOLYMER, FRAGRANCE / PARFUM, CAPRYLYL GLYCOL, STEARIC ACID, BIS-PEG-15 DIMETHICONE/IPDI COPOLYMER, PEG-2 SOYAMINE, ETHYLHEXYLGLYCERIN, DISODIUM EDTA, TRIETHOXYCAPRYLYLSILANE, SILICA, CITRONELLOL, GERANIOL, LIMONENE, BHT, HYDROXYCITRONELLAL, TOCOPHEROL [+/- TITANIUM DIOXIDE (CI 77891), IRON OXIDES (CI 77492), IRON OXIDES (CI 77491), IRON OXIDES (CI 77499)]

Foundation
WATER / AQUA / EAU, METHYL TRIMETHICONE, DIMETHICONE, PEG-10 DIMETHICONE, ALCOHOL DENAT., GLYCERIN, POLYMETHYLSILSESQUIOXANE, PROPANEDIOL, TRIMETHYLSILOXYSILICATE, POLYMETHYL METHACRYLATE, LAURYL PEG-10 TRIS(TRIMETHYLSILOXY)SILYLETHYL DIMETHICONE, TITANIUM DIOXIDE (NANO), TRISILOXANE, DIPHENYLSILOXY PHENYL TRIMETHICONE, CAPRYLYL METHICONE, ISODODECANE, DIPHENYL DIMETHICONE/VINYL DIPHENYL DIMETHICONE/SILSESQUIOXANE CROSSPOLYMER, LAURYL POLYGLYCERYL-3 POLYDIMETHYLSILOXYETHYL DIMETHICONE, SYNTHETIC FLUORPHLOGOPITE, ACRYLATES/POLYTRIMETHYLSILOXYMETHACRYLATE COPOLYMER, SODIUM CHLORIDE, DIMETHICONE CROSSPOLYMER, DISTEARDIMONIUM HECTORITE, 1,2-HEXANEDIOL, POLYETHYLENE, BORON NITRIDE, TRIETHOXYCAPRYLYLSILANE, ALUMINA, CAPRYLYL GLYCOL, LACTOBACILLUS FERMENT LYSATE, PANTHENOL, FRAGRANCE / PARFUM, GLYCERYL CAPRYLATE, BUTYLENE GLYCOL, LAUROYL LYSINE, DISODIUM EDTA, SIMETHICONE, SILICA, PEG-15/LAURYL DIMETHICONE CROSSPOLYMER, POLYQUATERNIUM-10, LACTIC ACID/GLYCOLIC ACID COPOLYMER, TOCOPHEROL, PROPYLENE CARBONATE, ALUMINUM HYDROXIDE [+/- TITANIUM DIOXIDE (CI 77891), IRON OXIDES (CI 77492), IRON OXIDES (CI 77491), IRON OXIDES (CI 77499)]

Cushion
WATER / AQUA / EAU, CYCLOPENTASILOXANE, METHYL TRIMETHICONE, ETHYLHEXYL METHOXYCINNAMATE, CAPRYLYL METHICONE, POLYMETHYL METHACRYLATE, PEG-10 DIMETHICONE, PROPANEDIOL, CYCLOHEXASILOXANE, ZINC OXIDE (NANO), TRIMETHYLSILOXYSILICATE, TITANIUM DIOXIDE (NANO), NYLON-12, LAURYL PEG-9 POLYDIMETHYLSILOXYETHYL DIMETHICONE, HDI/TRIMETHYLOL HEXYLLACTONE CROSSPOLYMER, DISTEARDIMONIUM HECTORITE, 1,2-HEXANEDIOL, ALUMINUM HYDROXIDE, SODIUM CHLORIDE, ACRYLATES/DIMETHICONE COPOLYMER, ISOPROPYL TITANIUM TRIISOSTEARATE, ACRYLATES/ETHYLHEXYL ACRYLATE/DIMETHICONE METHACRYLATE COPOLYMER, FRAGRANCE / PARFUM, CAPRYLYL GLYCOL, STEARIC ACID, BIS-PEG-15 DIMETHICONE/IPDI COPOLYMER, PEG-2 SOYAMINE, ETHYLHEXYLGLYCERIN, DISODIUM EDTA, TRIETHOXYCAPRYLYLSILANE, SILICA, CITRONELLOL, GERANIOL, LIMONENE, BHT, HYDROXYCITRONELLAL, TOCOPHEROL [+/- TITANIUM DIOXIDE (CI 77891), IRON OXIDES (CI 77492), IRON OXIDES (CI 77491), IRON OXIDES (CI 77499)]

Foundation
WATER / AQUA / EAU, METHYL TRIMETHICONE, DIMETHICONE, PEG-10 DIMETHICONE, ALCOHOL DENAT., GLYCERIN, POLYMETHYLSILSESQUIOXANE, PROPANEDIOL, POLYMETHYL METHACRYLATE, TRIMETHYLSILOXYSILICATE, LAURYL PEG-10 TRIS(TRIMETHYLSILOXY)SILYLETHYL DIMETHICONE, TITANIUM DIOXIDE (NANO), TRISILOXANE, DIPHENYLSILOXY PHENYL TRIMETHICONE, CAPRYLYL METHICONE, ISODODECANE, DIPHENYL DIMETHICONE/VINYL DIPHENYL DIMETHICONE/SILSESQUIOXANE CROSSPOLYMER, LAURYL POLYGLYCERYL-3 POLYDIMETHYLSILOXYETHYL DIMETHICONE, SYNTHETIC FLUORPHLOGOPITE, ACRYLATES/POLYTRIMETHYLSILOXYMETHACRYLATE COPOLYMER, SODIUM CHLORIDE, DIMETHICONE CROSSPOLYMER, DISTEARDIMONIUM HECTORITE, 1,2-HEXANEDIOL, POLYETHYLENE, BORON NITRIDE, TRIETHOXYCAPRYLYLSILANE, ALUMINA, CAPRYLYL GLYCOL, LACTOBACILLUS FERMENT LYSATE, PANTHENOL, FRAGRANCE / PARFUM, GLYCERYL CAPRYLATE, BUTYLENE GLYCOL, LAUROYL LYSINE, DISODIUM EDTA, SIMETHICONE, SILICA, PEG-15/LAURYL DIMETHICONE CROSSPOLYMER, POLYQUATERNIUM-10, LACTIC ACID/GLYCOLIC ACID COPOLYMER, TOCOPHEROL, PROPYLENE CARBONATE, ALUMINUM HYDROXIDE [+/- TITANIUM DIOXIDE (CI 77891), IRON OXIDES (CI 77492), IRON OXIDES (CI 77491), IRON OXIDES (CI 77499)]
Cushion
WATER / AQUA / EAU, CYCLOPENTASILOXANE, METHYL TRIMETHICONE, ETHYLHEXYL METHOXYCINNAMATE, CAPRYLYL METHICONE, POLYMETHYL METHACRYLATE, PEG-10 DIMETHICONE, PROPANEDIOL, CYCLOHEXASILOXANE, ZINC OXIDE (NANO), TRIMETHYLSILOXYSILICATE, TITANIUM DIOXIDE (NANO), NYLON-12, LAURYL PEG-9 POLYDIMETHYLSILOXYETHYL DIMETHICONE, HDI/TRIMETHYLOL HEXYLLACTONE CROSSPOLYMER, DISTEARDIMONIUM HECTORITE, 1,2-HEXANEDIOL, ALUMINUM HYDROXIDE, SODIUM CHLORIDE, ACRYLATES/DIMETHICONE COPOLYMER, ISOPROPYL TITANIUM TRIISOSTEARATE, ACRYLATES/ETHYLHEXYL ACRYLATE/DIMETHICONE METHACRYLATE COPOLYMER, FRAGRANCE / PARFUM, CAPRYLYL GLYCOL, STEARIC ACID, BIS-PEG-15 DIMETHICONE/IPDI COPOLYMER, PEG-2 SOYAMINE, ETHYLHEXYLGLYCERIN, DISODIUM EDTA, TRIETHOXYCAPRYLYLSILANE, SILICA, CITRONELLOL, GERANIOL, LIMONENE, BHT, HYDROXYCITRONELLAL, TOCOPHEROL [+/- TITANIUM DIOXIDE (CI 77891), IRON OXIDES (CI 77492), IRON OXIDES (CI 77491), IRON OXIDES (CI 77499)]

Foundation
WATER / AQUA / EAU, METHYL TRIMETHICONE, DIMETHICONE, PEG-10 DIMETHICONE, ALCOHOL DENAT. , POLYMETHYL METHACRYLATE, GLYCERIN, POLYMETHYLSILSESQUIOXANE, PROPANEDIOL, TRIMETHYLSILOXYSILICATE, LAURYL PEG-10 TRIS(TRIMETHYLSILOXY)SILYLETHYL DIMETHICONE, TITANIUM DIOXIDE (NANO), TRISILOXANE, DIPHENYLSILOXY PHENYL TRIMETHICONE, CAPRYLYL METHICONE, ISODODECANE, DIPHENYL DIMETHICONE/VINYL DIPHENYL DIMETHICONE/SILSESQUIOXANE CROSSPOLYMER, LAURYL POLYGLYCERYL-3 POLYDIMETHYLSILOXYETHYL DIMETHICONE, SYNTHETIC FLUORPHLOGOPITE, ACRYLATES/POLYTRIMETHYLSILOXYMETHACRYLATE COPOLYMER, SODIUM CHLORIDE, DIMETHICONE CROSSPOLYMER, DISTEARDIMONIUM HECTORITE, 1,2-HEXANEDIOL, POLYETHYLENE, BORON NITRIDE, TRIETHOXYCAPRYLYLSILANE, ALUMINA, CAPRYLYL GLYCOL, LACTOBACILLUS FERMENT LYSATE, PANTHENOL, FRAGRANCE / PARFUM, GLYCERYL CAPRYLATE, BUTYLENE GLYCOL, LAUROYL LYSINE, DISODIUM EDTA, SIMETHICONE, SILICA, PEG-15/LAURYL DIMETHICONE CROSSPOLYMER, POLYQUATERNIUM-10, LACTIC ACID/GLYCOLIC ACID COPOLYMER, TOCOPHEROL, PROPYLENE CARBONATE, ALUMINUM HYDROXIDE [+/- TITANIUM DIOXIDE (CI 77891), IRON OXIDES (CI 77492), IRON OXIDES (CI 77491), IRON OXIDES (CI 77499)]

Cushion
WATER / AQUA / EAU, CYCLOPENTASILOXANE, METHYL TRIMETHICONE, ETHYLHEXYL METHOXYCINNAMATE, CAPRYLYL METHICONE, POLYMETHYL METHACRYLATE, PEG-10 DIMETHICONE, PROPANEDIOL, CYCLOHEXASILOXANE, ZINC OXIDE (NANO), TRIMETHYLSILOXYSILICATE, TITANIUM DIOXIDE (NANO), NYLON-12, LAURYL PEG-9 POLYDIMETHYLSILOXYETHYL DIMETHICONE, HDI/TRIMETHYLOL HEXYLLACTONE CROSSPOLYMER, DISTEARDIMONIUM HECTORITE, 1,2-HEXANEDIOL, ALUMINUM HYDROXIDE, SODIUM CHLORIDE, ACRYLATES/DIMETHICONE COPOLYMER, ISOPROPYL TITANIUM TRIISOSTEARATE, ACRYLATES/ETHYLHEXYL ACRYLATE/DIMETHICONE METHACRYLATE COPOLYMER, FRAGRANCE / PARFUM, CAPRYLYL GLYCOL, STEARIC ACID, BIS-PEG-15 DIMETHICONE/IPDI COPOLYMER, PEG-2 SOYAMINE, ETHYLHEXYLGLYCERIN, DISODIUM EDTA, TRIETHOXYCAPRYLYLSILANE, SILICA, CITRONELLOL, GERANIOL, LIMONENE, BHT, HYDROXYCITRONELLAL, TOCOPHEROL [+/- TITANIUM DIOXIDE (CI 77891), IRON OXIDES (CI 77492), IRON OXIDES (CI 77491), IRON OXIDES (CI 77499)]

Foundation
WATER / AQUA / EAU, METHYL TRIMETHICONE, DIMETHICONE, PEG-10 DIMETHICONE, ALCOHOL DENAT., GLYCERIN, POLYMETHYLSILSESQUIOXANE, PROPANEDIOL, POLYMETHYL METHACRYLATE, TRIMETHYLSILOXYSILICATE, LAURYL PEG-10 TRIS(TRIMETHYLSILOXY)SILYLETHYL DIMETHICONE, TITANIUM DIOXIDE (NANO), TRISILOXANE, DIPHENYLSILOXY PHENYL TRIMETHICONE, CAPRYLYL METHICONE, ISODODECANE, DIPHENYL DIMETHICONE/VINYL DIPHENYL DIMETHICONE/SILSESQUIOXANE CROSSPOLYMER, LAURYL POLYGLYCERYL-3 POLYDIMETHYLSILOXYETHYL DIMETHICONE, SYNTHETIC FLUORPHLOGOPITE, ACRYLATES/POLYTRIMETHYLSILOXYMETHACRYLATE COPOLYMER, SODIUM CHLORIDE, DIMETHICONE CROSSPOLYMER, DISTEARDIMONIUM HECTORITE, 1,2-HEXANEDIOL, POLYETHYLENE, BORON NITRIDE, TRIETHOXYCAPRYLYLSILANE, ALUMINA, CAPRYLYL GLYCOL, LACTOBACILLUS FERMENT LYSATE, PANTHENOL, FRAGRANCE / PARFUM, GLYCERYL CAPRYLATE, BUTYLENE GLYCOL, LAUROYL LYSINE, DISODIUM EDTA, SIMETHICONE, SILICA, PEG-15/LAURYL DIMETHICONE CROSSPOLYMER, POLYQUATERNIUM-10, LACTIC ACID/GLYCOLIC ACID COPOLYMER, TOCOPHEROL, PROPYLENE CARBONATE, ALUMINUM HYDROXIDE [+/- TITANIUM DIOXIDE (CI 77891), IRON OXIDES (CI 77492), IRON OXIDES (CI 77491), IRON OXIDES (CI 77499)]
Cushion
WATER / AQUA / EAU, CYCLOPENTASILOXANE, METHYL TRIMETHICONE, ETHYLHEXYL METHOXYCINNAMATE, CAPRYLYL METHICONE, POLYMETHYL METHACRYLATE, PEG-10 DIMETHICONE, PROPANEDIOL, CYCLOHEXASILOXANE, ZINC OXIDE (NANO), TRIMETHYLSILOXYSILICATE, TITANIUM DIOXIDE (NANO), NYLON-12, LAURYL PEG-9 POLYDIMETHYLSILOXYETHYL DIMETHICONE, HDI/TRIMETHYLOL HEXYLLACTONE CROSSPOLYMER, DISTEARDIMONIUM HECTORITE, 1,2-HEXANEDIOL, ALUMINUM HYDROXIDE, SODIUM CHLORIDE, ACRYLATES/DIMETHICONE COPOLYMER, ISOPROPYL TITANIUM TRIISOSTEARATE, ACRYLATES/ETHYLHEXYL ACRYLATE/DIMETHICONE METHACRYLATE COPOLYMER, FRAGRANCE / PARFUM, CAPRYLYL GLYCOL, STEARIC ACID, BIS-PEG-15 DIMETHICONE/IPDI COPOLYMER, PEG-2 SOYAMINE, ETHYLHEXYLGLYCERIN, DISODIUM EDTA, TRIETHOXYCAPRYLYLSILANE, SILICA, CITRONELLOL, GERANIOL, LIMONENE, BHT, HYDROXYCITRONELLAL, TOCOPHEROL [+/- TITANIUM DIOXIDE (CI 77891), IRON OXIDES (CI 77492), IRON OXIDES (CI 77491), IRON OXIDES (CI 77499)]

Foundation
WATER / AQUA / EAU, METHYL TRIMETHICONE, DIMETHICONE, PEG-10 DIMETHICONE, ALCOHOL DENAT., GLYCERIN, POLYMETHYLSILSESQUIOXANE, PROPANEDIOL, POLYMETHYL METHACRYLATE, TRIMETHYLSILOXYSILICATE, LAURYL PEG-10 TRIS(TRIMETHYLSILOXY)SILYLETHYL DIMETHICONE, TITANIUM DIOXIDE (NANO), TRISILOXANE, DIPHENYLSILOXY PHENYL TRIMETHICONE, CAPRYLYL METHICONE, ISODODECANE, DIPHENYL DIMETHICONE/VINYL DIPHENYL DIMETHICONE/SILSESQUIOXANE CROSSPOLYMER, LAURYL POLYGLYCERYL-3 POLYDIMETHYLSILOXYETHYL DIMETHICONE, SYNTHETIC FLUORPHLOGOPITE, ACRYLATES/POLYTRIMETHYLSILOXYMETHACRYLATE COPOLYMER, SODIUM CHLORIDE, DIMETHICONE CROSSPOLYMER, DISTEARDIMONIUM HECTORITE, 1,2-HEXANEDIOL, POLYETHYLENE, BORON NITRIDE, TRIETHOXYCAPRYLYLSILANE, ALUMINA, CAPRYLYL GLYCOL, LACTOBACILLUS FERMENT LYSATE, PANTHENOL, FRAGRANCE / PARFUM, GLYCERYL CAPRYLATE, BUTYLENE GLYCOL, LAUROYL LYSINE, DISODIUM EDTA, SIMETHICONE, SILICA, PEG-15/LAURYL DIMETHICONE CROSSPOLYMER, POLYQUATERNIUM-10, LACTIC ACID/GLYCOLIC ACID COPOLYMER, TOCOPHEROL, PROPYLENE CARBONATE, ALUMINUM HYDROXIDE [+/- TITANIUM DIOXIDE (CI 77891), IRON OXIDES (CI 77492), IRON OXIDES (CI 77491), IRON OXIDES (CI 77499)]
Cushion
WATER / AQUA / EAU, CYCLOPENTASILOXANE, METHYL TRIMETHICONE, ETHYLHEXYL METHOXYCINNAMATE, CAPRYLYL METHICONE, POLYMETHYL METHACRYLATE, PEG-10 DIMETHICONE, PROPANEDIOL, CYCLOHEXASILOXANE, ZINC OXIDE (NANO), TRIMETHYLSILOXYSILICATE, TITANIUM DIOXIDE (NANO), NYLON-12, LAURYL PEG-9 POLYDIMETHYLSILOXYETHYL DIMETHICONE, HDI/TRIMETHYLOL HEXYLLACTONE CROSSPOLYMER, DISTEARDIMONIUM HECTORITE, 1,2-HEXANEDIOL, ALUMINUM HYDROXIDE, SODIUM CHLORIDE, ACRYLATES/DIMETHICONE COPOLYMER, ISOPROPYL TITANIUM TRIISOSTEARATE, ACRYLATES/ETHYLHEXYL ACRYLATE/DIMETHICONE METHACRYLATE COPOLYMER, FRAGRANCE / PARFUM, CAPRYLYL GLYCOL, STEARIC ACID, BIS-PEG-15 DIMETHICONE/IPDI COPOLYMER, PEG-2 SOYAMINE, ETHYLHEXYLGLYCERIN, DISODIUM EDTA, TRIETHOXYCAPRYLYLSILANE, SILICA, CITRONELLOL, GERANIOL, LIMONENE, BHT, HYDROXYCITRONELLAL, TOCOPHEROL [+/- TITANIUM DIOXIDE (CI 77891), IRON OXIDES (CI 77492), IRON OXIDES (CI 77491), IRON OXIDES (CI 77499)]

Foundation
WATER / AQUA / EAU, METHYL TRIMETHICONE, DIMETHICONE, PEG-10 DIMETHICONE, ALCOHOL DENAT., GLYCERIN, POLYMETHYLSILSESQUIOXANE, PROPANEDIOL, TRIMETHYLSILOXYSILICATE, POLYMETHYL METHACRYLATE, LAURYL PEG-10 TRIS(TRIMETHYLSILOXY)SILYLETHYL DIMETHICONE, TITANIUM DIOXIDE (NANO), TRISILOXANE, DIPHENYLSILOXY PHENYL TRIMETHICONE, CAPRYLYL METHICONE, ISODODECANE, DIPHENYL DIMETHICONE/VINYL DIPHENYL DIMETHICONE/SILSESQUIOXANE CROSSPOLYMER, LAURYL POLYGLYCERYL-3 POLYDIMETHYLSILOXYETHYL DIMETHICONE, SYNTHETIC FLUORPHLOGOPITE, ACRYLATES/POLYTRIMETHYLSILOXYMETHACRYLATE COPOLYMER, SODIUM CHLORIDE, DIMETHICONE CROSSPOLYMER, DISTEARDIMONIUM HECTORITE, 1,2-HEXANEDIOL, POLYETHYLENE, BORON NITRIDE, TRIETHOXYCAPRYLYLSILANE, ALUMINA, CAPRYLYL GLYCOL, LACTOBACILLUS FERMENT LYSATE, PANTHENOL, FRAGRANCE / PARFUM, GLYCERYL CAPRYLATE, BUTYLENE GLYCOL, LAUROYL LYSINE, DISODIUM EDTA, SIMETHICONE, SILICA, PEG-15/LAURYL DIMETHICONE CROSSPOLYMER, POLYQUATERNIUM-10, LACTIC ACID/GLYCOLIC ACID COPOLYMER, TOCOPHEROL, PROPYLENE CARBONATE, ALUMINUM HYDROXIDE [+/- TITANIUM DIOXIDE (CI 77891), IRON OXIDES (CI 77492), IRON OXIDES (CI 77491), IRON OXIDES (CI 77499)]
Cushion
WATER / AQUA / EAU, CYCLOPENTASILOXANE, METHYL TRIMETHICONE, ETHYLHEXYL METHOXYCINNAMATE, CAPRYLYL METHICONE, POLYMETHYL METHACRYLATE, PEG-10 DIMETHICONE, PROPANEDIOL, CYCLOHEXASILOXANE, ZINC OXIDE (NANO), TRIMETHYLSILOXYSILICATE, TITANIUM DIOXIDE (NANO), NYLON-12, LAURYL PEG-9 POLYDIMETHYLSILOXYETHYL DIMETHICONE, HDI/TRIMETHYLOL HEXYLLACTONE CROSSPOLYMER, DISTEARDIMONIUM HECTORITE, 1,2-HEXANEDIOL, ALUMINUM HYDROXIDE, SODIUM CHLORIDE, ACRYLATES/DIMETHICONE COPOLYMER, ISOPROPYL TITANIUM TRIISOSTEARATE, ACRYLATES/ETHYLHEXYL ACRYLATE/DIMETHICONE METHACRYLATE COPOLYMER, FRAGRANCE / PARFUM, CAPRYLYL GLYCOL, STEARIC ACID, BIS-PEG-15 DIMETHICONE/IPDI COPOLYMER, PEG-2 SOYAMINE, ETHYLHEXYLGLYCERIN, DISODIUM EDTA, TRIETHOXYCAPRYLYLSILANE, SILICA, CITRONELLOL, GERANIOL, LIMONENE, BHT, HYDROXYCITRONELLAL, TOCOPHEROL [+/- TITANIUM DIOXIDE (CI 77891), IRON OXIDES (CI 77492), IRON OXIDES (CI 77491), IRON OXIDES (CI 77499)]

Foundation
WATER / AQUA / EAU, METHYL TRIMETHICONE, DIMETHICONE, PEG-10 DIMETHICONE, ALCOHOL DENAT. , POLYMETHYL METHACRYLATE, GLYCERIN, POLYMETHYLSILSESQUIOXANE, PROPANEDIOL, TRIMETHYLSILOXYSILICATE, LAURYL PEG-10 TRIS(TRIMETHYLSILOXY)SILYLETHYL DIMETHICONE, TITANIUM DIOXIDE (NANO), TRISILOXANE, DIPHENYLSILOXY PHENYL TRIMETHICONE, CAPRYLYL METHICONE, ISODODECANE, DIPHENYL DIMETHICONE/VINYL DIPHENYL DIMETHICONE/SILSESQUIOXANE CROSSPOLYMER, LAURYL POLYGLYCERYL-3 POLYDIMETHYLSILOXYETHYL DIMETHICONE, SYNTHETIC FLUORPHLOGOPITE, ACRYLATES/POLYTRIMETHYLSILOXYMETHACRYLATE COPOLYMER, SODIUM CHLORIDE, DIMETHICONE CROSSPOLYMER, DISTEARDIMONIUM HECTORITE, 1,2-HEXANEDIOL, POLYETHYLENE, BORON NITRIDE, TRIETHOXYCAPRYLYLSILANE, ALUMINA, CAPRYLYL GLYCOL, LACTOBACILLUS FERMENT LYSATE, PANTHENOL, FRAGRANCE / PARFUM, GLYCERYL CAPRYLATE, BUTYLENE GLYCOL, LAUROYL LYSINE, DISODIUM EDTA, SIMETHICONE, SILICA, PEG-15/LAURYL DIMETHICONE CROSSPOLYMER, POLYQUATERNIUM-10, LACTIC ACID/GLYCOLIC ACID COPOLYMER, TOCOPHEROL, PROPYLENE CARBONATE, ALUMINUM HYDROXIDE [+/- TITANIUM DIOXIDE (CI 77891), IRON OXIDES (CI 77492), IRON OXIDES (CI 77491), IRON OXIDES (CI 77499)]
Cushion
WATER / AQUA / EAU, CYCLOPENTASILOXANE, METHYL TRIMETHICONE, ETHYLHEXYL METHOXYCINNAMATE, CAPRYLYL METHICONE, POLYMETHYL METHACRYLATE, PEG-10 DIMETHICONE, PROPANEDIOL, CYCLOHEXASILOXANE, ZINC OXIDE (NANO), TRIMETHYLSILOXYSILICATE, TITANIUM DIOXIDE (NANO), NYLON-12, LAURYL PEG-9 POLYDIMETHYLSILOXYETHYL DIMETHICONE, HDI/TRIMETHYLOL HEXYLLACTONE CROSSPOLYMER, DISTEARDIMONIUM HECTORITE, 1,2-HEXANEDIOL, ALUMINUM HYDROXIDE, SODIUM CHLORIDE, ACRYLATES/DIMETHICONE COPOLYMER, ISOPROPYL TITANIUM TRIISOSTEARATE, ACRYLATES/ETHYLHEXYL ACRYLATE/DIMETHICONE METHACRYLATE COPOLYMER, FRAGRANCE / PARFUM, CAPRYLYL GLYCOL, STEARIC ACID, BIS-PEG-15 DIMETHICONE/IPDI COPOLYMER, PEG-2 SOYAMINE, ETHYLHEXYLGLYCERIN, DISODIUM EDTA, TRIETHOXYCAPRYLYLSILANE, SILICA, CITRONELLOL, GERANIOL, LIMONENE, BHT, HYDROXYCITRONELLAL, TOCOPHEROL [+/- TITANIUM DIOXIDE (CI 77891), IRON OXIDES (CI 77492), IRON OXIDES (CI 77491), IRON OXIDES (CI 77499)]

Foundation
WATER / AQUA / EAU, METHYL TRIMETHICONE, DIMETHICONE, PEG-10 DIMETHICONE, ALCOHOL DENAT. , POLYMETHYL METHACRYLATE, GLYCERIN, POLYMETHYLSILSESQUIOXANE, PROPANEDIOL, TRIMETHYLSILOXYSILICATE, LAURYL PEG-10 TRIS(TRIMETHYLSILOXY)SILYLETHYL DIMETHICONE, TITANIUM DIOXIDE (NANO), TRISILOXANE, DIPHENYLSILOXY PHENYL TRIMETHICONE, CAPRYLYL METHICONE, ISODODECANE, DIPHENYL DIMETHICONE/VINYL DIPHENYL DIMETHICONE/SILSESQUIOXANE CROSSPOLYMER, LAURYL POLYGLYCERYL-3 POLYDIMETHYLSILOXYETHYL DIMETHICONE, SYNTHETIC FLUORPHLOGOPITE, ACRYLATES/POLYTRIMETHYLSILOXYMETHACRYLATE COPOLYMER, SODIUM CHLORIDE, DIMETHICONE CROSSPOLYMER, DISTEARDIMONIUM HECTORITE, 1,2-HEXANEDIOL, POLYETHYLENE, BORON NITRIDE, TRIETHOXYCAPRYLYLSILANE, ALUMINA, CAPRYLYL GLYCOL, LACTOBACILLUS FERMENT LYSATE, PANTHENOL, FRAGRANCE / PARFUM, GLYCERYL CAPRYLATE, BUTYLENE GLYCOL, LAUROYL LYSINE, DISODIUM EDTA, SIMETHICONE, SILICA, PEG-15/LAURYL DIMETHICONE CROSSPOLYMER, POLYQUATERNIUM-10, LACTIC ACID/GLYCOLIC ACID COPOLYMER, TOCOPHEROL, PROPYLENE CARBONATE, ALUMINUM HYDROXIDE [+/- TITANIUM DIOXIDE (CI 77891), IRON OXIDES (CI 77492), IRON OXIDES (CI 77491), IRON OXIDES (CI 77499)]
Cushion
WATER / AQUA / EAU, CYCLOPENTASILOXANE, METHYL TRIMETHICONE, ETHYLHEXYL METHOXYCINNAMATE, CAPRYLYL METHICONE, POLYMETHYL METHACRYLATE, PEG-10 DIMETHICONE, PROPANEDIOL, CYCLOHEXASILOXANE, ZINC OXIDE (NANO), TRIMETHYLSILOXYSILICATE, TITANIUM DIOXIDE (NANO), NYLON-12, LAURYL PEG-9 POLYDIMETHYLSILOXYETHYL DIMETHICONE, HDI/TRIMETHYLOL HEXYLLACTONE CROSSPOLYMER, DISTEARDIMONIUM HECTORITE, 1,2-HEXANEDIOL, ALUMINUM HYDROXIDE, SODIUM CHLORIDE, ACRYLATES/DIMETHICONE COPOLYMER, ISOPROPYL TITANIUM TRIISOSTEARATE, ACRYLATES/ETHYLHEXYL ACRYLATE/DIMETHICONE METHACRYLATE COPOLYMER, FRAGRANCE / PARFUM, CAPRYLYL GLYCOL, STEARIC ACID, BIS-PEG-15 DIMETHICONE/IPDI COPOLYMER, PEG-2 SOYAMINE, ETHYLHEXYLGLYCERIN, DISODIUM EDTA, TRIETHOXYCAPRYLYLSILANE, SILICA, CITRONELLOL, GERANIOL, LIMONENE, BHT, HYDROXYCITRONELLAL, TOCOPHEROL [+/- TITANIUM DIOXIDE (CI 77891), IRON OXIDES (CI 77492), IRON OXIDES (CI 77491), IRON OXIDES (CI 77499)]

Foundation
WATER / AQUA / EAU, METHYL TRIMETHICONE, DIMETHICONE, PEG-10 DIMETHICONE, ALCOHOL DENAT., GLYCERIN, POLYMETHYLSILSESQUIOXANE, PROPANEDIOL, POLYMETHYL METHACRYLATE, TRIMETHYLSILOXYSILICATE, LAURYL PEG-10 TRIS(TRIMETHYLSILOXY)SILYLETHYL DIMETHICONE, TITANIUM DIOXIDE (NANO), TRISILOXANE, DIPHENYLSILOXY PHENYL TRIMETHICONE, CAPRYLYL METHICONE, ISODODECANE, DIPHENYL DIMETHICONE/VINYL DIPHENYL DIMETHICONE/SILSESQUIOXANE CROSSPOLYMER, LAURYL POLYGLYCERYL-3 POLYDIMETHYLSILOXYETHYL DIMETHICONE, SYNTHETIC FLUORPHLOGOPITE, ACRYLATES/POLYTRIMETHYLSILOXYMETHACRYLATE COPOLYMER, SODIUM CHLORIDE, DIMETHICONE CROSSPOLYMER, DISTEARDIMONIUM HECTORITE, 1,2-HEXANEDIOL, POLYETHYLENE, BORON NITRIDE, TRIETHOXYCAPRYLYLSILANE, ALUMINA, CAPRYLYL GLYCOL, LACTOBACILLUS FERMENT LYSATE, PANTHENOL, FRAGRANCE / PARFUM, GLYCERYL CAPRYLATE, BUTYLENE GLYCOL, LAUROYL LYSINE, DISODIUM EDTA, SIMETHICONE, SILICA, PEG-15/LAURYL DIMETHICONE CROSSPOLYMER, POLYQUATERNIUM-10, LACTIC ACID/GLYCOLIC ACID COPOLYMER, TOCOPHEROL, PROPYLENE CARBONATE, ALUMINUM HYDROXIDE [+/- TITANIUM DIOXIDE (CI 77891), IRON OXIDES (CI 77492), IRON OXIDES (CI 77491), IRON OXIDES (CI 77499)]

Cushion
WATER / AQUA / EAU, CYCLOPENTASILOXANE, METHYL TRIMETHICONE, ETHYLHEXYL METHOXYCINNAMATE, CAPRYLYL METHICONE, POLYMETHYL METHACRYLATE, PEG-10 DIMETHICONE, PROPANEDIOL, CYCLOHEXASILOXANE, ZINC OXIDE (NANO), TRIMETHYLSILOXYSILICATE, TITANIUM DIOXIDE (NANO), NYLON-12, LAURYL PEG-9 POLYDIMETHYLSILOXYETHYL DIMETHICONE, HDI/TRIMETHYLOL HEXYLLACTONE CROSSPOLYMER, DISTEARDIMONIUM HECTORITE, 1,2-HEXANEDIOL, ALUMINUM HYDROXIDE, SODIUM CHLORIDE, ACRYLATES/DIMETHICONE COPOLYMER, ISOPROPYL TITANIUM TRIISOSTEARATE, ACRYLATES/ETHYLHEXYL ACRYLATE/DIMETHICONE METHACRYLATE COPOLYMER, FRAGRANCE / PARFUM, CAPRYLYL GLYCOL, STEARIC ACID, BIS-PEG-15 DIMETHICONE/IPDI COPOLYMER, PEG-2 SOYAMINE, ETHYLHEXYLGLYCERIN, DISODIUM EDTA, TRIETHOXYCAPRYLYLSILANE, SILICA, CITRONELLOL, GERANIOL, LIMONENE, BHT, HYDROXYCITRONELLAL, TOCOPHEROL [+/- TITANIUM DIOXIDE (CI 77891), IRON OXIDES (CI 77492), IRON OXIDES (CI 77491), IRON OXIDES (CI 77499)]

Foundation
WATER / AQUA / EAU, METHYL TRIMETHICONE, DIMETHICONE, PEG-10 DIMETHICONE, ALCOHOL DENAT., GLYCERIN, POLYMETHYLSILSESQUIOXANE, PROPANEDIOL, POLYMETHYL METHACRYLATE, TRIMETHYLSILOXYSILICATE, LAURYL PEG-10 TRIS(TRIMETHYLSILOXY)SILYLETHYL DIMETHICONE, TITANIUM DIOXIDE (NANO), TRISILOXANE, DIPHENYLSILOXY PHENYL TRIMETHICONE, CAPRYLYL METHICONE, ISODODECANE, DIPHENYL DIMETHICONE/VINYL DIPHENYL DIMETHICONE/SILSESQUIOXANE CROSSPOLYMER, LAURYL POLYGLYCERYL-3 POLYDIMETHYLSILOXYETHYL DIMETHICONE, SYNTHETIC FLUORPHLOGOPITE, ACRYLATES/POLYTRIMETHYLSILOXYMETHACRYLATE COPOLYMER, SODIUM CHLORIDE, DIMETHICONE CROSSPOLYMER, DISTEARDIMONIUM HECTORITE, 1,2-HEXANEDIOL, POLYETHYLENE, BORON NITRIDE, TRIETHOXYCAPRYLYLSILANE, ALUMINA, CAPRYLYL GLYCOL, LACTOBACILLUS FERMENT LYSATE, PANTHENOL, FRAGRANCE / PARFUM, GLYCERYL CAPRYLATE, BUTYLENE GLYCOL, LAUROYL LYSINE, DISODIUM EDTA, SIMETHICONE, SILICA, PEG-15/LAURYL DIMETHICONE CROSSPOLYMER, POLYQUATERNIUM-10, LACTIC ACID/GLYCOLIC ACID COPOLYMER, TOCOPHEROL, PROPYLENE CARBONATE, ALUMINUM HYDROXIDE [+/- TITANIUM DIOXIDE (CI 77891), IRON OXIDES (CI 77492), IRON OXIDES (CI 77491), IRON OXIDES (CI 77499)]
Cushion
WATER / AQUA / EAU, CYCLOPENTASILOXANE, METHYL TRIMETHICONE, ETHYLHEXYL METHOXYCINNAMATE, CAPRYLYL METHICONE, POLYMETHYL METHACRYLATE, PEG-10 DIMETHICONE, PROPANEDIOL, CYCLOHEXASILOXANE, ZINC OXIDE (NANO), TRIMETHYLSILOXYSILICATE, TITANIUM DIOXIDE (NANO), NYLON-12, LAURYL PEG-9 POLYDIMETHYLSILOXYETHYL DIMETHICONE, HDI/TRIMETHYLOL HEXYLLACTONE CROSSPOLYMER, DISTEARDIMONIUM HECTORITE, 1,2-HEXANEDIOL, ALUMINUM HYDROXIDE, SODIUM CHLORIDE, ACRYLATES/DIMETHICONE COPOLYMER, ISOPROPYL TITANIUM TRIISOSTEARATE, ACRYLATES/ETHYLHEXYL ACRYLATE/DIMETHICONE METHACRYLATE COPOLYMER, FRAGRANCE / PARFUM, CAPRYLYL GLYCOL, STEARIC ACID, BIS-PEG-15 DIMETHICONE/IPDI COPOLYMER, PEG-2 SOYAMINE, ETHYLHEXYLGLYCERIN, DISODIUM EDTA, TRIETHOXYCAPRYLYLSILANE, SILICA, CITRONELLOL, GERANIOL, LIMONENE, BHT, HYDROXYCITRONELLAL, TOCOPHEROL [+/- TITANIUM DIOXIDE (CI 77891), IRON OXIDES (CI 77492), IRON OXIDES (CI 77491), IRON OXIDES (CI 77499)]

Foundation
WATER / AQUA / EAU, METHYL TRIMETHICONE, DIMETHICONE, PEG-10 DIMETHICONE, ALCOHOL DENAT., GLYCERIN, POLYMETHYLSILSESQUIOXANE, PROPANEDIOL, TRIMETHYLSILOXYSILICATE, POLYMETHYL METHACRYLATE, LAURYL PEG-10 TRIS(TRIMETHYLSILOXY)SILYLETHYL DIMETHICONE, TITANIUM DIOXIDE (NANO), TRISILOXANE, DIPHENYLSILOXY PHENYL TRIMETHICONE, CAPRYLYL METHICONE, ISODODECANE, DIPHENYL DIMETHICONE/VINYL DIPHENYL DIMETHICONE/SILSESQUIOXANE CROSSPOLYMER, LAURYL POLYGLYCERYL-3 POLYDIMETHYLSILOXYETHYL DIMETHICONE, SYNTHETIC FLUORPHLOGOPITE, ACRYLATES/POLYTRIMETHYLSILOXYMETHACRYLATE COPOLYMER, SODIUM CHLORIDE, DIMETHICONE CROSSPOLYMER, DISTEARDIMONIUM HECTORITE, 1,2-HEXANEDIOL, POLYETHYLENE, BORON NITRIDE, TRIETHOXYCAPRYLYLSILANE, ALUMINA, CAPRYLYL GLYCOL, LACTOBACILLUS FERMENT LYSATE, PANTHENOL, FRAGRANCE / PARFUM, GLYCERYL CAPRYLATE, BUTYLENE GLYCOL, LAUROYL LYSINE, DISODIUM EDTA, SIMETHICONE, SILICA, PEG-15/LAURYL DIMETHICONE CROSSPOLYMER, POLYQUATERNIUM-10, LACTIC ACID/GLYCOLIC ACID COPOLYMER, TOCOPHEROL, PROPYLENE CARBONATE, ALUMINUM HYDROXIDE [+/- TITANIUM DIOXIDE (CI 77891), IRON OXIDES (CI 77492), IRON OXIDES (CI 77491), IRON OXIDES (CI 77499)]
Cushion
WATER / AQUA / EAU, CYCLOPENTASILOXANE, METHYL TRIMETHICONE, ETHYLHEXYL METHOXYCINNAMATE, CAPRYLYL METHICONE, POLYMETHYL METHACRYLATE, PEG-10 DIMETHICONE, PROPANEDIOL, CYCLOHEXASILOXANE, ZINC OXIDE (NANO), TRIMETHYLSILOXYSILICATE, TITANIUM DIOXIDE (NANO), NYLON-12, LAURYL PEG-9 POLYDIMETHYLSILOXYETHYL DIMETHICONE, HDI/TRIMETHYLOL HEXYLLACTONE CROSSPOLYMER, DISTEARDIMONIUM HECTORITE, 1,2-HEXANEDIOL, ALUMINUM HYDROXIDE, SODIUM CHLORIDE, ACRYLATES/DIMETHICONE COPOLYMER, ISOPROPYL TITANIUM TRIISOSTEARATE, ACRYLATES/ETHYLHEXYL ACRYLATE/DIMETHICONE METHACRYLATE COPOLYMER, FRAGRANCE / PARFUM, CAPRYLYL GLYCOL, STEARIC ACID, BIS-PEG-15 DIMETHICONE/IPDI COPOLYMER, PEG-2 SOYAMINE, ETHYLHEXYLGLYCERIN, DISODIUM EDTA, TRIETHOXYCAPRYLYLSILANE, SILICA, CITRONELLOL, GERANIOL, LIMONENE, BHT, HYDROXYCITRONELLAL, TOCOPHEROL [+/- TITANIUM DIOXIDE (CI 77891), IRON OXIDES (CI 77492), IRON OXIDES (CI 77491), IRON OXIDES (CI 77499)]

Foundation
WATER / AQUA / EAU, METHYL TRIMETHICONE, DIMETHICONE, PEG-10 DIMETHICONE, ALCOHOL DENAT. , POLYMETHYL METHACRYLATE, GLYCERIN, POLYMETHYLSILSESQUIOXANE, PROPANEDIOL, TRIMETHYLSILOXYSILICATE, LAURYL PEG-10 TRIS(TRIMETHYLSILOXY)SILYLETHYL DIMETHICONE, TITANIUM DIOXIDE (NANO), TRISILOXANE, DIPHENYLSILOXY PHENYL TRIMETHICONE, CAPRYLYL METHICONE, ISODODECANE, DIPHENYL DIMETHICONE/VINYL DIPHENYL DIMETHICONE/SILSESQUIOXANE CROSSPOLYMER, LAURYL POLYGLYCERYL-3 POLYDIMETHYLSILOXYETHYL DIMETHICONE, SYNTHETIC FLUORPHLOGOPITE, ACRYLATES/POLYTRIMETHYLSILOXYMETHACRYLATE COPOLYMER, SODIUM CHLORIDE, DIMETHICONE CROSSPOLYMER, DISTEARDIMONIUM HECTORITE, 1,2-HEXANEDIOL, POLYETHYLENE, BORON NITRIDE, TRIETHOXYCAPRYLYLSILANE, ALUMINA, CAPRYLYL GLYCOL, LACTOBACILLUS FERMENT LYSATE, PANTHENOL, FRAGRANCE / PARFUM, GLYCERYL CAPRYLATE, BUTYLENE GLYCOL, LAUROYL LYSINE, DISODIUM EDTA, SIMETHICONE, SILICA, PEG-15/LAURYL DIMETHICONE CROSSPOLYMER, POLYQUATERNIUM-10, LACTIC ACID/GLYCOLIC ACID COPOLYMER, TOCOPHEROL, PROPYLENE CARBONATE, ALUMINUM HYDROXIDE [+/- TITANIUM DIOXIDE (CI 77891), IRON OXIDES (CI 77492), IRON OXIDES (CI 77491), IRON OXIDES (CI 77499)]
Cushion
WATER / AQUA / EAU, CYCLOPENTASILOXANE, METHYL TRIMETHICONE, ETHYLHEXYL METHOXYCINNAMATE, CAPRYLYL METHICONE, POLYMETHYL METHACRYLATE, PEG-10 DIMETHICONE, PROPANEDIOL, CYCLOHEXASILOXANE, ZINC OXIDE (NANO), TRIMETHYLSILOXYSILICATE, TITANIUM DIOXIDE (NANO), NYLON-12, LAURYL PEG-9 POLYDIMETHYLSILOXYETHYL DIMETHICONE, HDI/TRIMETHYLOL HEXYLLACTONE CROSSPOLYMER, DISTEARDIMONIUM HECTORITE, 1,2-HEXANEDIOL, ALUMINUM HYDROXIDE, SODIUM CHLORIDE, ACRYLATES/DIMETHICONE COPOLYMER, ISOPROPYL TITANIUM TRIISOSTEARATE, ACRYLATES/ETHYLHEXYL ACRYLATE/DIMETHICONE METHACRYLATE COPOLYMER, FRAGRANCE / PARFUM, CAPRYLYL GLYCOL, STEARIC ACID, BIS-PEG-15 DIMETHICONE/IPDI COPOLYMER, PEG-2 SOYAMINE, ETHYLHEXYLGLYCERIN, DISODIUM EDTA, TRIETHOXYCAPRYLYLSILANE, SILICA, CITRONELLOL, GERANIOL, LIMONENE, BHT, HYDROXYCITRONELLAL, TOCOPHEROL [+/- TITANIUM DIOXIDE (CI 77891), IRON OXIDES (CI 77492), IRON OXIDES (CI 77491), IRON OXIDES (CI 77499)]

Foundation
WATER / AQUA / EAU, METHYL TRIMETHICONE, DIMETHICONE, PEG-10 DIMETHICONE, ALCOHOL DENAT. , POLYMETHYL METHACRYLATE, GLYCERIN, POLYMETHYLSILSESQUIOXANE, PROPANEDIOL, TRIMETHYLSILOXYSILICATE, LAURYL PEG-10 TRIS(TRIMETHYLSILOXY)SILYLETHYL DIMETHICONE, TITANIUM DIOXIDE (NANO), TRISILOXANE, DIPHENYLSILOXY PHENYL TRIMETHICONE, CAPRYLYL METHICONE, ISODODECANE, DIPHENYL DIMETHICONE/VINYL DIPHENYL DIMETHICONE/SILSESQUIOXANE CROSSPOLYMER, LAURYL POLYGLYCERYL-3 POLYDIMETHYLSILOXYETHYL DIMETHICONE, SYNTHETIC FLUORPHLOGOPITE, ACRYLATES/POLYTRIMETHYLSILOXYMETHACRYLATE COPOLYMER, SODIUM CHLORIDE, DIMETHICONE CROSSPOLYMER, DISTEARDIMONIUM HECTORITE, 1,2-HEXANEDIOL, POLYETHYLENE, BORON NITRIDE, TRIETHOXYCAPRYLYLSILANE, ALUMINA, CAPRYLYL GLYCOL, LACTOBACILLUS FERMENT LYSATE, PANTHENOL, FRAGRANCE / PARFUM, GLYCERYL CAPRYLATE, BUTYLENE GLYCOL, LAUROYL LYSINE, DISODIUM EDTA, SIMETHICONE, SILICA, PEG-15/LAURYL DIMETHICONE CROSSPOLYMER, POLYQUATERNIUM-10, LACTIC ACID/GLYCOLIC ACID COPOLYMER, TOCOPHEROL, PROPYLENE CARBONATE, ALUMINUM HYDROXIDE [+/- TITANIUM DIOXIDE (CI 77891), IRON OXIDES (CI 77492), IRON OXIDES (CI 77491), IRON OXIDES (CI 77499)]
Cushion
WATER / AQUA / EAU, CYCLOPENTASILOXANE, METHYL TRIMETHICONE, ETHYLHEXYL METHOXYCINNAMATE, CAPRYLYL METHICONE, POLYMETHYL METHACRYLATE, PEG-10 DIMETHICONE, PROPANEDIOL, CYCLOHEXASILOXANE, ZINC OXIDE (NANO), TRIMETHYLSILOXYSILICATE, TITANIUM DIOXIDE (NANO), NYLON-12, LAURYL PEG-9 POLYDIMETHYLSILOXYETHYL DIMETHICONE, HDI/TRIMETHYLOL HEXYLLACTONE CROSSPOLYMER, DISTEARDIMONIUM HECTORITE, 1,2-HEXANEDIOL, ALUMINUM HYDROXIDE, SODIUM CHLORIDE, ACRYLATES/DIMETHICONE COPOLYMER, ISOPROPYL TITANIUM TRIISOSTEARATE, ACRYLATES/ETHYLHEXYL ACRYLATE/DIMETHICONE METHACRYLATE COPOLYMER, FRAGRANCE / PARFUM, CAPRYLYL GLYCOL, STEARIC ACID, BIS-PEG-15 DIMETHICONE/IPDI COPOLYMER, PEG-2 SOYAMINE, ETHYLHEXYLGLYCERIN, DISODIUM EDTA, TRIETHOXYCAPRYLYLSILANE, SILICA, CITRONELLOL, GERANIOL, LIMONENE, BHT, HYDROXYCITRONELLAL, TOCOPHEROL [+/- TITANIUM DIOXIDE (CI 77891), IRON OXIDES (CI 77492), IRON OXIDES (CI 77491), IRON OXIDES (CI 77499)]

Foundation
WATER / AQUA / EAU, METHYL TRIMETHICONE, DIMETHICONE, PEG-10 DIMETHICONE, ALCOHOL DENAT. , POLYMETHYL METHACRYLATE, GLYCERIN, POLYMETHYLSILSESQUIOXANE, PROPANEDIOL, TRIMETHYLSILOXYSILICATE, LAURYL PEG-10 TRIS(TRIMETHYLSILOXY)SILYLETHYL DIMETHICONE, TITANIUM DIOXIDE (NANO), TRISILOXANE, DIPHENYLSILOXY PHENYL TRIMETHICONE, CAPRYLYL METHICONE, ISODODECANE, DIPHENYL DIMETHICONE/VINYL DIPHENYL DIMETHICONE/SILSESQUIOXANE CROSSPOLYMER, LAURYL POLYGLYCERYL-3 POLYDIMETHYLSILOXYETHYL DIMETHICONE, SYNTHETIC FLUORPHLOGOPITE, ACRYLATES/POLYTRIMETHYLSILOXYMETHACRYLATE COPOLYMER, SODIUM CHLORIDE, DIMETHICONE CROSSPOLYMER, DISTEARDIMONIUM HECTORITE, 1,2-HEXANEDIOL, POLYETHYLENE, BORON NITRIDE, TRIETHOXYCAPRYLYLSILANE, ALUMINA, CAPRYLYL GLYCOL, LACTOBACILLUS FERMENT LYSATE, PANTHENOL, FRAGRANCE / PARFUM, GLYCERYL CAPRYLATE, BUTYLENE GLYCOL, LAUROYL LYSINE, DISODIUM EDTA, SIMETHICONE, SILICA, PEG-15/LAURYL DIMETHICONE CROSSPOLYMER, POLYQUATERNIUM-10, LACTIC ACID/GLYCOLIC ACID COPOLYMER, TOCOPHEROL, PROPYLENE CARBONATE, ALUMINUM HYDROXIDE [+/- TITANIUM DIOXIDE (CI 77891), IRON OXIDES (CI 77492), IRON OXIDES (CI 77491), IRON OXIDES (CI 77499)]
Cushion
WATER / AQUA / EAU, CYCLOPENTASILOXANE, METHYL TRIMETHICONE, ETHYLHEXYL METHOXYCINNAMATE, CAPRYLYL METHICONE, POLYMETHYL METHACRYLATE, PEG-10 DIMETHICONE, PROPANEDIOL, CYCLOHEXASILOXANE, ZINC OXIDE (NANO), TRIMETHYLSILOXYSILICATE, TITANIUM DIOXIDE (NANO), NYLON-12, LAURYL PEG-9 POLYDIMETHYLSILOXYETHYL DIMETHICONE, HDI/TRIMETHYLOL HEXYLLACTONE CROSSPOLYMER, DISTEARDIMONIUM HECTORITE, 1,2-HEXANEDIOL, ALUMINUM HYDROXIDE, SODIUM CHLORIDE, ACRYLATES/DIMETHICONE COPOLYMER, ISOPROPYL TITANIUM TRIISOSTEARATE, ACRYLATES/ETHYLHEXYL ACRYLATE/DIMETHICONE METHACRYLATE COPOLYMER, FRAGRANCE / PARFUM, CAPRYLYL GLYCOL, STEARIC ACID, BIS-PEG-15 DIMETHICONE/IPDI COPOLYMER, PEG-2 SOYAMINE, ETHYLHEXYLGLYCERIN, DISODIUM EDTA, TRIETHOXYCAPRYLYLSILANE, SILICA, CITRONELLOL, GERANIOL, LIMONENE, BHT, HYDROXYCITRONELLAL, TOCOPHEROL [+/- TITANIUM DIOXIDE (CI 77891), IRON OXIDES (CI 77492), IRON OXIDES (CI 77491), IRON OXIDES (CI 77499)]

Foundation
WATER / AQUA / EAU, METHYL TRIMETHICONE, DIMETHICONE, PEG-10 DIMETHICONE, ALCOHOL DENAT., GLYCERIN, POLYMETHYLSILSESQUIOXANE, PROPANEDIOL, POLYMETHYL METHACRYLATE, TRIMETHYLSILOXYSILICATE, LAURYL PEG-10 TRIS(TRIMETHYLSILOXY)SILYLETHYL DIMETHICONE, TITANIUM DIOXIDE (NANO), TRISILOXANE, DIPHENYLSILOXY PHENYL TRIMETHICONE, CAPRYLYL METHICONE, ISODODECANE, DIPHENYL DIMETHICONE/VINYL DIPHENYL DIMETHICONE/SILSESQUIOXANE CROSSPOLYMER, LAURYL POLYGLYCERYL-3 POLYDIMETHYLSILOXYETHYL DIMETHICONE, SYNTHETIC FLUORPHLOGOPITE, ACRYLATES/POLYTRIMETHYLSILOXYMETHACRYLATE COPOLYMER, SODIUM CHLORIDE, DIMETHICONE CROSSPOLYMER, DISTEARDIMONIUM HECTORITE, 1,2-HEXANEDIOL, POLYETHYLENE, BORON NITRIDE, TRIETHOXYCAPRYLYLSILANE, ALUMINA, CAPRYLYL GLYCOL, LACTOBACILLUS FERMENT LYSATE, PANTHENOL, FRAGRANCE / PARFUM, GLYCERYL CAPRYLATE, BUTYLENE GLYCOL, LAUROYL LYSINE, DISODIUM EDTA, SIMETHICONE, SILICA, PEG-15/LAURYL DIMETHICONE CROSSPOLYMER, POLYQUATERNIUM-10, LACTIC ACID/GLYCOLIC ACID COPOLYMER, TOCOPHEROL, PROPYLENE CARBONATE, ALUMINUM HYDROXIDE [+/- TITANIUM DIOXIDE (CI 77891), IRON OXIDES (CI 77492), IRON OXIDES (CI 77491), IRON OXIDES (CI 77499)]
Cushion
WATER / AQUA / EAU, CYCLOPENTASILOXANE, METHYL TRIMETHICONE, ETHYLHEXYL METHOXYCINNAMATE, CAPRYLYL METHICONE, POLYMETHYL METHACRYLATE, PEG-10 DIMETHICONE, PROPANEDIOL, CYCLOHEXASILOXANE, ZINC OXIDE (NANO), TRIMETHYLSILOXYSILICATE, TITANIUM DIOXIDE (NANO), NYLON-12, LAURYL PEG-9 POLYDIMETHYLSILOXYETHYL DIMETHICONE, HDI/TRIMETHYLOL HEXYLLACTONE CROSSPOLYMER, DISTEARDIMONIUM HECTORITE, 1,2-HEXANEDIOL, ALUMINUM HYDROXIDE, SODIUM CHLORIDE, ACRYLATES/DIMETHICONE COPOLYMER, ISOPROPYL TITANIUM TRIISOSTEARATE, ACRYLATES/ETHYLHEXYL ACRYLATE/DIMETHICONE METHACRYLATE COPOLYMER, FRAGRANCE / PARFUM, CAPRYLYL GLYCOL, STEARIC ACID, BIS-PEG-15 DIMETHICONE/IPDI COPOLYMER, PEG-2 SOYAMINE, ETHYLHEXYLGLYCERIN, DISODIUM EDTA, TRIETHOXYCAPRYLYLSILANE, SILICA, CITRONELLOL, GERANIOL, LIMONENE, BHT, HYDROXYCITRONELLAL, TOCOPHEROL [+/- TITANIUM DIOXIDE (CI 77891), IRON OXIDES (CI 77492), IRON OXIDES (CI 77491), IRON OXIDES (CI 77499)]

Foundation
WATER / AQUA / EAU, METHYL TRIMETHICONE, DIMETHICONE, PEG-10 DIMETHICONE, ALCOHOL DENAT., GLYCERIN, POLYMETHYLSILSESQUIOXANE, PROPANEDIOL, TRIMETHYLSILOXYSILICATE, POLYMETHYL METHACRYLATE, LAURYL PEG-10 TRIS(TRIMETHYLSILOXY)SILYLETHYL DIMETHICONE, TITANIUM DIOXIDE (NANO), TRISILOXANE, DIPHENYLSILOXY PHENYL TRIMETHICONE, CAPRYLYL METHICONE, ISODODECANE, DIPHENYL DIMETHICONE/VINYL DIPHENYL DIMETHICONE/SILSESQUIOXANE CROSSPOLYMER, LAURYL POLYGLYCERYL-3 POLYDIMETHYLSILOXYETHYL DIMETHICONE, SYNTHETIC FLUORPHLOGOPITE, ACRYLATES/POLYTRIMETHYLSILOXYMETHACRYLATE COPOLYMER, SODIUM CHLORIDE, DIMETHICONE CROSSPOLYMER, DISTEARDIMONIUM HECTORITE, 1,2-HEXANEDIOL, POLYETHYLENE, BORON NITRIDE, TRIETHOXYCAPRYLYLSILANE, ALUMINA, CAPRYLYL GLYCOL, LACTOBACILLUS FERMENT LYSATE, PANTHENOL, FRAGRANCE / PARFUM, GLYCERYL CAPRYLATE, BUTYLENE GLYCOL, LAUROYL LYSINE, DISODIUM EDTA, SIMETHICONE, SILICA, PEG-15/LAURYL DIMETHICONE CROSSPOLYMER, POLYQUATERNIUM-10, LACTIC ACID/GLYCOLIC ACID COPOLYMER, TOCOPHEROL, PROPYLENE CARBONATE, ALUMINUM HYDROXIDE [+/- TITANIUM DIOXIDE (CI 77891), IRON OXIDES (CI 77492), IRON OXIDES (CI 77491), IRON OXIDES (CI 77499)]
Cushion
WATER / AQUA / EAU, CYCLOPENTASILOXANE, METHYL TRIMETHICONE, ETHYLHEXYL METHOXYCINNAMATE, CAPRYLYL METHICONE, POLYMETHYL METHACRYLATE, PEG-10 DIMETHICONE, PROPANEDIOL, CYCLOHEXASILOXANE, ZINC OXIDE (NANO), TRIMETHYLSILOXYSILICATE, TITANIUM DIOXIDE (NANO), NYLON-12, LAURYL PEG-9 POLYDIMETHYLSILOXYETHYL DIMETHICONE, HDI/TRIMETHYLOL HEXYLLACTONE CROSSPOLYMER, DISTEARDIMONIUM HECTORITE, 1,2-HEXANEDIOL, ALUMINUM HYDROXIDE, SODIUM CHLORIDE, ACRYLATES/DIMETHICONE COPOLYMER, ISOPROPYL TITANIUM TRIISOSTEARATE, ACRYLATES/ETHYLHEXYL ACRYLATE/DIMETHICONE METHACRYLATE COPOLYMER, FRAGRANCE / PARFUM, CAPRYLYL GLYCOL, STEARIC ACID, BIS-PEG-15 DIMETHICONE/IPDI COPOLYMER, PEG-2 SOYAMINE, ETHYLHEXYLGLYCERIN, DISODIUM EDTA, TRIETHOXYCAPRYLYLSILANE, SILICA, CITRONELLOL, GERANIOL, LIMONENE, BHT, HYDROXYCITRONELLAL, TOCOPHEROL [+/- TITANIUM DIOXIDE (CI 77891), IRON OXIDES (CI 77492), IRON OXIDES (CI 77491), IRON OXIDES (CI 77499)]

Faundation
WATER / AQUA / EAU, METHYL TRIMETHICONE, DIMETHICONE, PEG-10 DIMETHICONE, ALCOHOL DENAT. , POLYMETHYL METHACRYLATE, GLYCERIN, POLYMETHYLSILSESQUIOXANE, PROPANEDIOL, TRIMETHYLSILOXYSILICATE, LAURYL PEG-10 TRIS(TRIMETHYLSILOXY)SILYLETHYL DIMETHICONE, TITANIUM DIOXIDE (NANO), TRISILOXANE, DIPHENYLSILOXY PHENYL TRIMETHICONE, CAPRYLYL METHICONE, ISODODECANE, DIPHENYL DIMETHICONE/VINYL DIPHENYL DIMETHICONE/SILSESQUIOXANE CROSSPOLYMER, LAURYL POLYGLYCERYL-3 POLYDIMETHYLSILOXYETHYL DIMETHICONE, SYNTHETIC FLUORPHLOGOPITE, ACRYLATES/POLYTRIMETHYLSILOXYMETHACRYLATE COPOLYMER, SODIUM CHLORIDE, DIMETHICONE CROSSPOLYMER, DISTEARDIMONIUM HECTORITE, 1,2-HEXANEDIOL, POLYETHYLENE, BORON NITRIDE, TRIETHOXYCAPRYLYLSILANE, ALUMINA, CAPRYLYL GLYCOL, LACTOBACILLUS FERMENT LYSATE, PANTHENOL, FRAGRANCE / PARFUM, GLYCERYL CAPRYLATE, BUTYLENE GLYCOL, LAUROYL LYSINE, DISODIUM EDTA, SIMETHICONE, SILICA, PEG-15/LAURYL DIMETHICONE CROSSPOLYMER, POLYQUATERNIUM-10, LACTIC ACID/GLYCOLIC ACID COPOLYMER, TOCOPHEROL, PROPYLENE CARBONATE, ALUMINUM HYDROXIDE [+/- TITANIUM DIOXIDE (CI 77891), IRON OXIDES (CI 77492), IRON OXIDES (CI 77491), IRON OXIDES (CI 77499)]
Cushion
WATER / AQUA / EAU, CYCLOPENTASILOXANE, METHYL TRIMETHICONE, ETHYLHEXYL METHOXYCINNAMATE, CAPRYLYL METHICONE, POLYMETHYL METHACRYLATE, PEG-10 DIMETHICONE, PROPANEDIOL, CYCLOHEXASILOXANE, ZINC OXIDE (NANO), TRIMETHYLSILOXYSILICATE, TITANIUM DIOXIDE (NANO), NYLON-12, LAURYL PEG-9 POLYDIMETHYLSILOXYETHYL DIMETHICONE, HDI/TRIMETHYLOL HEXYLLACTONE CROSSPOLYMER, DISTEARDIMONIUM HECTORITE, 1,2-HEXANEDIOL, ALUMINUM HYDROXIDE, SODIUM CHLORIDE, ACRYLATES/DIMETHICONE COPOLYMER, ISOPROPYL TITANIUM TRIISOSTEARATE, ACRYLATES/ETHYLHEXYL ACRYLATE/DIMETHICONE METHACRYLATE COPOLYMER, FRAGRANCE / PARFUM, CAPRYLYL GLYCOL, STEARIC ACID, BIS-PEG-15 DIMETHICONE/IPDI COPOLYMER, PEG-2 SOYAMINE, ETHYLHEXYLGLYCERIN, DISODIUM EDTA, TRIETHOXYCAPRYLYLSILANE, SILICA, CITRONELLOL, GERANIOL, LIMONENE, BHT, HYDROXYCITRONELLAL, TOCOPHEROL [+/- TITANIUM DIOXIDE (CI 77891), IRON OXIDES (CI 77492), IRON OXIDES (CI 77491), IRON OXIDES (CI 77499)]

Foundation
WATER / AQUA / EAU, METHYL TRIMETHICONE, DIMETHICONE, PEG-10 DIMETHICONE, ALCOHOL DENAT. , POLYMETHYL METHACRYLATE, GLYCERIN, POLYMETHYLSILSESQUIOXANE, PROPANEDIOL, TRIMETHYLSILOXYSILICATE, LAURYL PEG-10 TRIS(TRIMETHYLSILOXY)SILYLETHYL DIMETHICONE, TITANIUM DIOXIDE (NANO), TRISILOXANE, DIPHENYLSILOXY PHENYL TRIMETHICONE, CAPRYLYL METHICONE, ISODODECANE, DIPHENYL DIMETHICONE/VINYL DIPHENYL DIMETHICONE/SILSESQUIOXANE CROSSPOLYMER, LAURYL POLYGLYCERYL-3 POLYDIMETHYLSILOXYETHYL DIMETHICONE, SYNTHETIC FLUORPHLOGOPITE, ACRYLATES/POLYTRIMETHYLSILOXYMETHACRYLATE COPOLYMER, SODIUM CHLORIDE, DIMETHICONE CROSSPOLYMER, DISTEARDIMONIUM HECTORITE, 1,2-HEXANEDIOL, POLYETHYLENE, BORON NITRIDE, TRIETHOXYCAPRYLYLSILANE, ALUMINA, CAPRYLYL GLYCOL, LACTOBACILLUS FERMENT LYSATE, PANTHENOL, FRAGRANCE / PARFUM, GLYCERYL CAPRYLATE, BUTYLENE GLYCOL, LAUROYL LYSINE, DISODIUM EDTA, SIMETHICONE, SILICA, PEG-15/LAURYL DIMETHICONE CROSSPOLYMER, POLYQUATERNIUM-10, LACTIC ACID/GLYCOLIC ACID COPOLYMER, TOCOPHEROL, PROPYLENE CARBONATE, ALUMINUM HYDROXIDE [+/- TITANIUM DIOXIDE (CI 77891), IRON OXIDES (CI 77492), IRON OXIDES (CI 77491), IRON OXIDES (CI 77499)]
Cushion
WATER / AQUA / EAU, CYCLOPENTASILOXANE, METHYL TRIMETHICONE, ETHYLHEXYL METHOXYCINNAMATE, CAPRYLYL METHICONE, POLYMETHYL METHACRYLATE, PEG-10 DIMETHICONE, PROPANEDIOL, CYCLOHEXASILOXANE, ZINC OXIDE (NANO), TRIMETHYLSILOXYSILICATE, TITANIUM DIOXIDE (NANO), NYLON-12, LAURYL PEG-9 POLYDIMETHYLSILOXYETHYL DIMETHICONE, HDI/TRIMETHYLOL HEXYLLACTONE CROSSPOLYMER, DISTEARDIMONIUM HECTORITE, 1,2-HEXANEDIOL, ALUMINUM HYDROXIDE, SODIUM CHLORIDE, ACRYLATES/DIMETHICONE COPOLYMER, ISOPROPYL TITANIUM TRIISOSTEARATE, ACRYLATES/ETHYLHEXYL ACRYLATE/DIMETHICONE METHACRYLATE COPOLYMER, FRAGRANCE / PARFUM, CAPRYLYL GLYCOL, STEARIC ACID, BIS-PEG-15 DIMETHICONE/IPDI COPOLYMER, PEG-2 SOYAMINE, ETHYLHEXYLGLYCERIN, DISODIUM EDTA, TRIETHOXYCAPRYLYLSILANE, SILICA, CITRONELLOL, GERANIOL, LIMONENE, BHT, HYDROXYCITRONELLAL, TOCOPHEROL [+/- TITANIUM DIOXIDE (CI 77891), IRON OXIDES (CI 77492), IRON OXIDES (CI 77491), IRON OXIDES (CI 77499)]

Foundation
WATER / AQUA / EAU, METHYL TRIMETHICONE, DIMETHICONE, PEG-10 DIMETHICONE, ALCOHOL DENAT. , POLYMETHYL METHACRYLATE, GLYCERIN, POLYMETHYLSILSESQUIOXANE, PROPANEDIOL, TRIMETHYLSILOXYSILICATE, LAURYL PEG-10 TRIS(TRIMETHYLSILOXY)SILYLETHYL DIMETHICONE, TITANIUM DIOXIDE (NANO), TRISILOXANE, DIPHENYLSILOXY PHENYL TRIMETHICONE, CAPRYLYL METHICONE, ISODODECANE, DIPHENYL DIMETHICONE/VINYL DIPHENYL DIMETHICONE/SILSESQUIOXANE CROSSPOLYMER, LAURYL POLYGLYCERYL-3 POLYDIMETHYLSILOXYETHYL DIMETHICONE, SYNTHETIC FLUORPHLOGOPITE, ACRYLATES/POLYTRIMETHYLSILOXYMETHACRYLATE COPOLYMER, SODIUM CHLORIDE, DIMETHICONE CROSSPOLYMER, DISTEARDIMONIUM HECTORITE, 1,2-HEXANEDIOL, POLYETHYLENE, BORON NITRIDE, TRIETHOXYCAPRYLYLSILANE, ALUMINA, CAPRYLYL GLYCOL, LACTOBACILLUS FERMENT LYSATE, PANTHENOL, FRAGRANCE / PARFUM, GLYCERYL CAPRYLATE, BUTYLENE GLYCOL, LAUROYL LYSINE, DISODIUM EDTA, SIMETHICONE, SILICA, PEG-15/LAURYL DIMETHICONE CROSSPOLYMER, POLYQUATERNIUM-10, LACTIC ACID/GLYCOLIC ACID COPOLYMER, TOCOPHEROL, PROPYLENE CARBONATE, ALUMINUM HYDROXIDE [+/- TITANIUM DIOXIDE (CI 77891), IRON OXIDES (CI 77492), IRON OXIDES (CI 77491), IRON OXIDES (CI 77499)]
Cushion
WATER / AQUA / EAU, CYCLOPENTASILOXANE, METHYL TRIMETHICONE, ETHYLHEXYL METHOXYCINNAMATE, CAPRYLYL METHICONE, POLYMETHYL METHACRYLATE, PEG-10 DIMETHICONE, PROPANEDIOL, CYCLOHEXASILOXANE, ZINC OXIDE (NANO), TRIMETHYLSILOXYSILICATE, TITANIUM DIOXIDE (NANO), NYLON-12, LAURYL PEG-9 POLYDIMETHYLSILOXYETHYL DIMETHICONE, HDI/TRIMETHYLOL HEXYLLACTONE CROSSPOLYMER, DISTEARDIMONIUM HECTORITE, 1,2-HEXANEDIOL, ALUMINUM HYDROXIDE, SODIUM CHLORIDE, ACRYLATES/DIMETHICONE COPOLYMER, ISOPROPYL TITANIUM TRIISOSTEARATE, ACRYLATES/ETHYLHEXYL ACRYLATE/DIMETHICONE METHACRYLATE COPOLYMER, FRAGRANCE / PARFUM, CAPRYLYL GLYCOL, STEARIC ACID, BIS-PEG-15 DIMETHICONE/IPDI COPOLYMER, PEG-2 SOYAMINE, ETHYLHEXYLGLYCERIN, DISODIUM EDTA, TRIETHOXYCAPRYLYLSILANE, SILICA, CITRONELLOL, GERANIOL, LIMONENE, BHT, HYDROXYCITRONELLAL, TOCOPHEROL [+/- TITANIUM DIOXIDE (CI 77891), IRON OXIDES (CI 77492), IRON OXIDES (CI 77491), IRON OXIDES (CI 77499)]

Foundation
WATER / AQUA / EAU, METHYL TRIMETHICONE, DIMETHICONE, PEG-10 DIMETHICONE, ALCOHOL DENAT., GLYCERIN, POLYMETHYLSILSESQUIOXANE, PROPANEDIOL, POLYMETHYL METHACRYLATE, TRIMETHYLSILOXYSILICATE, LAURYL PEG-10 TRIS(TRIMETHYLSILOXY)SILYLETHYL DIMETHICONE, TITANIUM DIOXIDE (NANO), TRISILOXANE, DIPHENYLSILOXY PHENYL TRIMETHICONE, CAPRYLYL METHICONE, ISODODECANE, DIPHENYL DIMETHICONE/VINYL DIPHENYL DIMETHICONE/SILSESQUIOXANE CROSSPOLYMER, LAURYL POLYGLYCERYL-3 POLYDIMETHYLSILOXYETHYL DIMETHICONE, SYNTHETIC FLUORPHLOGOPITE, ACRYLATES/POLYTRIMETHYLSILOXYMETHACRYLATE COPOLYMER, SODIUM CHLORIDE, DIMETHICONE CROSSPOLYMER, DISTEARDIMONIUM HECTORITE, 1,2-HEXANEDIOL, POLYETHYLENE, BORON NITRIDE, TRIETHOXYCAPRYLYLSILANE, ALUMINA, CAPRYLYL GLYCOL, LACTOBACILLUS FERMENT LYSATE, PANTHENOL, FRAGRANCE / PARFUM, GLYCERYL CAPRYLATE, BUTYLENE GLYCOL, LAUROYL LYSINE, DISODIUM EDTA, SIMETHICONE, SILICA, PEG-15/LAURYL DIMETHICONE CROSSPOLYMER, POLYQUATERNIUM-10, LACTIC ACID/GLYCOLIC ACID COPOLYMER, TOCOPHEROL, PROPYLENE CARBONATE, ALUMINUM HYDROXIDE [+/- TITANIUM DIOXIDE (CI 77891), IRON OXIDES (CI 77492), IRON OXIDES (CI 77491), IRON OXIDES (CI 77499)]
Cushion
WATER / AQUA / EAU, CYCLOPENTASILOXANE, METHYL TRIMETHICONE, ETHYLHEXYL METHOXYCINNAMATE, CAPRYLYL METHICONE, POLYMETHYL METHACRYLATE, PEG-10 DIMETHICONE, PROPANEDIOL, CYCLOHEXASILOXANE, ZINC OXIDE (NANO), TRIMETHYLSILOXYSILICATE, TITANIUM DIOXIDE (NANO), NYLON-12, LAURYL PEG-9 POLYDIMETHYLSILOXYETHYL DIMETHICONE, HDI/TRIMETHYLOL HEXYLLACTONE CROSSPOLYMER, DISTEARDIMONIUM HECTORITE, 1,2-HEXANEDIOL, ALUMINUM HYDROXIDE, SODIUM CHLORIDE, ACRYLATES/DIMETHICONE COPOLYMER, ISOPROPYL TITANIUM TRIISOSTEARATE, ACRYLATES/ETHYLHEXYL ACRYLATE/DIMETHICONE METHACRYLATE COPOLYMER, FRAGRANCE / PARFUM, CAPRYLYL GLYCOL, STEARIC ACID, BIS-PEG-15 DIMETHICONE/IPDI COPOLYMER, PEG-2 SOYAMINE, ETHYLHEXYLGLYCERIN, DISODIUM EDTA, TRIETHOXYCAPRYLYLSILANE, SILICA, CITRONELLOL, GERANIOL, LIMONENE, BHT, HYDROXYCITRONELLAL, TOCOPHEROL [+/- TITANIUM DIOXIDE (CI 77891), IRON OXIDES (CI 77492), IRON OXIDES (CI 77491), IRON OXIDES (CI 77499)]

Foundation
WATER / AQUA / EAU, METHYL TRIMETHICONE, DIMETHICONE, PEG-10 DIMETHICONE, ALCOHOL DENAT., GLYCERIN, POLYMETHYLSILSESQUIOXANE, PROPANEDIOL, TRIMETHYLSILOXYSILICATE, POLYMETHYL METHACRYLATE, LAURYL PEG-10 TRIS(TRIMETHYLSILOXY)SILYLETHYL DIMETHICONE, TITANIUM DIOXIDE (NANO), TRISILOXANE, DIPHENYLSILOXY PHENYL TRIMETHICONE, CAPRYLYL METHICONE, ISODODECANE, DIPHENYL DIMETHICONE/VINYL DIPHENYL DIMETHICONE/SILSESQUIOXANE CROSSPOLYMER, LAURYL POLYGLYCERYL-3 POLYDIMETHYLSILOXYETHYL DIMETHICONE, SYNTHETIC FLUORPHLOGOPITE, ACRYLATES/POLYTRIMETHYLSILOXYMETHACRYLATE COPOLYMER, SODIUM CHLORIDE, DIMETHICONE CROSSPOLYMER, DISTEARDIMONIUM HECTORITE, 1,2-HEXANEDIOL, POLYETHYLENE, BORON NITRIDE, TRIETHOXYCAPRYLYLSILANE, ALUMINA, CAPRYLYL GLYCOL, LACTOBACILLUS FERMENT LYSATE, PANTHENOL, FRAGRANCE / PARFUM, GLYCERYL CAPRYLATE, BUTYLENE GLYCOL, LAUROYL LYSINE, DISODIUM EDTA, SIMETHICONE, SILICA, PEG-15/LAURYL DIMETHICONE CROSSPOLYMER, POLYQUATERNIUM-10, LACTIC ACID/GLYCOLIC ACID COPOLYMER, TOCOPHEROL, PROPYLENE CARBONATE, ALUMINUM HYDROXIDE [+/- TITANIUM DIOXIDE (CI 77891), IRON OXIDES (CI 77492), IRON OXIDES (CI 77491), IRON OXIDES (CI 77499)]
Cushion
WATER / AQUA / EAU, CYCLOPENTASILOXANE, METHYL TRIMETHICONE, ETHYLHEXYL METHOXYCINNAMATE, CAPRYLYL METHICONE, POLYMETHYL METHACRYLATE, PEG-10 DIMETHICONE, PROPANEDIOL, CYCLOHEXASILOXANE, ZINC OXIDE (NANO), TRIMETHYLSILOXYSILICATE, TITANIUM DIOXIDE (NANO), NYLON-12, LAURYL PEG-9 POLYDIMETHYLSILOXYETHYL DIMETHICONE, HDI/TRIMETHYLOL HEXYLLACTONE CROSSPOLYMER, DISTEARDIMONIUM HECTORITE, 1,2-HEXANEDIOL, ALUMINUM HYDROXIDE, SODIUM CHLORIDE, ACRYLATES/DIMETHICONE COPOLYMER, ISOPROPYL TITANIUM TRIISOSTEARATE, ACRYLATES/ETHYLHEXYL ACRYLATE/DIMETHICONE METHACRYLATE COPOLYMER, FRAGRANCE / PARFUM, CAPRYLYL GLYCOL, STEARIC ACID, BIS-PEG-15 DIMETHICONE/IPDI COPOLYMER, PEG-2 SOYAMINE, ETHYLHEXYLGLYCERIN, DISODIUM EDTA, TRIETHOXYCAPRYLYLSILANE, SILICA, CITRONELLOL, GERANIOL, LIMONENE, BHT, HYDROXYCITRONELLAL, TOCOPHEROL [+/- TITANIUM DIOXIDE (CI 77891), IRON OXIDES (CI 77492), IRON OXIDES (CI 77491), IRON OXIDES (CI 77499)]

Foundation
WATER / AQUA / EAU, METHYL TRIMETHICONE, DIMETHICONE, PEG-10 DIMETHICONE, ALCOHOL DENAT. , POLYMETHYL METHACRYLATE, GLYCERIN, POLYMETHYLSILSESQUIOXANE, PROPANEDIOL, TRIMETHYLSILOXYSILICATE, LAURYL PEG-10 TRIS(TRIMETHYLSILOXY)SILYLETHYL DIMETHICONE, TITANIUM DIOXIDE (NANO), TRISILOXANE, DIPHENYLSILOXY PHENYL TRIMETHICONE, CAPRYLYL METHICONE, ISODODECANE, DIPHENYL DIMETHICONE/VINYL DIPHENYL DIMETHICONE/SILSESQUIOXANE CROSSPOLYMER, LAURYL POLYGLYCERYL-3 POLYDIMETHYLSILOXYETHYL DIMETHICONE, SYNTHETIC FLUORPHLOGOPITE, ACRYLATES/POLYTRIMETHYLSILOXYMETHACRYLATE COPOLYMER, SODIUM CHLORIDE, DIMETHICONE CROSSPOLYMER, DISTEARDIMONIUM HECTORITE, 1,2-HEXANEDIOL, POLYETHYLENE, BORON NITRIDE, TRIETHOXYCAPRYLYLSILANE, ALUMINA, CAPRYLYL GLYCOL, LACTOBACILLUS FERMENT LYSATE, PANTHENOL, FRAGRANCE / PARFUM, GLYCERYL CAPRYLATE, BUTYLENE GLYCOL, LAUROYL LYSINE, DISODIUM EDTA, SIMETHICONE, SILICA, PEG-15/LAURYL DIMETHICONE CROSSPOLYMER, POLYQUATERNIUM-10, LACTIC ACID/GLYCOLIC ACID COPOLYMER, TOCOPHEROL, PROPYLENE CARBONATE, ALUMINUM HYDROXIDE [+/- TITANIUM DIOXIDE (CI 77891), IRON OXIDES (CI 77492), IRON OXIDES (CI 77491), IRON OXIDES (CI 77499)]
Cushion
WATER / AQUA / EAU, CYCLOPENTASILOXANE, METHYL TRIMETHICONE, ETHYLHEXYL METHOXYCINNAMATE, CAPRYLYL METHICONE, POLYMETHYL METHACRYLATE, PEG-10 DIMETHICONE, PROPANEDIOL, CYCLOHEXASILOXANE, ZINC OXIDE (NANO), TRIMETHYLSILOXYSILICATE, TITANIUM DIOXIDE (NANO), NYLON-12, LAURYL PEG-9 POLYDIMETHYLSILOXYETHYL DIMETHICONE, HDI/TRIMETHYLOL HEXYLLACTONE CROSSPOLYMER, DISTEARDIMONIUM HECTORITE, 1,2-HEXANEDIOL, ALUMINUM HYDROXIDE, SODIUM CHLORIDE, ACRYLATES/DIMETHICONE COPOLYMER, ISOPROPYL TITANIUM TRIISOSTEARATE, ACRYLATES/ETHYLHEXYL ACRYLATE/DIMETHICONE METHACRYLATE COPOLYMER, FRAGRANCE / PARFUM, CAPRYLYL GLYCOL, STEARIC ACID, BIS-PEG-15 DIMETHICONE/IPDI COPOLYMER, PEG-2 SOYAMINE, ETHYLHEXYLGLYCERIN, DISODIUM EDTA, TRIETHOXYCAPRYLYLSILANE, SILICA, CITRONELLOL, GERANIOL, LIMONENE, BHT, HYDROXYCITRONELLAL, TOCOPHEROL [+/- TITANIUM DIOXIDE (CI 77891), IRON OXIDES (CI 77492), IRON OXIDES (CI 77491), IRON OXIDES (CI 77499)]

Foundation
WATER / AQUA / EAU, METHYL TRIMETHICONE, DIMETHICONE, PEG-10 DIMETHICONE, ALCOHOL DENAT. , POLYMETHYL METHACRYLATE, GLYCERIN, POLYMETHYLSILSESQUIOXANE, PROPANEDIOL, TRIMETHYLSILOXYSILICATE, LAURYL PEG-10 TRIS(TRIMETHYLSILOXY)SILYLETHYL DIMETHICONE, TITANIUM DIOXIDE (NANO), TRISILOXANE, DIPHENYLSILOXY PHENYL TRIMETHICONE, CAPRYLYL METHICONE, ISODODECANE, DIPHENYL DIMETHICONE/VINYL DIPHENYL DIMETHICONE/SILSESQUIOXANE CROSSPOLYMER, LAURYL POLYGLYCERYL-3 POLYDIMETHYLSILOXYETHYL DIMETHICONE, SYNTHETIC FLUORPHLOGOPITE, ACRYLATES/POLYTRIMETHYLSILOXYMETHACRYLATE COPOLYMER, SODIUM CHLORIDE, DIMETHICONE CROSSPOLYMER, DISTEARDIMONIUM HECTORITE, 1,2-HEXANEDIOL, POLYETHYLENE, BORON NITRIDE, TRIETHOXYCAPRYLYLSILANE, ALUMINA, CAPRYLYL GLYCOL, LACTOBACILLUS FERMENT LYSATE, PANTHENOL, FRAGRANCE / PARFUM, GLYCERYL CAPRYLATE, BUTYLENE GLYCOL, LAUROYL LYSINE, DISODIUM EDTA, SIMETHICONE, SILICA, PEG-15/LAURYL DIMETHICONE CROSSPOLYMER, POLYQUATERNIUM-10, LACTIC ACID/GLYCOLIC ACID COPOLYMER, TOCOPHEROL, PROPYLENE CARBONATE, ALUMINUM HYDROXIDE [+/- TITANIUM DIOXIDE (CI 77891), IRON OXIDES (CI 77492), IRON OXIDES (CI 77491), IRON OXIDES (CI 77499)]
Cushion
WATER / AQUA / EAU, CYCLOPENTASILOXANE, METHYL TRIMETHICONE, ETHYLHEXYL METHOXYCINNAMATE, CAPRYLYL METHICONE, POLYMETHYL METHACRYLATE, PEG-10 DIMETHICONE, PROPANEDIOL, CYCLOHEXASILOXANE, ZINC OXIDE (NANO), TRIMETHYLSILOXYSILICATE, TITANIUM DIOXIDE (NANO), NYLON-12, LAURYL PEG-9 POLYDIMETHYLSILOXYETHYL DIMETHICONE, HDI/TRIMETHYLOL HEXYLLACTONE CROSSPOLYMER, DISTEARDIMONIUM HECTORITE, 1,2-HEXANEDIOL, ALUMINUM HYDROXIDE, SODIUM CHLORIDE, ACRYLATES/DIMETHICONE COPOLYMER, ISOPROPYL TITANIUM TRIISOSTEARATE, ACRYLATES/ETHYLHEXYL ACRYLATE/DIMETHICONE METHACRYLATE COPOLYMER, FRAGRANCE / PARFUM, CAPRYLYL GLYCOL, STEARIC ACID, BIS-PEG-15 DIMETHICONE/IPDI COPOLYMER, PEG-2 SOYAMINE, ETHYLHEXYLGLYCERIN, DISODIUM EDTA, TRIETHOXYCAPRYLYLSILANE, SILICA, CITRONELLOL, GERANIOL, LIMONENE, BHT, HYDROXYCITRONELLAL, TOCOPHEROL [+/- TITANIUM DIOXIDE (CI 77891), IRON OXIDES (CI 77492), IRON OXIDES (CI 77491), IRON OXIDES (CI 77499)]

Foundation
WATER / AQUA / EAU, METHYL TRIMETHICONE, DIMETHICONE, PEG-10 DIMETHICONE, ALCOHOL DENAT. , POLYMETHYL METHACRYLATE, GLYCERIN, POLYMETHYLSILSESQUIOXANE, PROPANEDIOL, TRIMETHYLSILOXYSILICATE, LAURYL PEG-10 TRIS(TRIMETHYLSILOXY)SILYLETHYL DIMETHICONE, TITANIUM DIOXIDE (NANO), TRISILOXANE, DIPHENYLSILOXY PHENYL TRIMETHICONE, CAPRYLYL METHICONE, ISODODECANE, DIPHENYL DIMETHICONE/VINYL DIPHENYL DIMETHICONE/SILSESQUIOXANE CROSSPOLYMER, LAURYL POLYGLYCERYL-3 POLYDIMETHYLSILOXYETHYL DIMETHICONE, SYNTHETIC FLUORPHLOGOPITE, ACRYLATES/POLYTRIMETHYLSILOXYMETHACRYLATE COPOLYMER, SODIUM CHLORIDE, DIMETHICONE CROSSPOLYMER, DISTEARDIMONIUM HECTORITE, 1,2-HEXANEDIOL, POLYETHYLENE, BORON NITRIDE, TRIETHOXYCAPRYLYLSILANE, ALUMINA, CAPRYLYL GLYCOL, LACTOBACILLUS FERMENT LYSATE, PANTHENOL, FRAGRANCE / PARFUM, GLYCERYL CAPRYLATE, BUTYLENE GLYCOL, LAUROYL LYSINE, DISODIUM EDTA, SIMETHICONE, SILICA, PEG-15/LAURYL DIMETHICONE CROSSPOLYMER, POLYQUATERNIUM-10, LACTIC ACID/GLYCOLIC ACID COPOLYMER, TOCOPHEROL, PROPYLENE CARBONATE, ALUMINUM HYDROXIDE [+/- TITANIUM DIOXIDE (CI 77891), IRON OXIDES (CI 77492), IRON OXIDES (CI 77491), IRON OXIDES (CI 77499)]

Cushion
WATER / AQUA / EAU, CYCLOPENTASILOXANE, METHYL TRIMETHICONE, ETHYLHEXYL METHOXYCINNAMATE, CAPRYLYL METHICONE, POLYMETHYL METHACRYLATE, PEG-10 DIMETHICONE, PROPANEDIOL, CYCLOHEXASILOXANE, ZINC OXIDE (NANO), TRIMETHYLSILOXYSILICATE, TITANIUM DIOXIDE (NANO), NYLON-12, LAURYL PEG-9 POLYDIMETHYLSILOXYETHYL DIMETHICONE, HDI/TRIMETHYLOL HEXYLLACTONE CROSSPOLYMER, DISTEARDIMONIUM HECTORITE, 1,2-HEXANEDIOL, ALUMINUM HYDROXIDE, SODIUM CHLORIDE, ACRYLATES/DIMETHICONE COPOLYMER, ISOPROPYL TITANIUM TRIISOSTEARATE, ACRYLATES/ETHYLHEXYL ACRYLATE/DIMETHICONE METHACRYLATE COPOLYMER, FRAGRANCE / PARFUM, CAPRYLYL GLYCOL, STEARIC ACID, BIS-PEG-15 DIMETHICONE/IPDI COPOLYMER, PEG-2 SOYAMINE, ETHYLHEXYLGLYCERIN, DISODIUM EDTA, TRIETHOXYCAPRYLYLSILANE, SILICA, CITRONELLOL, GERANIOL, LIMONENE, BHT, HYDROXYCITRONELLAL, TOCOPHEROL [+/- TITANIUM DIOXIDE (CI 77891), IRON OXIDES (CI 77492), IRON OXIDES (CI 77491), IRON OXIDES (CI 77499)]

Foundation
WATER / AQUA / EAU, METHYL TRIMETHICONE, DIMETHICONE, PEG-10 DIMETHICONE, ALCOHOL DENAT., GLYCERIN, POLYMETHYLSILSESQUIOXANE, PROPANEDIOL, POLYMETHYL METHACRYLATE, TRIMETHYLSILOXYSILICATE, LAURYL PEG-10 TRIS(TRIMETHYLSILOXY)SILYLETHYL DIMETHICONE, TITANIUM DIOXIDE (NANO), TRISILOXANE, DIPHENYLSILOXY PHENYL TRIMETHICONE, CAPRYLYL METHICONE, ISODODECANE, DIPHENYL DIMETHICONE/VINYL DIPHENYL DIMETHICONE/SILSESQUIOXANE CROSSPOLYMER, LAURYL POLYGLYCERYL-3 POLYDIMETHYLSILOXYETHYL DIMETHICONE, SYNTHETIC FLUORPHLOGOPITE, ACRYLATES/POLYTRIMETHYLSILOXYMETHACRYLATE COPOLYMER, SODIUM CHLORIDE, DIMETHICONE CROSSPOLYMER, DISTEARDIMONIUM HECTORITE, 1,2-HEXANEDIOL, POLYETHYLENE, BORON NITRIDE, TRIETHOXYCAPRYLYLSILANE, ALUMINA, CAPRYLYL GLYCOL, LACTOBACILLUS FERMENT LYSATE, PANTHENOL, FRAGRANCE / PARFUM, GLYCERYL CAPRYLATE, BUTYLENE GLYCOL, LAUROYL LYSINE, DISODIUM EDTA, SIMETHICONE, SILICA, PEG-15/LAURYL DIMETHICONE CROSSPOLYMER, POLYQUATERNIUM-10, LACTIC ACID/GLYCOLIC ACID COPOLYMER, TOCOPHEROL, PROPYLENE CARBONATE, ALUMINUM HYDROXIDE [+/- TITANIUM DIOXIDE (CI 77891), IRON OXIDES (CI 77492), IRON OXIDES (CI 77491), IRON OXIDES (CI 77499)]