Feel the glow brand story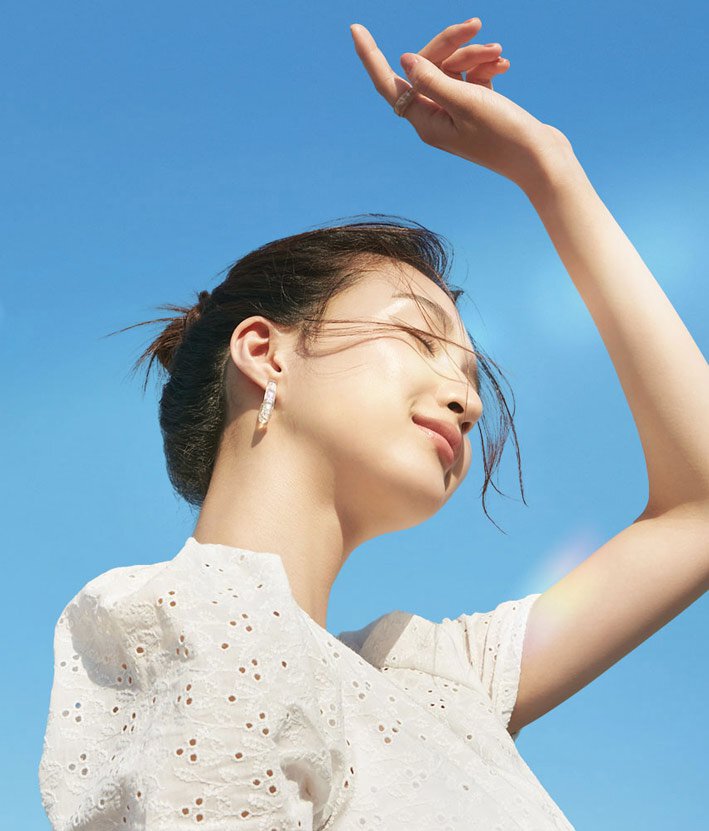 LANEIGE not only gives Radiance
on my skin,
but also Confidence in my life.
LANEIGE shares the same celebration of diversity and
believes everyone
should shine with an inner and outer glow
that's just as unique as they are.

LANEIGE has been closely observing what
customers really want,
to give them back their original glow.

But the LANEIGE glow isn't just about a healthy,
balanced complexion.
It also promotes a healthy, balanced lifestyle.

Regardless of how busy your daily life may be—or what life
may throw at you
and your skin—LANEIGE is here
to help you move forward with confidence.

You'll always be glowing and beautiful with LANEIGE.
FEEL the GLOW with LANEIGE.

BEAUTY & LIFE LAB

LANEIGE's Beauty & Life Lab studies
customers' skin and their 24/7 lifestyle
Rooted in science-based research on the moisturizing
mechanism of the skin, LANEIGE analyzes how environmental
factors from today's 24/7 lifestyle
affect our complexion, inside and out.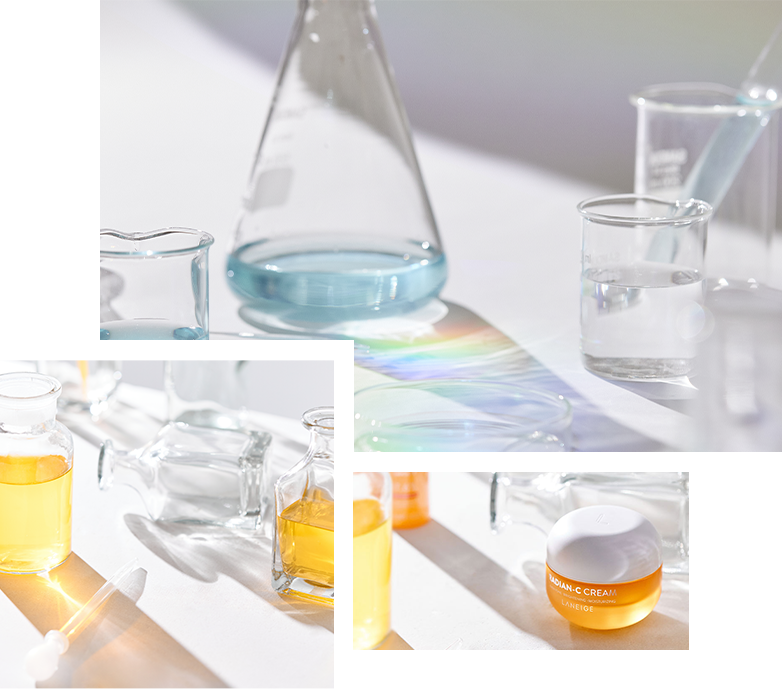 MAIN PRODUCT
LANEIGE offers 5 functional solutions,
from intense hydration to brightening to anti-aging
01

What if your skin thirst cannot be quenched
no matter how much you apply?

FULL REPAIR MOISTURIZING

Water Bank Blue Hyaluronic

Daily exposure to skin stress, blue light, lack of sleep...
Dryness these days calls for more than just moisture.

The new Water Bank provides a 300%* stronger barrier strengthening effect by adopting Blue
Hyaluronic Acid, LANEIGE's exclusive ingredient developed after 38 years of research efforts.
Experience the power of full repair and a moisturizing effect that goes beyond hydration to firm
your barrier.

*Limited to the properties of Blue Hyaluronic Acid.
(In-vitro comparison of normal high molecular weight HA and Blue HA.)

02

My complexion is so dull!

BRIGHTENING CARE

Radian-C Line

What makes skin look dull?
UV rays from the sun, blue light from mobile phones, pollution,
and even stress can cause irritation and dullness to show up on our skin.

Radian-C Cream, which transforms a dull complexion into
one with a brighter,
more even-looking tone in just 2 weeks
thanks to the dual powers of vitamins C and E.

03

loss of elasticity, deepening wrinkles...
How can I take care of all these at once?

Anti-Aging Triple Care

Perfect Renew 3X Line

The skin reaches the cliff of aging at around the age of 35,
after which aging rapidly speeds up.
This causes problems at each layer of the skin.
From fine lines on the skin surface to loss of elasticity at the middle
layer and a dull complexion from the inner layer.

LANEIGE Perfect Renew 3X Signature Serum is a total
anti-aging solution that puts together anti-wrinkle serum,
brightening serum and firming serum in one bottle
to better Skin condition at three layers of the skin
(wrinkle / firmness / glow).

04

Can my skin look great
even if I haven't slept well?

SLEEPING CARE

Sleeping Mask Line

A lack of sleep not only affects our health.
It also leads to unbalanced skin.

Sleeping MicrobiomeTM, which is designed to release ingredients
over a specific stretch of time during your sleep cycle in which
skin loses excess water and sebum production wanes.

Our overnight hero, Water Sleeping Mask EX, makes skin look
bright, dewy, and wide-awake.

05

Can I achieve natural-looking coverage
that's actually good for my skin?

BASE MAKEUP

Neo Cushion

Do you need base makeup that never running out makeup
even in active outdoor activities and transfer free on my phone screen
and mask?

Our best-selling NEO Cushion utilizes a special sponge
to provide a lightweight, high-coverage matte finish.
And also Humid defenceTM helps makeup to last longer
in active outdoor activity or hot and humid weather

You can cover various skin problems such as redness, yellowness,
pore for 24H with Neo cushion
LANEIGE LIFE STYLE SCENE
#LIVE MY OWN LIFE
The journey with LANEIGE to finding one's own
glow stretches ahead
along the path by your side.
FEEL the GLOW that radiates
in its own presence above the skin.